We round up the very best apres ski that St Anton has to offer from crazy night tobogganing to upmarket wine bars.
Apres Ski is an area where I feel that St Anton particularly excels. Cheesy music, an endless supply of schnapps, the infamous nail game and some enthusiastic dancing on tables is pretty much what one can expect from about 4pm onwards in the majority of bars both in town and up the mountain.
Après Ski on the mountain, St Anton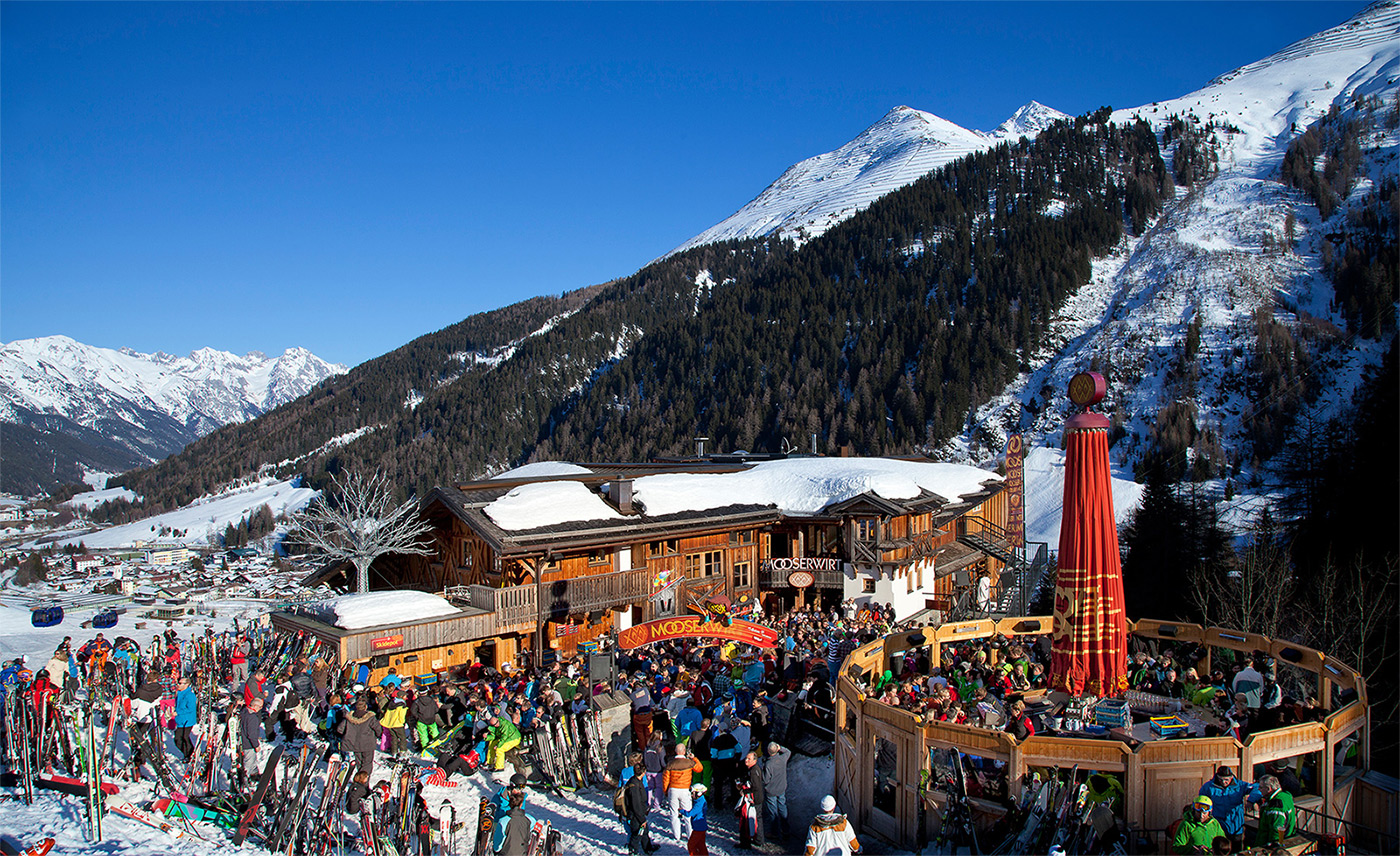 There are two bars in particular – the Mooserwirt and the Krazy Kanguruh – that bring the idea of après-ski to the next level. You can forget about quick bar service and a place to sit if you arrive at either of these establishments after 4pm – they are literally packed out, every single day of the week. The former is particularly impressive if you fancy letting your hair down after an arduous day on the slopes.
Slightly further down, on the skier's right side of the piste is Underground on the Piste. Tucked away in a candlelit chalet, you will always find free-flowing Glühwein to accompany a live acoustic band.
At the base of the Galzig gondola, you'll find the Anton Café, a popular haunt with the Arlberg Ski School instructors. By about 6pm, the place has transformed into a full-on dance floor. Basecamp, which is also located at the foot of the slopes is another favourite, offering a fully-covered outdoor bar and live DJ every day.
Pre-dinner drinks in St Anton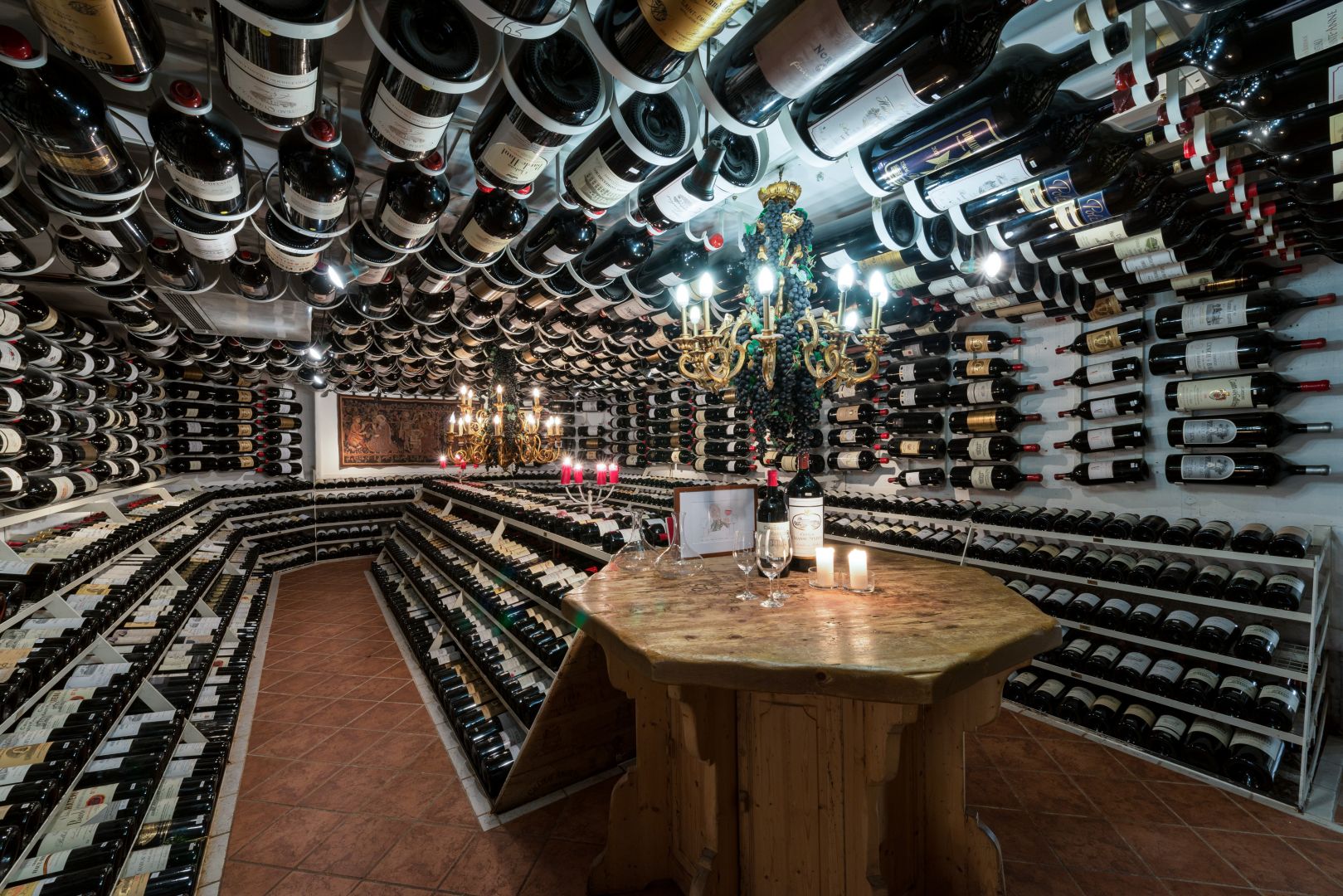 Wine lovers are really well catered for in the small village of St Anton. Niki's Wine Bar in the Montana Hotel on St Anton's main pedestrianised street offers an impressive list and owner, Nikolaus is more than happy to take you through an informal tasting. Bodega and Murrmel are also good for wine lovers, the latter plays live music during après hours.
Those after an old-school vibe can head to Pub 37. As the smallest and one of the longest established bars in St Anton, you have to get there early after skiing to secure a table or a seat at the bar.
Those looking for live music should head to Piccadilly. This British-style pub has an incredible atmosphere from 4pm onwards thanks to the live music provided by Gunar who is now in his 16th season in St Anton.
Night tobogganing St Anton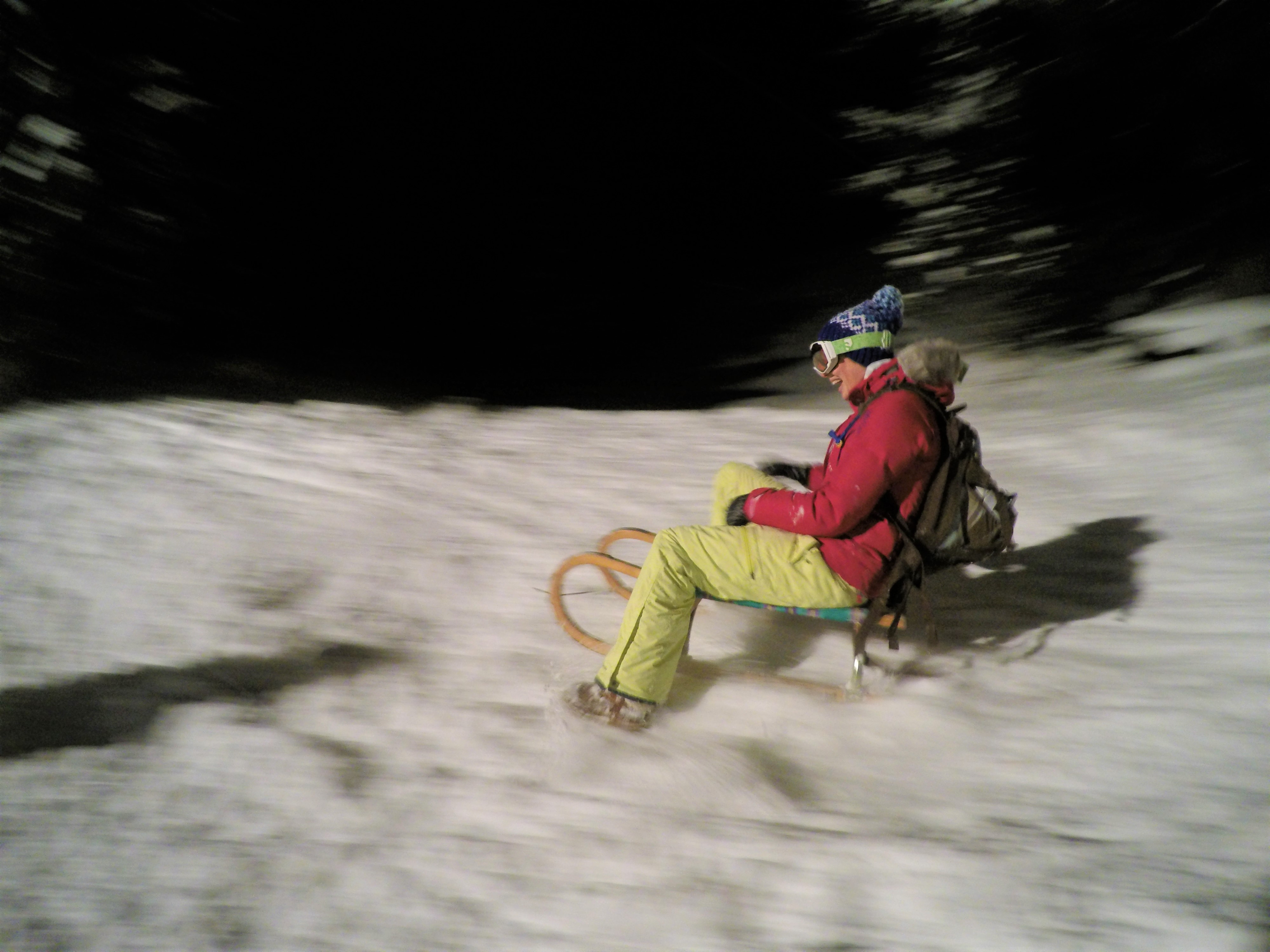 Aside from the bustling bars, there is one après-ski activity that would be a crime to miss – tobogganing by night. Right in the heart of the ski area lies a pristine 4km long toboggan track that is begging to be raced down. On Tuesday and Thursday evening, the gondola opens up specially to offer guests the opportunity to fly down the tree-lined course after the hours of darkness. Although the course takes just 15 minutes to complete, you can make an entire evening out of it.
Now I must clarify that I am in no way encouraging drink-tobogganing, but it is a hell of a lot of fun and it seems, fully encouraged, by those crazy Austrians as the 4km run, has three perfectly positioned drinks stops. Leaving the top of the Nasserein lift, the first pit-stop at Gampen will definitely put you in the right frame of mind for the night ahead. Offering live music and plenty of schnapps, this establishment knows how to get the party going! Be careful not to peak too early though – a certain degree of restraint is needed in order to ensure you actually make it home in one piece.
The track itself is no walk in the park if like me you lack a certain degree of fear and far too much competitive spirit. Hurtling down at breakneck speed I became acutely aware of how sharp the corners were and how inadequate the grip is on UGG boots when it comes to slowing the sledge down. Oh well, the punchy hits of adrenaline were worth it when I landed at our next stop – The Rodelalm.
This traditional Austrian hut is a real treat. With a roaring fire, an extensive wine list and hearty fare, it would be easy to disappear into this place and never return to the real world, ever again. The restaurant which is usually only open until 6pm, opens late on Tuesdays and Thursdays to accommodate tobogganers. However, if you are hoping to get dinner here, booking is essential.
With a couple more schnapps in our bellies, it was time to get our game faces back on. With just over 1.5km to the end of the track, I was unwilling to let my winning streak be broken by my companions. The final stretch did not disappoint, a few more sharp bends were followed by a steep descent to the finish line. We whooped with delight as we gained momentum, the schnapps giving us a little more confidence that we ought to have displayed. Thankfully a nice (and more importantly safe) ascent was perfectly located at our third and final stop in order to kerb our speed – heaven forbid we should miss the final watering hole, now that would have been a tragedy.
Located just a short walk from our start point, lay another traditional Austrian hut – the Rodelstall, which was even cosier than the last. With a limited amount of tables available for dinner, it is essential to book in advance. The food is definitely worth the effort though as Rodelstall offers mouth-watering, hearty fare. In addition to that, the Rodelstall is home to the infamous Nail Game which involves a hammer, a packet of nails and a large block of wood. The aim of the game is to hammer your nail into the block of wood using the thin side of a hammer in fewer bangs than your competitor – believe me, it is a lot harder than it sounds but I can safely say that the entertainment value of this game rises significantly with the volume of schnapps consumed.
Find out more about night tobogganing in St Anton.
Check out our Hard as Nails podcast: