Brought to you by:

With lots of delicious takeaway options on offer at the touch of a button from Just Eat, we take a look at what healthy options you can order from your favourite takeaway.
It's that time of year again where it's nonstop social occasions, from family reunions to get-togethers with your friends.
If you want to take a break from cooking this Christmas but would still like to wow guests with exciting cuisines and flavours, and something other than turkey, there are lots of choices available to order in.
To help you make the best selections so you can savour the occasion without guilt, we've enlisted the help of Arthur Dunne, nutrition guru at SoCo Performance, to tell us about some of the best options to order in this festive season.
Once your taste buds have been tickled with Arthur's suggestions, all you kick back, unwind and let the Just Eat app do the rest. And have a great Christmas!
CHINESE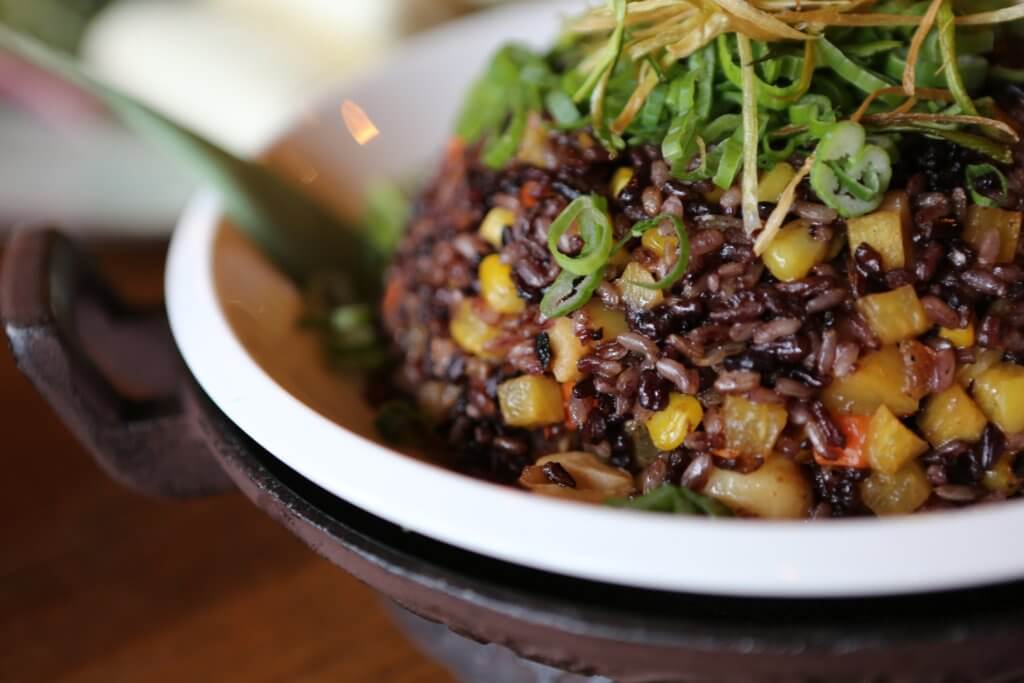 Healthy option
Beef in a black bean sauce or alternatively a broccoli and oyster sauce are both great options with added chunky vegetables. Otherwise, Szechuan prawns, a spicy and flavourful dish, provides a variety of healthy antioxidant-rich herbs and spices, including garlic, chilli and ginger.
Less virtuous
A few culprits to be mindful of include deep-fried favourites like chicken balls, prawn crackers and crispy duck. Satay dishes and sweet and sour are also worth mentioning. Although they include a variety of vegetables, due to the added nuts and sugar respectively, they are high-calorie meals.
Our favourite Chinese dish on Just Eat: The King Prawn Chop Suey from Bamboo Court in Letterkenny is to die for.
INDIAN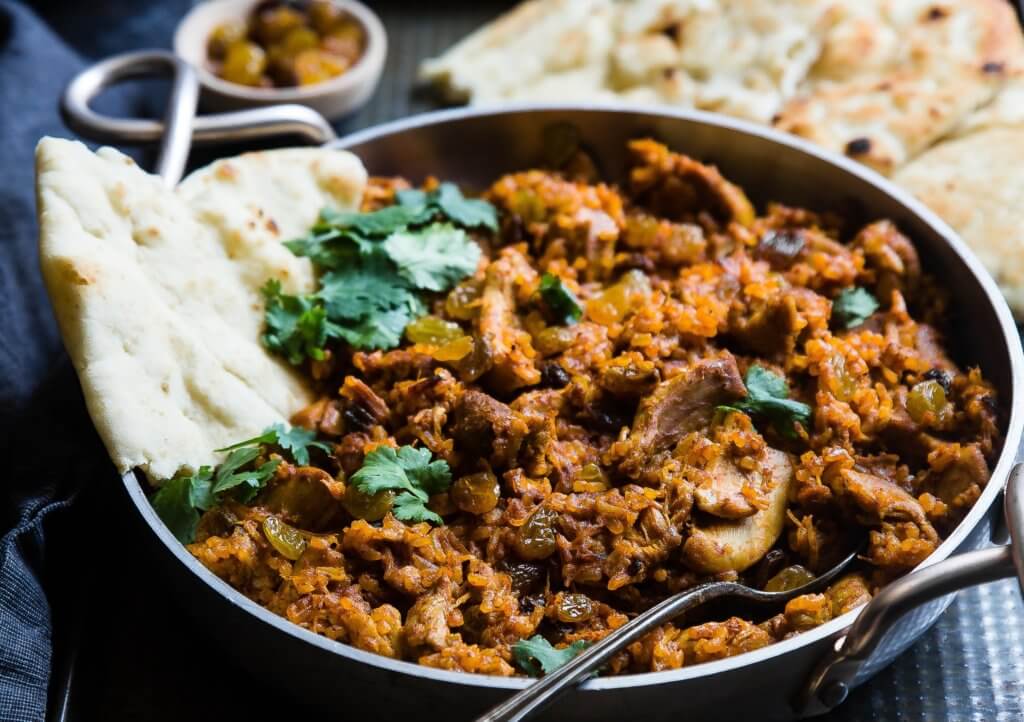 Healthy option
Prawn balti, lamb rogan josh and vegetable bhuna are good choices. Aromatic and full of flavour, these tomato-based dishes are packed with vegetables that are high in fibre. Try to choose boiled rice instead of fried rice.
Less virtuous
The mild and safe chicken korma and tikka masala are two dishes to be wary of due to the use of high-fat coconut cream and butter. Both dishes have a limited amount of vegetables included too, which would be another reason to reconsider your choice. Possibly think about sharing portions of rice and naan bread also.
Our favourite Indian dish on Just Eat: Sweet Potato Dahl from Bombay Pantry in Dublin and Wicklow is a really comforting dish.
THAI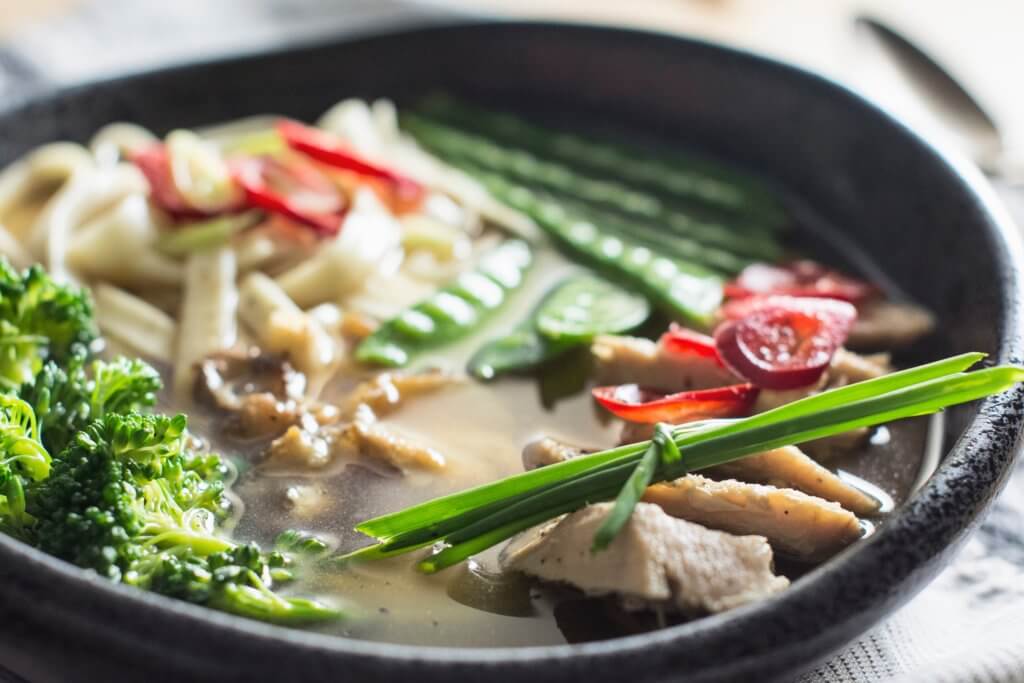 Healthy option
Famous for stir-frying, there are a multitude of Thai meat, fish and vegetable dishes that use fresh produce in light and simple seasoning. There are also excellent salad options like chilli beef and bean sprouts, or spicy seafood and cucumber, which are ideal if you are looking to choose a low-calorie dish.
Less virtuous
Thai green curry, a household favourite, is one to be aware of due to the coconut milk and peanuts that give the creamy and nutty taste. If you are adding sides like spring rolls and egg-fried noodles to your meal, there is the risk of over-consumption. Try to choose steamed rice with fresh vegetables as an accompaniment for your Thai meals.
Our favourite Thai dish on Just Eat: Pla Rad Pik (fish in garlic and chilli sauce) from Pa Pa Thai, Waterford. We also love spicy Phad Prik Sod with chillies, onions, peppers, mushrooms and sweet basil from Saba to Go, Dublin.
PIZZA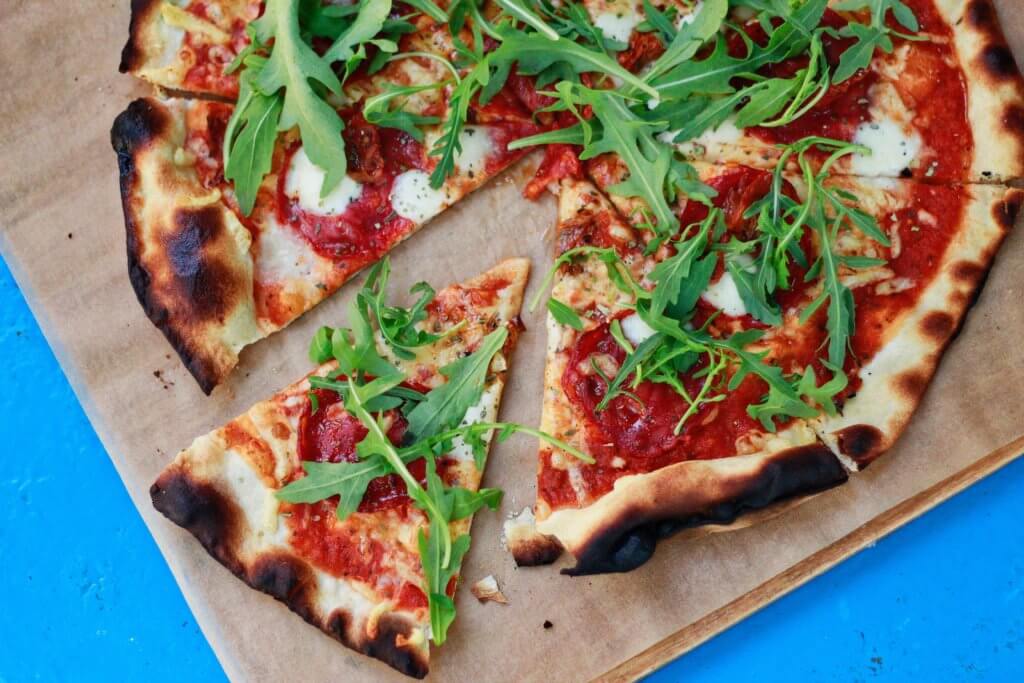 Healthy option
Mediterranean vegetables like courgette, onion and aubergine on a thin base is a great choice. This low-calorie option is the ideal vehicle with its selection of filling, high-fibre vegetables.
Less virtuous
Thick crust, BBQ sauce and very meaty pizzas might be choices to think twice about. These types of calorie-dense pizzas, with processed meat and high-sugar sauce, are not the best option when trying to avoid weight gain during the holidays.
Our favourite Pizza on Just Eat: We love the Mediterranean pizza from NKD Pizza in Rathgar, Dublin, which comes on a base made with 10 grains.
AMERICAN
Healthy option
A bunless burger is a great option with the addition of a fresh salad and vinaigrette dressing. This low-carbohydrate meal is high in protein and can be easily customised to your own tastes. Try to skip the high-fat deep-fried sweet potato fries too.
Less virtuous
Beer-battered, loaded, crispy and BBQ are words sometimes used to describe American-style food and they usually signal the dishes to avoid. These high-calorie dishes tend to be served alongside large side accompaniments of chips, onion rings and coleslaw.
Our favourite American dish on Just Eat: The chicken fillet hamburger from Eddie Rocket's (nationwide) ticks all the right boxes.
Like this? You should check these out: