Hundreds of people attempt to summit Mount Everest every single year. The sheer amount of foot traffic experienced on the trails of this iconic peak leads to a phenomenon that few people think about — the accumulation of waste. This year, as the main climbing season comes to a close, the Sagarmatha Pollution Control Committee (SPCC), which is in charge of the collection as disposal of waste on Everest, has collected 32,241 kg of biological and kitchen waste from the mountain — 1,579 kg more than was collected in 2017, and a whopping 6,321 kg more than was collected in 2016.
The main climbing season on Mt. Everest has just ended, meaning that it is time for the removal of the waste that accumulated from the 1,000 or so climbers and their support staff throughout the season. SPCC is in charge of managing waste from the Everest Base Camp and Camp II on Mt. Everest. It is a local organisation and has been in operation since 1991.
The amount of waste left this season increased from the past two years, according to the SPCC.
"Climbers left more garbage in the region this season than in the past two seasons," AngDorje Sherpa, chairman of the SPCC, told the Himalayan Times.
However, what was collected was waste from Camp II and below. Waste management from higher up the mountain depends on climbers abiding by a law that forces them to bring eight kilograms of waste (as well as their own waste) back to the base camp.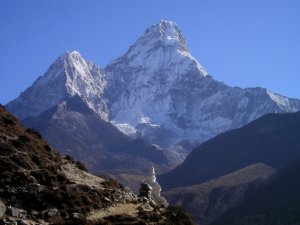 The SPCC is urging the government to do more about waste above Camp II.
"If assigned, SPCC is ready to bring the garbage down from the high camps," Sherpa said in the Himalayan Times interview.
Of the waste removed 12,995 kg is biological human waste. From winter 2019, biological human waste will be converted and used as biogas by the Mount Everest Biogas Project (MEBP).
Nepalese airline, Tara Air, helps by lifting non-biodegradable material from the area and bringing it to Kathmandu to be recycled. They have agreed to fly at least 100,000 kg of waste from the Mt. Everest region in 2018.
SPCC keeps the foothills clean by coordinating with the government on waste management policies, by building waste management infrastructure, by setting up a system for waste segregation and through community initiatives like encouraging participation in waste management and providing public education.
Like this? Check out these other articles: