Be it for adventure sports, travel or just stuffed in the cupboard at home in case of emergency, everyone should own a decent head torch – here are six of the best head torches on the market.
The world of head torches is much vaster and more complicated than you can imagine. You can spend a tenner on one from Argos, or you can go well up into the triple digits. Depends on what you are using it for; there are ones powerful enough to go mountain biking at night with, ones with battery packs that are built to last, with dimmer settings or flashing red lights at the back for when you're following people at night in adventure races or ones that can be switched to red light so it doesn't mess with your night vision.
Here are a few things to consider when choosing a headtorch:
1. Brightness
The brightness of a head torch is measured in lumens, ie. the amount of visible light that the human eye can detect. Head torches will vary in lumens from 20lm all the way to over 1000lm. How bright you want it to be will depend on your activity, whether that requires just you to be seen or whether you need to floodlight the path in front of you.
2. Battery Life
How long you need the battery to last will depend on what you are doing. Generally speaking, the brighter the head torch the shorter the battery life. The information given on the side of the pack with regard to battery life is often misleading as this will give you the time from full battery to totally empty and not actually the time it will shine at its advertised lumens for.
In addition to battery life you'll want to decide whether to choose a head torch with rechargeable batteries. Where possible this is definitely a good choice. A rechargeable lithium-ion battery, if well made, will always be much more efficient at pumping out power than standard alkaline batteries, especially at low temperatures. Also if you are a regular user of your head torch, then you will quickly go through batteries, it's often cheaper to buy a spare rechargeable battery than to keep buying standard batteries.
3. Beam Pattern
The distance the beam will reach depends on the brightness of the torch as well as the ability to focus. It's also worth checking whether you can swivel the head of the torch to point straight ahead or down at the ground. The beam distances are also listed on the packaging and can range from just a few metres up to a few hundred metres.
4. Weight
More often than not the brighter the light, the heavier it tends to be. It is important that you check out the weight of your chosen torch. Anything over 200g is likely to be a bit cumbersome when you start to move around. It is also important to try the headtorch on and make sure that it fits comfortably and doesn't slip around as this will prove to be a massive pain in the ass when you are on the move.
Want to know more about choosing the right headtorch? Check out our complete guide:  Choosing a Headtorch: Everything You Need to Know
6 of the Best Head Torches:
1. Black Diamond Spot
Lumens: 300
Weight: 90g
Max Beam: 80m
Price: €48

The Black Diamond Spot is a classic and remains one of the firm favourites for its brightness, durability, and price. A 300 lumen beam and PowerTap technology mean it is touch-sensitive for quick adjustments. It has several lighting options including a softer proximity LED and red LED.
With an IPX 8 rating, it can endure a good bit of water. The only cons are the controls can take a while to master and battery life is not as good as some of its competitors. Despite this, it is still the best all rounder in our opinion.
Available from: Cotswold Outdoor
2. Petzl ACTIK CORE
Lumens: 350
Weight: 82g
Max Beam: 110m
Price: €64
This hybrid head torch is a bright burner at 350 lumens. But it only has 2 preset brightness levels and at IPX 4 water resistance rating, it does not protect from submersion.
However, it's saving grace is the inclusion of a rechargeable battery, boasting a good burn time of seven hours with standard power. You can also power up on the go via the micro USB port making it a top performer among rechargeable options. It is compatible with standard batteries too without the need for an adapter.
It's a pretty versatile headlamp with the option for red lighting to preserve night vision and a reflective headband helps you to be seen when a light is shone on it. It is also equipped with an emergency whistle for rescue situations.
Available from: Great Outdoors
8 things you need to know before a multi-day race
3. Black Diamond Storm
Lumens: 350
Weight: 110g
Max Beam: 80m
Price: €60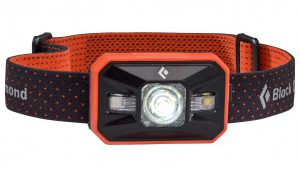 Black Diamond's Storm is a decked out version of the Spot, it has got a whole host of features, including a spot lamp, proximity lights, and three night-vision colours (red, blue, and green).
The light is sealed against dust and water, can be dimmed and has a lockout mode. It's downfall, however, is it has so many features that it can be hard to get your head around them all. It's also heavier and a little less comfortable than the Spot.
Available from: Cotswold Outdoor
4. Petzl e+LITE
Lumens: 50
Weight: 26g
Max beam: 10m
Price: €26

The backup light that everyone should have in his or her backpacks and homes. The Petzl e+LITE is the perfect ultralight backup light, weighing in at just one ounce. With an IPX 7 waterproof rating and batteries that are designed to work even after being in storage for 10 years. This head torch withstands extreme temperatures of -30° C up and up to +60° C.
The only drawback is, it's only 50 lumens so it's not ideal for night trekking etc, but it's the perfect headlamp for an emergency kit or to bring along on a day hike.
Available from: Great Outdoors
Ultra marathon tips: 7 essential tips before your first race
5. LED Lenser H7.2
Lumens: 300
Weight: 165 g
Max beam: 160m
Price: €79.95
The H7.2 has an adjustable lens which allows for quick transition from wide-angle flood to focused beam for spotting. It also has a durable tilt mechanism that puts light just where you need it and a wheel switch to control light intensity.
The cons of it are the battery will only last about five hours at full beam plus it's not the cheapest of head torches on offer.
Available from: Basecamp
6. Petzl REACTIK+
Lumens: 300
Weight: 115 g
Max Beam: 110m
Price: €110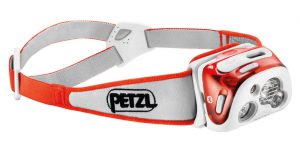 The Petzl Reactik+ headlamp is the most expensive on the list but it's a pretty nifty piece of gear if you can afford it. It has Bluetooth which allows you to adjust the headlamp's beam pattern, brightness and battery burn time from your smartphone. It also has a sensor which analyses the ambient light and adjusts the beam pattern and brightness automatically (reactive lighting mode).
The downside of this is that it sucks battery big time. When the reactive lighting is turned off, the maximum battery life is 15 hours. The battery is also rechargeable by a micro USB cable and will work with disposable batteries if you have an adapter.
Available from: Great Outdoors
Check out our Hard as Nails podcast:
Like this? You should check these out: