Taking on your first triathlon? Tri coach, Adam Kelly, shares his top triathlon tips for beginners to ensure your first race goes swimmingly.
So you used to play sport but haven't done so consistently for some time now. The jeans are getting tighter and recently you've noticed that your energy levels have dipped. Then your friend gets into triathlon and he actually seems to be getting younger looking every time you see the git! Knowing that you used to whip him at every sport you played as kids gets you thinking that you'd like to give this triathlon lark a go – but you don't know where to start. Well, the answer is right here. Outsider's triathlon editor Adam Kelly has 13 top tips to set you on your way.
1. Enter a race
With a huge number of events to choose from, finding a local race should be easy. These days you don't have to look for races, as they find you. To start with, pick a short distance race, which is called a sprint or super sprint race. Actually entering a race will give you a clear, time-specific goal. When you press the enter button, it completely changes your training mindset. Try it and see what happens.
2. Design a training programme

Now design your training times for your training programme. Allocate the time you can for training first; then fill the gaps with the sessions. For example, you may have three evenings per week and two mornings, each with 60-minute slots.
Triathlons for beginners: 5 of the best
What training sessions should you actually do?
Remember a triathlon of any distance involves swimming, then biking, then running. The clock runs continuously from when you start the race to when you finish, so we also include a fourth disciple called the transition phase. This is the time taken in order to change from swimming gear to biking gear and biking gear to running gear.
You need to work on all the disciplines. So for example, if you have three hours per week for training, do one swim, one bike and one run. If you have six hours per week then double it. However, be smart with your time, and consider running or cycling to work. If there is no shower in work, then work on getting one put in!
If, like many Irish people, you can't swim well, then get some help. Start with your local pool (the one close to home or work) and see if they can help you with some lessons.
If you can swim but would like to make improvements, Base2Race triathlon store has an endless pool and offers stroke analysis.
Finally, if your swimming has been predominantly in the pool and you find the sea daunting, taking an open-water swimming course is a great idea.
3. Get equipped
For your first race, you just need the basics. Unless it has a pool-based swim, then you must wear a wetsuit in Irish waters. Swimming wetsuits are quite different to those for surfing so if you're investing, make sure you get the right one. However, if you're not sure how many triathlons you will do, either borrow a swimming one or make do with the suit you have. You must also have a helmet and a bike in sound mechanical order. After that, you can wear what you want, but wearing the below will make your race easier!
Swim: goggles, swim cap, tri suit and swimming wetsuit.
Bike: helmet, cycling shoes, bottles.
Run: running shoes.
If you have a tri suit you'll wear it for the whole triathlon event. Your wetsuit will go over the tri suit for the swim leg. You'll then take off the wetsuit after the swim which leaves you in a wet triathlon lycra suit. Don't worry – it will dry within a few minutes on the bike. You then run in the same suit too.
4. Know the course
Study the course map and practice on the course if at all possible. Don't however sea swim alone or without knowing the conditions. Sea swim in a group only and ideally in the presence of a lifeguard.
Triathlon: understanding your body
5. Race day
Turn up to the event early – about 90 minutes before the race start. Don't get there too early though or your nerves will get to you too much. Depending on the race, you will choose your own transition spot (the place where you put your bike, and other race gear), or you will be allocated one. This one square meter is your private area so look after it.
6. Lost in transition
Often your race number will be printed on the rack on which you place your bike. If there are no numbers, it's a free for all. In this case, place your bike in an easy-to-find spot, for example at the end of a row. It is also useful to choose a race towel with a brash colour. The bigger the towel the better, as when it is laid out on the ground it marks your transition spot so in the heat of the race, you can find your spot. You could also do something to distinguish your bike. Mine used to be all black and mean looking. The only problem was that I could not find it. Many racers will remember well, when I decided to replace my black saddle with a fluorescent pink saddle! I still use it today.
7. The race – swim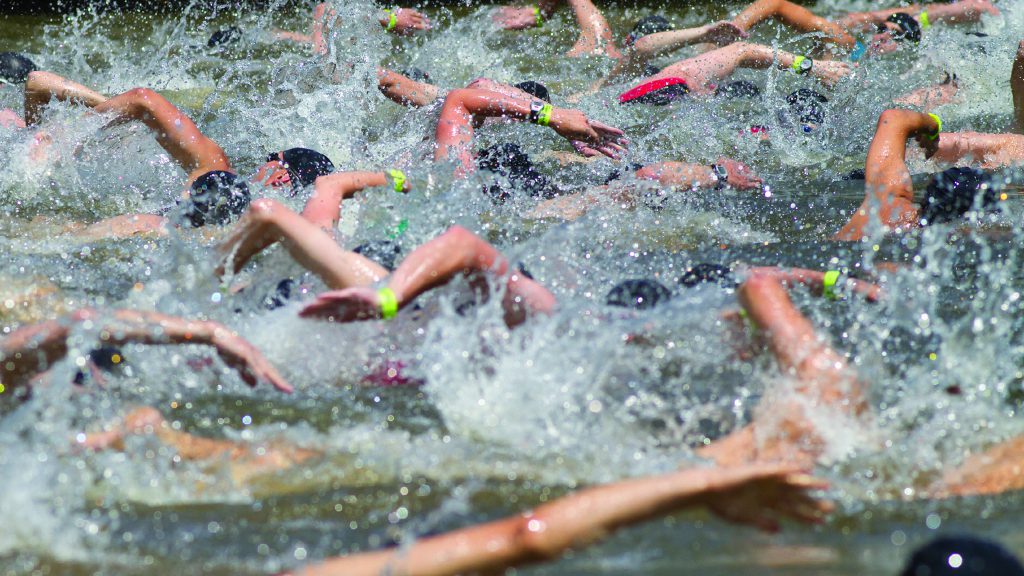 Start the swim slowly as it's too easy to get carried away with all the race excitement. As it's your first race, be conservative, and stay near the back of the field if your swimming is not strong. After the first three minutes, the pace of the swim settles anyway. So relax and enjoy the experience. Marker buoys mark the direction of the swim so you don't get lost. Keep your eye on them and after very few strokes, check your direction. If you get panicked or have any trouble, then roll over on your back and relax. Your wetsuit will keep you afloat. If you need the assistance of a boat, raise your arm as this is the recognised help signal.
8. Transition 1 (T1) – swim to bike
Once you finish the swim and find your bike at your transition spot, take your wetsuit off. Some competitors feel dizzy when they exit the water due to the blood returning to the legs when you change from a prone to an upright position. This dizziness passes, but start your cycle slowly until it fades. A good way to minimise this dizziness is to kick your legs harder towards the end of the swim.
Open water swimming: tips for your first open water race
9. Bike
Do not attempt to cycle with your wetsuit on! I have seen this happen! If you can imagine boiling a fish in a bag, well cycling in your wetsuit is a similar experience.
Get yourself organised with your helmet on, your shoes etc. Only touch your bike when you are ready to exit the transition area. When cycling, don't go like a bat out of hell! You still have the run to complete.
10. Transition 2 (T2)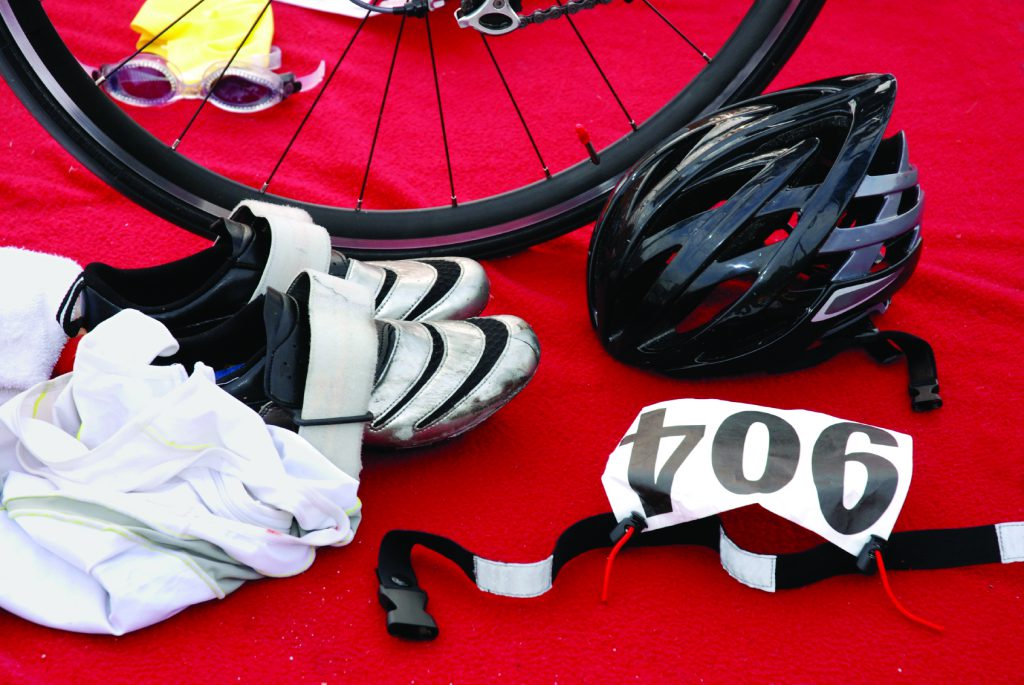 Upon completion of the bike leg, there will be a dismount line after which you will not be permitted to cycle for safety reasons in the transition area. You'll wheel your bike from here and return or 'rack' the bike in the same position as you found it in your transition spot. Don't forget to take off you helmet too!
11. Run
Most newbie triathletes will experience jelly legs when they attempt to run. This is normal and will pass. It's due to different muscle movement patterns which confuse the brain. Just get on with the run and this will disappear. At this stage you are nearly home. Be ready to cross the line and raise your arms in triumph. You are now a triathlete!
12. Never stop learning
Be prepared to learn by your mistakes as you are sure to make them. Try to make them only once though. Increase your knowledge of the sport by reading, watching, listening and putting into practice.
And get advice from experts, more experienced triathletes or those who have just had their first triathlon experience.
13. Copy excellence
Head along to one of the many races happening across Ireland and look at how the lads at the front of the pack do it! You will learn so much from the visual display of excellence.
Warning! Triathlon is highly addictive. If you find yourself in this situation, then please visit www.triathlonireland.com.
Check out our Hard as Nails podcast:
Like this? You should check these out: 

Previous Post

Next Post