Outsider sent virgin paddler Ross McDonagh to take part in the infamous Liffey Descent. Here he fills us in on his experiences on the day – which ranged from meeting smurfs, cowboys and Vikings to learning a whole new meaning for swimming. We're still not sure if he'll ever speak to us again.
Words: Ross McDonagh
Photos: Peter McCabe & Vincent McNamara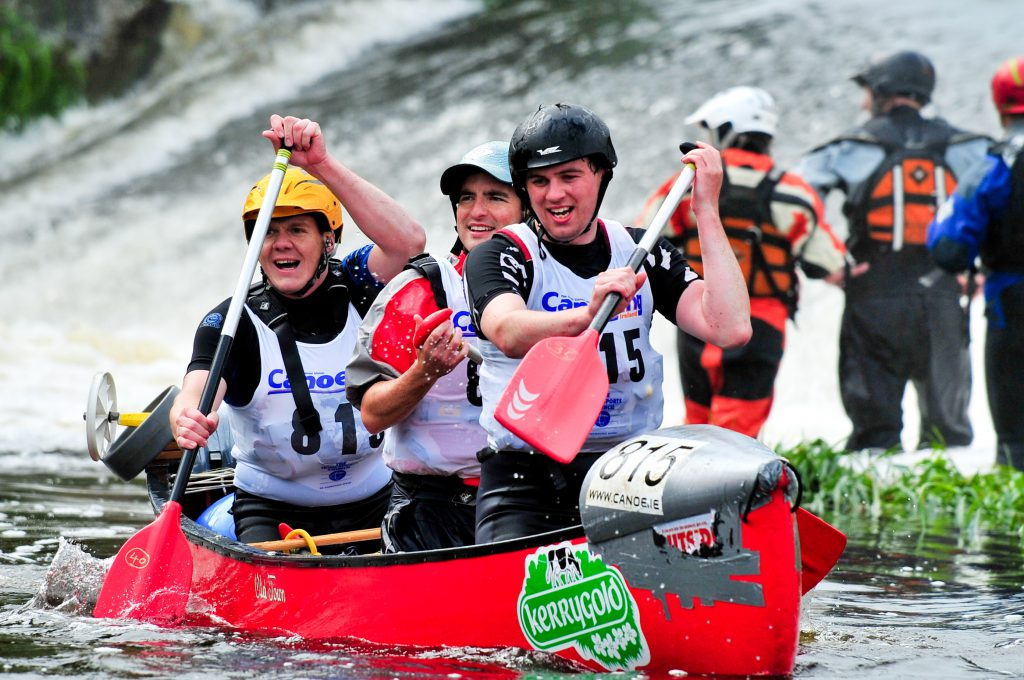 11am. My phone is ringing. It's Markham Nolan. "Hey Ross, what's up? I can hear that he doesn't really care what's up; he's got another question ready and loaded.
"Fancy doing the Liffey Descent?"
"The what?"
He has caught me off guard; I'm only out of bed (it's my day off).
"You know, kayaking, canoeing. White water rapids."
Is he talking about the Liffey? The Liffey I know is neither white nor rapid, and can barely be classed as water.
"Can you swim?" he asks.
"Er…sort of."
"Great. I'll send you on the details."
It turns out Markham, who regularly freelances for Outsider, was in line to do a piece on the Liffey Descent but a scheduling clash meant he had to find a replacement. When we last worked together, Markham's nickname was James Bond Junior: his love for adventure sports meant he wouldn't partake in something unless life, limb, or a combination of the two, were at some level of risk.
Most of my sporting experience, on the other hand, stretches as far as football. A sporting adventure for me is pressing up the wings when I should be back in defence.
The best events & challenges in Ireland this autumn
A quick blast of the Googleizer Ray tells me that the Liffey Descent is one of the top events in the European paddling calendar, and the biggest in Ireland. Hundreds of people from all over the world take part every year, both competitive and recreational, with numbers growing annually. And this year will be extra special as it is its 50th anniversary.
Beginning all the way back at the K-Club in Straffan, Co Kildare, and ending at Islandbridge at the far end of the Phoenix Park, it's a gruelling 29km of self-propulsion, interspersed with 11 man-made weirs, seemingly built with the sole intention of preventing canoeists from going down the Liffey.
Nevertheless, I'll always try something once, and that is why I find myself driving to Strawberry Beds to meet Rory Power, Chairman of Wild Water Kayak Club, the day before the event.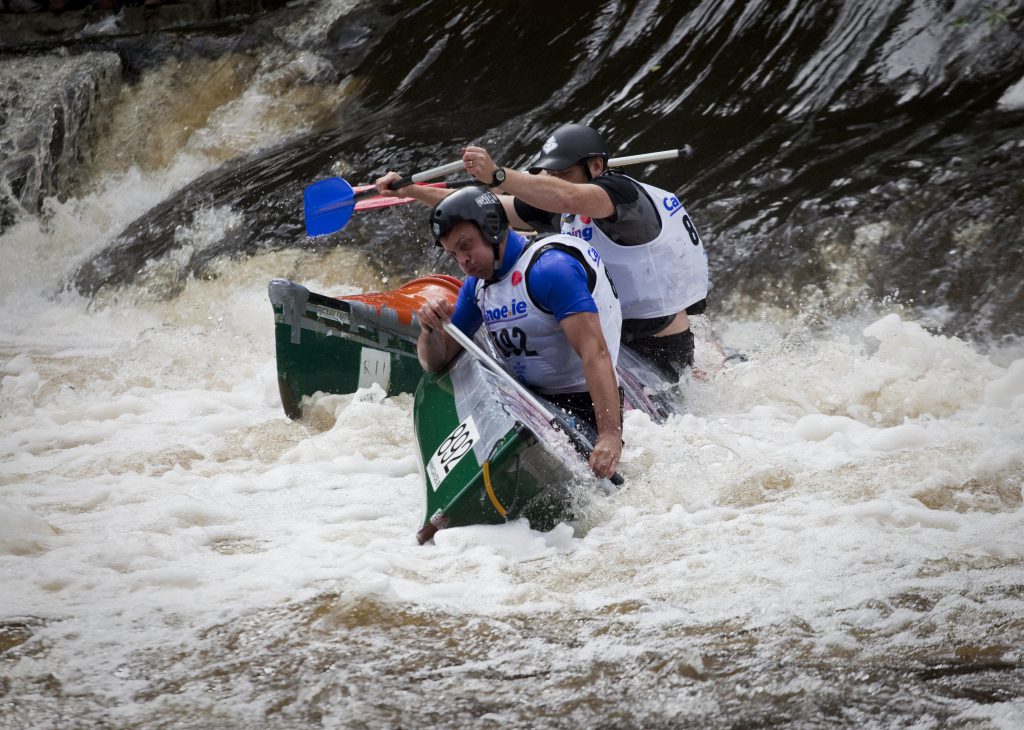 The first thing I notice when I get near the clubhouse is the noise. A dull, deafening roar. Is there a waterfall near here? I walk around the corner and get my first look at one of the Descent's infamous weirs. It's not quite as big as a waterfall, but it looks just as angry. I instinctively get that if-my-parents-were-here-they'd-give-out-to-me-for-going-near-it feeling associated with electricity pylons, busy motorways and strange old men. Then it hits me that by this time tomorrow, I will somehow be going over it. And 10 more just like it. Let's hope this guy Rory is a good teacher.
Rory, it turns out, is an instantly likeable guy, has a great radio voice, and is someone you can immediately tell loves the sport he's in. As I approach him, he's on the phone to Coach, AKA John Phelan, who I later learn will be our third crewmember.
12 of the world's wackiest events
Rory is asking him if he picked up that traffic cone, making me wonder what sort of intensive training course he has planned for me. After introducing himself, he introduces me to the boat we'll paddle and proudly displays all the modifications he has made. "See that?" he says pointing at two balloon-type things at either end of the canoe, "most boats will have expensive buoyancy aids fitted there, €60 or €70." Before I can ask what the strange little horns are, he proudly beams, "Space Hoppers. €4." The traffic cone I'm then told is for the nose of the boat, to keep water out. They will not be the last makeshift modifications I see before the weekend is out.
Soon afterward, we are in the canoe and Rory is taking me through the basic strokes. He tells me he will be at the back steering, Coach will be the main engine at the front, and I'll be in the middle doing a bit of both. He mentions Canadians a lot – "We'll be in with the Canadians/the Canadians are the biggest/the Canadians must wait till last before joining the race – and it isn't until about 10 minutes in that I realise a Canadian is the class of boat we are in.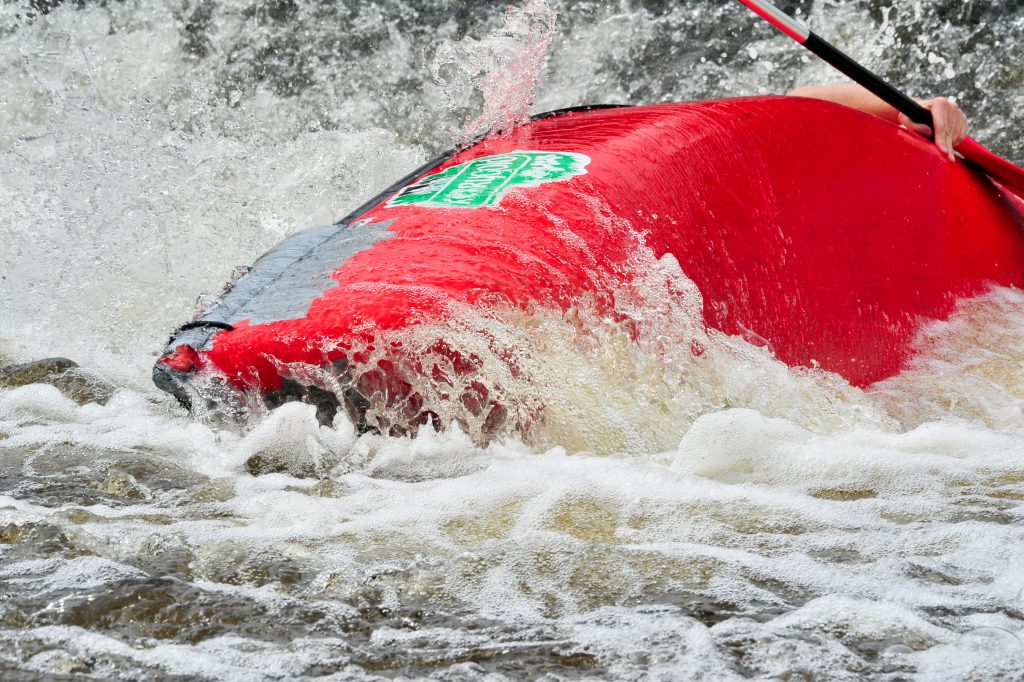 He catches me nervously glance at the churning weir not far from where we are paddling. "The main thing about crossing weirs is to keep paddling, just keep paddling," he says. "The more contact your paddle has with the water, the more stable we are. And we'll need as much forward momentum as possible to make it out the far side.
"Another thing to remember is never grab onto the side of someone else's boat – that's a sure-fire way to get your fingers crushed. If not by the boats themselves," he smiles, "then by the other guy's oar. And if you feel the boat going over, don't try and grab onto the far side – you'll only pull the boat over on top of yourself."
Looking down at the weir, it doesn't seem like it will need much help from me throwing people out of boats.
I'm also warned not to try to stand up in a weir, just float down river feet first and wait for the rescuers who will be manning each one. Standing runs the risk of having your legs taken from beneath you by a following boat, or worse still having your feet trapped while the recirculating weir forces your head beneath the surface. Indeed only weeks ago, one such weir – Wren's – claimed the life of a young girl who had been swimming nearby.
Race day
Race day arrives and we meet in Straffan. The atmosphere is buzzing. Almost 1,000 paddlers have turned out for the event, on top of the family, friends, helpers and rescuers. One of the first things I notice is the complete lack of posers – I find I am subconsciously expecting a large portion of long haired, tanned, decked-out-in-all-the-most-expensive-labels-connected-with-the-sport girls and boys one might normally associate with surfing or skateboarding. But there doesn't seem to be a single one in sight.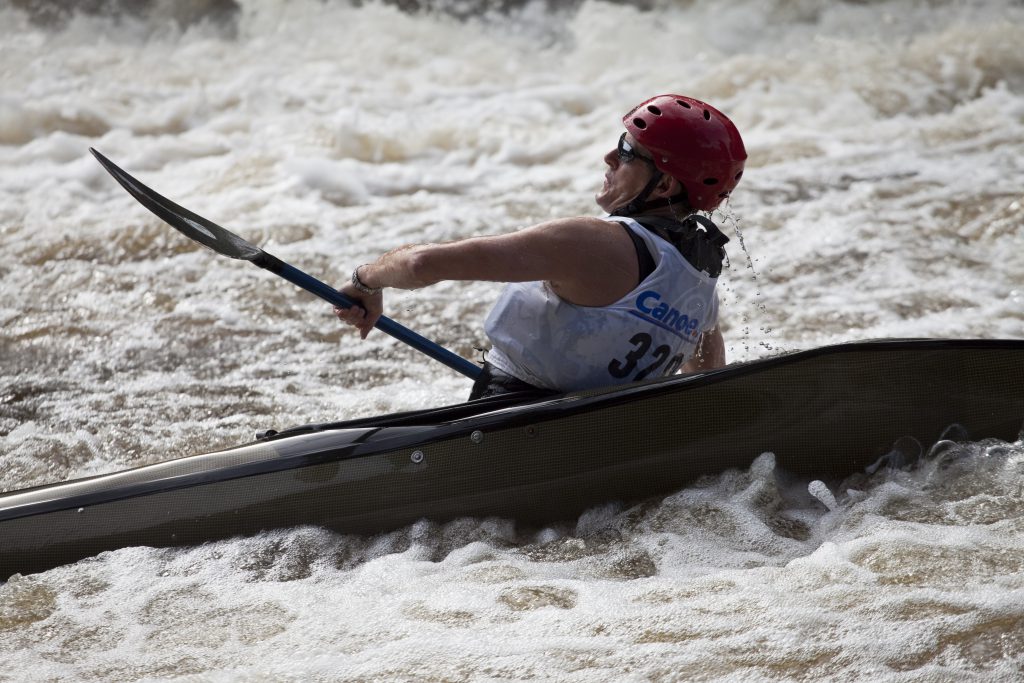 Everyone is excitedly unloading gear, including Rory, and I get a look at our heavily modified vessel. Besides the Space Hoppers, Rory has bolted on what look like a pair of buggy wheels, so that the boat can be wheeled instead of carried at the portage, a spot halfway through the race when all rowers must get out and carry their boats around a dam. He has also laminated and taped to the boat floor navigational notes for each weir. But the pimp he's most proud of by far is the Mars and Snickers bars taped to the inside of the boat for easy reach.
And it's not just our boat – makeshift ingenuity appears to be a common trait among paddlers. Buoyancy aids take the form of tyre inner tubes, air mattresses, empty oil drums, exercise balls; one boat had a semi-pitched tent for keeping the water out.
"Rory's cone trick is obviously a well-known one – if Dublin City Council ever want to know where all their traffic cones disappear to, paddle meets would be a good place to start looking."
In fact, looking around it's hard to imagine how canoe supply stores make any money.
One company that is making money from paddlers is Duck Tape. Rory had mentioned earlier that the Liffey Descent was looking for a main sponsor – well someone needs to get in touch with Duck. Every single boat has used at least one roll of it, whether to tape down spraydecks, make repairs, fix shoes, patch holes, or simply attach a foam cockerel crest to their helmet. At any given time, someone had a length of it in their teeth.
As we make our final boat checks, Rory runs over the weirs with me one last time. "There's a main running line on each weir – the racing line – which follows the main flow of water, and it's the quickest way over. Alternatively, there's the 'chicken shoot', which is safer and easier, but a bit slower."
12 sea swimming spots in Ireland that will take your breath away
Of course, it can work out a lot quicker than if you ended up swimming after a heroic race line attempt. However, you must be prepared to take the shame of opting for the coward's way out should anyone see you.
Stationed at each weir is a team of experienced rescuers, either throwing ropes or paddling out to help capsized rowers or 'swimmers' as they're known! One of the weirs is so deep that divers stationed beneath the surface, while one of the more treacherous bridges has abseilers ready to descend. My last thought before we make our way upstream to the starting line is hoping that we won't need either.
Cowboys and Indians
Heading for the back of the queue with the rest of the Canadians, we pass all the waiting smaller general-purpose craft and faster racing kayaks. Some are manned by very serious-looking android types with sunshades and streamlined helmets, others by Smurfs, Cowboys, Vikings, and lots and lots of Indians. One canoe is completely covered in Hawaiian leis, the rowers dressed in grass skirts, straw hats and Hawaiian shirts. The bewildered golfers in the K-Club wonder what to make of it all.
Suddenly, downstream, the signal is given for the smaller craft to go. They all mass into the centre of the river, and from the Canadians vantage point a few hundred meters back, they look like a single giant millipede, slowly crawling on oar-like legs out of sight.
Meanwhile, the Canadians sit and wait like an Apache ambush party – the illusion greatly helped by the Apaches – until with whoops, screams and roars – again, mainly the Apaches – we are on our way.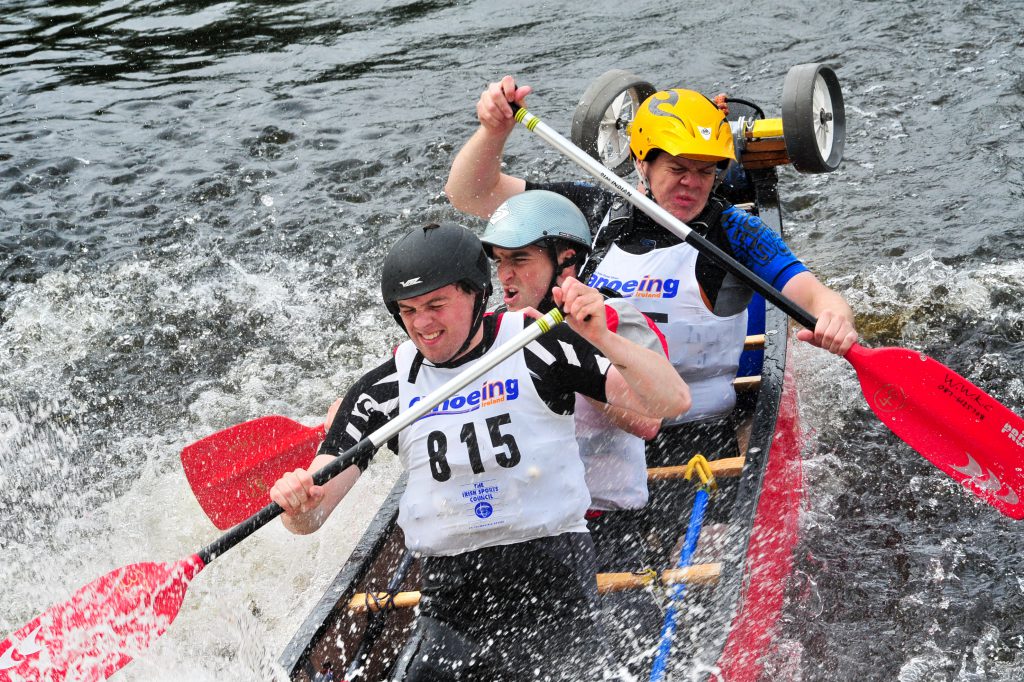 Moving downstream, we reach the first weir, Straffan, a lot quicker than we left it. The river is like silky glass right up to it, before descending two step-like levels into a seething mass. We are approaching at speed and for the first time, I'm really nervous. As instructed, Coach and I move one thwart back and slink as low as possible to keep the nose of the canoe out of the water.
"Paddle! Paddle! Paddle! Paddle!" Rory screams from the back. I do just that, and lo and behold, it seems to be working! We make it over the first step. The water is lashing at us, but we are straight up and moving forward. "Piece of cake," I think to myself…before things start to go horribly wrong. Without even feeling it tilt, I notice the boat is at a 45-degree angle. I get that 'oh no' feeling you get just before you throw up. My mind races back through all the things Rory told me: "Don't hold onto the far side of the boat," I remember. I look up to see my left hand doing just that. Against all my instincts, I let go. And, chaos. I am upside down, back to front, and inside out.
"Everywhere, there are bodies, upturned canoes, paddles, ropes, empty kayaks, equipment, and lots and lots of water, all going in different directions. But despite the very real danger of drowning, there is something completely hilarious about it all. I am beaming ear to ear, and would be roaring with laughter if it weren't for all the water being forced down my throat. I cannot help it."
The rescuers meanwhile are taking their job very seriously, shooting yellow ropes across the river with Spiderman accuracy. I cling to one and am dragged ashore, proudly bearing the paddle I managed to hang on to. That was, without doubt, one of the most enjoyable f*ck ups I have ever participated in. Only ten more to go.
After emptying the canoe and getting back on our way, Rory explains that we collided with another boat, and Coach was tossed out, which was why we didn't have enough momentum to escape. Coach has picked up a pretty nasty bump on his arm for his efforts. I was so preoccupied with staying up I didn't even notice him being ejected in front of my nose.
In the Jungle
Next up on the course is the Jungle, a stretch of the river covered in overhanging trees and bushes that require careful single-file navigation. Coach shouts directions while Rory skilfully steers us between them. All of a sudden I get a reminder why people wear seatbelts in cars. We jolt to a sickening stop as if we've hit an iceberg. Coach thinks Rory has caught a branch in the mouth, but in fact it is our improvised set of wheels snagged on a branch.
We manage to stay upright and count our blessings, but it's not long before the same thing happens again. This time Coach is less startled and more angry. "If those f***ing things get caught again I'm gonna break them off!" It is a wasted threat; the branch has already done that for him. This will cause us problems at the portage later…
The ultimate Irish adventure bucket list
Soon afterwards, the jungle starts to widen marginally, but not so much that you want to go recklessly overtaking people. This, however, doesn't stop three-man Canadian 821 giving us a cynical bump which spins us the wrong way. "Bastards!" I'm sure I hear the normally mild mannered Rory mutter behind me. Liffey Dissent indeed.
I make a mental note to make sure we finish ahead of them.
As we approach the second weir of the day, I am conscious of our 0-1 record, and wonder if we'll get down any of the weirs intact. Although the lads are experienced paddlers, they have between them completed exactly as many Liffey Descents as I have. My fears prove unfounded though, as we negotiate the racing lines on the next two weirs, Templemills and Vanessa, perfectly.
After that, it's onto the course's only natural obstacle, the Castletown Rapids. Despite navigating them successfully, the sheer weight of our three-man crew meant we took on a tonne of water anyway. After a frantic paddle through, we have to stop moving almost entirely, as one sudden jerk would make our water-filled boat tip over. A few gentle strokes with breaths held later, we make it to the bank for a quick emptying. It's at this point that I really get the sense that we are in a race and feel frustrated watching dozens of boats skip passed us as we make our forced pit stop, having made it through the rapids successfully.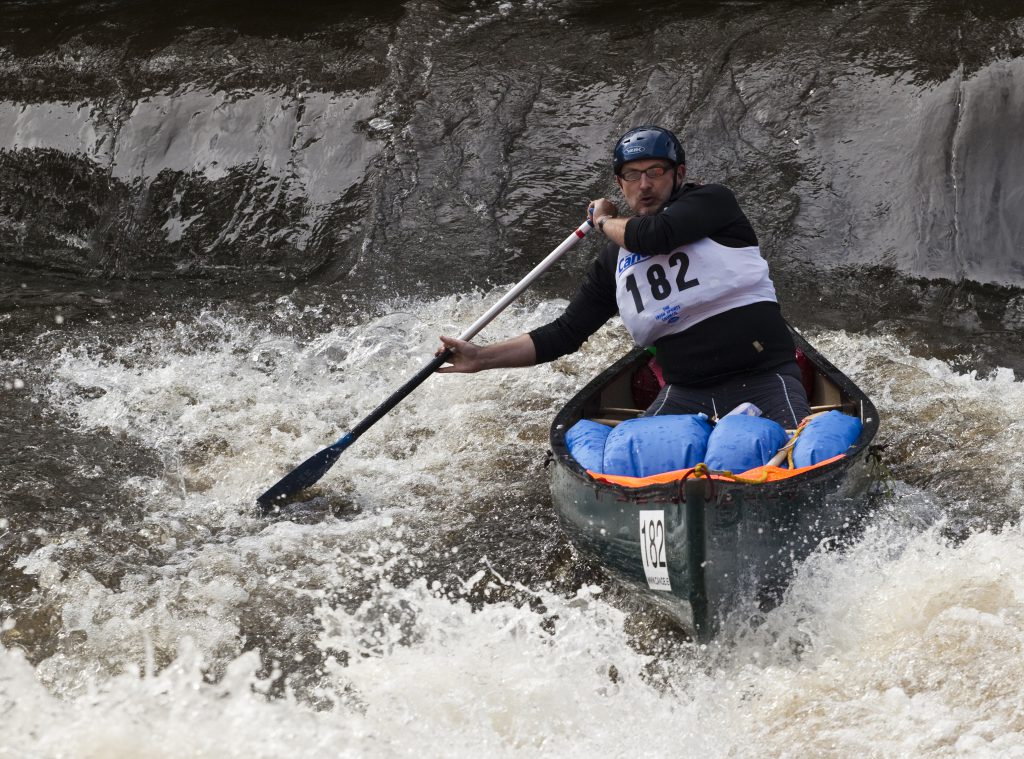 Next up is something I am particularly not looking forward to – the long slog through Leixlip Lake. With the river widening the power of its flow is lost, meaning rowing power alone is needed to traverse it. By this stage my shoulders are already aching and I only manage to keep my mind off the pain thanks to the rawness in my knees. Kneeling in a hard wooden boat in wet clothes for this length of time isn't pleasant on the patellas – especially if your kneepads don't fit too well.
I am very much looking forward to the break at the portage, where we will get out of the boat and stretch our legs and wheel the boat around the ESB dam. Of course, I've already forgotten that our wheels have snapped and that we'll have to carry the rhinoceros-weight boat 500m by hand.
The queue to get back in the water on the far side is growing by the minute, so heartbreakingly there is no time for a break. The queue proves too much for one 'serious' racer, who decides to skip along the side with his sneaky-looking long skinny kayak. But much to everyone's delight, he capsizes into the muddy waters to a big cheer before sneaking off.
We don't have long to settle ourselves after returning to the water after the portage; almost immediately we have to make sure we aim for one of the arches, and not one of the supports of Leixlip Bridge. A Canadian just before us doesn't quite make it, and is completely wrapped around one of the bridge struts after hitting it side on; the garrisoned abseilers quickly descending to help out.
Chicken shoot time
With a sizable and possibly complicating traffic jam on the Sluice weir, we opt for our first chicken shoot of the day, which goes without a hitch. The smooth chicken shoot is still on our minds as we approach the next obstacle – the high drop at Lucan. This weir is certainly the biggest and perhaps the most complex.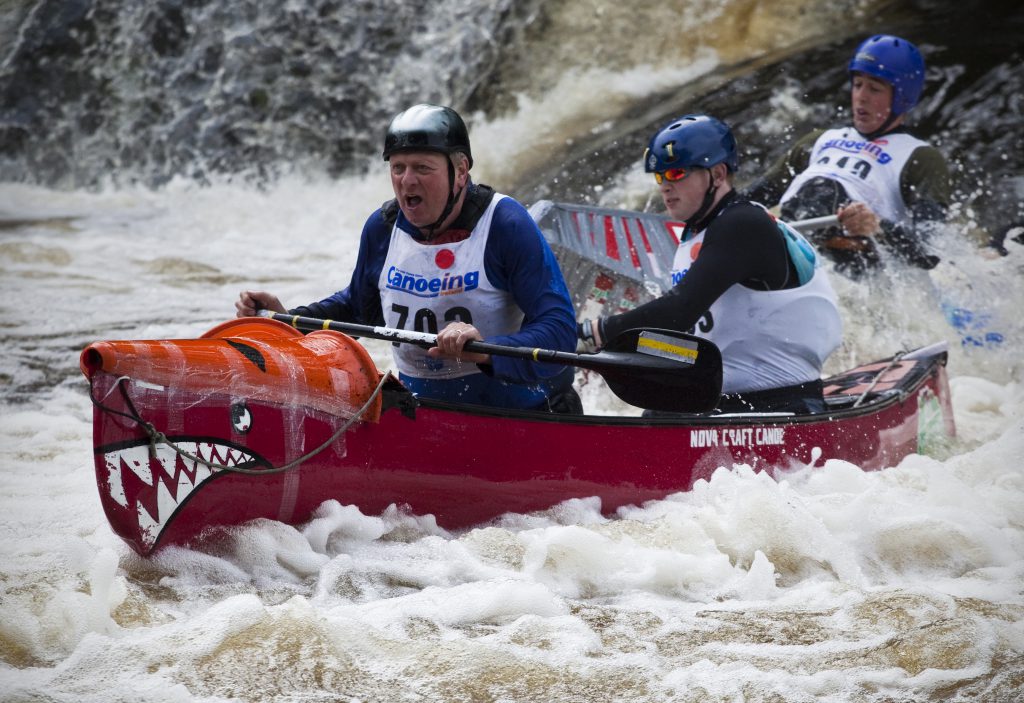 The huge drop means that the only way of getting through successfully is to hit it side on, and lean your full weight back onto the weir itself. Falling out early means gravity would have a good hold on the boat before it follows you, possibly landing on your head. Going over it straight could possibly make the boat snap in half. But most importantly, the majority of the spectators who have come to watch are gathered at Lucan – and of course we don't want to swim in front of our fans.
So the chicken shoot it is. Hundreds of people have gathered to cheer us on. We line the boat up, began the gentle descent, no problems – our easiest weir yet. We go to do our lap of honour when we all suddenly realise we are chest deep in water, and our upturned boat is floating beside us. Somehow (neither Coach or Rory could explain it in our post-race dissection) we've ended up in the water. On a chicken shoot. Right on front of all the spectators. We sheepishly right the boat as the crowd hurray all the successful paddlers rowing behind us.
"And the hazards at Lucan aren't finished yet. Just as we pull away, we are ambushed by a load of club members armed with water balloons. Rory once again displays his paddle prowess by deflecting one of them with the blade."
I suppose it's a vote of confidence that they think getting wet might bother us at this stage.
After our epic failure at Lucan, we are determined to get the next one right. Shackleton's, AKA Anna Liffey, has no chicken shoot – not that we need one! Like a skateboarder on a rail, we steer the canoe onto a diagonal sloping stone ridge beneath the water and slide down with ease – definitely our smoothest weir so far, although Rory feels we might have left a lump of the canoe behind.
As we approached Wren's Nest, a debate on whether to do the chicken run or racing line plays out. The latter wins, and we go straight down the V. But in doing so we're pulled to the right, into the stopper, and take on another bathload of water. Although we manage to stay up, it is another tentative paddle to the bank for emptying duties.
It is here we meet fellow club member Anne Hodge, whose kayak has suffered a nasty gash underneath. Luckily, Rory has a roll of the ubiquitous Duck Tape to help her patch it up. Needing a sugar hit, I take the opportunity to test one of the Mars bars which have somehow remained strapped to the inside of our hull. It's quite soggy and tastes distinctively of Liffey but it goes down the hatch nonetheless. After that it's back to work as we head towards the day's biggest test – Palmerstown Weir.
Our Thomond Park
Palmerstown is, as Rory describes it, "our Thomond Park". Located just beside Wild Water's clubhouse, and manned by club rescue staff, it's the weir the boys know best, and if they mess it up, they will hear about it for the rest of the year. "There is no way we are swimming here," they say. Which is, of course, exactly what we do.
Just like the very first weir, we make it over the first part with no problems. But as we reach the bottom, we are smashed in the face by an enormous wave. We survive it, but only for milliseconds, as a second even bigger one follows and cleans us out.
This time it's even funnier. There are fewer rescuers here, and Rory is the only one who manages to catch a rope. In his other hand, he is trying desperately to hang on to both the boat and his paddle. I meanwhile am clinging to his foot, and in the other hand try to keep hold of my paddle and the Space Hopper which has become dislodged and is now threatening to float away. I can only imagine what the bizarre train of objects looks like from the clubhouse. It takes us considerably longer to get to the bank this time.
Our penultimate obstacle is Glenaulin, the broken weir, which is essentially now just a patch of fast-moving water. We complete it without problem, although it does claim a few victims as we pass. Chapelizod is the final weir which we power through with flying colours – no thanks to the rescuer standing on the weir insisting we go right, which would have taken us into a chest-height tree jutting out from the wall at a right angle. This left us with an impressive record of 7 and 3 – the infamous 'ghost weir', which sporadically shows itself, had not made an appearance on the day.
All that was left now was the 2km slog of flat paddling to the very welcome finish line. We cross with a time of 4hrs 14mins, minus about a half hour wait for the Canadians at the start – a time we are happy with.
Throughout the day, the driving force that kept me getting out of the freezing water and back into the boat to row was the thought of the nice, steaming, hot shower waiting for me at the end. Little did I know the showers would turn out to be colder than the Liffey itself. If ever there was an incentive for finishing the race faster…
Our final task was to find out how we did. But not before President of the Irish Canoe Union Eamon Devoy (whom I also recognise as the TEEU boss – water and electricity, who knew?) makes me feel like a wuss for feeling tired by introducing Iain MacLean, who had just completed his 43rd Liffey Descent. He also announces the sad news that a legend in the canoeing and kayaking world, Ernie Lawrence, had passed away a week before he was due to take part in the Descent, a race filled with boats he personally designed. His daughters Emma and Louise brought his ashes to Dublin so he could complete the race one last time.
As for us, we learned that of the 18 Canadian 3s in our class, we finished 9th – a top 10 finish! Not bad for three Liffey virgins. And those feckers 821 who rammed us? Well, they only managed a paltry 13th.
Check out our Hard as Nails podcast:
Like this? You should check these out: 

Previous Post

Next Post