Thinking about walking the world-famous GR20, but don't know where to begin? Our guide covers everything you need to know before your trek, including an overview of the type of terrain you can expect, the lowdown on food, drink, and huts on the trail, and an essential kitlist.
Twisting and turning 112 miles along Corsica's recognisable granite peaks and pinnacles, the GR20 is one of the longest — and toughest — long-distance hikes in Europe. Loose rocky climbs, unassisted scrambling, and the searing Mediterranean heat make the trail brutal on the mind and body, and perfect for an adventurous hiker.

The GR20: Essential Facts
Duration – ~15 days
Overall distance – 112 miles (174 km)
Total ascent – approximately 40,000 feet (12,000m)
Min. elevation – ~984 feet (300m)
Highest point – ~7,450 feet (2,271m)
Highlights
Navigating the high-level traverse over Monte Cinto, Corsica's highest mountain 
Walking across the pozzines – moss-like grasslands unique to Corsica – beside the Lac de Nino
Climbing the granite pinnacles of the Aiguilles de Bavella
Crossing the hot, fragrant, Mediterranean shrubland near Conca
Terrain on the GR20
If you're considering the GR20, you can forget walking on nice, well-cut trails throughout the hills. There's no real path underfoot through much of the northern section, and you'll have to pick your route to the next waymark or cairn across rocky terrain and granite slabs. The GR20 has several technical passages with narrow rocky climbs and steep descents: the whole route has around 40,000 feet of elevation variation.
There's some discussion over whether you should start in the north and walk south, or vice versa. The technical sections of the trail are concentrated in the northern section, and it's a good idea to start the hardest part when you've got plenty of energy left. Others prefer to start from the south so they can get used to the rough terrain in the easier section, and increase in difficulty as they go on. The choice is yours!
Experience Required for the GR20
Don't underestimate the GR20: you need to be fit, fairly experienced, but most importantly, you've got to be seriously motivated. We recommend having quite a bit of mountain-walking experience. You should be able to read route notes, locate your position on a map, and navigate your way when necessary, though the trail is clearly waymarked from start to finish. You should also be prepared for some scrambling in the tricky northern section, occasionally with the assistance of a ladder and chains.
You'll also be walking between six and seven hours a day, not including stops. Several days will be over eight hours long, and include pretty significant ascents and descents. You need to be prepared not only for the difficult technical sections, but just for being on your feet for that long each day.
GR20: the highs and lows of one of Europe's toughest treks
Thinking about doing a solo GR20?
Taking on the technical GR20 solo is only really suitable for experienced mountaineers or walkers who want to walk the trail at their own pace. A solo GR20 is also good if you have plenty of time to see more in the area. Solo hikers have the freedom to go off-trail to climb up Monte Cinto or the Monte d'Oro, or explore Puglia Orba and drink in the views from the Capu Tafunatu. It can be a bit lonely walking by yourself, but as every thru-hiker knows, you're rarely alone on the trail! You'll meet plenty of people who'll walk with you, swap stories, and sometimes share precious rations.
Aside from the safety benefits of walking as part of a small group, having someone to talk with — or complain to when the going gets tough (and rest assured, it will) — and another person to carry the all-important kit can make the GR20 that bit easier.
GR20: Basic Kit
You need to look after your feet on this trek: it's going to be tough on them. Make sure you have a pair of fairly new high-collar walking boots to get you through the complicated passages. Trail-running shoes won't have the ankle protection you'll need going downhill. Don't forget to take something warm and waterproof, since the changeable weather in Corsica is notorious, even in summer. Trekking poles will certainly come in handy, especially those with removable rubber ferrules to help you across the granite slabs that often constitute the route.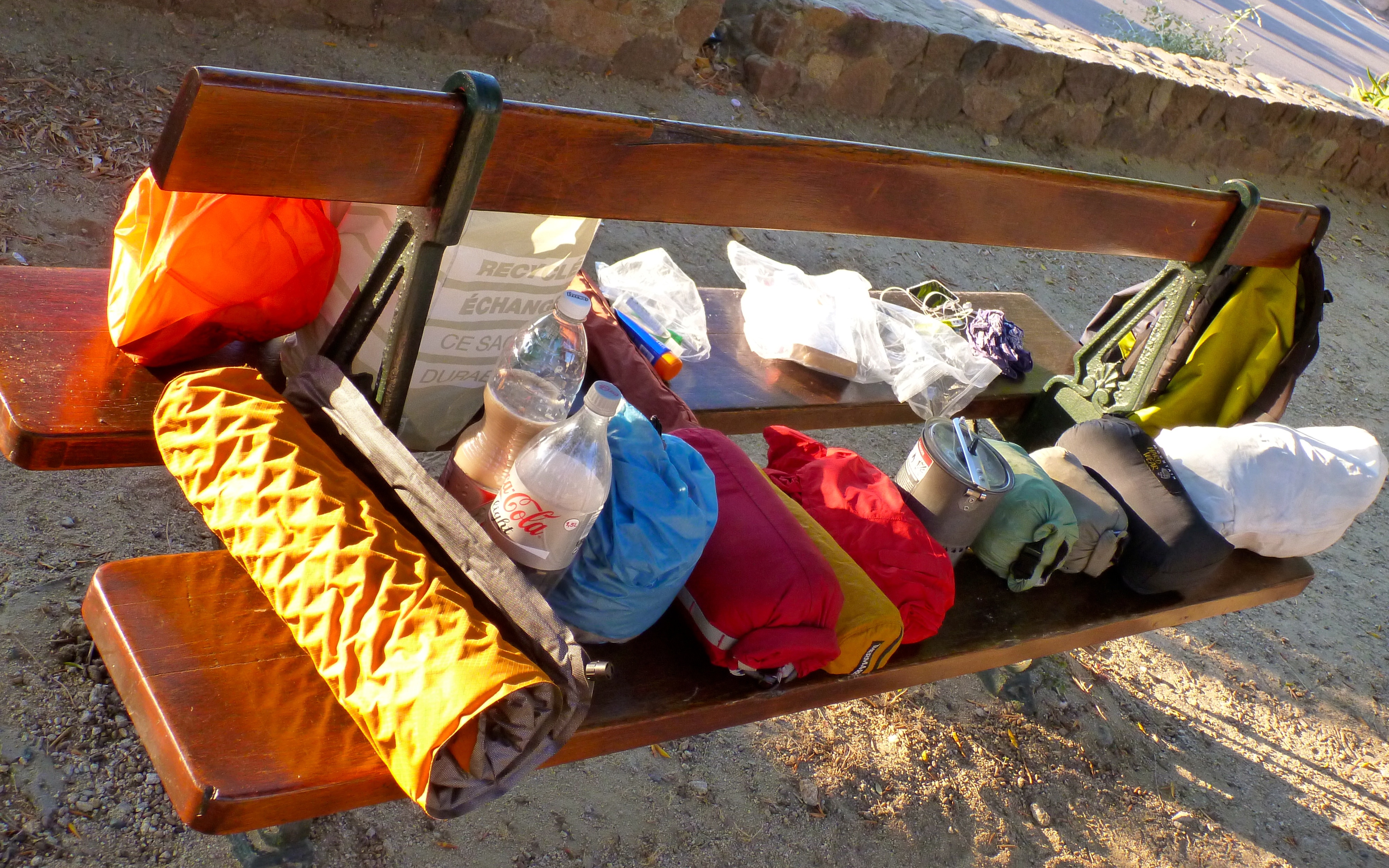 If you're tackling the GR20, you should be fairly familiar with long-distance trails and should have a good idea of what to bring and what to leave behind. As always, our recommendation is to try and stay light: try and keep your pack under 10kg.
Eating and Drinking on the Trail
There's quite good food on offer at almost every refuge. Even if you're sleeping in a tent outside, you're welcome to eat at any hut. Unfortunately, there's only limited choice, and it can be pricey, since food supplies come up the mountain daily by mule or by helicopter. We'd recommend you eat at the huts as often as possible to save weight of your own food supplies. However, most hikers still bring a stove and essential supplies, just in case. A large selection of supplies — the canned stuff and freeze-dried meals — is on sale at most of the mountain huts. Stove facilities are also provided outside the huts, but be prepared to wait your turn.
Fresh water springs are pretty scarce along the trail, though there's plenty of surface water at the lower altitudes. There's a source near every refuge; in hot weather, take no less than three to four litres per day. To be on the safe side, you should treat everything you put in your canteen before you drink it.
Accommodation on the GR20
An 'authentic' GR20 experience includes a night in a mountain hut or refuge. They usually have one large dormitory with wooden bunks and mattresses, where anywhere between 25-50 people can sleep. There's no access to electricity or hot water.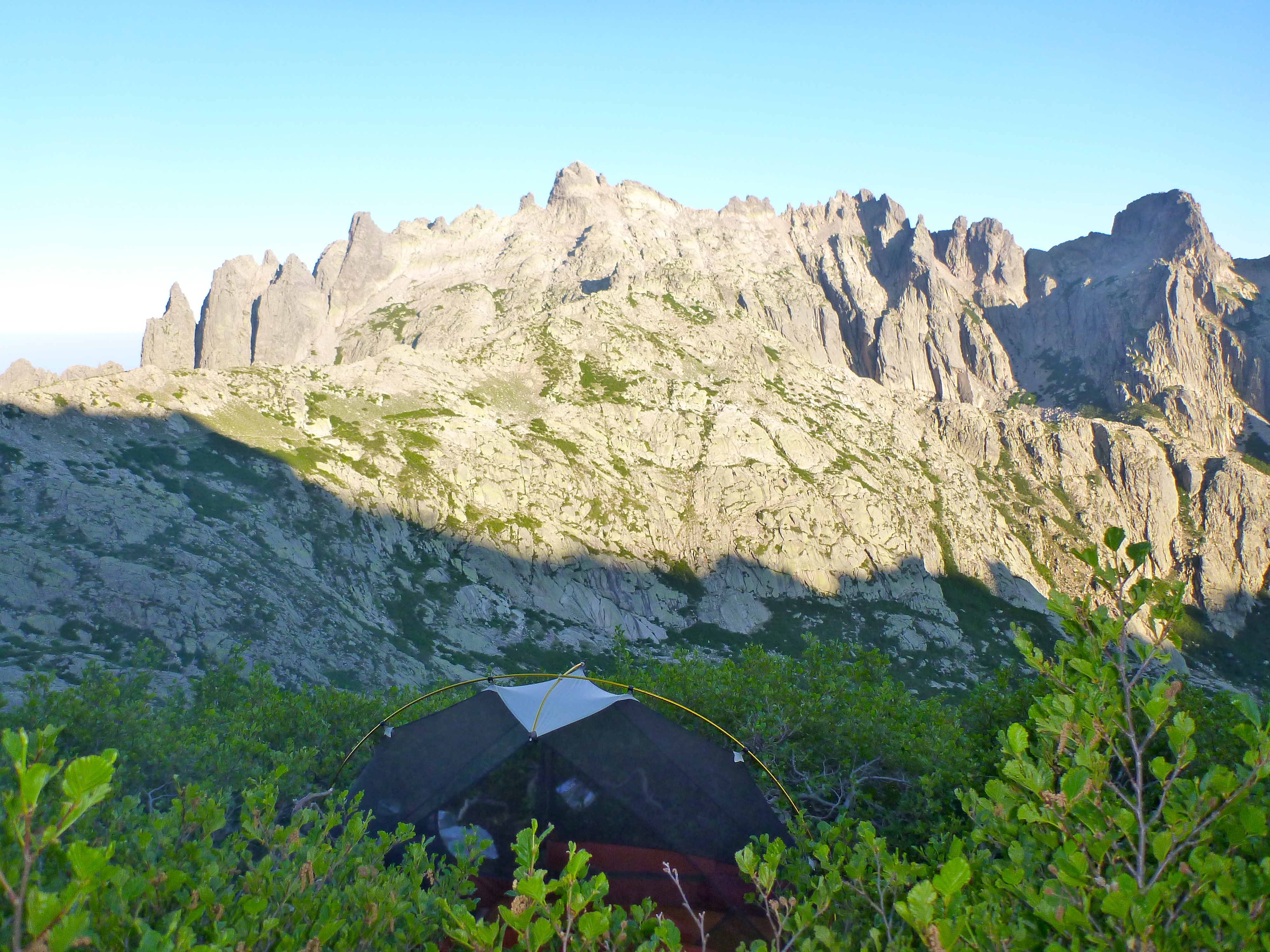 The Regional Natural Park of Corsica is making an attempt to limit the yearly increase in numbers of hikers, and now requests hikers make a reservation online. The system is poorly managed — the site is only in French — and is only really for those staying in mountain refuges or the park-issued tents that are available for a small fee. You'll be tied to that reservation date though: if you're held up by bad weather, or need a rest-day, you might find yourself with nowhere to stay.
Our advice would be to bring your own tent. You'll need one capable to withstand the unpredictable Corsican weather, and it might be wise to consider a freestanding one since much of the terrain is very rocky. There's no setting up camp on the trail, but strictly speaking, the rule isn't enforced. Sleeping in the outside area of a mountain refuge will run you about €6 a night. Camping is not only more independent — and possibly more hygienic — but also more in tune with what the GR20 is really all about.
What time of year is best to tackle the GR20?
The best times of year to trek the GR20 are late June to early July, or late August to early September. The window of opportunity runs from June to September, but in July and August the hot weather does put hikers off. However, the weather in Corsica is unpredictable, without fail. Be prepared to take one or more days off due to bad weather. Schedule your travel to and from your chosen starting and finishing points with a couple of days to spare.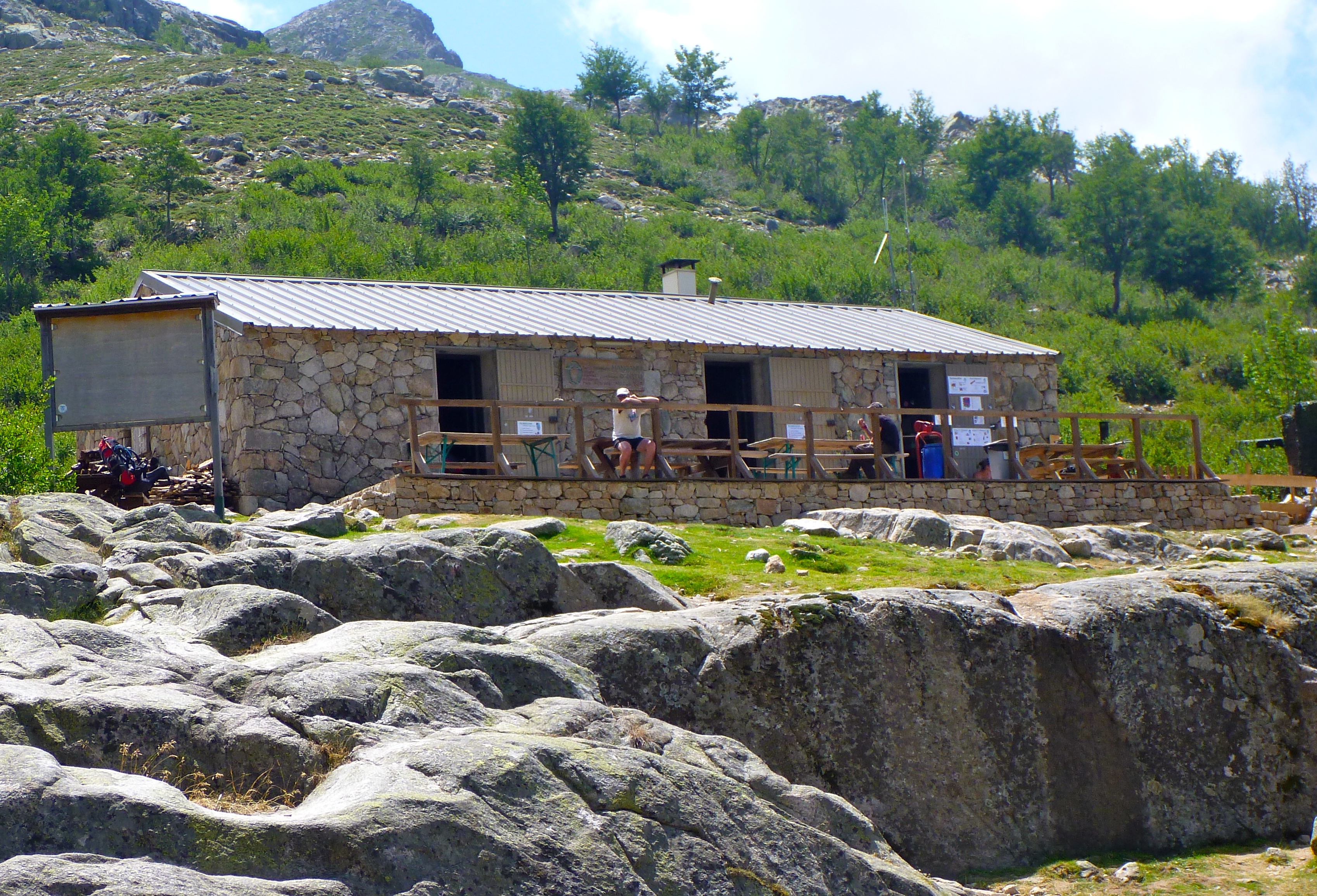 Getting to Corsica from the UK and Ireland
There's only one direct flight a week from the UK and Ireland to Corsica: EasyJet offers a direct flight from London Gatwick to Ajaccio. Ajaccio is located on the island's west coast, about 160km from the northern trailhead of the GR20 in Calenzana, or about 150km from the southern trailhead in Conca.
If you're planning a north-south GR20 route, we would recommend flying into Nice. British Airways and EasyJet fly regularly from London, Bristol, Edinburgh and Liverpool. Ryanair and Aer Lingus fly directly to Nice from Dublin. From Nice, hop on a Corsica Ferries route to Calvi as a foot passenger. The crossing operates up to 5 times each week, and it takes about 6 hours. Sailing durations and frequency of crossings vary from season to season.
Alternatively, if you're looking to walk from the south, Porto Vecchio is a port close to the trailhead in Conca. There are three sailings a week from Marseille with Corsica Linea, but the overnight crossing takes about 13 hours. Another option would be to fly to Sardinia before a crossing from Golfo Aranci to Porto Vecchio with Corsica Ferries. There are three sailings per week, and the journey takes just over three hours. But, getting to Sardinia isn't easy: the only direct flight from the UK to Olbia Airport in the North is from London Gatwick, with EasyJet. All other routes would include an airport transfer.
Another option would be to fly to Paris before taking a connecting flight to Corsica. You can fly direct to Paris Orly airport from London Gatwick, Heathrow, or City airports, Edinburgh, and Southampton airports in the UK, and direct from Dublin with Transavia. Air France and Air Corsica fly regularly from Paris Orly to Bastia and Calvi in the north. Calvi is closer to the GR20 start in Calenzana but the flights are less frequent. Air France also fly from Paris Orly to Figari airport in the south, which suits hikers starting the GR20 in the south.
Check out our Hard as Nails podcast:
Like this? You should check these out: