Miserable weather, missing bags and blisters: Eoin Keith tells us about his UTMB disappointment.
The UTMB presented by Columbia is arguably the world's most competitive trail running event. At 171km long and with a staggering 9,600m of vertical gain through the Alpine terrain surrounding Mt Blanc, it is a task of mind-boggling proportions to any normal athlete. It's even tougher when the weather throws heavy rain, snow and fog at participants. Following a truly successful year, Ireland's Columbia-sponsored athlete Eoin Keith had high hopes for a good performance. But on this occasion, it seems it wasn't meant to be. The incredibly talented athlete was forced to pull out at the 90km mark due to foot problems. We caught up with Eoin to find out what went wrong.
Tell me how the race started for you?
The course was generally running better than I expected, given both the weather forecast and the previous few days of wet weather. There were some parts that had turned quite muddy and slippy. I had chosen shoes with good deep grip (Columbia Montrail OutDry extreme Trans Alps) to deal with that though, so this generally didn't cause too many issues. The gear worked well.
The weather was mixed. It was actually a little better than forecast. It started out dry, and not too warm. It got cooler with dusk and this was followed by intermittent rain at night. I had started geared up for showers, with more gear in reserve if it got colder. I also had plenty of options to swap gear, both where my support crew (Helen, my wife) could meet me, and at the resupply drop bag around half way in Courmayeur.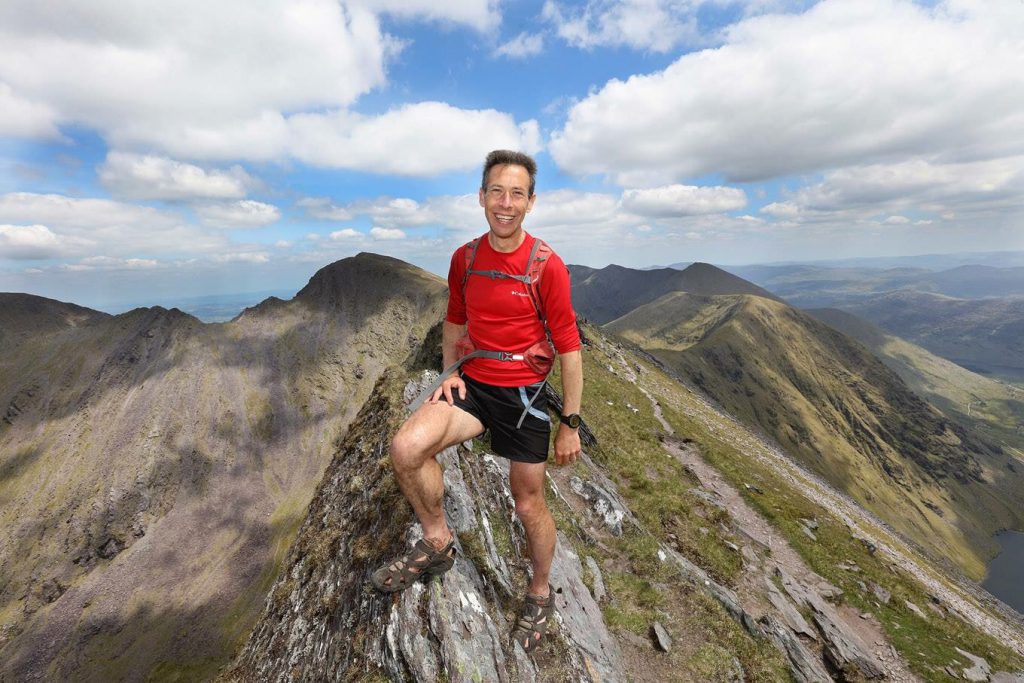 With all that, and being used to Irish wetness, I was coping with the weather. In fact, I had met a fellow Spine race competitor, Damian Hall, before the race start, and we both agreed that apocalyptic weather would suit us best from a competitive point of view. So if anything the weather wasn't harsh enough to be truly testing.
The toughest section was probably the top half of the second major climb to Col De Bonhomme and across to Croix De Bonhomme. I really felt the altitude kick in on the steep climb up, and we were met by an icy wind running along the top along with some nice thick mist. It was a good gear testing section! Despite my wish for bad weather, I was happy enough to descend into the calmness of the next valley and get some views back.
When did things start to go wrong? And what happened from there?
I first started to feel like I might have something, like a small irritating pebble in my right shoe between Saint-Gervais and Les Contamines. That's about 20-30km into to the race. The aid station at Les Contamines allows one support person to help. I had intended just to get a quick fruit juice resupply from Helen there, but instead, I also got her to help take my right shoe and sock off and check my foot. She couldn't see an issue with my foot and I couldn't find anything in the shoe or sock. So I put them both back on and carried on.
The next big descent after that was about 45km down from Croix Du Bonhomme. This was where the issue really started affecting me and how I was descending. I was running downhill much more on my toes than normal. I was still moving pretty fast though, generally overtaking runners on descents.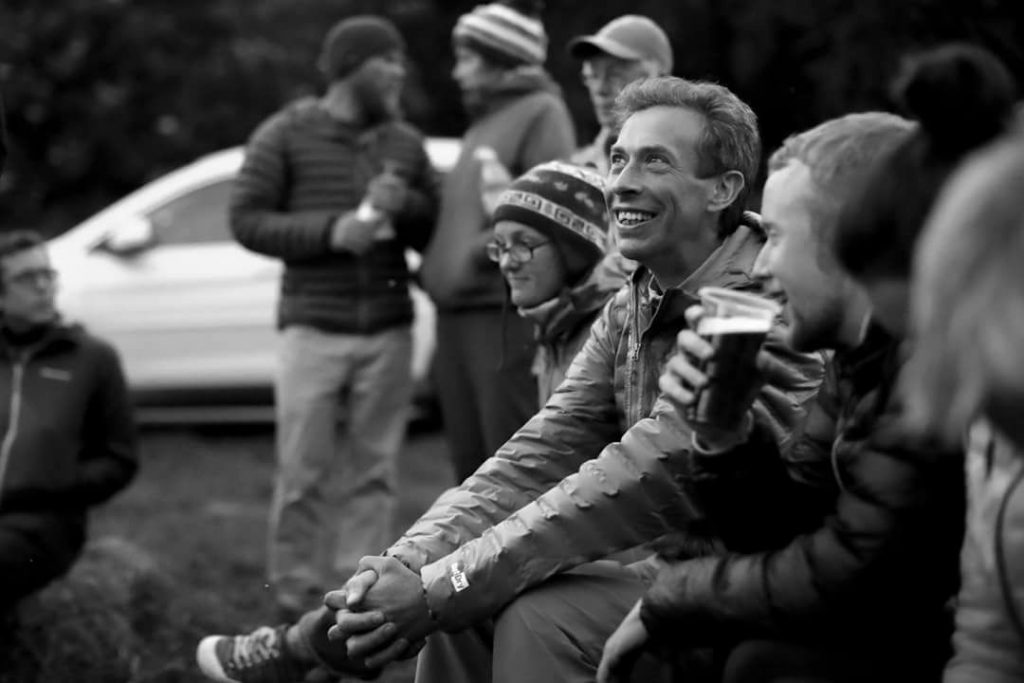 At the next aid station at Les Chapieux (50km), I took some time again to take my shoe and sock off to do a check, and readjust, but again could find no obvious cause for the issue.
Climbing was generally not causing too much of a problem, foot-wise, so the climb out from there was generally fine. However, there was about a kilometre of easy downhill running in the middle of the climb and my foot started hurting so badly there that I stopped at the side of the trail to have another go at finding the cause of the problem.
All these stops were losing me far too much time and places. I was ending up overtaking quite a few people multiple times. I knew the next big descent, from the Italian border at Col de La Seigne down to the aid station at Lac Combal would hurt a lot, but by running on my toes I still kept up a reasonable speed, passing a few runners on the way down.
At Lac Combal aid Station (65km) I knew that I had to take however much time was needed to address this, so I went into the medical tent and sought assistance. By now there was no doubt that I had a major loss of skin under the heel of my right foot. So the medics there cut away the 'surplus' skin, cleaned things up a bit, and put on some kind of bandage/dressing to protect it. They also advised me to seek out the medics in the big upcoming aid station at Courmayeur to do a more comprehensive fix.
The temporary fix was an improvement but I could still feel the pain. So I was still descending on my toes trying to protect my soles. The descent down to Courmayeur is probably the steepest and most technical of the race. Despite that, and the problematic de-skinned foot, I still made pretty good speed, overtaking quite a few people on the way down.
I was about half an hour at the aid station in Courmayeur (80km) getting my foot seen to, as well as changing socks. Normally I'd try to be in and out in a matter of minutes.
Leaving there, I was slow to get back to a good speed. The climb up to the next aid station is the one I like least on the course, as it is both steep and technical. It's far too steep to run. I was unable to make any kind of reasonable speed going up as I was constantly on the verge of cramping, or actually cramping, with each step. The cramps were affecting both legs and feet.
About half way up I knew that the situation wasn't sustainable. I stopped, tried to sit down, but couldn't because of cramps. I got out my phone and called Helen to warn her that at best I'd be much later than expected to our next planned meeting point. Talking and thinking things though, I realised the best, safest, and the least disruptive option was to abandon at this point and head back down to Courmayeur.
My cramping problem was so bad that it took me longer to descend than climb as I had to walk the steep sections backwards to avoid cramping!
Interview: Eoin Keith Prepares for the Columbia UTMB
How were you feeling about it all?
It's not a good feeling at all to start seeing things go wrong. I'm generally very efficient at aid stations, so spending so much time at the stations dealing with the issues was quite frustrating, as well as being a direct time loss.
Similarly not being able to really let fly on the descents, apart from the first one, was also frustrating. Because I'm driven so much by racing and competitiveness, this really hurts mentally.
Pulling out is a very empty feeling, but then having to come down the hill backwards because my cramps were so severe made me sure that the decision was the correct one. There was just no way I would have made it much further under my own power.
The walk down gave me plenty of time to think about the cause of these cramps. I reckon it was the massive amount of descending at speed with an unfamiliar foot strike (running on my toes). As is so often the case, it wasn't the first injury which took me out, but the compensating for the injury.
It wasn't until 24 hours later, after a full night of proper sleep and rest that I was able to walk up and down stairs without cramping. Again this reinforced the fact that it was probably the right call to pull out. It's still frustrating, but at the same time, it's only a running race. DNFing a race isn't exactly a tragedy!
You've had an absolutely brilliant year so far with your Mizen to Malin record and your new 24-hour record.
On the back of this form, did you have big ambitions this year's UTMB?
My target was to beat my own PB, which was finishing second in the V1H category and 20th over all. The field was too deep and too strong to even think about position. I'd planned to run my best time, and let position fall out from that.
The success of this year so far meant that I regarded UTMB as a 'free shot', as no matter what the result, this year would still be a hugely successful one. That makes it a lot easier to deal with the DNF.
If anything the low-point of a DNF makes the highs of my record-breaking runs all the more special. The occasional disappointment reminds you of how good it is to succeed, and can be used as motivation to train better.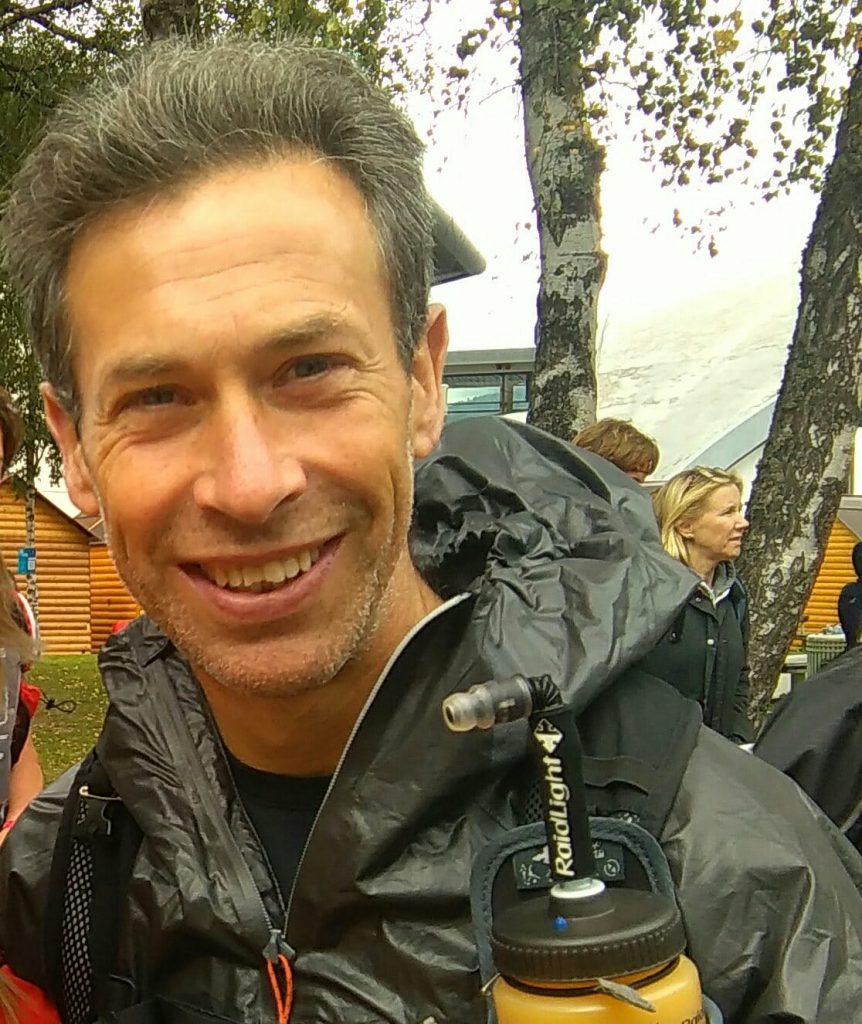 How do you cope with disappointments like this?
I think you can learn more from failure than success. I'll be self-analysing all the things that went wrong to try to figure out how to avoid repeating the same mistakes again in the future. This for me is key. I try to only look back to learn and spend my time more productively trying to enjoy the present and plan for the future.
A sense of perspective definitely helps. Even though training and competing in ultra-running is a major part of my life, a lifestyle really, I still know that in the end it's just 'playing', and not at all that important in the greater scheme of things.
What lessons will you take away from this event?
Well, the first lesson is I won't be racing in 'those' socks again!
Most of my thoughts from the event are very positive though. There were way more highs than lows. It was particularly great having the support from my wife Helen, her sister Una, and all the Columbia gang. Overall the whole UTMB week has been a great experience. Most people who race one of the UTMB events will tell you that it's pretty unique.
Eoin Keith talks gear choices for the Columbia UTMB
Is there anything you would have done differently preparation wise or in the run up to the event?
Nothing that I had control over. Aer Lingus managed to lose my bag on a short direct flight for 48+ hours. That threw any pre-race schedule I had completely out the window.
That was pretty disruptive obviously, but after more than 24 hours had elapsed and there was still no sign of it I started working on the assumption it was permanently lost.
Luckily I was in a town with a huge number of gear shops, including a Columbia shop, and lots of people from Columbia were here as they are the main sponsors of the UTMB (and me!). So they helped enormously getting enough gear together so that I'd be able to race. Some of the lost gear was impossible to replace though as it was specially shipped to me by the Columbia product development team in the weeks before the race.
Much to my surprise, my bag did turn up the night before my race. So, in the end, I did manage to race in my preferred gear. So I can't blame that at all for the blisters. It was far from ideal pre-race preparation though.
Will you be back next year? And do you feel like you now might have unfinished business with this race?
That's a yes and a yes.
This was my fifth time standing on the start line of the UTMB. The first two times the race was disrupted by bad weather, and as a result, the race was run on modified courses. I still had great experiences and good results.
2013 was my third UTMB and I finally got to run the unmodified course. I came second in the V1H category and, of course standing on the podium, was a massive highlight.
I'd never realistically thought I'd get on the UTMB podium. I went back last year but started the race with an injury picked up from the ITERA adventure race the week before, so that ended up being a very early abandonment. 
I definitely want to put a stop to the DNF sequence. I think I'll be changing category to V2H (from quite old man to old man!), which I'm definitely targeting as an opportunity to race competitively for a category podium result.
The UTMB is without a doubt the most competitive ultra trail running race in the world. So if you really want to test yourself against the best, this is the race to run.
Anything else you'd like to add?
A huge thanks to Helen and Una for the wonderful support before, during, and after the race. And another huge thanks to Columbia for being such incredible sponsors, making such great gear which gets tested to the limits in these events, and in particular for the amazing way they got behind me and sorted me out with all the gear I needed when my baggage went missing. And not forgetting the Great Outdoors who are such great sponsors of so many Irish outdoor adventurers, myself included.
Check out our Hard as Nails podcast:
Like this? You should check these out: 

Previous Post