Wales has dubbed itself the New Zealand of the Northern Hemisphere and we have to say we reckon they are on to something. Check out these amazing activities on offer if you don't believe us!
We are a little guilty of ignoring what is right in front of our noses from time to time, especially when it comes to planning our precious annual leave. Wales might not be at the top of everyone's travel bucket list, but in my opinion, it should it. I know that the weather in Wales can be far from ideal at times but with the following activities on offer, I guarantee that you will barely notice the weather.
Here are eight adventure activities in Wales that I bet some of you never even knew existed:
1. Zip World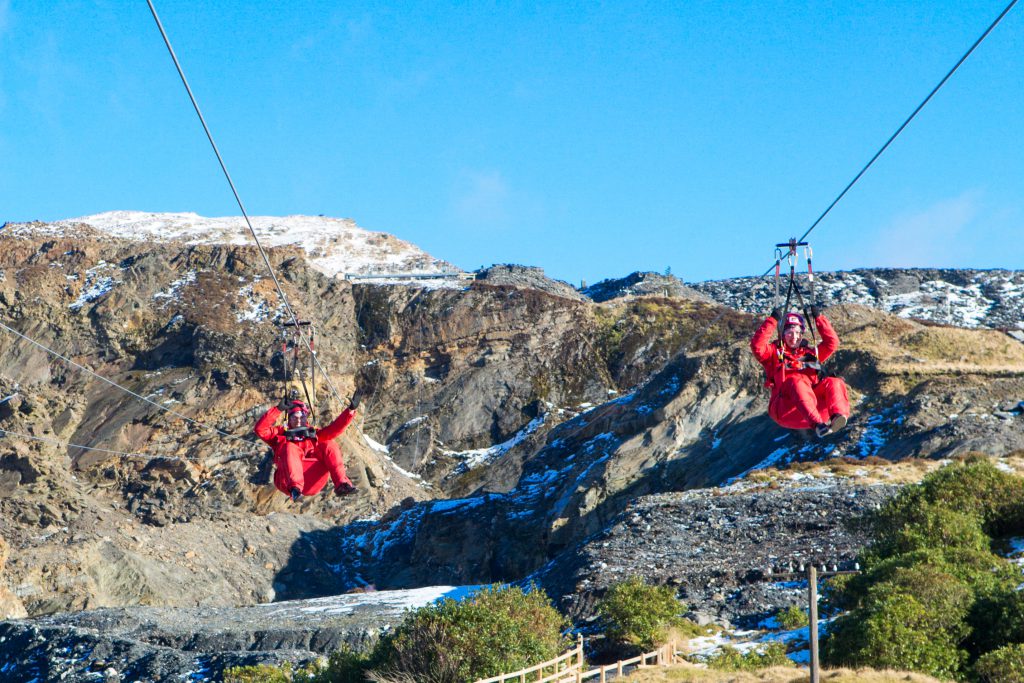 Home to the longest zipline in Europe and the fastest zipline in the world, Zip World does not disappoint. Nestled within the Snowdonia national park, the zipline is located in what was once Wales's largest quarry – the drive in the 4-wheel drive through the quarry to get up to the start of the zipline is an adventure in itself!
In addition to the big daddy of ziplines, otherwise known as Velocity which is located in Bethesda, Zip World can also be found in two additional locations. The Titan in Blaenau Ffestiniog, is the first 4-person zipline in Europe. With three ziplines positioned side by side, teams of four can fly down all three lines in unison as you all compete for the accolade of loudest scream.
The latest addition to the zip empire located in Betws y Coed is also worth a visit, especially for those perhaps looking for something a little more sedate. Here you can enjoy a zip safari and a treetop adventure. However, adrenaline junkies are still catered for thanks to the parachute simulator and giant five seater swing which are also on offer.
Where to stay: Bwthyn Wnion is a quaint two-bed cottage nestled in the heart of the North Wales countryside. With epics views and a log fire, it's the perfect place for a relaxing getaway and an ideal launching pad for the Snowdonia National Park. Prices start at €500 for seven nights.
Don't miss: The Welsh Cakes at Cwmni Cacen Gri bakery in Betws y Coed are to die for.
2. Bounce Below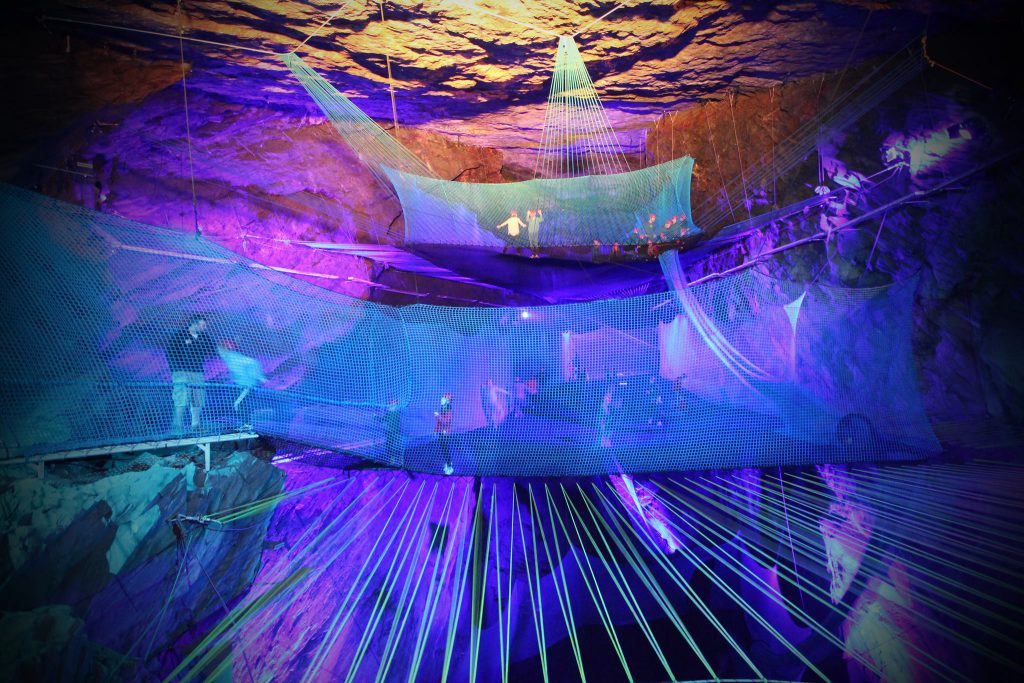 Bounce Below is the perfect way to while away a particularly bad weather day. Located at the Zip World Titan site in Bleanau Ffestiniog, visitors are brought underground into a 176-year old disused slate cavern that is twice the size of St Paul's Cathedral. The cavern has been transformed into an epic web of trampolines and via ferrata routes, all of which are begging to be explored.
The trampolines themselves are hung within two of the vast chambers at a range of different levels, the highest being 180 feet above the bottom of the cavern – those with a fear of heights should maybe sit this one out! The cave itself is accessed via a 5-minute train journey which transports you 100 feet below ground.
Where to stay: The Bryn Dinas camping pods are a great compromise for those who want to be close to nature but really couldn't be bothered putting up and taking down a tent! Located a short distance from the pretty town of Beddgelert, six miles from Bounce Below and just 300m from the start of the Watkin Path to the top of Snowden, they really are ideally positioned for adventure lovers. Prices start at €45 per night.
Don't miss: The food at Hebog in Beddgelert is some of the best I have tasted. It is utterly scrumptious, but be sure to book in advance as I am not the only one who thinks so.
3. Surf Snowdonia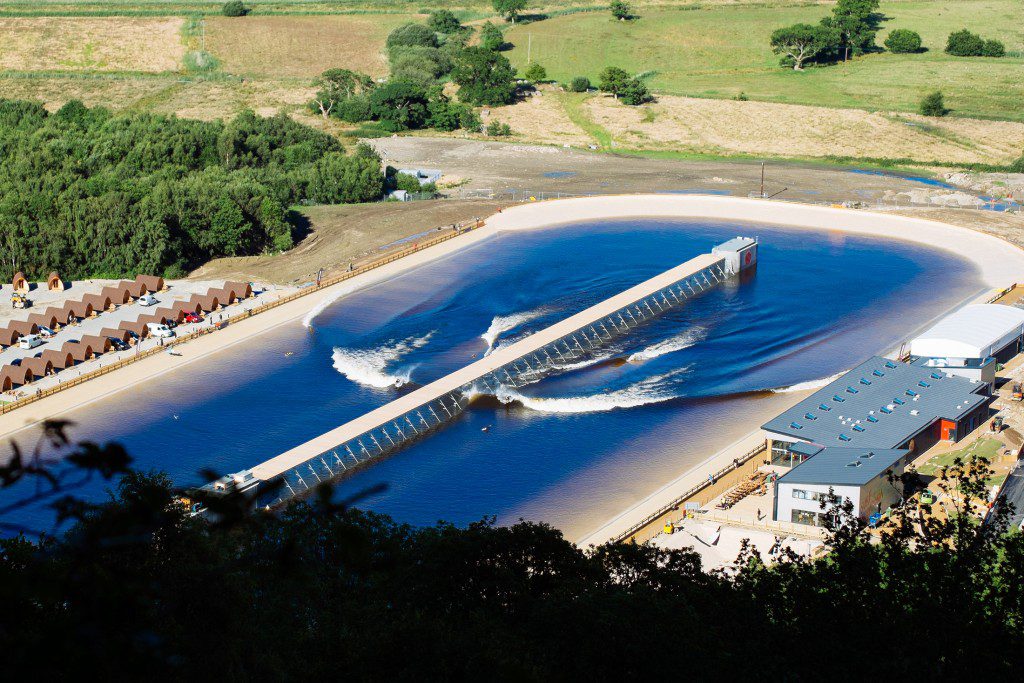 World-class surf is probably the last thing you would expect from a sleepy, landlocked village in the heart of Snowdonia. However, proving they are a force to be reckoned with, the Welsh have only gone and created one of the world's most ambitious wave-gardens in the small hamlet of Dolgarrog, some ten miles from the coast.
The pool of water which is the size of six football pitches features a wave that rises in the centre of the lagoon, peeling away perfectly for 150 metres. These perfect waves are available at the touch of a button so there's no more waiting around for a set to come in. The speed and size of the waves can also be altered to accommodate the ability of the surfers in the water at any given time.
Where to stay: In addition to offering surf lessons, stand up paddle boarding and regular events, Surf Snowdonia is also home to luxury camping pods in which you can rest your head for the night before hitting the surf again the next day. Pods start at €90 per night.
Don't miss: A trip to the imposing Conwy Castle is an absolute must when in the area.
4. Coasteering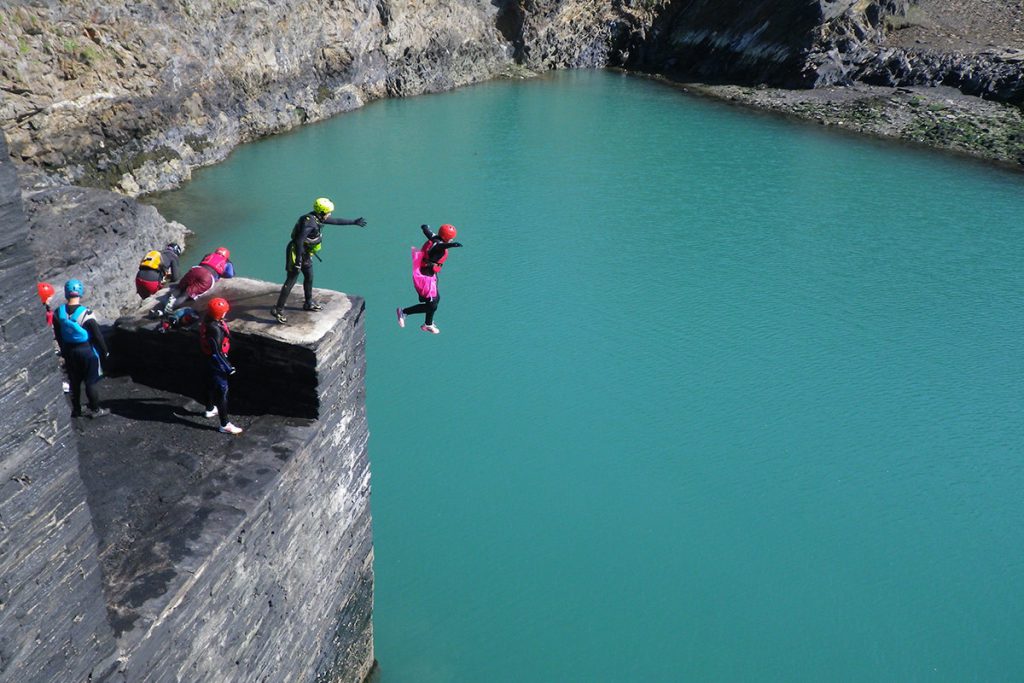 Pembrokeshire is home to more than crystal clear waters and white sandy beaches, it also hosts the infamous Red Bull Cliff Diving competition. Held in the Blue Lagoon which is a circular-shaped former slate quarry, competitors dive from a staggering height of 25m into the turquoise waters below.
While I don't recommend that you try that yourself, there are plenty of opportunities to explore the area from slightly less daunting heights. Suitable for people of all ages, you are treated to a new perspective of the coastline as you jump off cliffs and slide down rocks into the water below.
There are numerous providers all offering similar tours, although I can strongly recommend Celtic Quest Coasteering. Departing from Abereiddi which is a short drive from the cathedral town of St. David's, these guys will ensure you experience the very best of what the Welsg coastline has to offer including the infamous Blue Lagoon.
Where to stay: The Chapel in St David's is a unique place to stay. This converted church is finished to a high spec and offers incredible views over the Pembrokeshire Coastline. The only downside is that it is not within walking distance of the town itself. However, you may find you are more eager to eat-in when you have those incredible views on your doorstep.
Don't miss: Dinner at Cwtch in St. David's is an absolute must. Not only is the food top notch, but this place has one of the warmest welcomes I have ever had the pleasure of experiencing.
5. White water rafting
Even Wales' capital city, Cardiff has decided to hop on the adventure bandwagon. Nestled amongst two of Cardiff's finest contemporary buildings – the National Assembly for Wales and the Wales Millenium Centre – lies the Cardiff International White Water Centre. Offering white water rafting, kayaking and indoor surfing it has become a popular destination for outdoor lovers visiting Wales. The man-made white water facility is a lot more fun than you would think – expect to get wet and don't be surprised if you fall in. With six people to a raft this is a brilliant day out for a group of friends or family.
If however, the idea of city activity does not appeal to you there are plenty of other white water rafting locations dotted around Wales. The most popular of which is the National White Water Centre. Located on the River Tryweryn in Snowdonia National Park, this wild mountain river is actually dam controlled which means that you are guaranteed fast flowing water all year around.
Where to stay: Jolyons boutique hotel is ideally located in Cardiff Bay. With just six rooms, this small establishment offers beautiful rooms and some fantastic views across the water.
Don't miss: If you happen to be in town during rugby season then try to take in a game at the Millenium Stadium, the atmosphere always guarantees a good day out.
6. Mountain Biking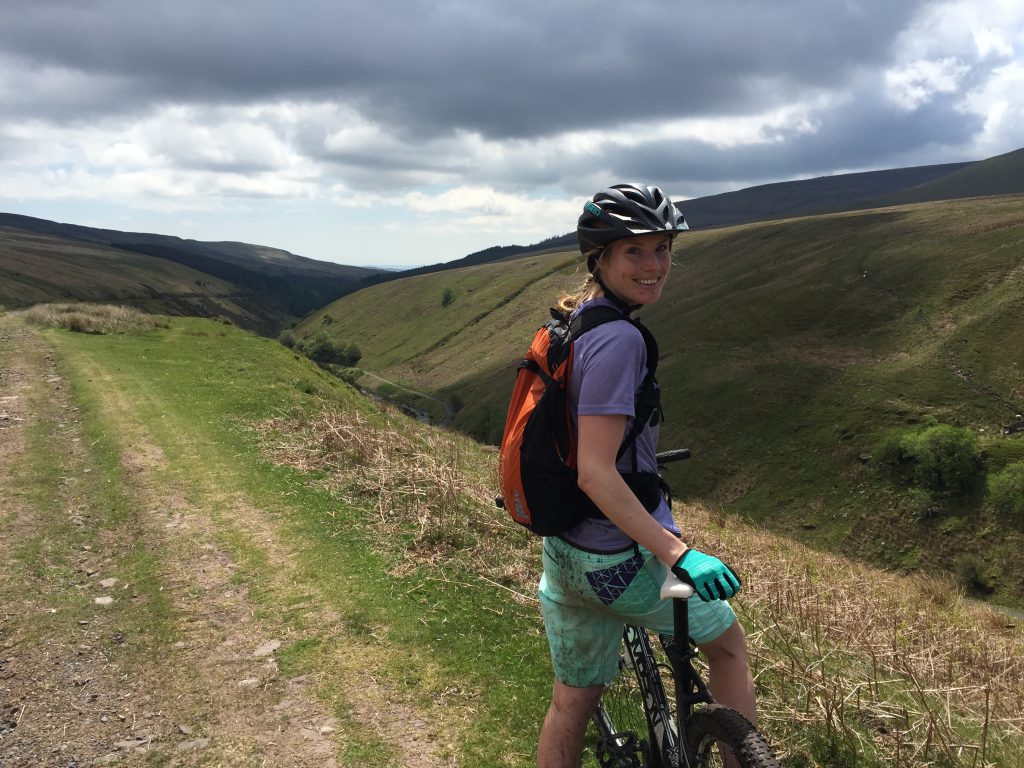 Mountain biking lovers are spoilt for choice in Wales. Whether you are a fan of riding in the confines of a purpose built trail centre or prefer getting off the beaten track, you'll be spoilt for choice.
I have ridden a combination of the two across Wales and am constantly delighted by the sheer quality of the riding on offer. From epic natural riding routes like the Black Mountains Classic in the Brecon Beacons and the Marin Trail in North Wales to the world-class trail centres of Coed-y-Brenin and Afan, you can spend weeks travelling around Wales in search of new riding routes and always leave feeling that there is so much more to be explored.
Those looking to explore natural riding routes should invest in the Wales Mountain Biking book which is arguably the best resource out there for discovering some of Wales' most secluded trails. The Mountain Bike Wales website is a fantastic resource for information on the country's trail centres.
Where to stay: Abergavenny is a good place to base yourself if you fancy exploring the Brecon Beacons. The Angel Hotel is a medium sized establishment with nice rooms and more importantly a really good restaurant. Rooms start at €120 per night.
Don't miss: On a hot day, there is nothing better than plunging into the crystal clear waters under the arched medieval bridge of Crickhowell a short distance from Abergavenny. There is one large pool which is about 2m deep and several shallower pools which are perfect for paddling.
7. Hiking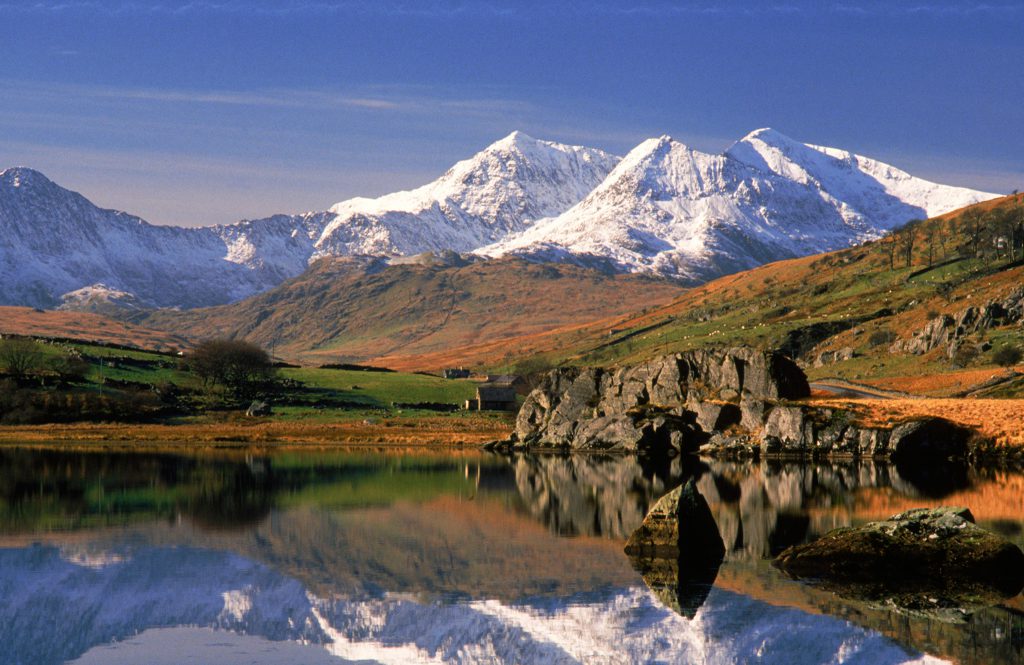 In 2012, an 870-mile coastal path was opened in Wales. It is the world's first uninterrupted route along a national coast, weaving its way across some of the country's finest beaches, estuaries and cliffs. The Wales Coast App will prove an invaluable resource for anybody wishing to explore the coastal path.
Those who favour summit views are also well catered for in Wales. Snowdonia alone is home to nine mountain ranges and 15 peaks over 900m high. Elsewhere, the Cambrian Mountains in mid-wales and the Black Mountains in the Brecon Beacon national park in South Wales also provide some world-class hiking.
Check out the Visit Wales website for further details.
Where to stay: The Island of Anglesey is the perfect place to kick start your holiday as you can literally roll off the ferry and let the fun and games commence. Anglesey makes up on of the most popular sections of the Welsh Coast and for good reason – the scenery is incredible. The pretty little town of Beaumaris is a good place to stay. Home to an impressive castle there always seems to be plays and various events happening here. Offering a warm welcome, sea views and a slap-up breakfast, Cleifiog Bed and Breakfast is a great choice when it comes to accommodation in the area. Rooms start at €130 per night.
Don't miss: The Red Boat Ice Cream down by the pier serves up particularly delicious ice-creams and sorbets.
8. Skydiving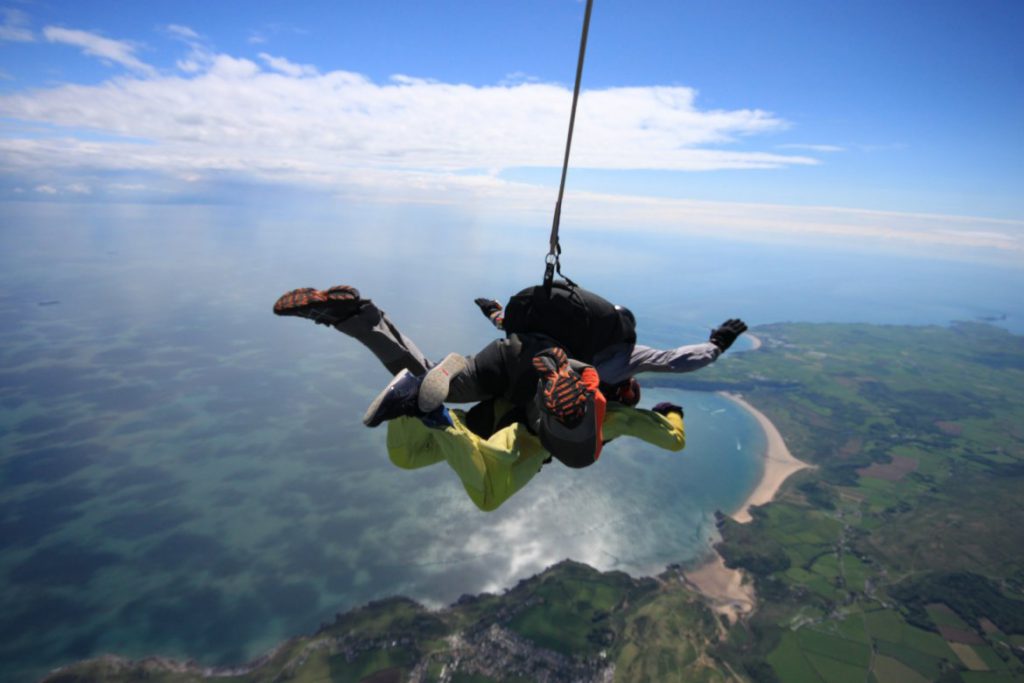 The Gower peninsula is definitely worth a visit – offering everything from mountain biking to hiking and surfing, you could choose to stay here for the duration of your holiday and not get bored.
Skydiving is a definite highlight in the area. Once the initial free fall is over and your heart rate has subsided a little bit, you are treated to truly epic views of the Gower as you float back to land under the canopy of your parachute.
Where to stay: Blas Gwyr in the small seaside town of LLangennith is the perfect place to base yourself for a few days of adventure on the Gower Peninsula. Each room has a private courtyard, and you'll be guaranteed a slap up Welsh breakfast too. Rooms start at €150.
Don't miss: The King's Head pub in Llangennith is everything you want in a village pub – good food, a turf fire and friendly locals.
Check out our Hard as Nails podcast:

Previous Post