Clear the bucket list because I can guarantee you are going to want to put the paradise island of Nusa Penida right in the top spot after reading this.
The majority of visitors to Nusa Penida arrive by boat, dive or snorkel in the pristine waters surrounding the island and head back to Nusa Lembongan and Bali without ever stepping foot on the island. And boy are they missing out.
Nusa Penida is, without a doubt, one of the most incredible places I have visited in my 32 years! Completely undiscovered by tourists, Nusa Penida offers the incredible beaches (that are totally deserted), hidden waterfalls, lush countryside and an element of pure tranquillity that is so hard to find these days. And the people are pretty awesome to boot – getting lost here is a delight as locals are always more than happy to engage with you, making sure they get you back on track – nothing is too much trouble.
If you want to find out more about the logistics of getting to the island, where to stay in Nusa Penida and a guide to Nusa Penida's best restaurants then be sure to check out my complete guide to Nusa Penida.
In the meantime, here are my top five activities on Nusa Penida, if you are as much of a beach lover as I am, I guarantee you'll be checking out flights before you manage to reach the end of the piece!
1. Broken Beach and the Angel's Billabong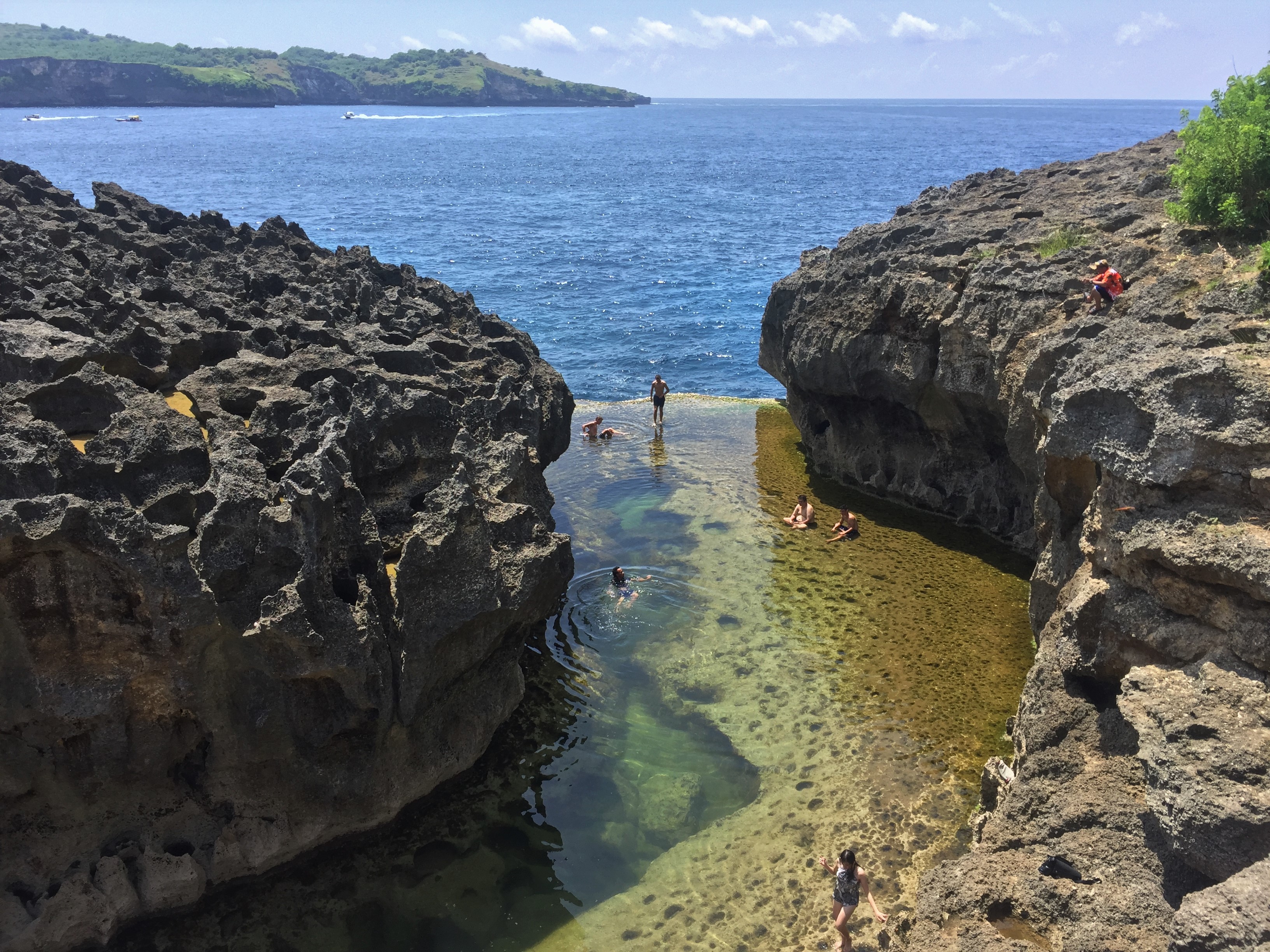 On the western side of the island lies a stunning sea arch and natural infinity pool so glorious you will think you are dreaming. The former, known as Broken Beach, lies over the most gloriously clear waters imaginable – so clear in fact that you can stand 100ft above and see the manta rays swimmingly gracefully beneath the water's surface.
Beside Broken Beach lies Angel's Billabong – a natural infinity pool set between large rocks, just above the ocean. Filled at high tide, the pool is best accessed at medium to low tide when you can swim to the pool's edge and dangle your legs over the turquoise waters below – I have never seen anything quite like it in my life.
Broken Beach and the Angel's Billabong are two of the island's most 'touristy' offerings. In reality, the only thing that even hints at the touristy bit is a rustic looking road sign to get there and a few people, complete with a rickety stall selling drinks when you actually get there.
Good to know:
The journey there is an adventure in itself. You can opt to take a car or scooter – the former is a lot more fun, although I would recommend quite a bit of experience riding a bike if you do decide to take that mode of transport as the roads would be more accurately described as endless potholes, drops and muddy puddles – it is pretty technical terrain for a scooter to negotiate. However, it is a lot of fun.
2. Cristal Bay and Beyond: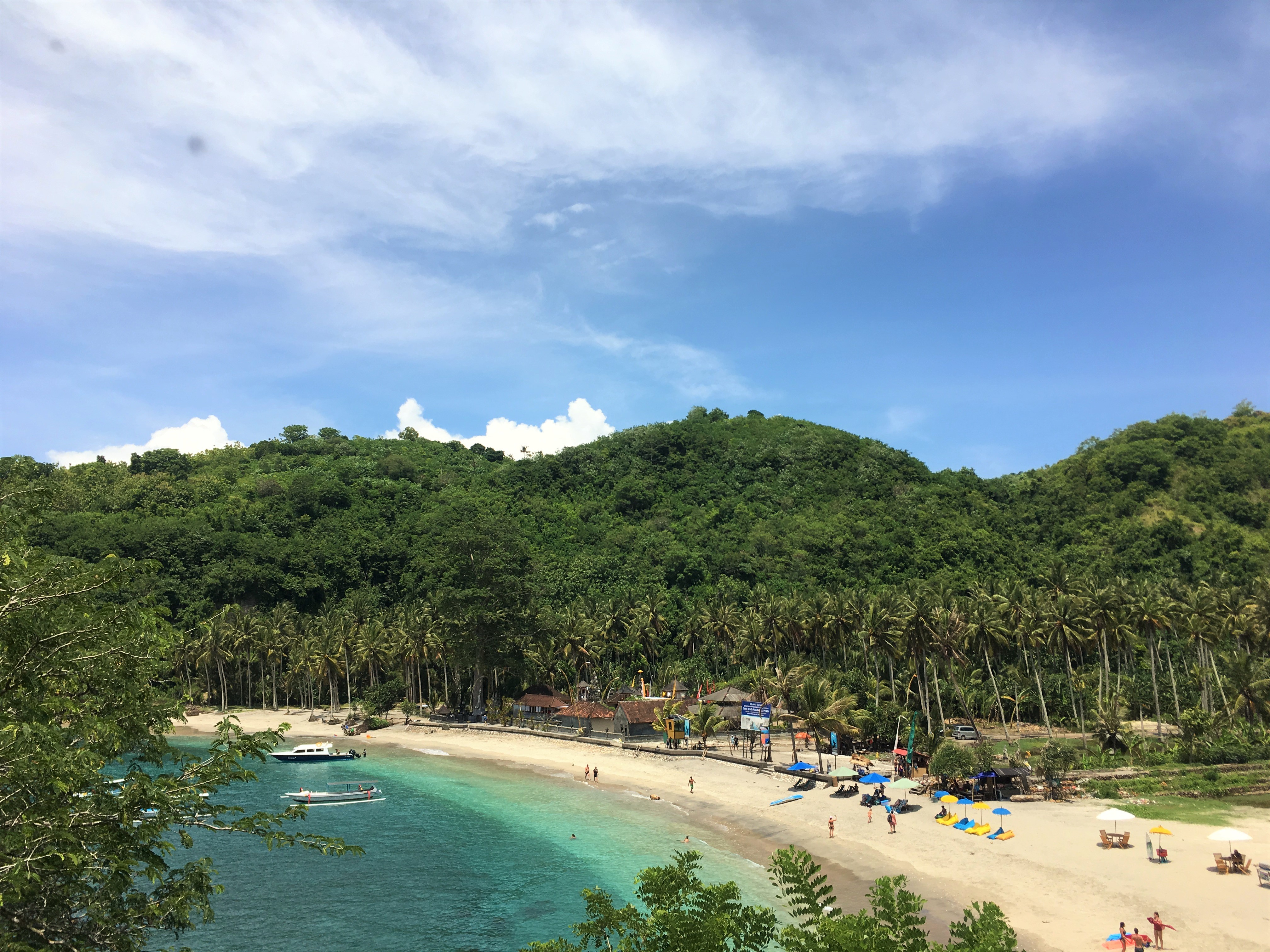 In the morning, boats flock to Cristal Bay from Lembognan for its glorious snorkelling and impressive surrounds – palm trees line the shore, while a small island in the middle of the bay is home to a small temple and provides a perfect launch pad for adrenaline-loving cliff jumpers.
While Cristal Bay is a sight worth seeing in itself, there are two more bays close by that are well worth the effort to get to. Just beyond Cristal Bay lie two completely deserted white-sand beaches with immaculate coral set against the backdrop of lush forest. To get there you need to walk along Cristal Bay (left as you look at the sea) to a set of steps. Walk up the set of steps and follow an overgrown path until you reach a second set of steps descending to the first of the two bays. It takes about thirty minutes to get there. From this first beach you can go one further by taking another set of steps from the far side of the beach, up onto the headland. You will need to follow a very overgrown path for about an hour until you reach a very small path on your right side that will lead you down to a little slice of paradise.
Good to know:
Cristal Bay is easy to get to. Located on the west of the island, it is one of the few places that is actually signposted. Once there, you can avail of snorkel rental and there are some refreshments served at small stands beside the beach. If you are heading to the other two bays be sure to wear proper shoes and bring plenty of water and snacks as it takes about an hour and half to reach the further of the two bays.
Hiking hints and tips for beginners
3. Suwehan: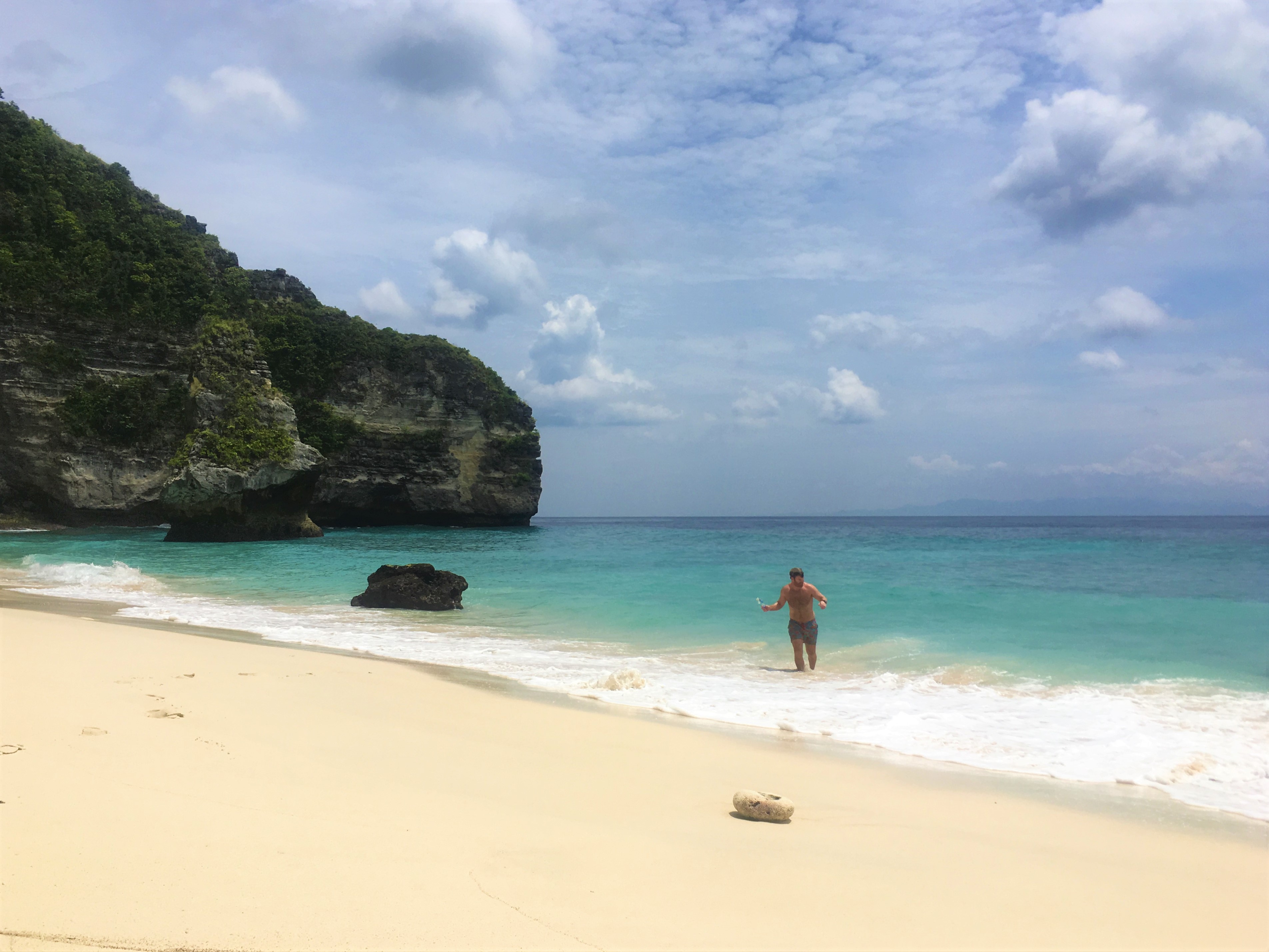 Cutting through the centre of the island to get there, you'll be treated to panoramic views of the lush Nusa Penida countryside. Coconut trees cover almost every available surface, while a long winding road twists its way down towards the sea, finally reaching a small car park, only recognisable as such thanks to the small refreshments stand and a rusty old sign saying Suwehan.
We followed a steep path from the carpark, scrambling in places, down to a horseshoe cove.  Surrounded by chalky white cliffs, a perfectly formed sea stack stands tall in the pristine waters. Due to the difficulty in accessing the beach, it's likely you'll have the whole place to yourself.
The only downside to this place is the steep climb back to the carpark. However, that drinks stand really comes into its own when it comes to quenching your thirst – the shopkeeper will literally scale the nearest coconut tree as you stand there to make sure your water is as fresh as it can be!
Good to know:
The track down to Suwehan is a bit tricky in places so be sure to wear runners – this is definitely not a time for flip flops. Also, be sure to visit when the tide is on its way in to maximise your time on the beach as it totally disappears at high tide. Suwehan is located on the south eastern tip of the island.
4. Atuh Beach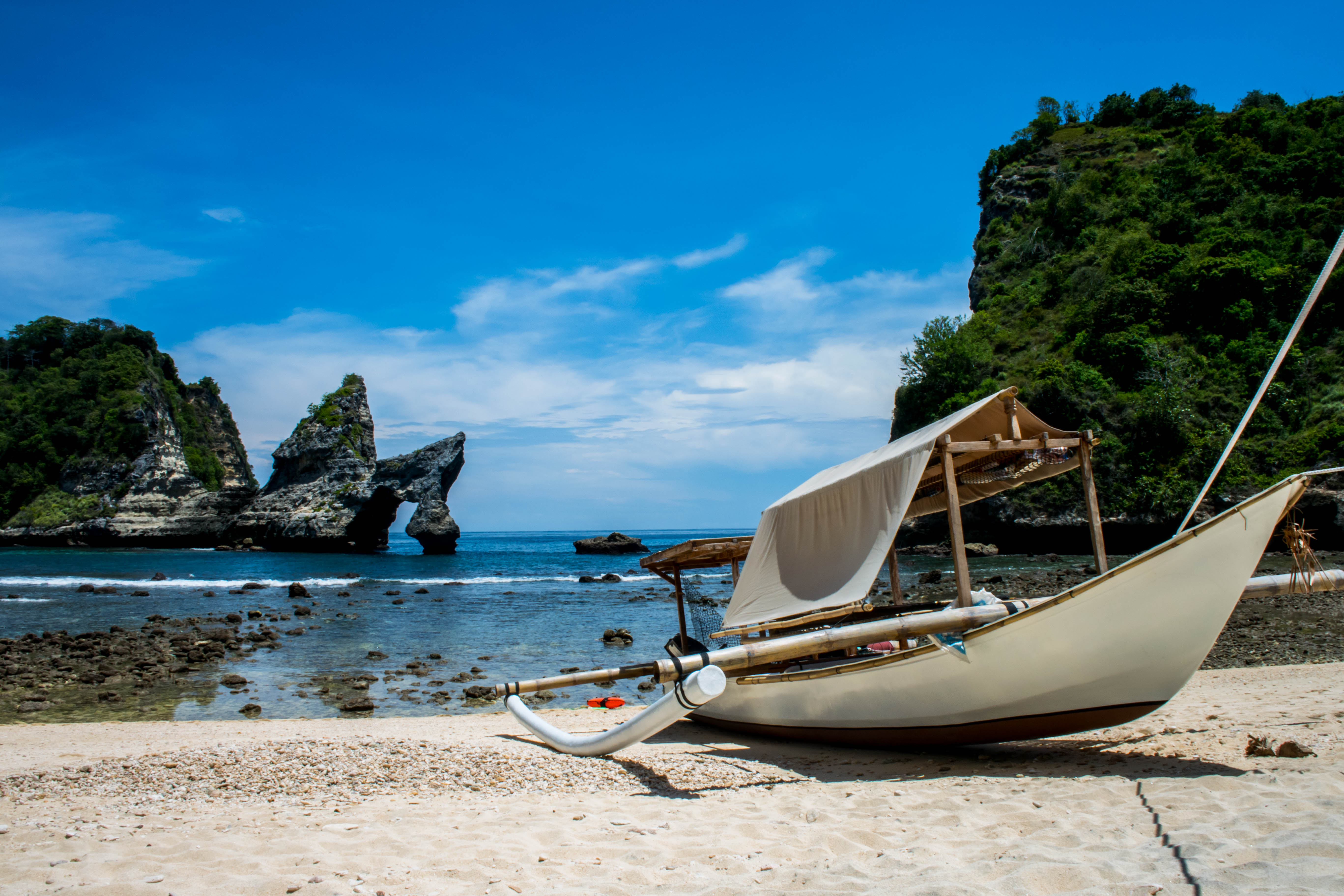 Atuh is the most developed of the beaches on Nusa Penida. But fear not, developed on this incredible island doesn't mean much more than a set of steps, a couple of small warungs (beach hut restaurants) and a dozen sun loungers.
This white sandy beach offers a dramatic vista of the steep cliffs and some insane rock formations in the water. The snorkelling ain't half bad either.
Good to know:
You should brace yourself for another slightly treacherous scooter ride to reach Atuh beach. However, there are a few signposts to keep you on course which is helpful.
It's possible to rent lounge chairs and buy coconuts, drinks and nasi goreng for just a few euros from the few small vendors on the beach. Check the tide times before heading along to Atuh Beach – low tide here is very low so it's best to visit at mid/high tide.
5. Temeling Waterfalls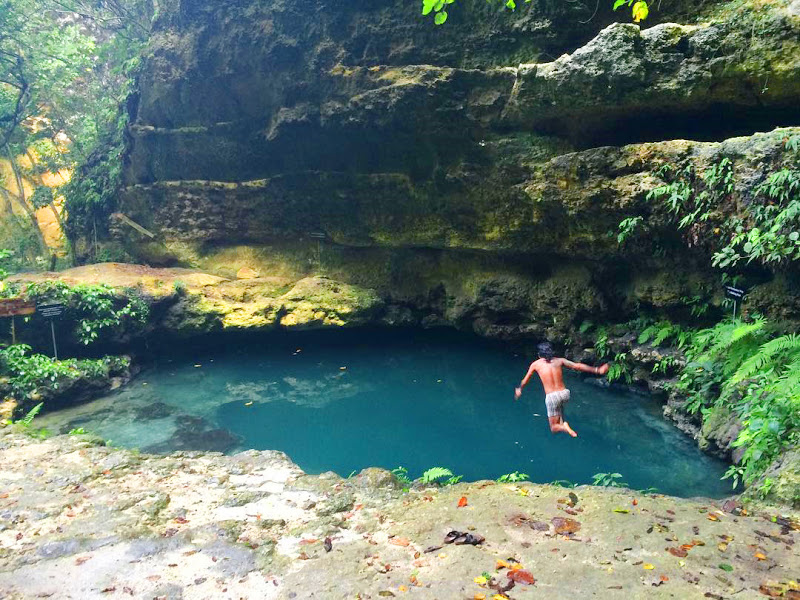 Temeling offers glorious natural pools in a pretty awesome setting. In fact, they are the perfect place to cool-off and take some time to chill on a hot, sticky day. And best of all? It is likely you will get the entire place all to yourself with the exceptions of a few monkeys!
Good to know:
During the dry season, the waterfall can dry up almost completely. It is also worth noting that there are separate pools for the guys and girls so it is not ideal if you are travelling with someone of the opposite sex. The women's pool is, unfortunately, a lot less impressive than the men's, although it is still nice. Women are also not allowed to enter the pools at that time on the month!
Check out our Hard as Nails podcast:
Like this? You should check these out: