Winter walks on clear sunny days are hard to beat. However, unfortunately, it's not all blue sky days. In Ireland, the weather can take a turn for the worse in the blink of an eye, and with colder temperatures than in the summer months, it is important to be extra vigilant when it comes to safety.
Here, John Kavanagh from the Dublin Wicklow Mountain Rescue Team gives us the lowdown on staying safe while making the most of those glorious winter days in the outdoors.
1. Wrap up well
"The higher you go, the colder you get," warns Kavanagh. "However, remember that you will warm up with exercise, so opt for lots of thin layers as opposed to one thick layer so you can add or remove them to balance your temperature."
Kavanagh also stresses the importance of bringing a good pair of waterproof trousers and a waterproof jacket even if the forecast is dry. According to Kavanagh, it's better to have them and not use them than get caught out in a sudden shower.
A hat and gloves are also essential. And you should consider bringing spare gloves, as wet gloves are almost as bad as no gloves at all.
6 of the Best Looped Walks in Dublin
 2.  Hypothermia is dangerous but easily avoidable
"Put on an extra layer when you stop for a break and try to stay out of the wind," advises Kavanagh. "If you or one of your party is cold, the best remedy is to eat something sugary and get moving. Warm drinks are helpful, but to stay warm you must keep moving."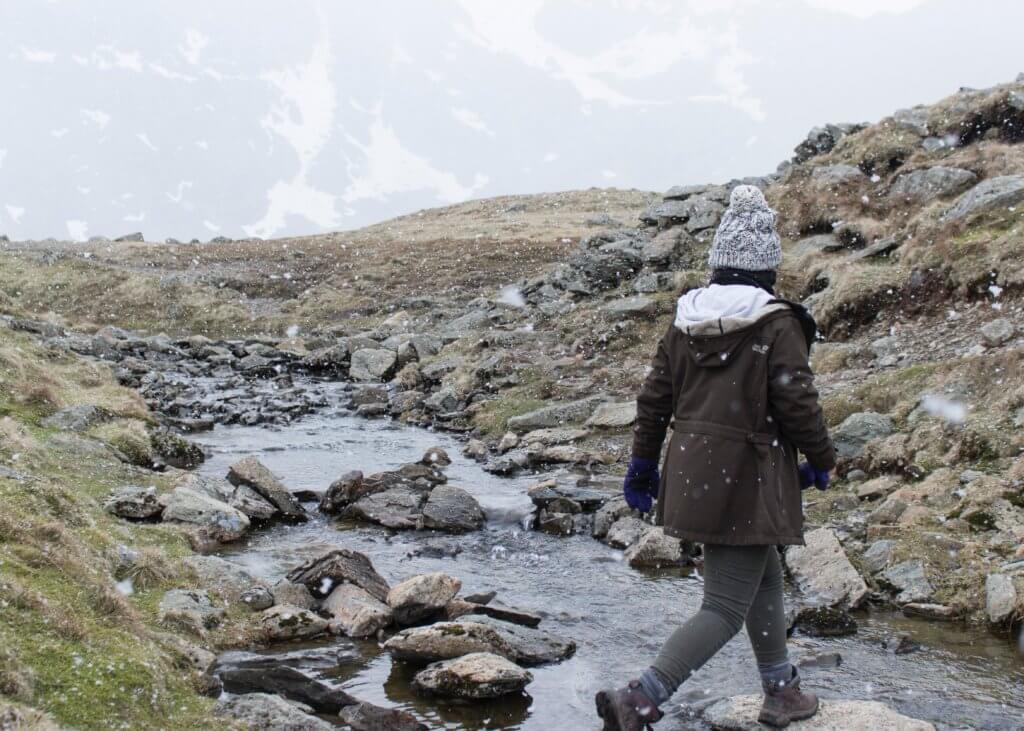 3. Navigation skills are key
While there are a great range of well-marked walking routes across the country, if you are headed for the hills, navigation skills are a must. As previously mentioned, the weather can be very unpredictable. One moment you might be able to see the path clearly but the next you might find yourself enveloped in mist.
"Get a compass and an appropriate map for the area you're walking in. Ordnance Survey Ireland (OSI) and Discovery Series are the national standards, but there are other good providers, like EastWest Mapping for Dublin and Wicklow.
"Learn how to use your map and compass. Mobile phones with digital mapping and GPS are great, but phones don't work if they get wet and GPS drains your battery, potentially leaving you without your phone when you need it," says Kavanagh.
It is also really important to plan your route and identify a few escape routes should things go bad. You should also take into account the short days. It gets dark at 4.30 p.m. in the depths of winter, so aim for slightly shorter walks than you would in summer. Always pack a head torch just in case you do find yourself out after dark. It is also important to bring a fully charged mobile phone (pop it into a Ziploc bag to make sure it stays dry).
Hiking Hints and Tips for Beginners
4. Don't skip breakfast
"A four-hour hike can burn more than 1,500 calories," says Kavanagh. "Have a substantial breakfast and bring lunch. Don't forget the water, even in an Irish winter you can become dehydrated."
And if you do get into trouble…
If you find yourself needing assistance, call 999 or 112 and ask for mountain rescue. Emergency calls (999/112) use any network available to your phone, not just the one you're on, so you should be able to make an emergency call even if your phone has no coverage. If you find that you're still unable to make an emergency call, consider sending a member of your group to higher ground to pick up a better signal. You should be careful not to put anyone at risk by asking them to climb to higher ground.
Like this? Check out these other articles:

Previous Post

Next Post