Looking for an exhilarating way to plunge into the New Year and shake off the post-holiday blues? Then how about brightening up the dreary days of January with a lively, chilly swim in Dublin's Forty Foot!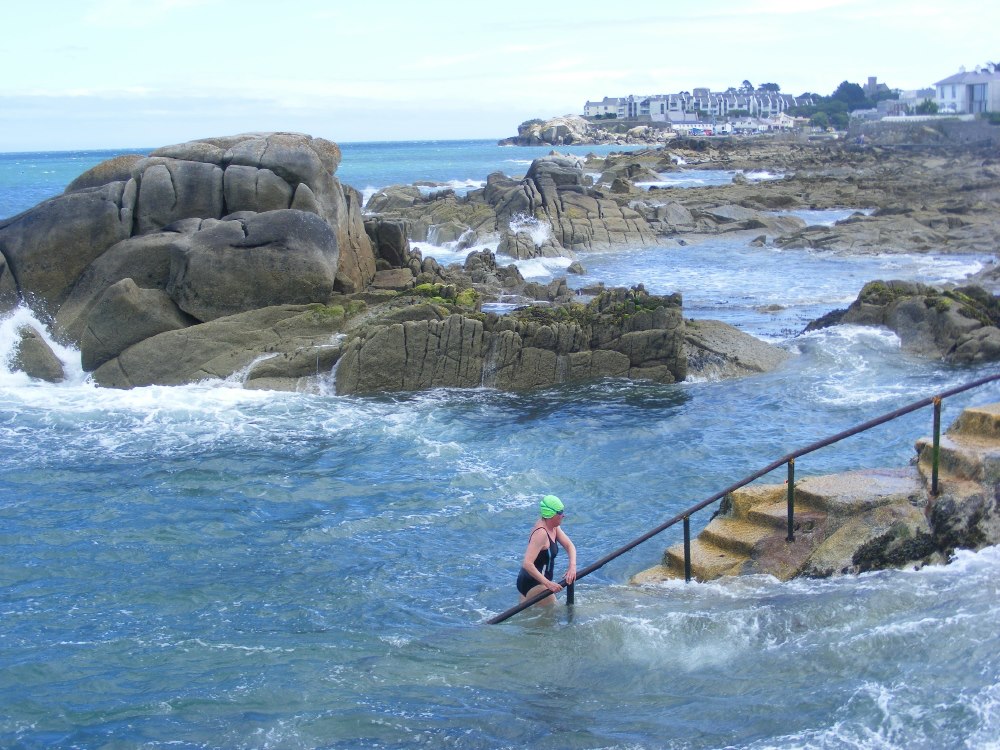 As part of the First Fortnight festival, Clean Coasts is teaming up with Grown to host a community sea-swimming event at the Forty Foot in Dún Laoghaire on Saturday 12 January 2019 at 12pm.
This swim is not a race, but rather, a friendly sea-swim focusing on bringing the community together for the First Fortnight festival. Hot refreshments will be provided after the swim and bringing reusable cups is encouraged to minimise waste.
And if you don't believe us that you're likely to feel fantastic after a chilly dip, research has shown the extensive benefits that sea swimming has on mental health. A recent YouGov poll administered by Swim England reported that over 1.4 million UK residents believe that regularly going for a swim significantly reduces symptoms of mental health issues such as anxiety and depression. And we've heard lots of anecdotal evidence from Irish sea swimmers too.
Clean Coasts and Grown, two organisations devoted to the preservation, protection and embracement of the sea, want to capitalise on the benefits of sea swimming by providing a positive outlet during the dreary winter months following the holidays.
For more information, and to RSVP for this swim, visit their Facebook page.
Clean Coasts works to engage communities in the conservation of Ireland's beaches, seas and marine life. Each year, Clean Coasts volunteers organise hundreds of beach clean-ups, gathering thousands of tonnes ofharmful marine litter on Ireland's coasts.
Grown is an Irish-based clothing company that wants to diminish the trend of 'fast fashion,' or, minimal use clothing that can easily be disposed of after only a few wears. The company strives to increase awareness surrounding marine ecosystems and aims to create sustainable, lasting clothing that does not impact the environment.
First Fortnight Europe is a charity organisation that aims to make the first two weeks of each year synonymous with mental health awareness by hosting creative and active programmes, festivities and experiences that encourage conversation and challenge the stigmas against mental health. The first few weeks of each year can leave you dragging your feet, so why not ramp up your winter with a quick swim and some contagious craic!
Forty Foot Named One of the Best Swimming Spots in the World
Throughout the first two weeks of January, First Fortnight will host more than 100 events focused on bringing clarity to the issue of mental health in Ireland. After your invigorating swim at Forty Foot, head on over to The Sugar Club in Dublin to listen to Irish endurance athletes Gerard Prendergast and Kevin Dooney speak on the topics of mental health and overcoming obstacles. This lecture will be held on Saturday 12 January 2019 at 2 pm.
Along with a host of artistic conventions and lectures, on 20 January 2019, the organisation will also be hosting "Mindfulness Meets Circus," at St. Joseph's Community Centre, Shantalla, Galway. This is a workshop on the concept of mindfulness, but with one twist – you will be using a tightwire! Learn how wire-walking can help teach you skills that can lead to a more balanced lifestyle.
For more information on the First Fortnight activities around Ireland, visit their events page.
Check out our Hard as Nails podcast:
Like this? Check out these other articles: