Wicklow is aptly known as the Garden County and it is known for its rolling hills, stunning scenery and incredible history but did you know it has some excellent swim spots too? Lovely lakes, sandy beaches and calm rivers we have compiled a list of some of our favourite wild swimming spots in Wicklow.
It is worth noting, none of these locations have lifeguards so make sure you swim smart.
Wicklow Swim Spots: Rivers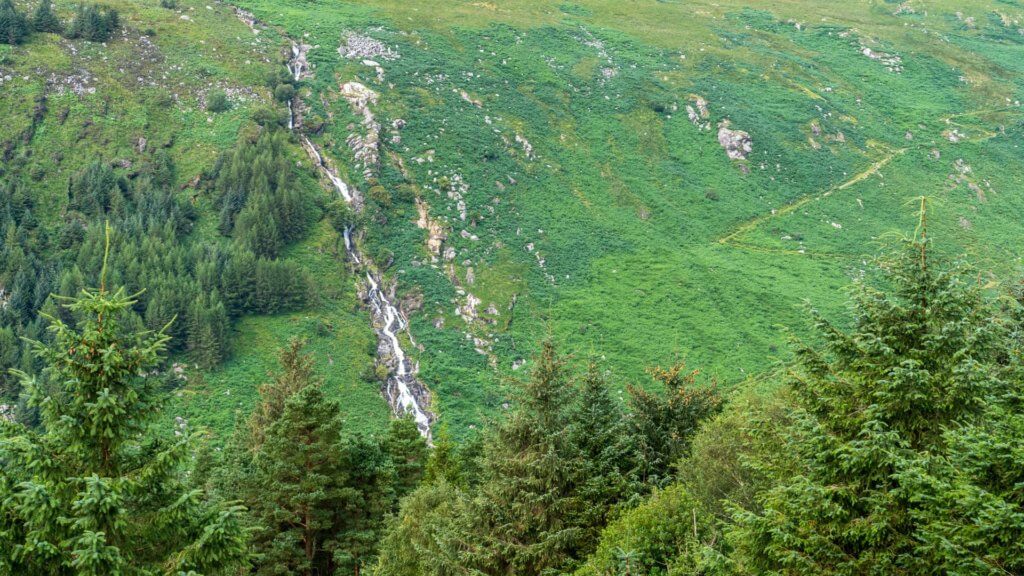 The Meeting of the Waters
The Meeting of the Waters is a renowned wild swimming spot situated near the village of Rathdrum. This picturesque location is where the Avonmore and Avonbeg Rivers merge, forming the start of the Avoca River. This natural confluence creates a unique and tranquil swimming spot amidst beautiful surroundings. Swimmers are often drawn to the Meeting of the Waters for its inviting swimming conditions. The water is generally calm here which makes it the ideal spot for a dip. The area offers various depths, allowing swimmers to choose their preferred level of immersion.
The Devil's Glen
Located near Ashford, The Devil's Glen is a hidden gem for wild swimmers. It offers various natural pools and small waterfalls along the Vartry River. Access is via a short hike from the Devil's Glen Forest car park. Because of the sheltered surroundings of the river, especially close to the waterfall, it is really windy here which makes swimming very pleasant. It is worth noting that after periods of heavy rain, the water is likely to be significantly colder as it rushes down from the Wicklow Mountains. Use caution while navigating the very slippery rocks when entering the water.
Glenmalure Valley
There are many great places to swim in the Avonbeg River in the Glenmalure Valley. However one of our favourites is definitely to pair or swim with a stop at Bosca Beatha. This beautiful sauna offers you the opportunity to warm up, relax and unwind in the beautiful setting of Glenmalure. Sauna sessions are €10 and last 30 minutes. Located a short walk from the Glenmalure Lodge, this is a perfect place to base yourself for a day of hiking, eating, sauna and swimming.
Wicklow Swim Spots: Lakes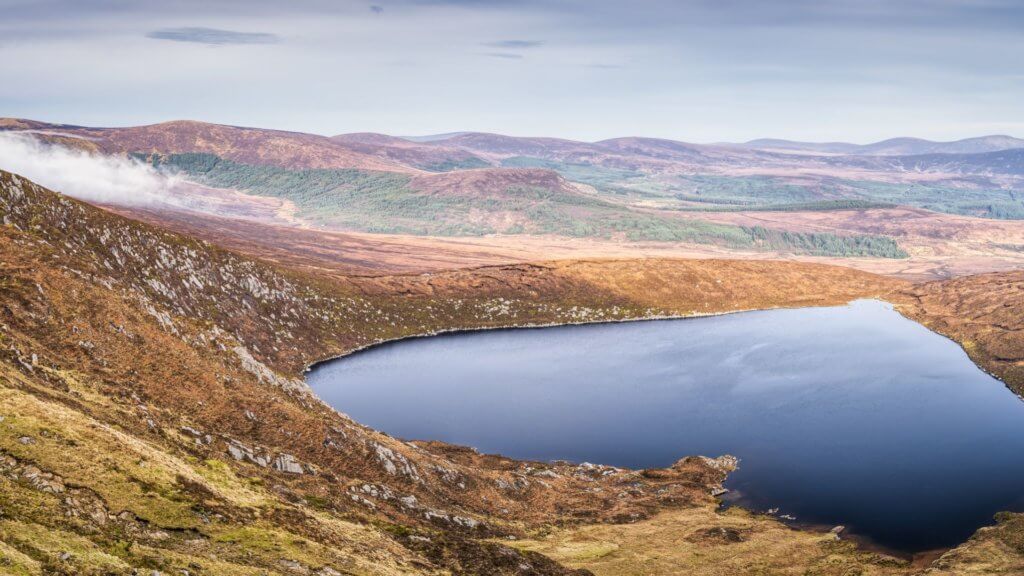 Glendalough
As far as we're concerned, no wild swimming article is complete without mentioning Glendalough. One of the most famous valleys in the country because of its rich history and stunning landscape also offers swimmers an excellent place to dip. Surrounded by the epic mountains of Camadery and Mullacor the Glendalough Upper Lake would be a brilliant place for a post-hike swim. Since Glendalough is a glacial lake, however, there is a very steep drop off of depth and thus temperature as you enter the lake. As long as you are mindful and swim smart this is a brilliant location to tick off. We have compiled an article where we run through everything you need to know about Glendalough if you wish to spend the day there.
Lough Ouler
Located in the Wicklow Mountains, Lough Ouler is a glacial lake surrounded by stunning scenery. The heart-shaped lake has become an extremely popular hike in recent years, with people coming far and wide for the perfect photo! However, not many people get the photo from the lake's perspective! This is a great spot, but proceed with caution as mountainside lakes are often very cold and very deep so stay within your depth! Access to the lake is via a moderate hike from the Glenmacnass Waterfall car park. It is essential that you have the appropriate attire for this outing as the hike is a 6km round trip on muddy ground to the lake and is likely to take between 1.5 and 2 hours. It is well worth the hike though, the views from the lake are some of the nicest in Wicklow.
Lough Bray
One of our favourite secluded lake swims in Wicklow is Lough Bray Upper. Located in the north Wicklow Mountains, only 30 minutes from Dublin, Lough Bray is a scenic mountain lake accessible from the R115 road. From the car park, make your way along the well-worn track towards the lake. After rainfall, this is particularly muddy so we would advise good quality footwear in spite of the short distance. The water is very cold almost all year round so unless you are a seasoned swimmer, a wetsuit is advisable. Make sure you have an extra layer or two to put on after your swim. You will need it. In spite of the temperature this spot is absolutely stunning. The steep slopes of Eagle's Crag, an excellent place for sunset, tower over the lake. Keep in mind that there are no lifeguards or facilities, so exercise caution and swim responsibly.
Wicklow Swim Spots: Sea Swim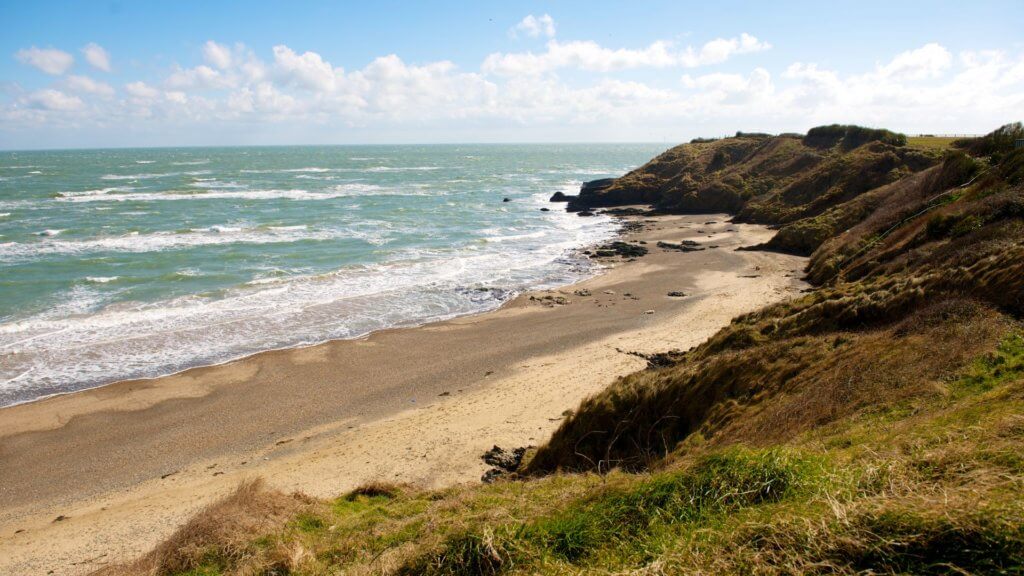 Ladies Cove
A favourite of many Wicklow residents "The Cove" is set up perfectly to be your swim spot of choice. Nearby parking and a café just across the road. In fact, there is a Sauna by Fad Saoil Saunas nearby also making this a brilliant spot for some hot-cold therapy. Excellent for recovery from a day in the Wicklow Mountains.
Brittas Bay
One of the most European-feeling beaches in Wicklow, this long sandy beach is a haven of activity during the summer. We enjoy Brittas Bay far more for an early sunrise swim before we head to the hills for a day of hiking! There is a large car park to accommodate summer crowds and access is very easy, so long as the sand isn't too hot!
Magheramore Beach
One of Wicklow's most stunning sandy beaches is Magheramore Beach. It is also widely considered to be one of the best places for surfing on the east coast. Magheramore Beach features a long stretch of sandy shoreline. Its clear waters and relatively secluded location make it a favourite among sea swimmers who seek a peaceful and unspoiled coastal experience. The area around Magheramore Beach is also an area of special conservation for nesting curlews. However, this is currently under threat. There is a proposed development that would disrupt this. We would encourage you to read and consider signing the change.org petition.
Wild Swimming Tips
Wild swimming in Ireland is a brilliant way of experiencing the outdoors and has numerous health benefits. However, like most outdoor activities in Ireland being prepared is of vital importance. Here are some tips we have gleaned from experience.
Bring extra layers. Obviously, you will be colder after your swim, so make sure you have appropriate layers. The majority of the spots are remote and require a short walk to access the water. Keep this in mind when you are packing for your swim.
Stay in your depth this is particularly noteworthy for the lake swims. Quite a few of the lakes in the Wicklow Mountains are glacial. A feature of these types of lakes are steep and sudden drops in depth. Always ease yourself in and don't rush.
Never swim alone. Aside from being less fun, swimming alone is quite dangerous and should be avoided.
Bring a flask for your toes! One top tip is to bring a flask of hot water. You can pour this on the ground where you are standing to warm up your toes!
Wear a beanie. We have found that this makes a huge difference. It also helps you resist the urge to dunk your head underwater, which can really make you feel cold!
Changing robe. We always bring a changing robe and would encourage you to do the same. Wind and waterproof ones are excellent for the wilds of Wicklow as they keep the chilly wind off!
Tick 'em off
If you want to accept the Wicklow wild swim checklist challenge this summer consider downloading and printing this graphic. Let us know how you get on by tagging us on social media!