Feel like tackling some trails? We have great mountain biking opportunities in Ireland, you just have to know where to go. We've collected our top picks of trail centres across the country.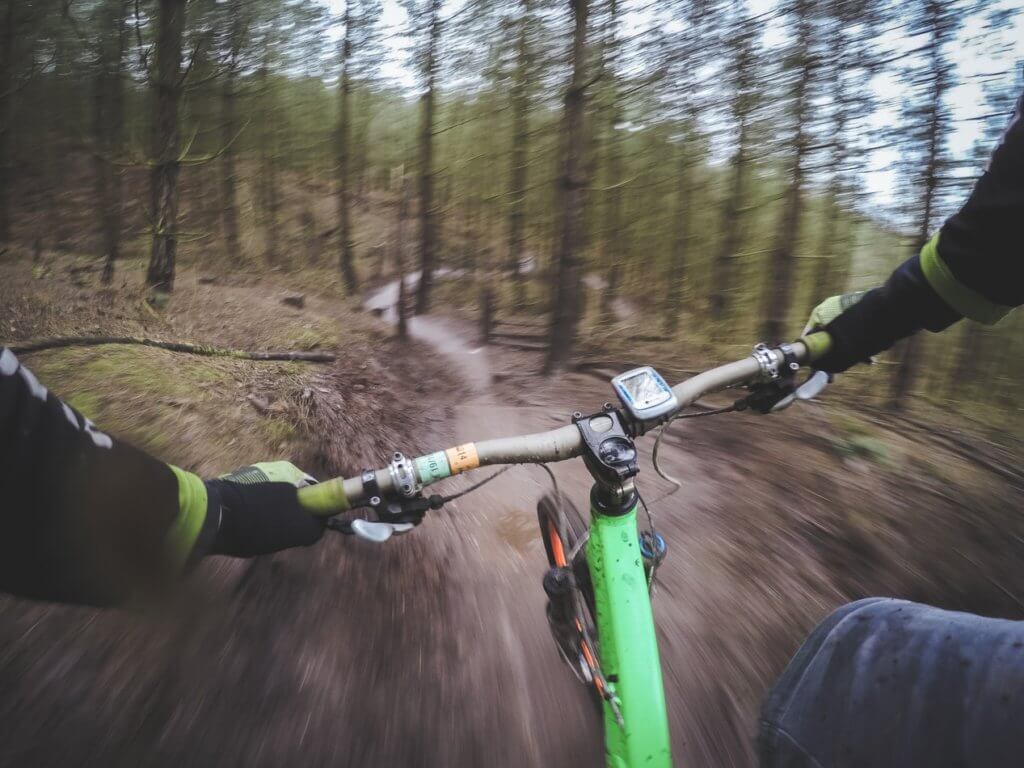 No matter if you're just getting a feel for mountain biking or if you've been riding for years, you'll no doubt find the perfect trail centre for you, regardless of your cycle savviness. Check out our list of the best centres in the country for some sweet adrenalin rides!
1. Ticknock
Just a 30-minute drive away from Dublin city centre, at the foothills of the Three Rock Mountain, you'll find Ticknock Mountain Bike Trails. 
Ticknock is a cracking place to get out for a speedy spin, and they have all the services at hand that you might need to avail of. Bike rental, café, repair centre, guided tours, lessons, bike wash and a shop – they've got it all.
The total length of the trail system is 13 km, but it's no problem to chop up the course whichever way you prefer (read: you can repeat that specific technical part an unlimited amount of times until you've nailed it). The trails start off on the Tarmac Road at the car park and go straight up to the first eight single track trails, which then loop their way down the mountain.
As the terrain is quite technically challenging, it could be a good idea to master for example the Ballinastoe Mountain Bike Trails in County Wicklow first (see number 3).
However, if you are looking for some high-speed action with plenty of technical features, then you and Ticknock will be a perfect match!
More info: Biking.ie
5 of the Best Mountain Biking Gloves
2. Blessingbourne
If you're looking for a premier, quality, trail centre with amazing surroundings – we think you'll like this one. The Blessingbourne Trails in Co Tyrone is suitable for anywhere from families to pros to full MTB-holidays.
If you do want to stay for a few days, Blessingbourne Estate has nice and homely, self-catered, apartments to offer. Lowry's Lake is situated just a short walk away, and there is plenty of nature to roam around in if your legs need a stretch.
Given the number of trails, of different levels, that are available – this is a great place for getting into mountain biking.
You can rent bikes on site from Tuesday to Sunday (€18 for adults and €6 for kids) for three-hour sessions, morning or afternoon, and you'll have to call ahead to book.
If you bring your kids, the good news is that they have bikes for 5-year-olds and up! And if you have your own bike, you can just pay about a fiver for parking and go nuts on the trails for as long as you want.
Blessingbourne is one of eight mountain bike parks in the North that are promoted by Mountain Bike Northern Ireland and Outdoor Recreation Northern Ireland.
More info: Blessingbourne Estate 
3. Ballinastoe
Ballinastoe Trail Centre in Co Wicklow, just outside Roundstone, is only 30 minutes away from Dublin – and it's well worth spending half an hour in a car for.
Starting at €30 a day you'll get yourself a bike and are free to venture out in the trail system until closing time.
The 14 km trail consists of steep forest climbs (and speedy hill rides on the way down again) and on top of the mountain, you'll get some stunning views across Lough Tay and the Garden of Ireland.
The twisty loop goes through several types of terrain: from open moorland to thick forest on the lower section. Since the – very well maintained – trail can be challenging (but rewarding), newer riders will probably be better off focusing on the shorter loop with wider forest trails.
The remaining 9 km of the waymarked loop is singletrack and these sections are narrow and sometimes steep. On these sections, you will also experience variable surfaces including rocks, mud, roots, loose stones and gravel and they may become slippery in wet weather. Fun! – if you've got some experience.
More info: Visit Wicklow 
4. The GAP
This brand new adventure park, located on the outskirts of Dublin, is pure quality with some epic tracks to get out on. Glencullen Adventure Park's slogan is to "lift you up, so you can shred down".
Hence, the GAP is a gravity bike park so the trail gradings and increased technical difficulty reflects this and is not directly comparable with a cross-country trail centre.
The 13 downhill trails range from intermediate to expert and currently there are no beginner ones. This means, that if you're looking for some epic high-speed action: you should get yourself over here! If this is your first time trying out mountain biking, this might not be the place for you – just yet.
More info: The Gap 
5. Ballyhoura
Ballyhoura Mountain Bike Trails in Co Limerick is a superb place to start off your mountain biking journey, as they have trails of all sort here – being the biggest trail centre in all of Ireland, with 98 km of MTB tracks (!)
With loads of different types of terrain – from boardwalks and technical rocky parts to steep forest climbs and tight turns, you're guaranteed a good time in this place! Ballyhoura offers five looped routes that range from the moderate a 6 km Greenwood loop to the demanding Castlepook loop, which is over 50 km in length!
You can rent your bike from Trailriders, down by the trailhead at Ardpatrick, which will cost you from €35 per day.
More info: Trailriders, Visit Ballyhoura  
10 of the Best Mountain Biking Holidays
6. Rostrevor
Are you ready to rip some black trails?! In that case, the Rostrevor Mountain Bike Trails in Co Down is the place for you. With 27 km of red trail and a hair-raising 19 km of black trail, Rostrevor is believed by many to be the top spot for high-level mountain biking in Ireland.
Situated on the shores of Carlingford Lough, you can expect some amazing views shredding around here.
If you're not bringing your own, rent a bike at East Coast Adventure for around €20. They also offer lifts from Thursday through Sunday.
Aside from that, they also have a café; a bike wash and showers, so you can leave feeling fresh AND filled with adrenaline.
You'll find them about 75 km out of Belfast, on the Shore Road between Rostrevor and Kilkeel.
More info: Mountain Bike NI 
7. Castlewellan
The Castlewellan Forest Park offers green, blue and red trails – with an option of cycling some black sections on the 19 km red route. The trails, especially the red one, will treat you with some great views along the way, with a number of little lakes and the old Victorian Castlewellan Castle.
Routes go through luscious, green forest and the trails are well maintained. You can rent a bike at LIFE, located at the trailhead, for around €20.
You'll find this Northern Ireland trail centre about 50 km from Belfast, and the forest park is located off Main Street.
More info: Mountain Bike NI 
By Elsa Anderling
Check out our Hard as Nails podcast:
Like this? You should check these out: