To say that the Cliff House Hotel overlooks Ardmore Bay is something of an understatement. It drinks it in. It feels part of it. Literally every bedroom in this hotel ogles the wide expanse of the water. And then the outdoor Jacuzzi and seaweed baths, as well as the wonderful infinity pool, allow you to greedily soak up the big sky and blue sea even more. And did we mention the double showers with floor-to-ceiling glass walls that face the sea in the Cliff Veranda Suites?
Make no mistake, this is a luxury hotel complete with enormous rooms and vast beds with crisp white sheets, but it's one that lovers of the outdoors will feel 100% at home in. Even though there are plenty of spa treatments available, we preferred to let nature nourish us and headed off on the fantastic 5km Cliff Walk around Ardmore Head and Ram Head. Along the way, you'll pass the early Christian St Declan's Well, Ardmore Round Tower (one of the best preserved in Ireland), Sampson Wreck, the old Coastguard Station, and a lookout post, used for observation during World War II.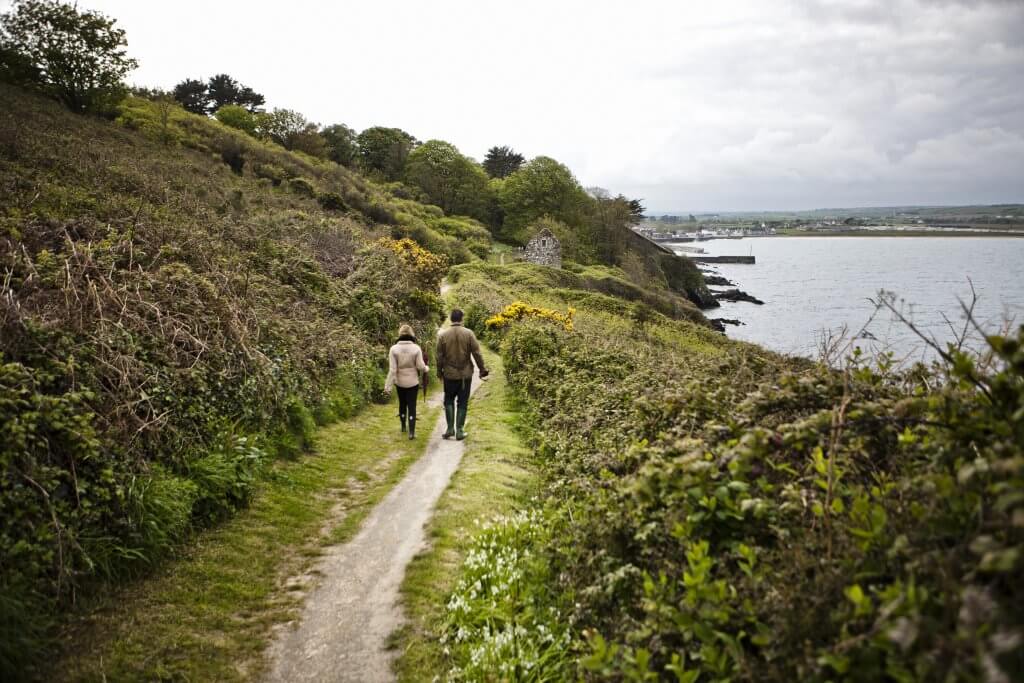 On our summery visit the landscape was a riot of yellow gorse, pink thrift, purple heathers and many more flowers. But I imagine this place has its own wild and magical beauty in any season. In fact, a return visit might be on the cards to enjoy a walk with local guide Andrew Malcolm. He runs bespoke foraging, birdwatching and whale watching hikes. Dolphins, fin whales, minke and the occasional humpback are apparently easy to spot between November and February each year.
There are loads of other activities available here too. The Cliff House has teamed up with local companies to facilitate beach and back-country horseriding, guided day hikes to the nearby Comeragh mountains, sea kayaking where you can explore sea cliffs, caves, sea stacks and pay a visit to the Samson wreck, moonlight paddling, snorkelling, surfing and rock climbing amongst other things.
There are also plenty of properly old-school Irish holiday pursuits too in and around Ardmore, with its pretty little town, long sandy beach and lots of spots for pier jumping.
All perfect for working up an appetite back in the Cliff House. You can sate your hunger in either the Michelin star restaurant or the bar – both of which make the most of the endless views. We were there on a Sunday when the restaurant was closed but found the bar food fantastic with lots of fresh fish to choose from.
We rounded off our visit with a drink on the outdoor terrace. As we admired the fiery red embers of the sunset a fellow guest pointed out an enormous basking shark cruising lazily below for all to see. Now there's a hotel that knows how to put on a show!
Check out our Hard as Nails podcast:
Like this? You should check these out: 

Previous Post

Next Post