Living on a small island has one major advantage – there is an endless supply of amazing beaches right on your doorstep. And you are often likely to have one all to yourself! 
One of the best things about the island of Ireland is our 7,500 km of glorious coastline. Over half (17) of our counties have access to the sea. Some of our beautiful beaches are known all over the world, especially among surfers. While Bundoran, Salthill and Brittas Bay are great spots, sometimes adding a little adventure to your beach trip can make it all the better.
Here we've rounded up 17 of Ireland's most impressive beaches.
1. Kilcoole Beach, Kilcoole, Co Wicklow
On the east coast of Wicklow lies Kilcoole beach. It is an ideal spot for birdwatchers and nature enthusiasts as it runs alongside Kilcoole marsh. In summer, a section of the beach between Kilcoole and Newcastle is cordoned off to protect a colony of one of Ireland's rarest breeding seabirds, Little Terns.  This is one of four beaches in Ireland that Little Terns call home. It is also the largest colony in Ireland. Kilcoole is about an hour south of Dublin and 20 minutes north of Wicklow town. A coastal path runs along the beach to Greystones and on to Bray along the Cliff Walk or in the other direction towards Newcastle and the East Coast Nature Reserve and on to Wicklow.
2. Bannow Strand, Bannow Island, Co Wexford
View this post on Instagram
Wexford is famous for its long sandy beaches but it is rare to find a beach as secluded as this one. Bannow Strand is a beautiful beach that is heavily affected by the tide. At low tide, the beach is much bigger allowing you to get a nice walk right along the beach and around the corner to Wellingtonbridge and Tintern Abbey. Be very wary of the tide though as the water comes in quickly here and can leave you stranded with a long walk via the roads back to your car.  Check tide times for Fethard-On-Sea. 
Little ones will be delighted to find lots of rock pools on Bannow Strand which are home to an abundace of sea creatures.
3. Stradbally Cove, Stradbally More, Co. Waterford
The unusually shaped Stradbally Cove is sheltered by low cliffs and is a perfect beach for families. It is also an area of interest to geologists as it is part of Waterford's famous Copper Coast. The cove is a ten-minute walk from Stradbally village, a regular winner of the Tidy Towns Award. Stradbally is about 5km from the Waterford Greenway, a 46 km trail for cycling, running or walking from Waterford to Dungarvan along an old railway line.
4. Sandscove, Farran, Co. Cork
View this post on Instagram
Sandscove is located in West Cork and the lack of parking or car access ensures that this beach stays secret. The turn down to this little cove is easy to miss bringing visitors to the more commonly visited Red Strand five minutes down the road. The walk to the beach is just a few minutes down a laneway decorated with wildflowers and montbretia.  Wildlife sightings in the area include seals, dolphins and even the odd basking shark.
5. Silver Strand, Sherkin Island, Co. Cork
View this post on Instagram
A 10-minute ferry from Baltimore in Co Cork across Roaring Water Bay will bring you to the beautiful Sherkin Island. Silver Strand is on the west of the island and offers views of neighbouring Cape Clear Island. Expect to see fuchsia, ferns and orchids decorating the island as you embark on the 20-minute walk across the island to the beach from the ferry. The island is a popular spot for birdwatchers given the large variety of birdlife and in autumn you can watch birds migrating south for winter. Dolphins, porpoises, seals and otters can also be observed from the beach. Sherkin Island is home to artists, photographers, and designers some with studios open to the public.
6. Trá Bán, Great Blasket Island, Co. Kerry

Celebrated in Irish literature by many previous residents is the Great Blasket Island. The island has been uninhabited since the remaining 22 residents were evacuated in 1953. The Blasket Islands lie on the north side of the entrance to Dingle Bay. Trá Bán literally means white beach in English and is aptly named as pure white sand is all you will see when you arrive at this gorgeous beach.  Trá Bán is a popular sunbathing spot for seals and you might even get to see Dingle Bay's most famous resident Fungie the Dolphin from your ferry over to the island. The ferries run through the Spring, Summer and Autumn from Dingle, Ventry and Dún Chaoin.
7. White Strand, Doonbeg, Co. Clare
Just over 30 minutes south of the well-known Lahinch surfing beach is the more secluded White Strand in Doonbeg. The beach is sheltered on both sides by low rocky cliffs and looks across the bay to the popular surfing beach of Doughmore Strand. It faces northeast so is protected from prevailing winds. The beach is in a designated Natural Heritage Area of ecological importance and also a Special Area of Conservation (SAC) and was awarded a Blue Flag award. If you are spending a few days in the area, Kilkee fishing village is a 15-minute drive away and is well worth a visit too. The Pollock Holes are an absolute must for wild swimming enthusiasts!
8. Furbo's Secret Beach, Furbo, Co. Galway

Heading west from Galway's famous Salthill into the Irish speaking Gaeltacht you will pass several fabulous beaches along the Galway Bay coastline. Furbo is an area between Barna and the seaside town of Spiddeal. It has a white sandy beach that is a popular swimming spot. Right beside this beach is Pádraicín's Bar and Restaurant and on the other side of this is a little road leading down to a secret beach. Go down this road past three houses and right at the end you will find this little gem.
9. Ballyconeely, Mannin, Co. Galway

Between the busy seaside towns of Clifden and Roundstone lies the more tranquil Ballyconeely. This little cove is one of many outlining the Ballyconeely peninsula. To access the beach follow signs for the golf club as the beach is not signposted. Some of the land is fenced off but a number of gaps give access to the beach. Although it is a cove it may be quite windy on Ballyconeely beach which means there can be some great surf.
10. Mweenish Beach, Mweenish Island, Co Galway
Mweenish Island is an island off the coast of Connemara in Galway connected to the mainland by a bridge. It is part of the Irish-speaking Gaeltacht. With a population of just 140 people on the island, the beautiful coastline is totally unspoiled. Visitors can watch the sunset over the Atlantic Ocean or watch it rise over the island of Ireland, it's pure heaven.
11. Annagh Bay, Achill Island, Co Mayo

On the north side of Mayo's Achill Island is Annagh which is home to the lowest corrie lake in Ireland at just 16 metres above sea level. Just below the lake is a small sandy beach. It is only accessible by boat or by foot. The area is rich in history with a megalithic tomb on the eastern side of the bay. On the western side of the bay is the remains of a 'booley village'. Historically people only lived in 'booley villages' for part of the year to tend cattle.
12. Dunmoran Strand, Dunmoran, Co Sligo

Sligo is known for its beautiful beaches and Dunmoran Strand is no exception. Located less than 30 minutes south of Sligo town, this glorious beach offers views of Knockarea and Benbulben mountains and even the Donegal hills on a clear day. This is a safe swimming beach and is perfect for beginner surfers. There is a carpark with plenty of space.
13. Tramore Beach, Tramore, Co Donegal

If a two-kilometre hike over sand dunes doesn't bother you you will be rewarded by the serene Tramore Beach. The only other way to access the beach is by boat. It looks out over the Atlantic Ocean to Tory Island. Coming from the fishing village of Dunfanaghy it is a 15-minute drive to a large carpark after which you must walk the remaining 2km.
14. Murder Hole, Rosguill Penninsula, Co Donegal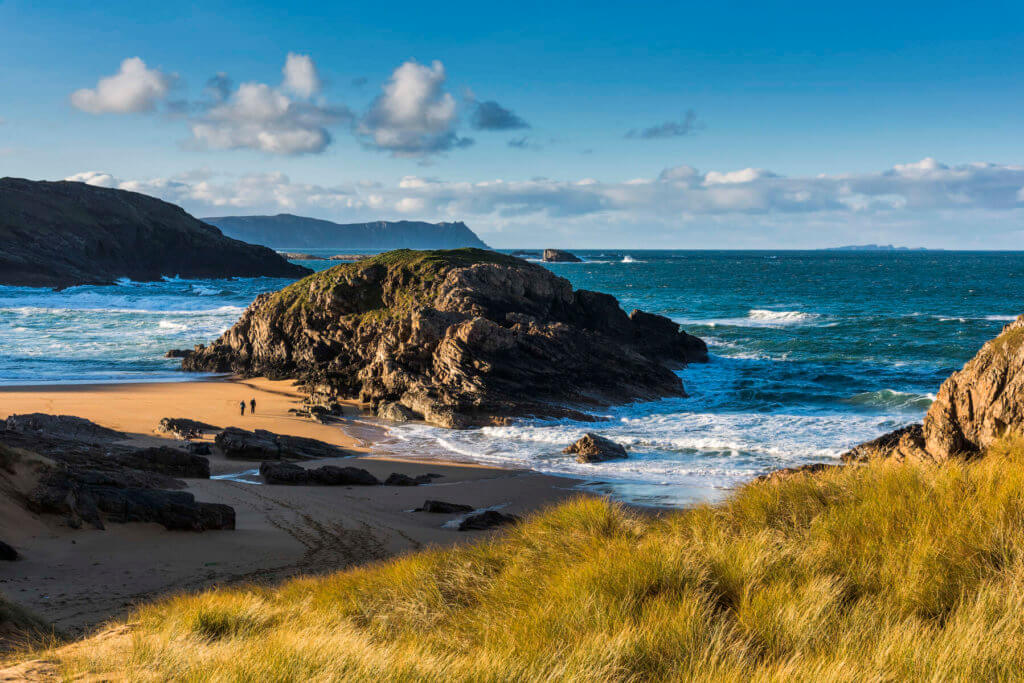 Named the coolest place in the world by National Geographic, this beach is off the beaten track.  You will find this mysteriously named beach 10 minutes from Downings, Co Donegal. To get there follow the Wild Atlantic Way beyond Downings until you reach a dead end and walk through two fields past the donkeys. There is a steep incline down hills and sand dunes to arrive at the beach.
15. Ballymastocker Bay, Fanad Peninsula, Co Donegal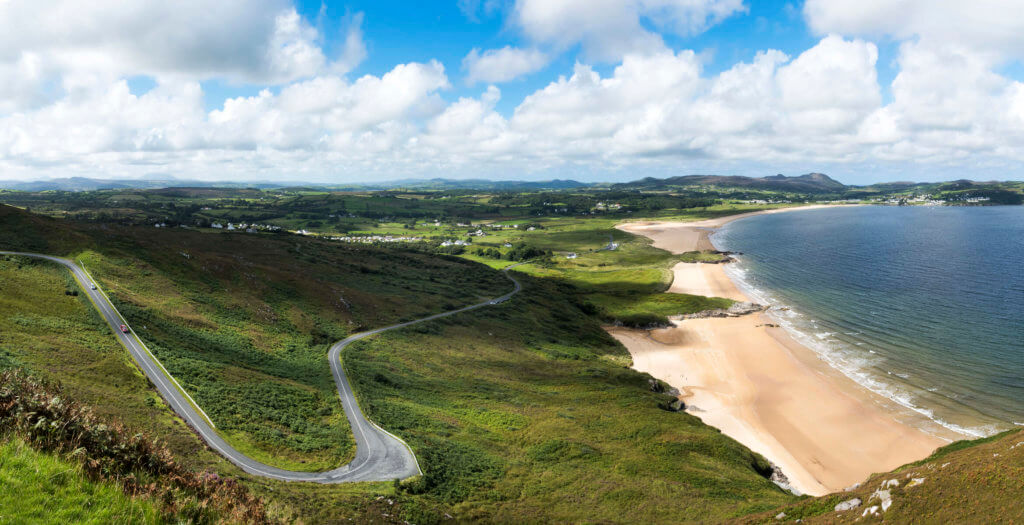 Just over 30 minutes north of Letterkenny on the rugged northern coastline is Ballymastocker Bay. Located on the western shore of Lough Swilly it forms part of the Northern Headlands section of the Wild Atlantic Way. This Blue Flag beach stretches from Portsalon to the Knockalla Hills. There are several hikes through the hills which offer breath-taking views of the beach. It was once voted the second best beach in the world by the British Observer. Despite this, the idyllic beach is often almost deserted.
16. Whiterocks Beach, Portrush, Co. Antrim

This Blue Flag white sandy beach is located along the breathtaking Causeway Coastal Route. This beach is popular for surfing, kayaking, bodyboarding, horse riding and walking. The beach is below limestone cliffs that have been carved into caves and different formations by the sea. From the car park at Magheracross, you can see views of the north coast of Ireland from the Giants Causeway to the east to Donegal to the west.
17. Browns Bay, Islandmagee, Co Antrim

Browns Bay is a small sandy cove on the northern tip of the Islandmagee Penninsula. It was awarded a Seaside Award flag meaning it is clean and safe for swimming. On clear days Scotland is visible over the sea. Just up from the beach is a grassy area, ideal for a seaside picnic. There is a car park and public toilets by the beach.
Check out our Hard as Nails podcast:
Like this? Check out these other articles:

Previous Post

Next Post