The Midlands isn't exactly known as an adventurers paradise, but actually, when you go looking, it is a bit of a haven for extreme sports! Time to ditch your preconceptions and go explore!
Think of Laois and Offaly and what comes to mind? Is it the green rolling hills and mature strands of trees in the former King's county or the bleakness of the bog of Allen? Or is it unexpected adrenalin kicks? In a refusal to accept the end of summer the Outsider team made a break for it and binged on some of our country's undiscovered delights. Here we round up all the of fantastic activities in the Midlands.
1. Wakeboarding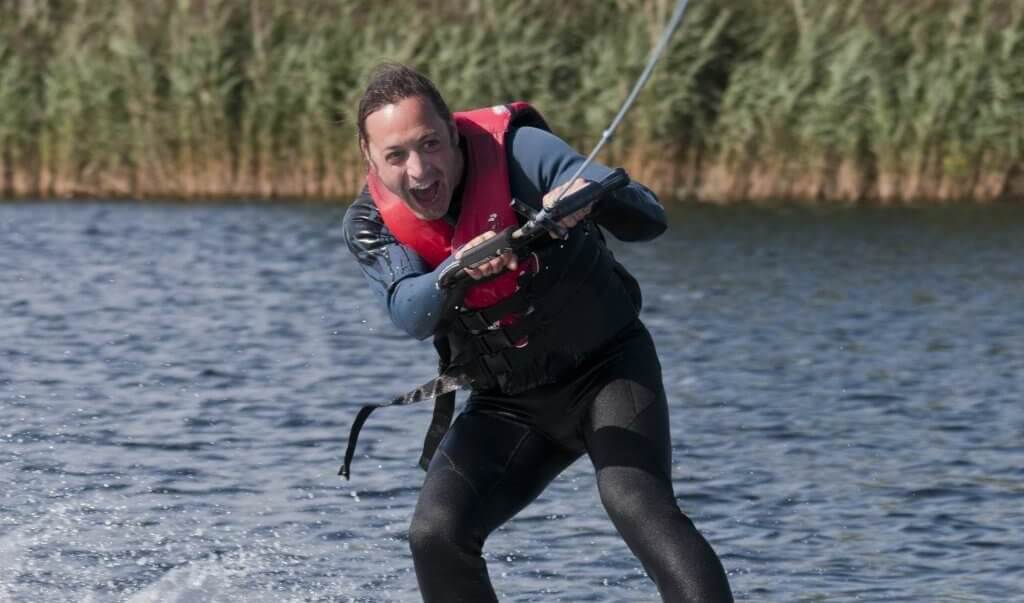 "Welcome to my office," shouted Mark Dunne over the roar of the V8 as we edged our way onto Lough Derg. A gannet rose from the water in front of us and we felt an unusual feeling communing with nature whilst getting whisked along in a boat that shares its engine with a Hummer. We were here to wakeboard with the Watermark Ski Club run by Mark and Yvonne Beurkle, two former Irish wakeboarding champions, and Wolfie Dunne-Beurkle, their wakeboarding dog.
I'm now in the water. I haven't done anything like this since my teens and I'm well, well out of them. Mark has explained that his method of instruction is designed to give the wakeboarder the maximum time on the water and I have just seen my colleague Heather rise gracefully and wakeboard successfully for the past half an hour.
I'm not so sure the method will work for me. This is no longer just a work thing. This is an age-old battle. Age v youth, male v female.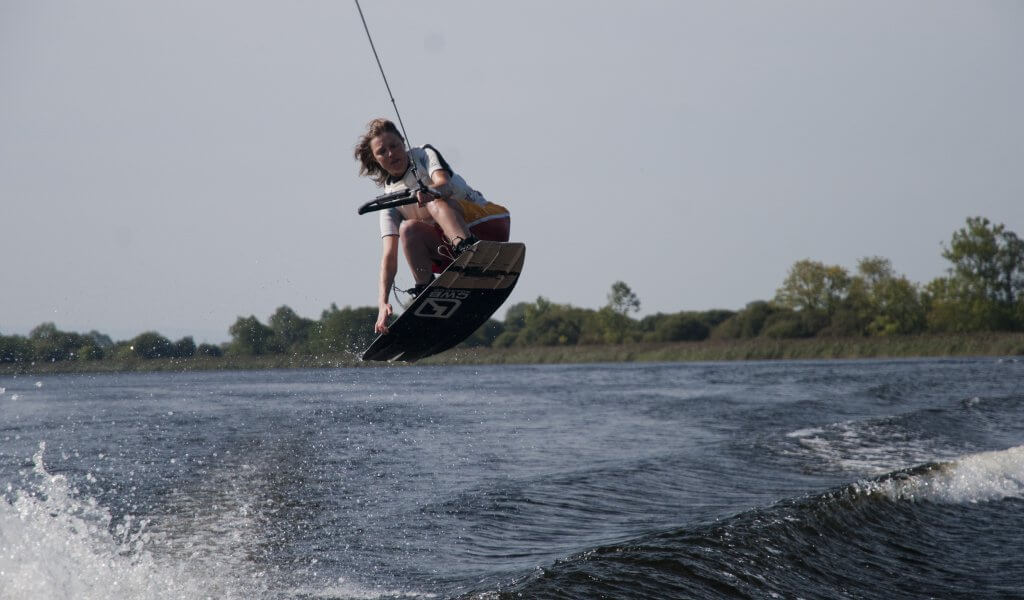 The boat comes around and as instructed I tuck my knees up around my ears while keeping my feet under my body. The rope tightens and I feel myself being pulled forward as Mark's words echo in my ears: "Don't stand up too soon and let the boat do the work." I begin to feel real resistance beneath my feet and all of a sudden I am standing. Woohoo!
OK now what; I'm being pulled along behind a boat. But wait. I know this feeling. It's exactly like snowboarding. So now that I know what to do I just do it, and on this glorious September morning, it is so much better than even snowboarding. Mainly because of the next bit.
Weekend adventures for under €50 in the Shannon Region
There is a pole sticking out of the right (or starboard if you want to be all nautical) side of Dunne's boat, a Correct Craft Super Air 210. I had incorrectly assumed that it was for teaching small kids how to wakeboard, but no, the padded covering that proclaimed barefoot skiing should really have given the game away.
Having endured our runs up and down the lake we could see that Mark and Yvonne were itching to show us how it was really done, so we sit back to watch Yvonne in awe, do flips, ollies, 1080s and generally look exceptionally graceful on the water. These tricks are all done at 13 knots which is fast enough for you to feel a good stiff breeze in your face.
For more info: Watermark Ski Club; tel. 087-2573661; email: watermark@irishwaterski.com. Beginner's crash courses €80.
2. Barefoot Skiing
For the next item on the agenda, the boat speed needs to be around 40 knots which is really fast. The next item was barefoot skiing, and it was just that: skiing without skis, walking on water as it were. You know, like the Messiah.
Because of the speeds involved another suit is needed. This is a shortie that tightens around your thighs to prevent unwanted colonic irrigation and has a couple of inches of padding around the torso to prevent unwanted bruising.
"So easy, that I insist on having a go. I practically rip the special suit off him, until he tells me that he has one in my size."
Mark shows us how it's done and it looks like an absolute hoot! Careening along the water, first on his front, the spray created by Mark's body creates a little rainbow. Then he's onto his side, knees up into his chest, onto his back feet facing forward and standing. He makes it look so easy.
So easy, that I insist on having a go. I practically rip the special suit off him, until he tells me that he has one in my size. I quickly get it on, have a quick rundown of the seven (or is it five?) steps needed to get to your feet. I jump in and grab the bar, the lovely burble of the V8 becomes a roar and I'm just hanging on for dear life. OK now onto my side, knees up, onto my back and wait, and then stand. And stand I do – first time.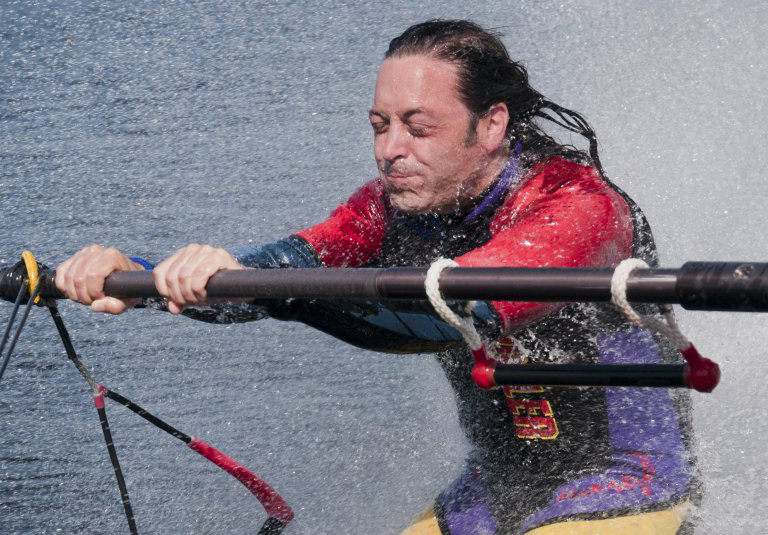 This is brilliant! I'm actually barefoot skiing at my first attempt! I think, what a natural athlete I am…and tumble, and tumble some more. So this is what the clothes feel like in the spin cycle. This is so different to a wake boarding fall when you just drop down into the water. This is a little like falling when skiing or snowboarding, on ice that doesn't hurt. You seem to go for about 5 or 10 seconds on top of the water and then you sink.
I'm as high as a kite; I stood up on the water going around 40 knots. For ages. "How long was I up for?" I ask thinking I'll dine out on this one for sure. "One, maybe two seconds," comes the answer. "Do you want to go again?" Bears and Popes come to mind. If I can get up on my first attempt, how much better will I be on my subsequent ones?
No better is the simple answer. It seems that the previous exertion and exhilaration have conspired to sap me of all of the strength in my arms, and the only thing repeated is the spin cycle, like the instructions on the back of a shampoo bottle – rinse then repeat.
For more info: Watermark Ski Club; tel. 087-2573661; email: watermark@irishwaterski.com. Beginner's crash courses €80.
3. Tubing
As if we haven't had enough rinsing, in the afternoon we head to visit the folk at the Outdoor Discovery Adventure Centre in Ballymahon, Co Longford. As this company is one of the first in Ireland to offer these activities, our plan is to go tubing and maybe try some Zorbing if we haven't overdosed on fun.
Tubing is a wonderful antidote to all of the stresses that life can throw at you. This is lo-fi fun at its 'loest'. Take one willing participant, throw on a wetsuit, add an inflatable ring with handles and place on a river. It doesn't get any simpler than that.
The highlights of our trip on the river Inny with our guide Rory were both the relaxing and the exciting elements. Between rapids, all we could do was float past cows chewing the cud and looking at us quizzically as we floated on by. There's something wonderfully primal about rivers: the flowing water, the canopy of trees hiding you from civilisation and the wildlife so close to humankind yet completely oblivious. They're generally inaccessible, private places used these days only by fishermen and paddlers.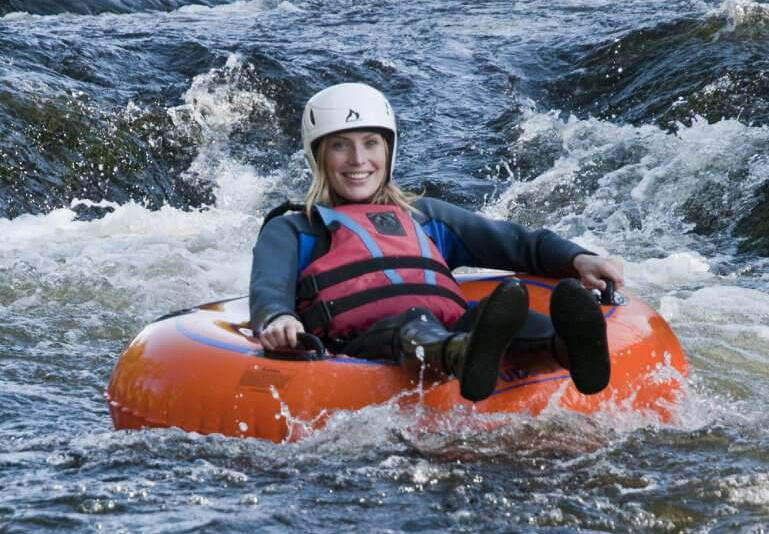 The rapids, on the other hand, generated a gentle rush of adrenaline as we sped over them. Floating on a tube, however, can get a little dull though so competitions were dreamt up: 'Who could stand on the tube for the longest' being our favourite as it inevitably ended up with one if not all of us in the drink.
Another competition was the washing machine where we were placed in a hole which is formed when water pours over the top of a submerged object, causing the surface water to flow back upstream towards the object. This causes the tubes to stay in the same spot despite the fiercely flowing water. The winner escapes without a soaking. Needless to say, the only competition I won was that of most spectacular fall when I went in headfirst whilst trying vainly to stay as dry as possible.
For more info: Outdoor Discovery Adventure Centre; tel. +353 (0)90 6400111/+353 (0)86 371 4660; email: info@outdoordiscovery.ie. Tubing: from €35.
4. Zorbing
Time perhaps for dry land and the activity I had been looking forward to the most – Zorbing. Yet another daft activity invented by those even dafter Kiwis, Zorbing is the very normal act of getting into an enormous inflatable ball and rolling down a huge hill. And – It – Is – A – ­­Blast!
Two people to a Zorb, strapped in facing each other, and then pushed with extreme prejudice down the hill. Now sky, now grass, now sky, now grass… I think you get the drift. Add in raucous uncontrollable laughter and a slight feeling of sicky tummy and you get almost the whole picture.
Weekend adventures for under €50 in the South East of Ireland
As the weight is evenly distributed in the Zorb, both participants spend equal time upside down. And the most fun is had when the giant ball stops and one of you is suspended spider-like from the top waiting for Rory, the man in charge, to come along and release you. We could only manage a few trips before our stomachs said enough and were thankful that our full itinerary had meant that we missed lunch that day.
For more info: Outdoor Discovery Adventure Centre; tel. +353 (0)90 6400111/+353 (0)86 371 4660; email: info@outdoordiscovery.ie. Zorbing: from €15.
5. Walking in the Slieve Blooms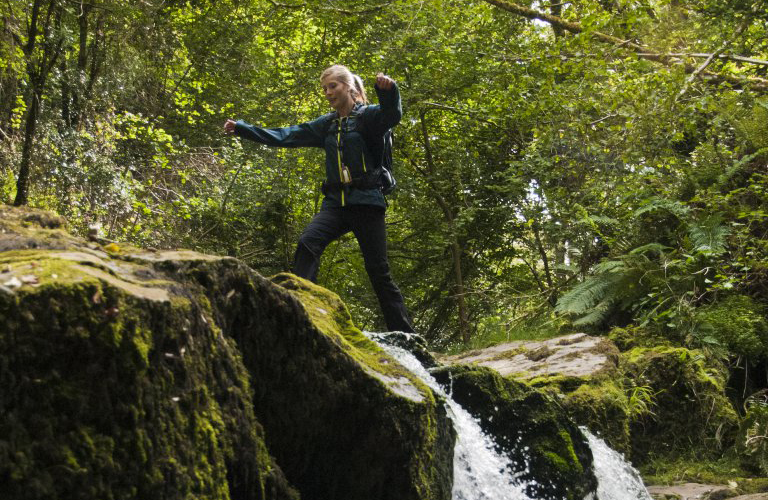 September/October is perhaps the best time to visit the Slieve Blooms as the purple heather begins to flower and it is still not too cold or wet. The landscape itself is a cross between the bogs down in the valleys and a moonscape; there is nothing on the horizon once you reach the top of the range and all you notice is the absolute quiet.
There are plenty of signposted shorter walks to take in the Slieve Blooms but the purists will settle on the Slieve Bloom Way which is a signed and marked walk that loops the range. Not being purists and being a little wary of a 70km after the previous day's antics, we settled on the Silver River Walk, an altogether more manageable 5km loop which traces some of the Silver River Gorge.
"No trip to a rural Irish town would be complete without a visit to the local pyramid and nearby Kinnitty's, by actually existing, is better than most."
It was absolutely magnificent. Local guide John Scully told us about the geology of the region; the red sandstone had been taken by glaciers from what would have been Egypt millions of years ago and were deposited here when the glaciers melted 10,000 years ago. The resulting cliffs and waterfalls are made more dramatic by the extreme seclusion.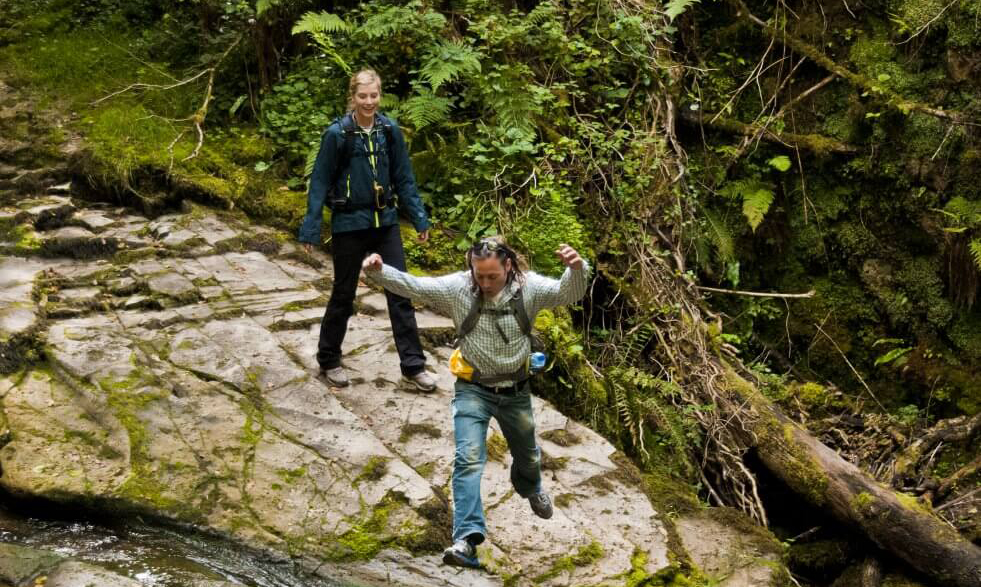 Access to the walk is through a field, over a stile and then, under the canopy of native beech and ash trees, you hear the rushing of the river, completely hidden and totally unexpected. The trail itself has been made very walkable through the intervention of the Laois partnership. Stiles and steps abound and while that may make it seem a little sanitised it is still challenging enough for it to be fun.
No trip to a rural Irish town would be complete without a visit to the local pyramid and nearby Kinnitty's, by actually existing, is better than most. This architectural oddity is located in the grounds of the local church of Ireland graveyard was built in the 1830s as a mausoleum for a local landed family. It is based on the pyramid of Cheops in Egypt but as it's only 30 foot high, it doesn't dominate the locale as much.
For more info: Slieve Bloom mountain walks with John Scully, MCI approved guide; tel. (057) 8648629 / 086-2405187; email: alanscully60@hotmail.com. Walks cost €5 per adult or get an annual membership for €20.
6. Horseriding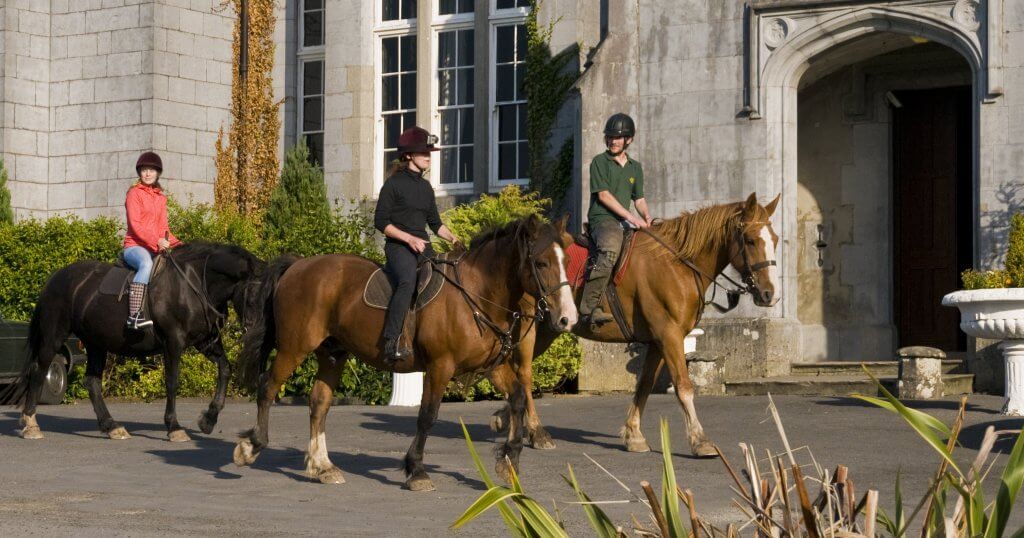 At this stage, we took our leave of our hosts and moved on to Kinnitty Castle where we were to stay in the haunted room. The Geraldine room. But not before some horse riding at Kinnitty's own equestrian centre. Very handy!
The centre has all types of horses to suit all riding abilities. We went on a trek along the trails behind the castle and within minutes could have been transported back to a time before the car as we ambled along on the gentle giants. As a complete novice, I was given the mount that was on Valium and I wouldn't have had it any other way. If, however, you were a more serious rider there are trails and loops to challenge the most able rider.
We were retired early by the restaurant staff after they had to lift my head from the soup for the third time. All of that fresh air is dangerous. Poor old Geraldine may have spent the whole night screaming into my ear, but I heard nothing so deep was my sleep.
Where to stay:
For a stay with a touch of opulence, look to stay at Kinnitty Castle Hotel. Our room was beautiful and we felt very well looked after by the staff during our stay. Tel. (057) 9137318; email: escape@kinnittycastlehotel.com.  Prices range from €100 to €160 a night.
Or enjoy a more low-key affair at Ardmore Country House B&B. It is a charming place to have some relaxation time and enjoy some traditional Irish home cooking. Tel. (057) 9137009 / 086-2789147; email: info@kinnitty.com. Prices range from €84 to €120 a night.
Check out our Hard as Nails podcast:
Want to explore more of our country? Your next adventure is only a click away: