Over the past few weeks, we have been sharing some of the best places to hike, stay and eat in Carlow. Today, our focus is on some of the overlooked stuff. Sure some of it is serene but the activities listed here are ideal for days when you fancy going a little slower or maybe you're in recovery from a hike or bike. From gentle forest walks to farmers' markets, this is a list to keep to yourself!  
1. Carlow Farmers' Market
If you're looking for some delicious food to fuel your Carlow adventure, we highly recommend the Carlow Farmers' Market. It takes place ever Saturday from 9am to 2pm at the Carlow Exchange and Potato Market in the town centre. This market has a reputation as one of the best-run producer markets in the country and its offerings include local fruit and vegetables,  jams and chutneys, crepes cooked on site, chocolates and truffles, and traditionally crafted breads and cakes along with a range of crafts from local speciality food and craft producers. If we have your mouth watering, head along and help support the local economy as you satisfy your cravings!
2. Oak Park Forest Park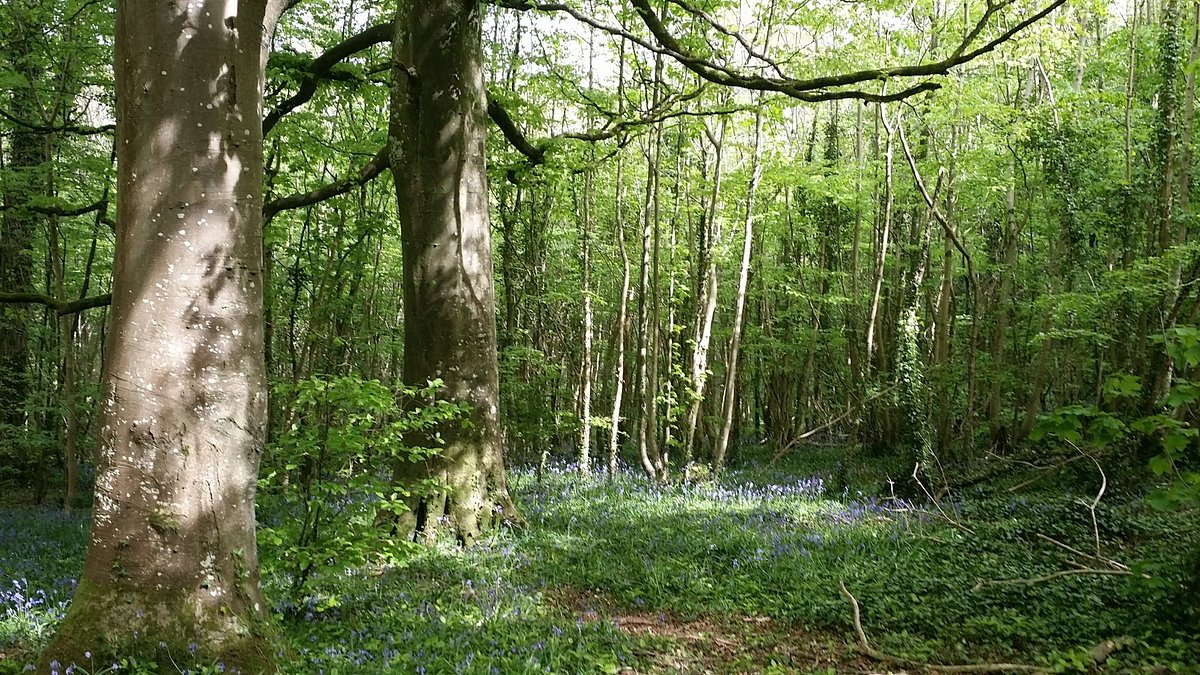 Sometimes only nature can soothe the soul. And there's no better place to experience her restorative powers than in Oak Park Forest Park. This mature woodland is tucked away on the north side of Carlow town and offers short serene trails through 120 acres of mature  beech, oak, Scots pine, silver fir, larch and sycamore. Whether it's biodiversity or forest bathing you're after, this is a lovely spot to escape the bustle of the town and seek some peace.
3. Borris Viaduct and Borris House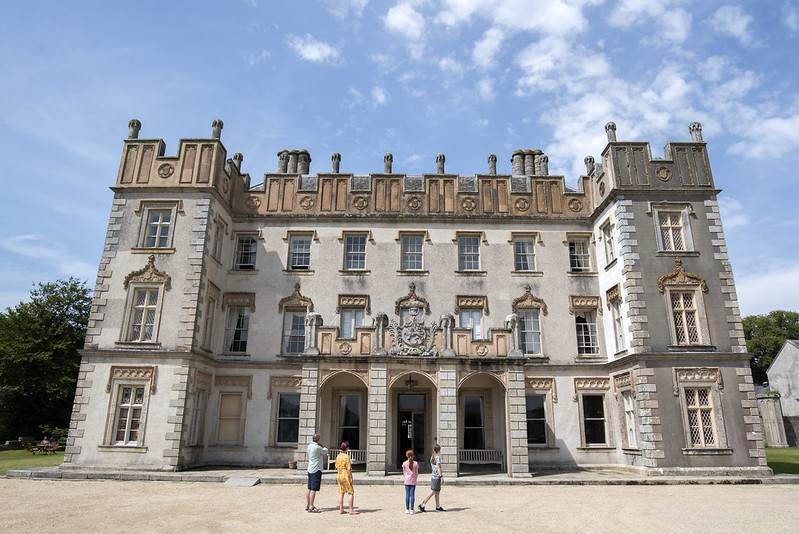 At the centre of the quaint country village of Borris, you will find several of Carlow's lovely hidden gems, along with some special country pubs and great eateries. Step back in time and enjoy a guided tour of Borris House, the ancestral home of the McMorrough Kavanaghs, Kings of Leinster. The estate is one of the few Irish estates that can trace its history back to the ancient royal families of Ireland. The Borris Railway Viaduct is another fascinating place to visit. It's one of Ireland's best examples of pioneering 19th-century railway engineering and one of the most admired and celebrated railway structures in the country. This historic landmark rises to 60ft high and spans the Borris and Mountain River Valley. Plan a visit to enjoy a looped walk with stunning scenery of the Blackstairs Mountains and the town of Borris with fantastic historical signage along the way.
4. Carlow County Museum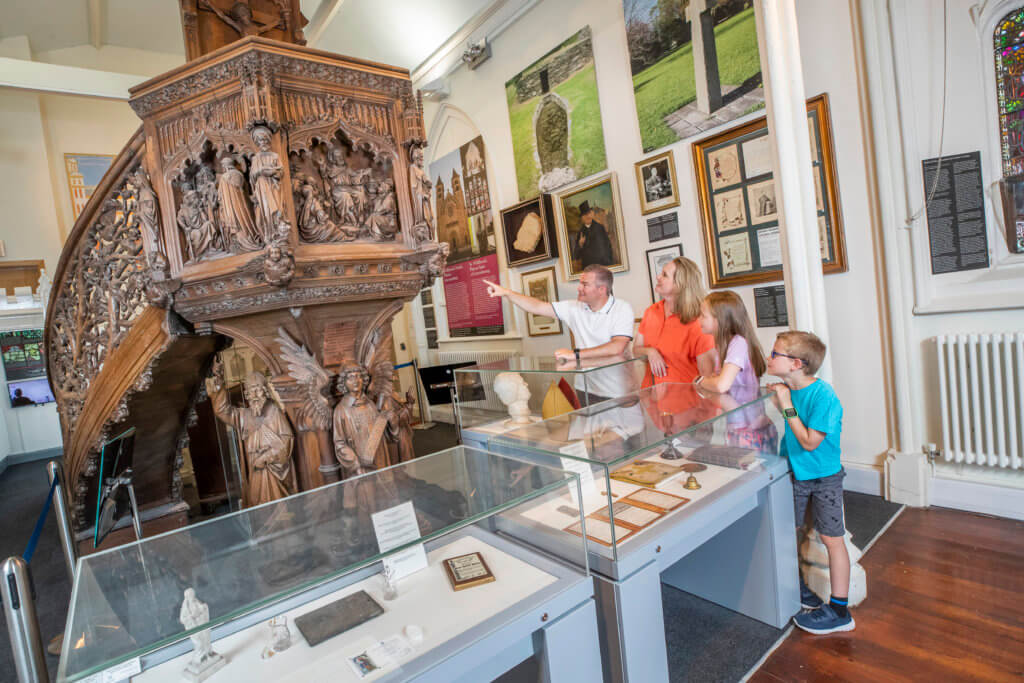 Carlow is an area of massive historical significance in Ireland. The town played a significant role during the 1798 Rebellion and the Brownshill Dolmen, which is located 3km from the town centre, dates back to the Neolithic period! You can learn all about Carlow's fascinating history in the Carlow County Museum. Learn about the social, cultural and economic history which makes County Carlow so special. Be wowed by the 340-million-year-old fossil, an exquisite 2mm Iron Age glass bead, and the 20-foot church pulpit. It's massive! And don't just take our word for it that the museum is worth a look. Fintan O'Toole's 'A History of Ireland in 100 Objects' even features the pulpit.  The museum has free admission and regularly runs family friendly activities.
5. Duckett's Grove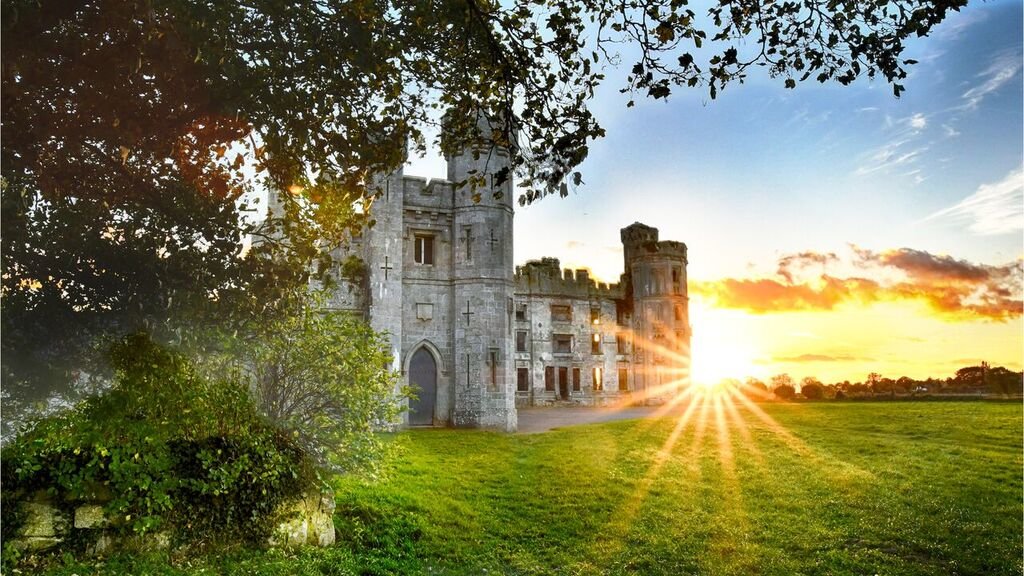 Although it's now a ruin, Duckett's Grove, in Kneestown, Palatine, Co Carlow, is still well worth a visit thanks to the surviving towers and turrets of this once-fine Gothic mansion. In recent years, two of its walled gardens have been restored and the first is awash with the colours and smells of Chinese and Japanese peonies, roses and irises. The second was once the old family orchard and is now growing a selection of fruits, including figs and historical varieties of Irish apples. There is also a great playground if you have kids in tow. Or adults will enjoy the craft shop and Lazy River Cafe. Serving breakfast, lunch, afternoon tea, picnics and a delicious array of treats and beverages, it's definitely worth popping on your itinerary. Guided tours are also available from Friday to Sunday. Entrance to the old demesne is free.
6. Carlow Garden Festival 2023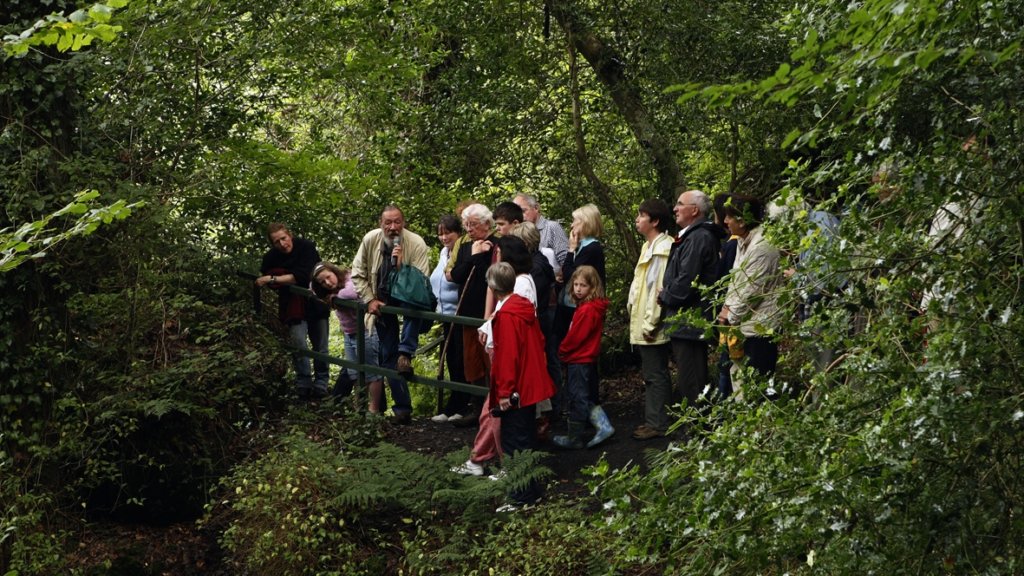 From rewilding to foraging, and growing herbs and organic vegetables, or even a session that will teach you how to keep your garden colourful 365 days a year, there is a huge depth of richness to the Carlow Garden Festival. The county will open its garden and castle gates to gardening enthusiasts for this annual event which is organised by the Carlow Garden Trail. Renowned as one of Ireland's finest garden festivals, it runs from Saturday, 29 July until Saturday 5 August and is now in its 21st year. The week-long event will see 18 acclaimed gardeners and garden designers from Ireland and the UK deliver an inviting range of events. Long-table suppers, afternoon tea and evening meals along the Carlow Garden Trail are all part of the mouth-watering mix on offer.
7. Blackstairs Eco Trails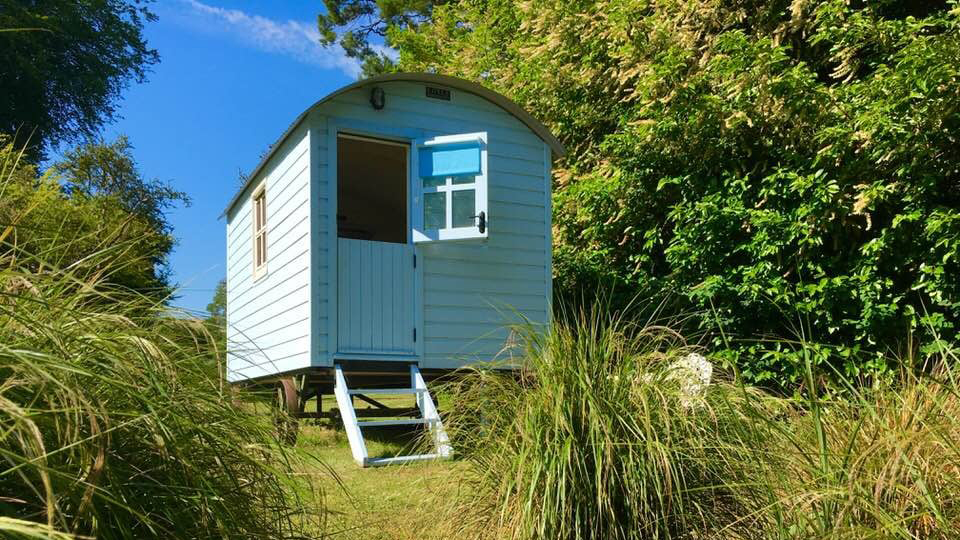 If you are looking for a unique place to stay in Carlow, look no further than the Blackstairs Eco Trails accommodation. This eco-tourism facility offers guests a chance to disconnect from modern life in its unique shepherd's huts and eco-barn accommodation. Guests can also join foraging walks and explore Celtic Tree Trails. Located close to the Blackstairs Mountains and the Barrow Valley, this is the perfect place to base yourself for a weekend of hiking in either location. All bookings at the Blackstairs Eco Trails include an organic breakfast each morning to fuel you up for the day. Guests can also swim in the nearby lake and paddle a canoe. On clear nights guests are encouraged to look up to experience incredible stargazing thanks to the secluded location. A stay here is a great opportunity to reconnect with nature, relax and unwind.
8. Altamont Gardens
If you want a short, easy walk around some stunning old-world gardens, we recommend going to Altamont Gardens. This is by no means a hike but it is definitely worth including on this list. It's a brilliant option for young families looking to stretch their legs or for the day after a big hike when the legs are a bit sore. These riverside gardens are filled with lovely flora as well as a peaceful atmosphere. The on-site Sugar and Spice Café is your go-to spot for a coffee or treat!
9. Carlow Military Museum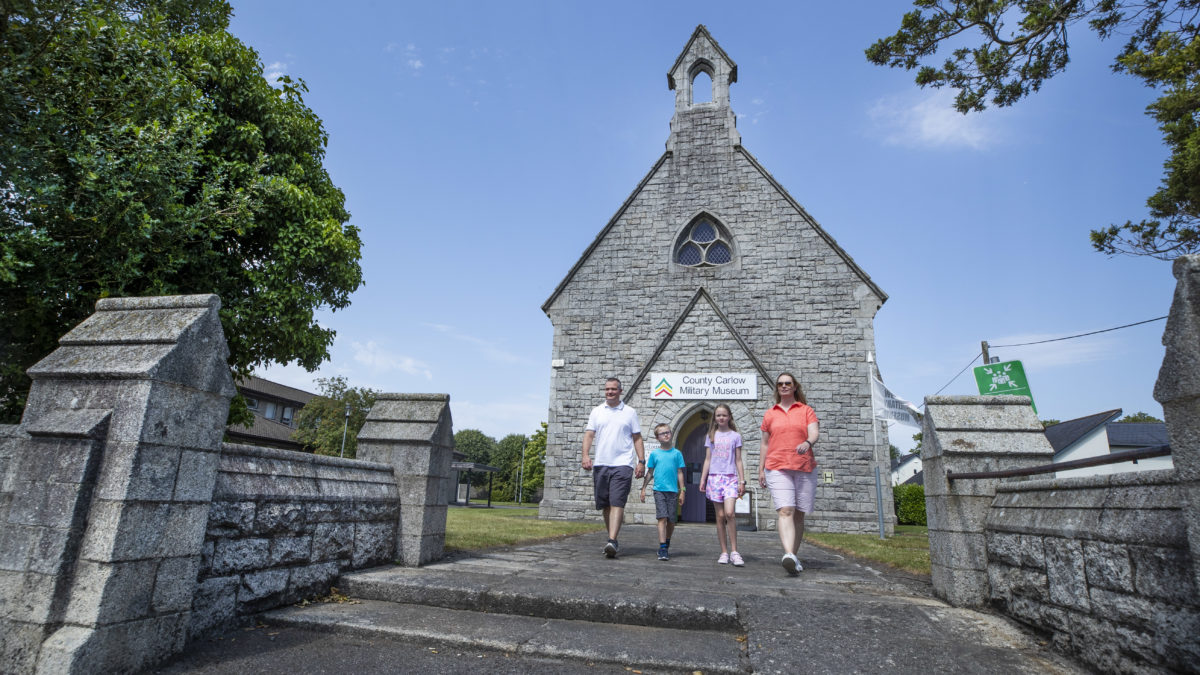 The Carlow Military Museum is a quirky privately run museum that is perfect for the history buffs. With more than 4,500 items, you'll find artefacts and memorabilia covering periods like the 1798 Rebellion, the 1916 Rising and World War I and II. It's an ideal rainy day outing or perfect for a rest day. The museum is located just off the Athy Road in Carlow Town. It is open Monday, Wednesday, and Friday (12pm – 4pm) & Sunday, (2pm – 5pm) between 20 March and 10 November.
10. Clashganny Forest Looped Walks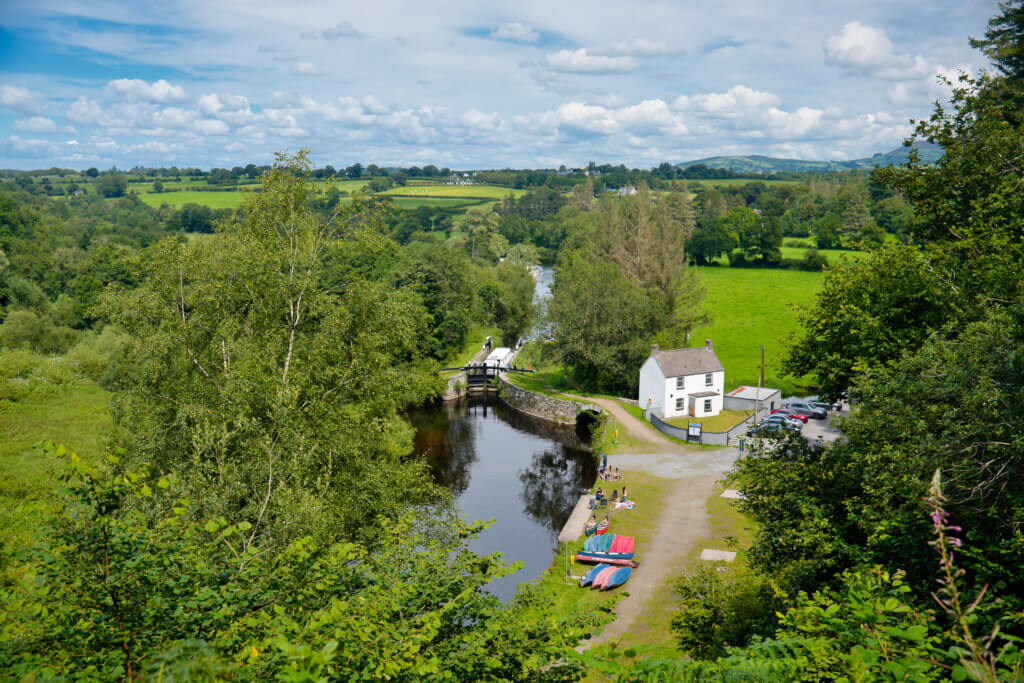 There are two looped and way marked walks on offer at Clashganny Forest that are an absolute treat. Winding their way through old deciduous forests that have been growing here since the 1800s and offering glimpses of the River Barrow through the leaves, both of the trails are relatively flat and take in sections of towpath. One true highlight of both walks is that you will get to see an old mass rock. Covered in moss and in a secluded spot, it really will make you pause and think how radically Ireland has changed since penal times when people had to practice their religion in secret. The Clashganny Lock Loop Walk is 4km (1.5 hours) and the Clashganny Viewing Point Loop Walk is a little longer at 6km (2 hours). It offers stunning views of Clashganny Lock, where you can swim under the watchful eye of lifeguards in summer. For post-walk/swim tea and treats, head to Clashganny House Restaurant.
Clashganny is also home to Go-With-The-Flow which offers a thrilling paddling experience with expert guides, customized family learning days, and individual rentals. Prior experience is not necessary as the expert guides will make sure you are equipped with everything you need to safely enjoy the water.
11. VISUAL Carlow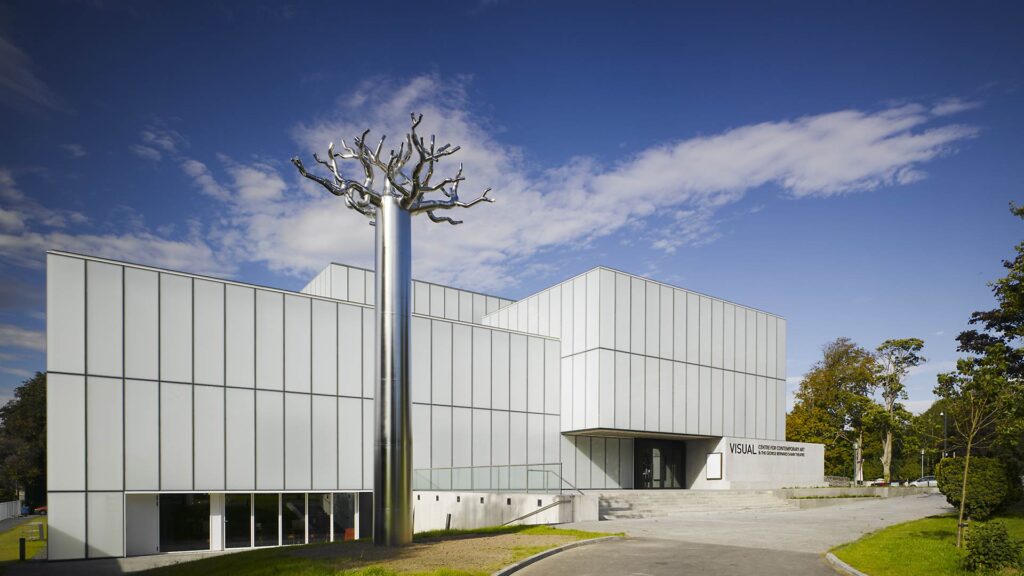 When you've had your fill of outdoor activity, the VISUAL Centre for Contemporary Art in Carlow town is a great alternative. It boasts Ireland's largest space for contemporary art and has works by national and international artists. The impressive building is also home to the George Bernard Shaw Theatre. This is an ideal place to visit if you have kids as there are regular parent and child art classes as well as youth theatre, intimate music gigs in the GB Bar, talks, workshops, film, dance and comedy. The centre also offers a great restaurant called Lennons@Visual where you can enjoy lunch or dinner, or just a nice morning coffee and cake.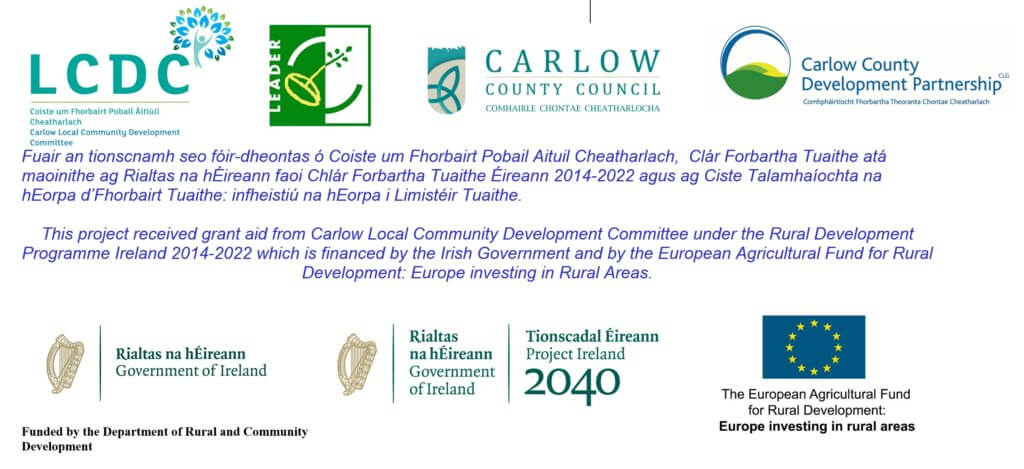 Previous Post