We've found the perfect trail running shoes to provide you grip, speed, and support to keep you trail running all year round.
If you've dreamed of taking your running to the next level and leaving the parks and fun runs behind then Trail Running is for you. We've found the best pairs on the market from established track names like Adidas and Nike, as well as from Trail Running specialists Salomon and Merrell.
There are two key things to consider when finding the perfect pair for you. Firstly, and most importantly, fit. Any discomfort in the shop will be magnified when you're a long way from home with no blister plasters. Secondly, consider what you'll be running on most. Are you going off road along stony tracks or will you be going full mountain goat and hitting the hills?
1. Merrell All Out Terra Trail
Price: €117.00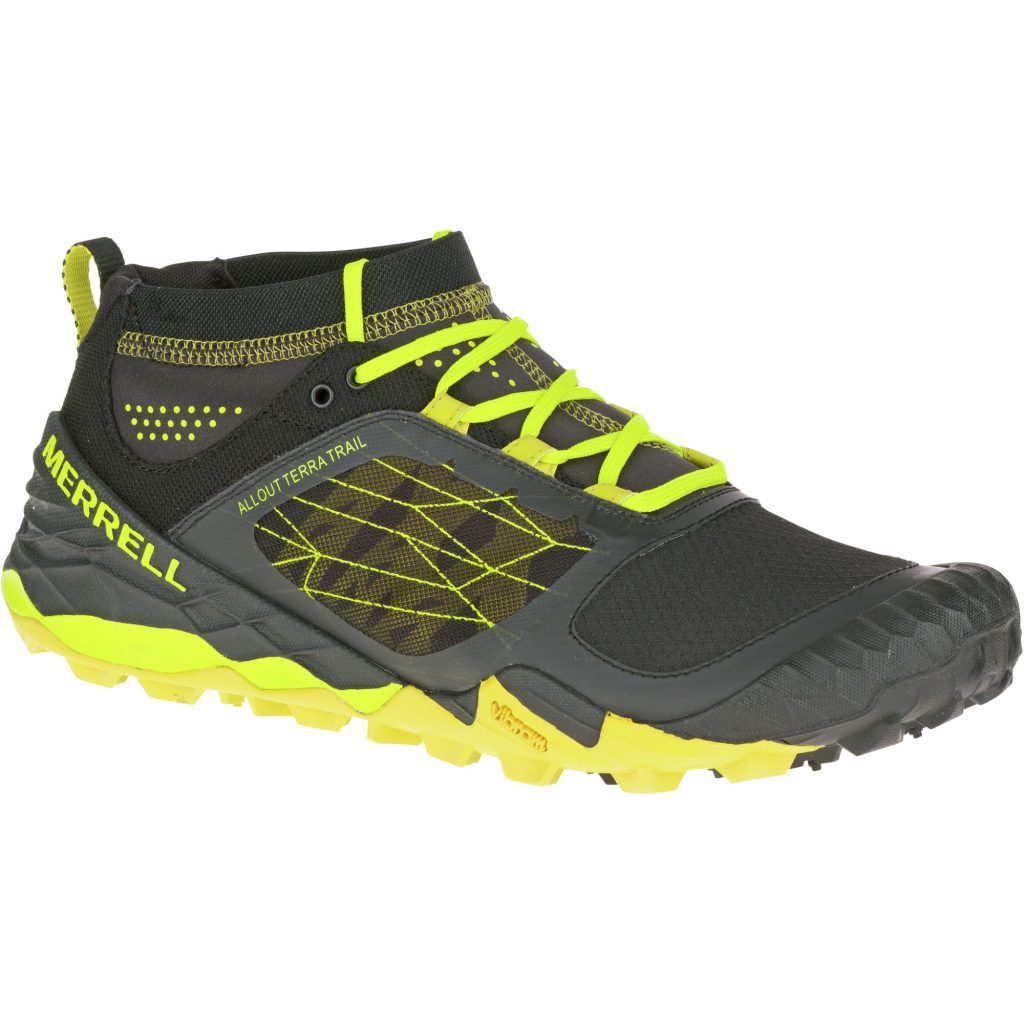 Merrell's All Out range is all about encouraging a natural running style and protecting your feet at the same time. The shoes are comfortable with a sturdy sole and reinforced toe cap. Though this comes at the cost of some weight and flexibility it'll ensure that nothing gets in your way out there – it also means that they double up as shoes you can use for hiking too. The 6mm lugs mean excellent grip in all but the wettest conditions and the Vibram soles will stand the test of time. The All Out Terra Trails also features a neoprene sock liner that extends up to the ankle, this ensures a great fit and keeps other debris out.
Available from: Cotswolds
2. Salomon XA Pro 3D GTX
Price: €160.00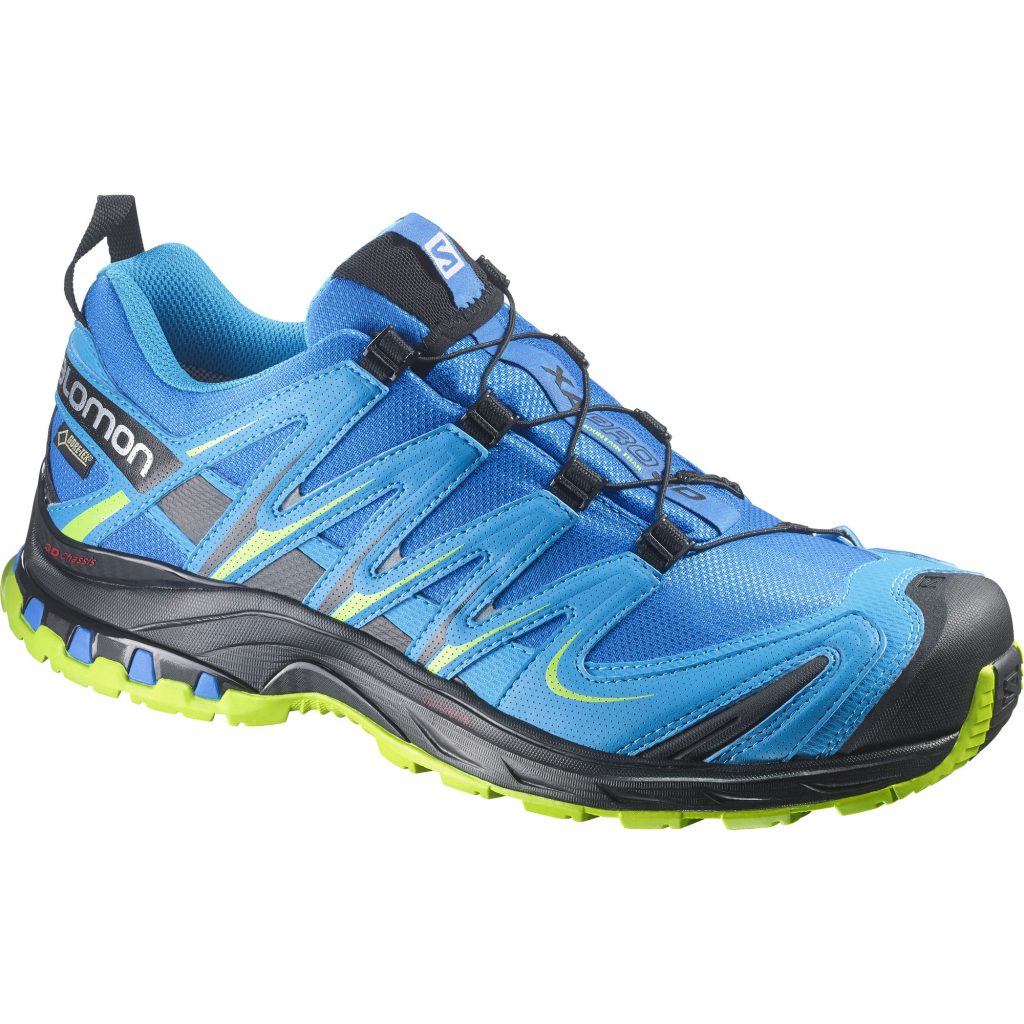 The XA Pro 3D GTX is the most expensive shoe on our list but comes with the specs and Salomon expertise to back it up. The Gore-Tex membrane will keep the water out though this may make the shoes more rigid and stiff then some runners are used to. The breathable upper is fitted with anti-debris mesh to keep stones at bay and the OrthoLite Sockline promises to keep the feet free from odour and moisture while also providing additional cushioning. These shoes are a sizeable investment but will be able to tackle everything from taking the dog for a walk to flying up the fells.
Available from: Base Camp
3. Inov-8 Mudclaw 300
Price: €130.00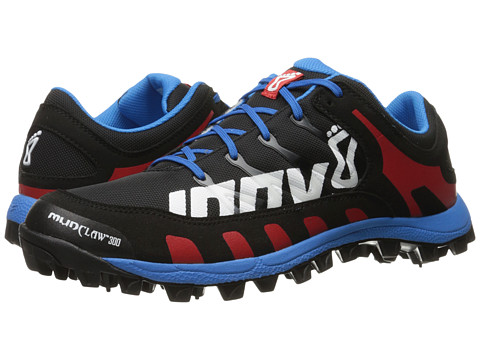 Inov-8 are specialists when it comes to trail running and the Mudclaw is their latest in a long line of sturdy shoes that catch the eye. The tread is pretty mighty and as the name suggests it's more than capable of tackling mud and bogs, with the Dual-C rubberised outsole providing additional grip. Be aware that it's not fully waterproof, but other than that you'll be flying. The upper of the Mudclaw 300 is flexible and durable while also being pretty breathable. The shoes also come in a range of colours that will help you stand out from the crowd even when you're up to your ankles in the brown stuff.
Available from: Great Outdoor
4. Salomon Speedcross 4
Price: €130.00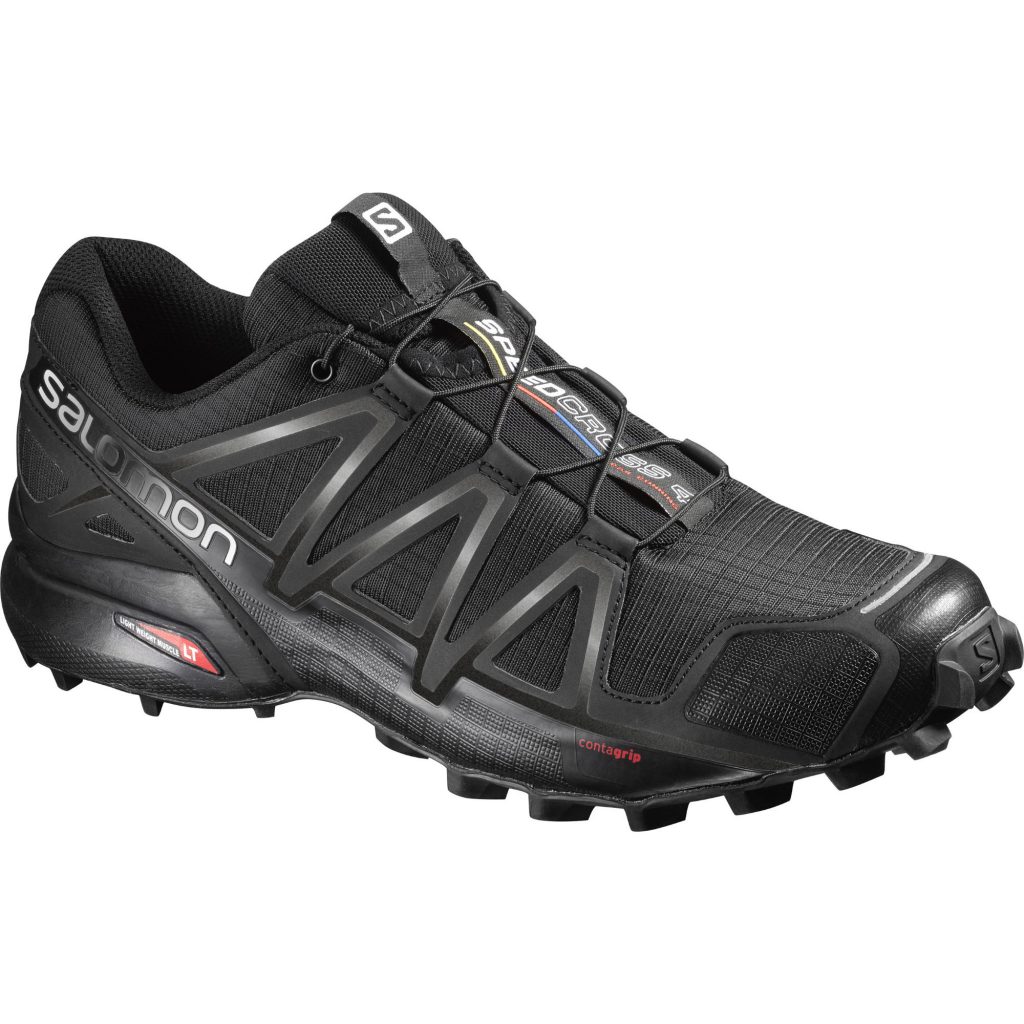 The Speedcross 4 is an update of the world's most popular trail runner. It provides incredible traction on most surfaces imaginable and improves on its predecessor's lug pattern. The Speedcross are designed with mountain running in mind and have proven very durable. Unusually, much of the shoe's cushioning and support is situated in the heel, this makes descending a pleasure but can mean that as the lugs wear down you'll start to feel the ground more and more. The shoes fit snugly and you won't have to worry about rubbing. One downside of the shoes is that the interior line has a tendency to retain water, but overall the Speedcross is a combination of comfort and traction that is hard to beat.
Available from: 53 Degrees North
5. Adidas Terrex Agravic
Price: €129.95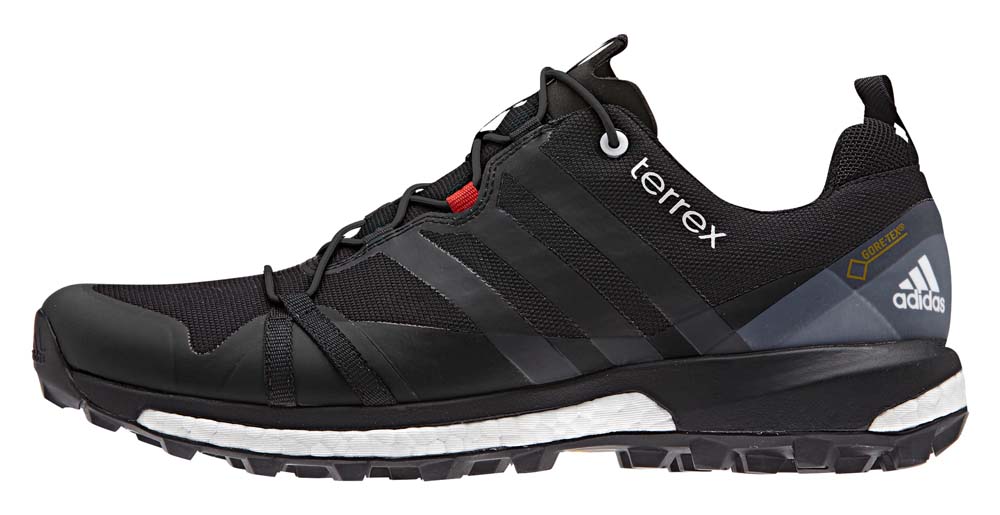 Adidas is a brand better known for it's more fair weather footwear but these Terrex shoes are a pretty formidable entry into the Trail Running market. The German giants have teamed up with tyre makers Continental to create a rubber sole capable of taking on rocks, ice, and mud. The Gore-Tex lining will keep your feet dry and the stylish design will draw admiring glances. The shoes also feature Adidas' custom Boost technology which provide excellent energy return to help you run as efficiently as possible. The Terrex works well as a hybrid shoe that can cover on-road and off-road running and is a real star all-rounder.
Available from: Adidas Ireland
6. La Sportiva Helios 2.0
Price: €103.95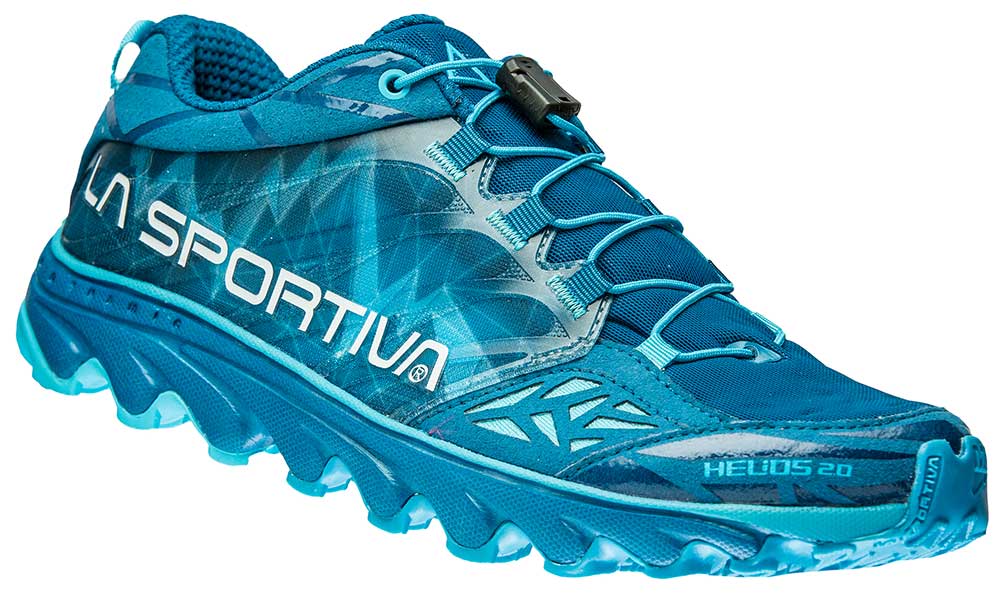 The La Sportiva Helios 2.0 has received rave reviews across the board and for good reason. This lightweight shoe (237g) offers a supreme fit thanks to its speed lacing system which will save you a couple of toenails on a longer race.
Despite the fact that they are a low-profile shoe, they offer a good level of cushioning around the entire foot and even feel a little springy under foot. Elsewhere they offer pretty impressive breathability, good grip on a range of terrain and can even be used for some light road use too. Like the Columbia Conspiracy, I reckon this is a great choice for those looking for a really versatile trail running shoe.
Available from: Trekk Inn
7. Hoka Mafate Speed
Price: €156.00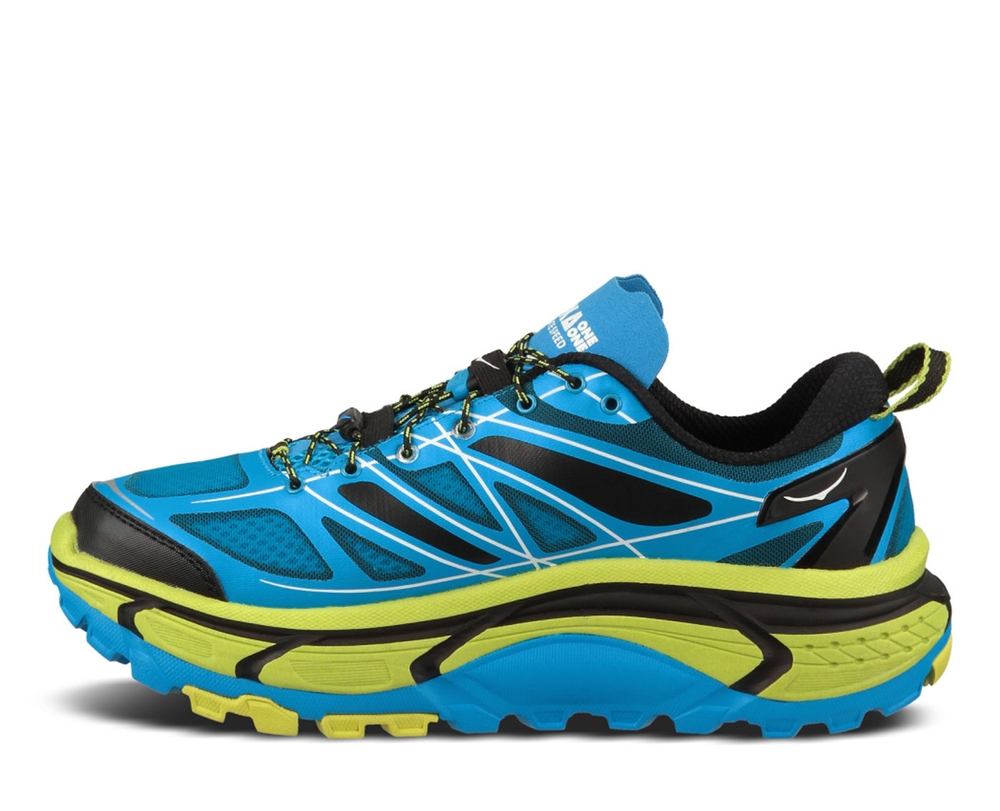 The first time I saw this shoe on the trail, I laughed out loud – it looked, in my opinion, utterly ridiculous. But as the mother would say: "Don't knock it until you try it."
Featuring an oversized sole, Hoka has designed its shoes with what they call a 'meta-rocker midsole geometry' which ultimately supports a runner's natural form, encouraging a positive rolling motion from heel strike to toe-off producing a more efficient running technique.
The high level of cushioning has also been designed to absorb some of the stress caused by running long distances on tough terrain, thus reducing injury levels. The Hoka Mafate Speed is now a regular on the trail, ultra-running scene and thru-hiking scene with some pretty dedicated fans. If you can get over the overall look of the shoe, it does offer supreme comfort thanks to the seamless construction of the shoe itself, at 320g is a pretty light and the lugs provide ample grip on a wide variety of terrain.
Available from: Cotswold
8. Columbia Montrail Bajada™ III
Price: €110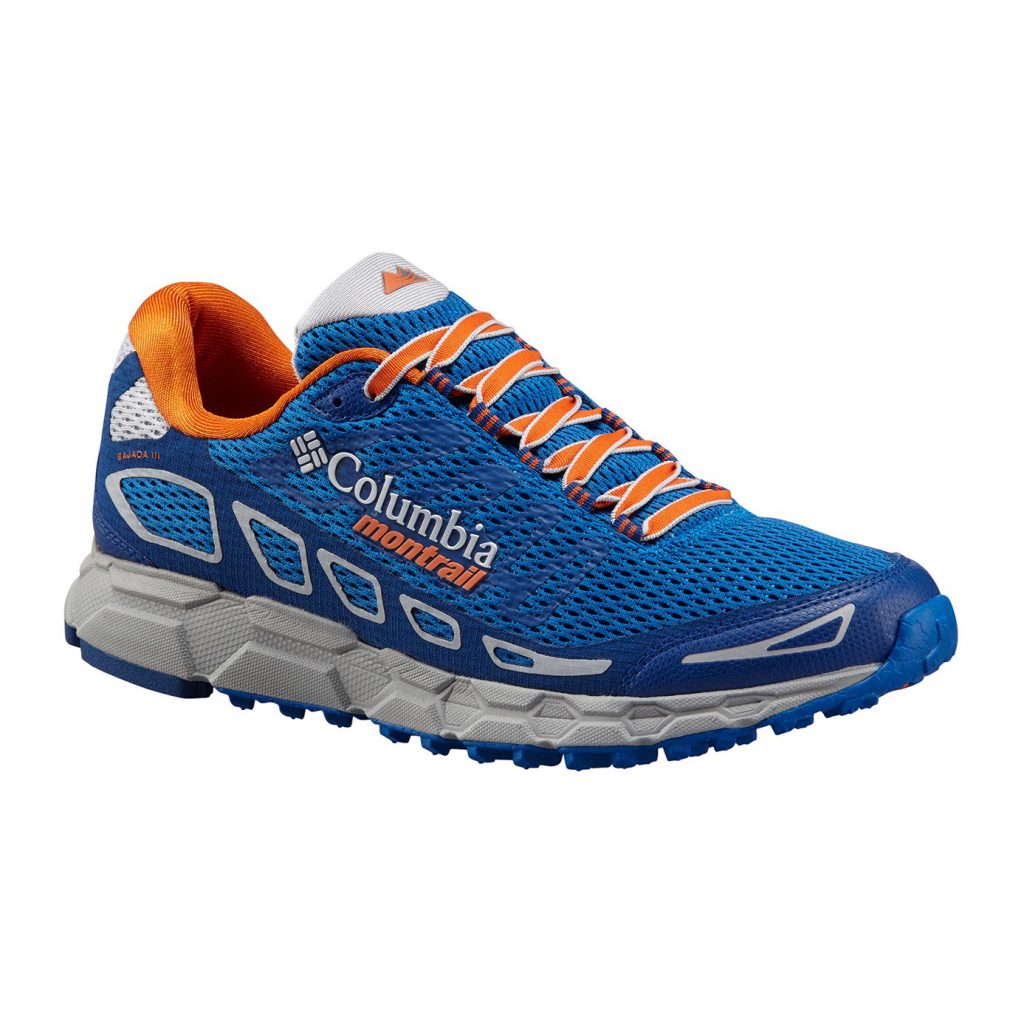 This versatile trail running and ultra-trail shoe from Columbia's Montrail collection is a real Jack-of-all-trades. They will take you from muddy mountain runs in winter, to dry dusty runs in summer and are perfect for those who want a really versatile shoe with a good amount of cushioning. It features a soft upper with an adaptable fit, with a high level of underfoot protection. The key features are its seamless mesh upper which has a soft step-in feel and its enhanced mudguard which provides abrasion resistance in key areas. The Bajada™ III  offers cushioning, flexibility and support while simultaneously providing traction over a massive range of surface conditions.
Available from: Great Outdoors
Check out our Hard as Nails podcast:

Previous Post