In search of a summer SUP but don't know where to start? We're here to help.
The key to buying a stand up paddleboard is defining what you'll use it for. There are key design differences between boards depending on whether they're for surfing, racing, yoga, or cruising. For instance, there's not much point buying a 10-foot monster if you're planning on catching some waves. We would also recommend trying to rent your preferred board in advance so you can get to grips with it in the water before committing fully. A SUP is a pretty heavy investment so you'll want to be sure. In saying that, for an entry-level board, you can't go wrong with any of these five.
1. Red Paddle Co Ride MSL 10'8" Inflatable Stand Up Paddle Board (Alloy Paddle Package)
Price: €1028.95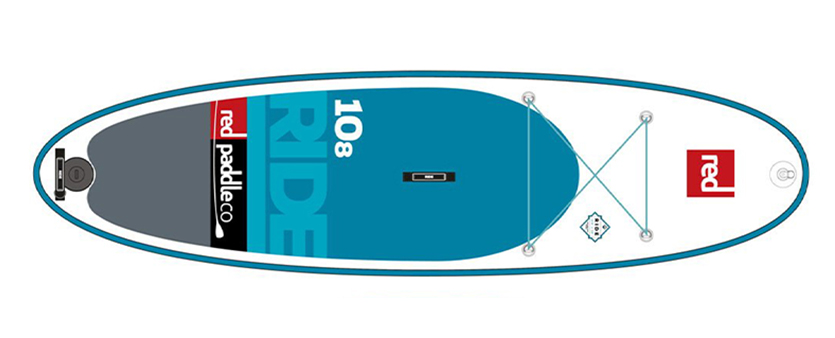 The brand RED are the leaders in the SUP industry so any of their boards are a solid investment. This package is perfect for the beginner rider, the heavier rider or for two people (family fun!) as it's big, therefore extremely stable. Also, it's inflatable so it can be easily transported and stored. In the box, you'll find the board, paddle, board bag, pump, repair kit, leash and even a water-resistant phone case. It's the best all-rounder on the market, plus its indestructible design is also paw-friendly!
Available from Wetsuit Outlet.
2. Aqua Marina Rapid Wave Surf 2020 SUP Paddle Board
Price: €599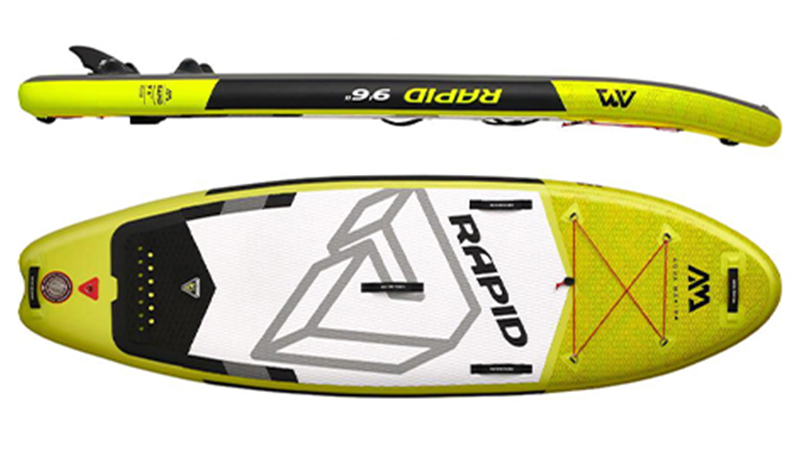 If you're on the hunt for a stand-up paddleboard for white water or river paddling then the Aqua Marina Rapid Wave Surf 2020 SUP is a great option. It's big and sturdy enough to provide stability if conditions get rough but also shaped perfectly to make quick and tight turns. The kit includes a backpack, double-action pump, slide-in river fin and fixed fins. Its only negative is that it doesn't include the paddle or leash.
Available from Mick's Garage.
Stand up paddle boarding: 10 of the best spots to SUP in Ireland
3. Jobe Yarra 10.6 SUP
Price: €759.99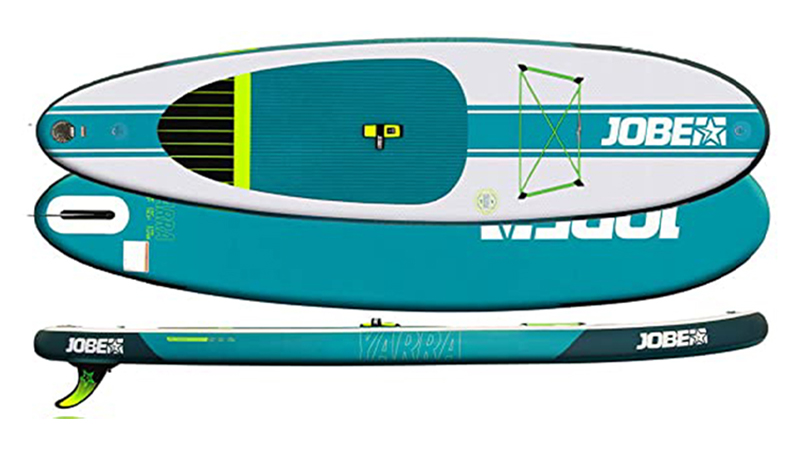 A great all-rounder and a cheaper alternative to RED boards, the Jobe Yarra 10.6 SUP is a family favourite. Light, stiff and durable, it also comes with all the extras like paddle, pump and leash.
Available from Wetsuit Outlet.
4. Aqua Marina Super Trip 2020 Family SUP Paddle Board
Price: €499
At 12'2", the Super Trip 2020 is a bit of a monster of a board designed specifically for multi-person/family adventures. It is super stable and easy to use. Plus, it can carry a load (it comes with an integrated easy-adjustable bungee cord to attach luggage). It's fun for the whole family and cheaper than most alternatives.
Available from Mick's Garage.
5. Aqua Marina Vapor 2020 SUP Paddle Board
Price: €319
Last but not least is Aqua Marina's latest creation, the Vapour 2020. Their newest SUP models are ideal all-rounders for the entry-level stand-up paddle boarder. Ticking the boxes on all counts like balance and manoeuvrability. It's also pretty fast for an all-rounder. It does have its drawbacks like it's best suited for calm waters, but you won't beat it price-wise.
Available from Mick's Garage.
Check out our Hard as Nails podcast:
Like this? You should check these out: