In recent years, paddleboarding has become one of the most popular watersports in Ireland. Meandering down a canal, doing yoga on the water, and maybe even catching a wave or two, paddleboarding is a fun, healthy activity for all ages. 
But, what if you don't have the room in your house or flat to store an 11-foot paddleboard? What if you don't have a large car rack big enough to hold your board on the way to the beach? Well, fret not, because that's what inflatable paddleboards are for! Easy to access, easy to stow, and easy to use, inflatable paddleboards are a convenient way to get out on the water for a fun-filled afternoon. Here are 10 of the best inflatable paddleboards on the market today!
Adventure in the City: SUP Yoga in the Docklands 
1. Typhoon ZRay X2
€446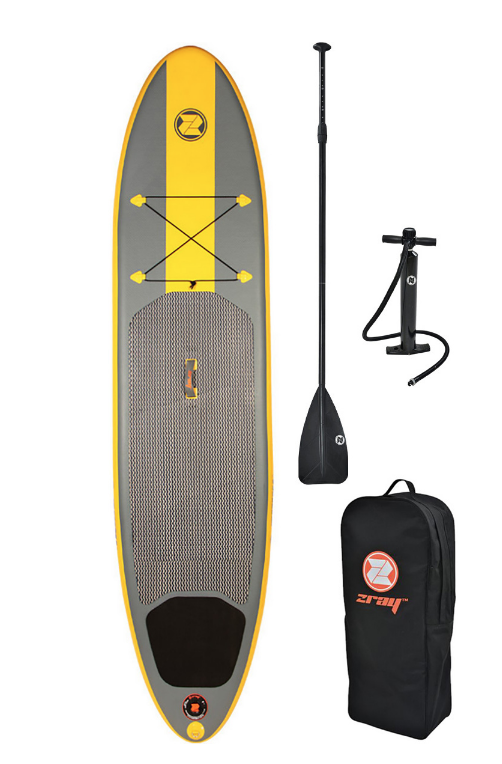 Paddleboarding is an amazing way to get the family up, active and in the great outdoors! With a stable, grippy platform, the Typhoon ZRay X2 is a great board for first-time riders, so the perfect board for kids who want to start learning how to paddleboard. At 10' 10", the 6" thick board gives maximum stability and a reassuring feel for any beginner. Also, the board is able to carry 145kg, so you can take yourself and the kids out at the same time for a great family afternoon!
The tough fabric of the board makes it extremely durable and resistant to damage, making it the perfect board for any family with children! Plus, the removable fin and easy deflation make it a breeze to stow away. This package comes with a storage backpack and high-pressure pump and an aluminium floatable paddle.
Buy it now on Wetsuit Outlet.
2. STX Race
€683.85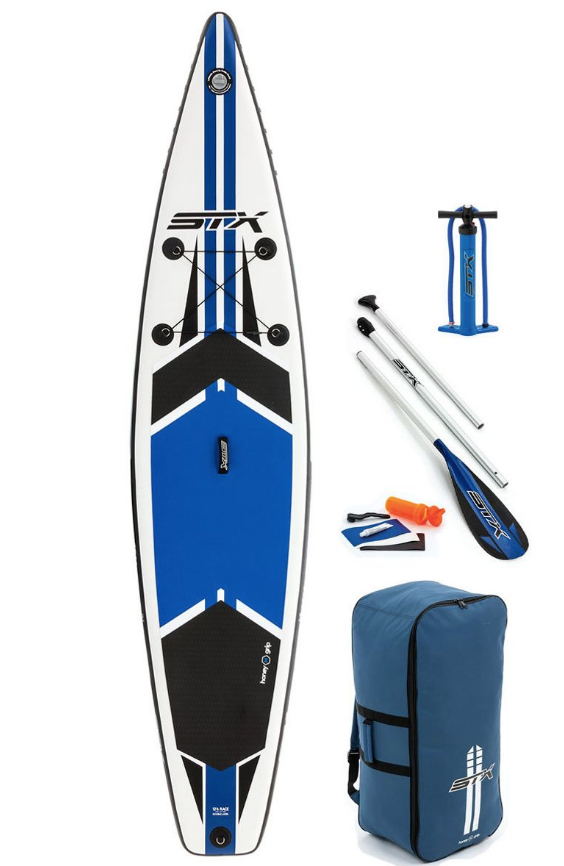 This paddleboard is ideal for touring. An easily inflatable body, an elongated shape and tapered nose give it improved glide on flat water. Also, a soft foam pad under your feet adds extra grip and supports a comfortable stance. Multiple carry handles make transportation a breeze, and the extra wide stance (32") provides maximum stability. The board also has a square-shaped tail that prevents it from tipping from side to side, giving you the assurance you need out on the water!
Buy it now on Surfdome.
3. Starboard Astro Serenity Drive
€838.28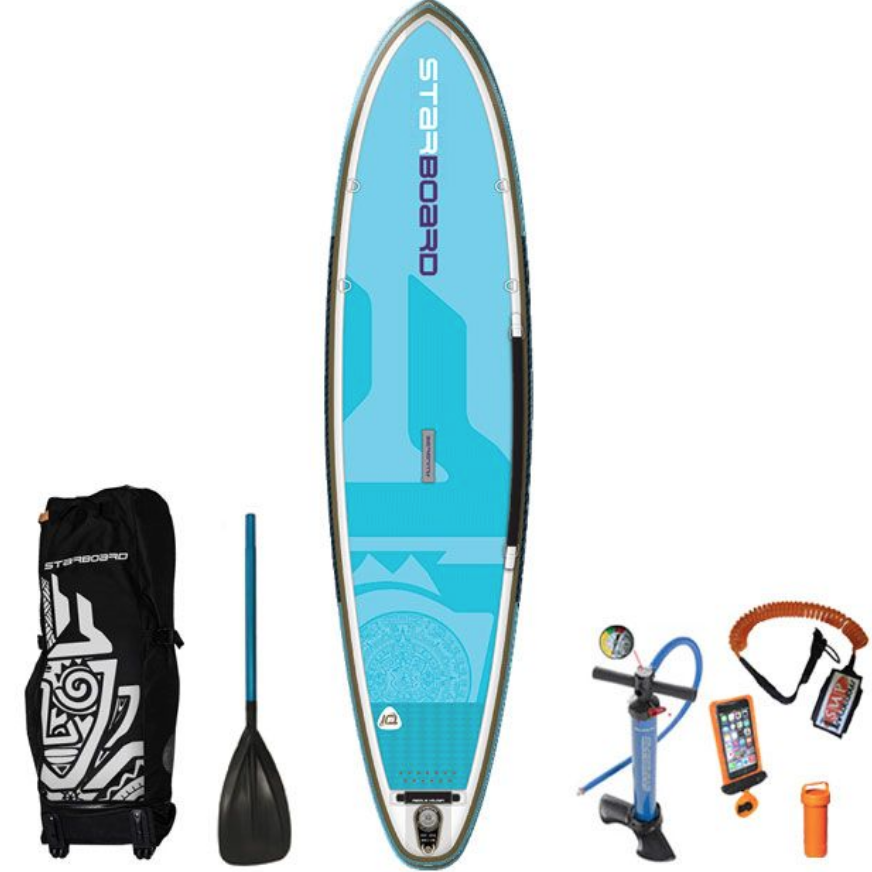 This extra stiff, light, durable paddleboard is a perfect choice for those who are looking to combine their SUP yoga sessions with a bit of paddling as well! The Starboard Yoga Crossover Astro has a narrower shape for an efficient glide through the water, but also provides comfortable stability when turning and performing more complicated exercises on the board.
The shoulder carry handle makes it easy to transport, and the full 2mm deck pad allows you to stretch out for all of your yoga poses. The Carbon Rail increases the board's stiffness and an FCS insert lets you attach a camera or a phone to capture all of your great experiences on the water! When you're done, simply deflate and roll your board into the easy-to-carry Magic Bag and take your board anywhere.
Buy it now on SUP Inflatables.
4. O'Neill Santa Fade Paddleboard Package
€500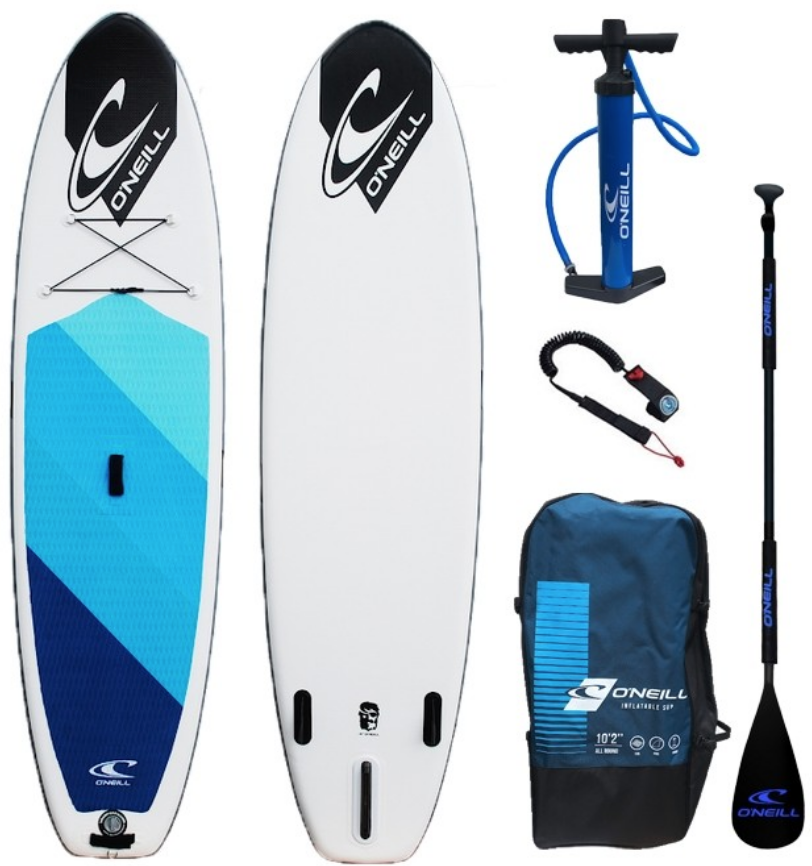 Looking to get into paddleboarding but not sure what board to choose? The O'Neill Santa Fade is a wonderful choice for beginners, with a 10' 2" board length and 5" thickness for excellent stability. Also, there's no need to worry about choosing all of the accessories to accompany the board, because this package includes it all, so you don't have to think twice about it! Complete with a paddle, leash, fin, pump, and carry bag, this board is a fantastic choice for beginners.
Buy it now in Surfdock.
5. Gladiator 10′
€490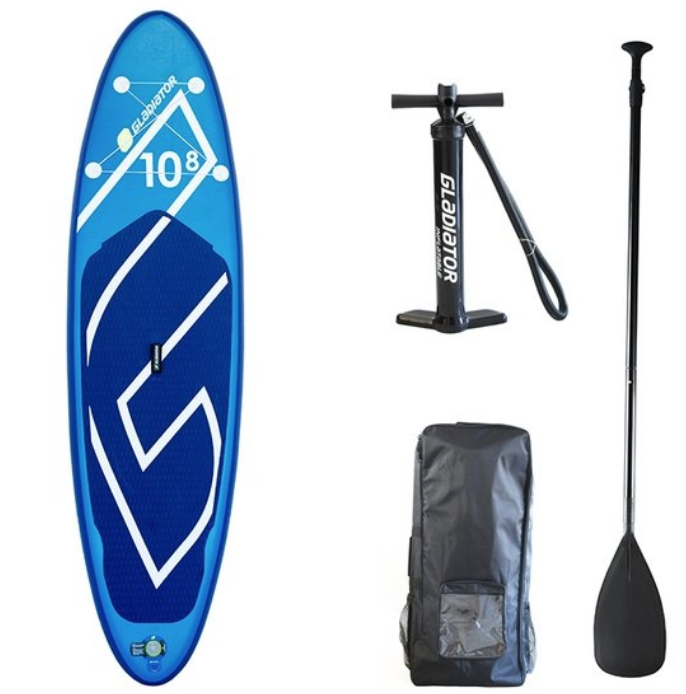 This full SUP package combines quality with quantity, giving you the board, a backpack, an air-pump, a waterproof phone case, a repair kit, and a SUP leash. Using double-layer laminated technology, this board is lightweight, strong, and has a high-quality drop-stitch that can be blown up to 25 PSI, giving the board a very rigid feel. This board glides easily through the water with its 3-fin system, helping you get the most out of each stoke. With this deal, not only do you get a fantastic board to get you out on the water, you get essential kit all in one go!
Buy it now on SUP Inflatables.
6. Fanatic Fly Air Stringer
€850.54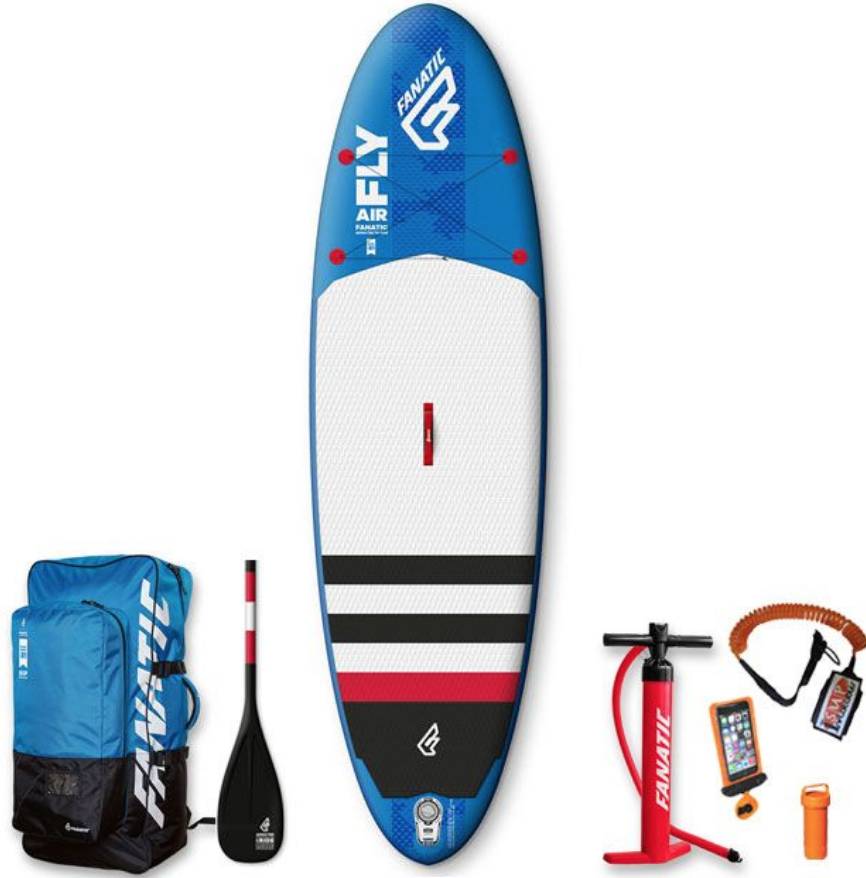 The Fanatic Fly Air Stringer, with optimized manoeuvrability and speed, is designed for flat water conditions, such as rivers and canals. This durable board has neoprene wrapped grab handles for easy carrying and paddle holders for a convenient access. Ride the board comfortably with bare feet, because the grippy, soft foam pad prevents slippage on the board! This package also includes a waterproof pack, a fibreglass paddle, a repair kit, a leash, and a fin.
Buy it now on Surfdome.
7. Jobe Aero Desna
€594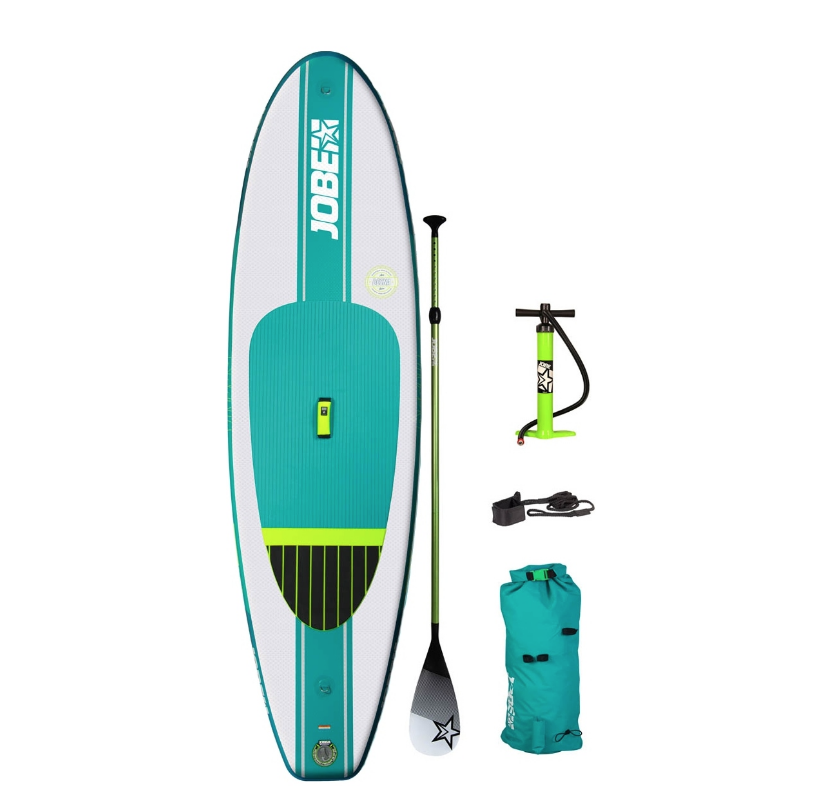 For more experienced SUP users, the Jobe Desna is an extremely popular choice due to its superior manoeuvrability and speed. With its drop-stitch technology, this board is lightweight, strong, and durable. Also, the board has a neoprene-wrapped grab handle that has a no-slip-grip when you pick up the board, and the paddle holders on the side allow for easy access to your paddles! This package also includes a waterproof backpack, and aluminium paddle, a repair kit, a board leash, and a high-quality fin. The best thing about this board? It is extremely easy to inflate and deflate, allowing you to get on the water in little to no time!
Buy it now on Wetsuit Outlet.
8. Red Paddle Co. Ride
€999.00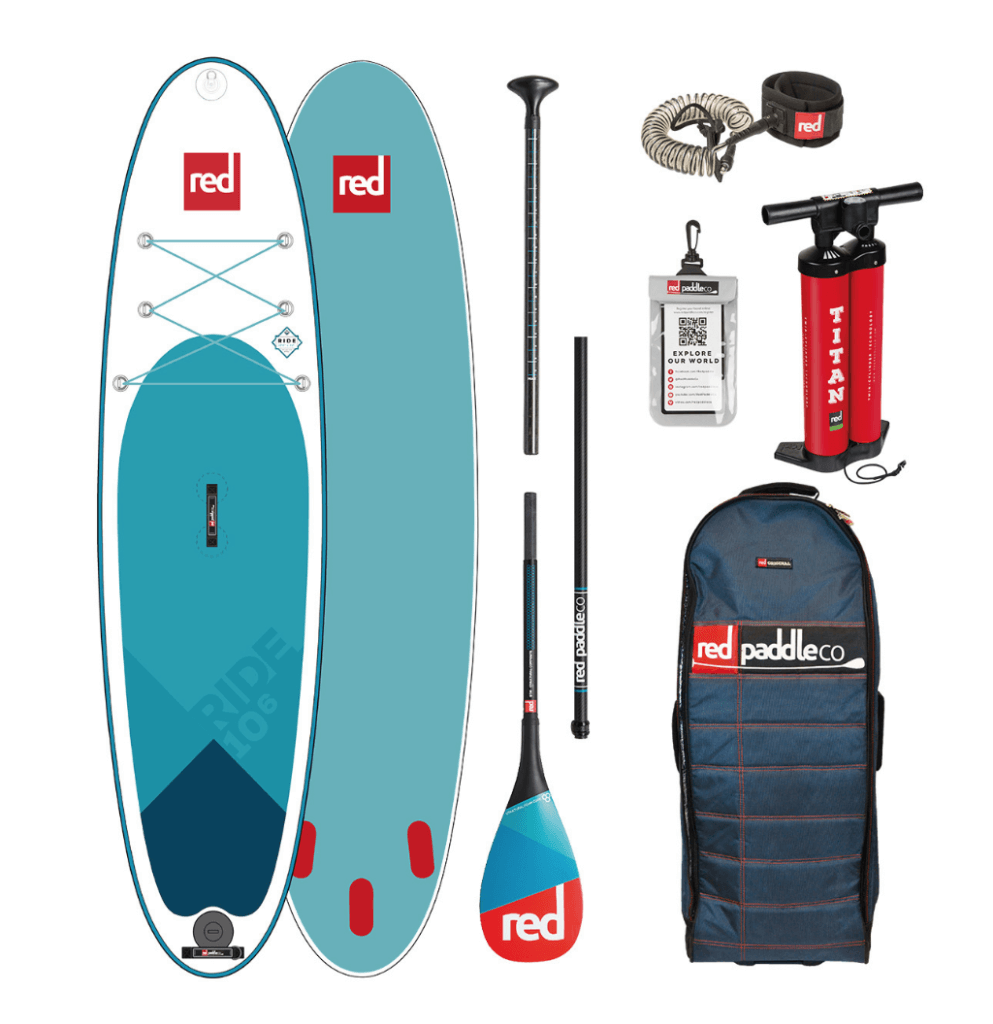 Hailed as a "Swiss Army Knife board," the Red Paddle Co. Ride inflatable paddleboard can be used by almost any rider for any purpose! This board is designed to glide through flat water easily, but can also ride smoothly through some unpredicted surf if you find yourself in some unexpected weather. The 120mm thickness of the board maximizes stiffness, giving you a bit more balance while not compromising a smooth ride.
This package comes with an all-terrain, durable backpack to protect your board, a quick-inflating pump, a water-resistant phone case, a repair kit, a paddle, and a coil ankle leash. This is your one-stop shop for the best paddleboard package on the market today!
Buy it now on Great Outdoors.
9. O'Shea 10'2″ Inflatable SUP
€764.51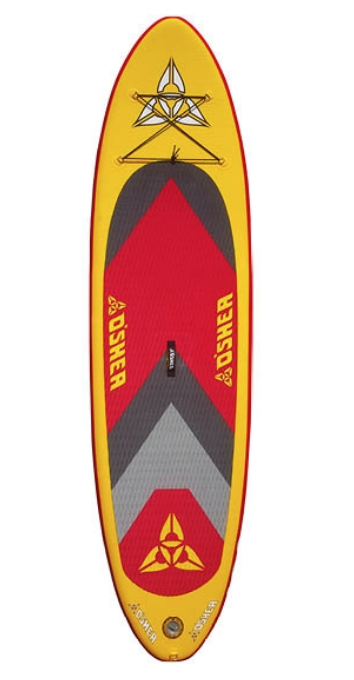 The O'Shea 10'2" Inflatable SUP is the perfect companion for your next outing on the lake or ocean. This board carries riders up to 90kg along flat water, or in small waves with ease. The drop-stitch material of the board makes it one of the most durable on the market, and the stiffer construction gives you better stability for more activities on the board, such as SUP Yoga! Also, the diamond grooved and buffed deck pad optimizes grip with bare feet or water shoes.
In addition, the outer material of the board has anti-UV properties, reducing the effect of the sun's harmful rays on the board, allowing it to last much longer and maintain shape and durability.
Buy it now on King of Watersports.
10. XL Giant FatStick ISUP
€1,436.00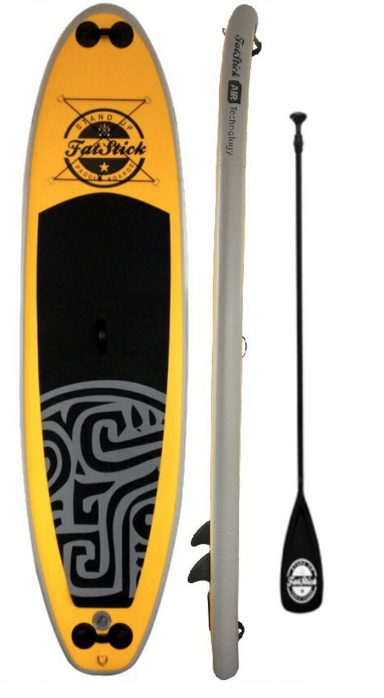 Looking for a board that the whole family can use? Well, what about a board that the whole family can use at the same time? FatStick Boards offers an XL inflatable SUP that can easily fit 6 people on it all at once, so grab your friends, your kids, your cousins, your aunts and uncles and hop on board for a great afternoon!
Buy it now on FatStick Boards.
Check out our Hard as Nails podcast:
Like this? Check out these other articles: