Graham Bushe ran the Wicklow Way and back, totalling 254km. Not bad for a guy who didn't even own a pair of running shoes four years ago.
Stretching from Marlay Park, Dublin to the small village of Clonegal, Co. Carlow, the Wicklow Way is a fantastic trail that is enjoyed by hill walkers and trail runners all year around. It's usually an 8-10 day challenge for those who choose to take on the route in its entirety. Many simply opt to take on bite-sized chunks at a time.
In 2008, Eoin Keith, one of Ireland's most accomplished endurance athletes, decided he would run the route to see what it is like. He completed the entire route in 13 hours and 46 minutes. Since then, an annual race has been created by IMRA – The Wicklow Way Race. Last year, Graham Bushe decided he would not only take part in the race, but that he would run all the way home too!
Andrea Splendori caught up with Graham to find out how a man who didn't even own a pair of trainers four years ago completed one of Ireland's toughest endurance challenges.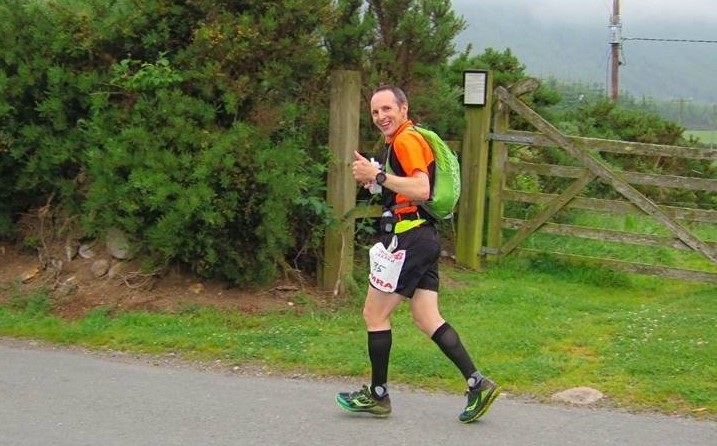 When did you take up running?
I was coaching GAA and football teams up until 2013 and I suddenly found that I had a lot more time to myself. So, I started to train for the Dublin marathon. I didn't even own proper running shoes back then! I guess you can blame Gary Crossen in Amphibian King for selling me my first pair as that's where it all really started!
Interview: Eoin Keith on his UTMB Disappointment
What was your time in the Dublin Marathon?
I ran that first Marathon in 3:37. A friend of mine said it would be special to have a medal for each of my kids so the following year I ran it again in 3.29. I'd been bitten by the running bug!
How did you make the transition from the road to the trail?
I was so naïve that I didn't even know there was such a thing as trail running races. I started googling races around my area and I discovered IMRA. I decided to join and run my first race.
My first Ultra was what is now known as Maurice Mullins race (51km along the Wicklow Way). I thought that it would be no bother to me. It took me 8 hours and 30 minutes to complete! Traversing the Wicklow Mountains was so much tougher than expected. I learned a valuable lesson that day. I started to explore the Wicklow Mountains more and more in order to understand better what was needed to take part in a mountain race.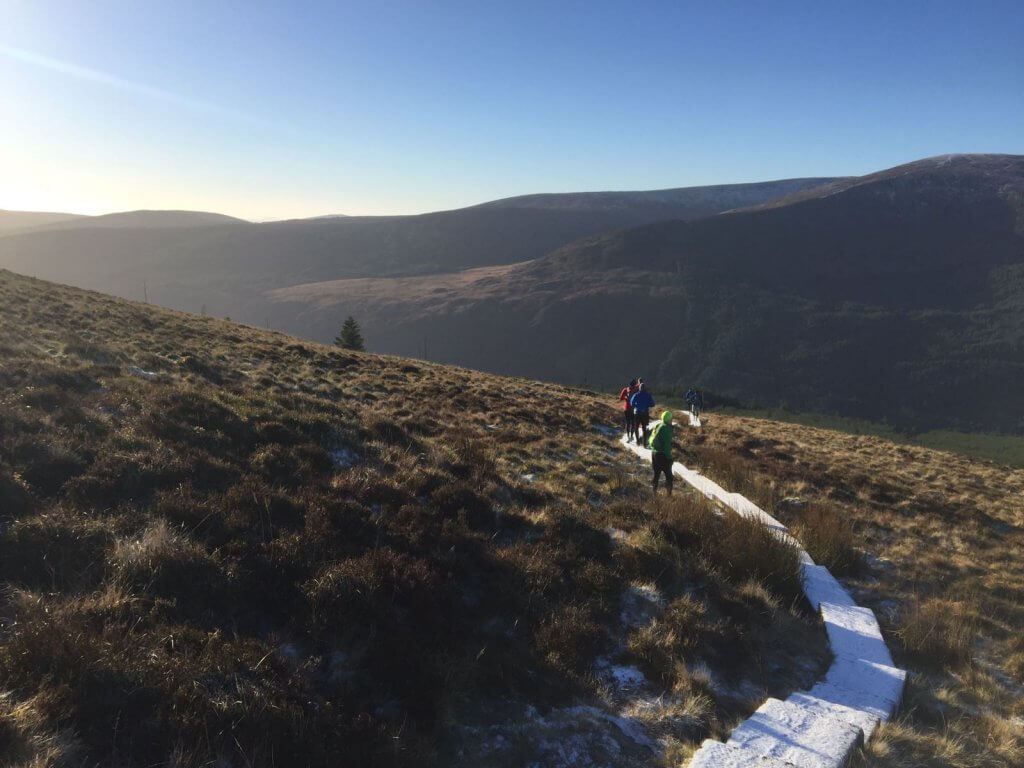 When did you decide to take on the 127km Wicklow Way Race?  
I had done several short runs with IMRA and I wasn't going back to marathons. I thought it would be good to challenge myself to a distance that was beyond my capabilities.
I am a very determined and competitive person and while I talk myself into taking it easy before a race, once I step beyond a starting line, there are very few things that get in my way. I'd heard about the Wicklow Way race so I thought I'd give it a go.
The World's Toughest Ultra Marathons
I finished the race in 16h 15m – adding a couple of kilometres by taking the wrong turn and getting lost in the woods. Strangely, I felt very good at the end of the race and it gave me food for thought for the next challenge.
Which brings us to this year's event. Why run the Wicklow Way Race and then turn around and do it all over again?
I needed another challenge. We were sitting around the dinner table when one of my sons suggested that I do the Wicklow Way Race again but this time I should run back too.
I mentioned the idea to Don Hannon, the only other person that I knew had ever completed the return leg and he was full of encouragement.
This is a 254km course. The one-way leg is marked as Extreme on the IMRA website. How do you train for such an event?
I had to work around my work and life schedule. I'd get up on the weekend at 4am to run 40km on the trail before starting a normal day of football and GAA with the kids. I would then do some sprints at lunchtime, mowed the lawn, cut some wood and then head out again at 9.30pm for a 28km trail run in the dark. It was important to learn how to run on tired legs and at night. I knew I would push everything to the limit on this one, not just the legs but the whole body and mind.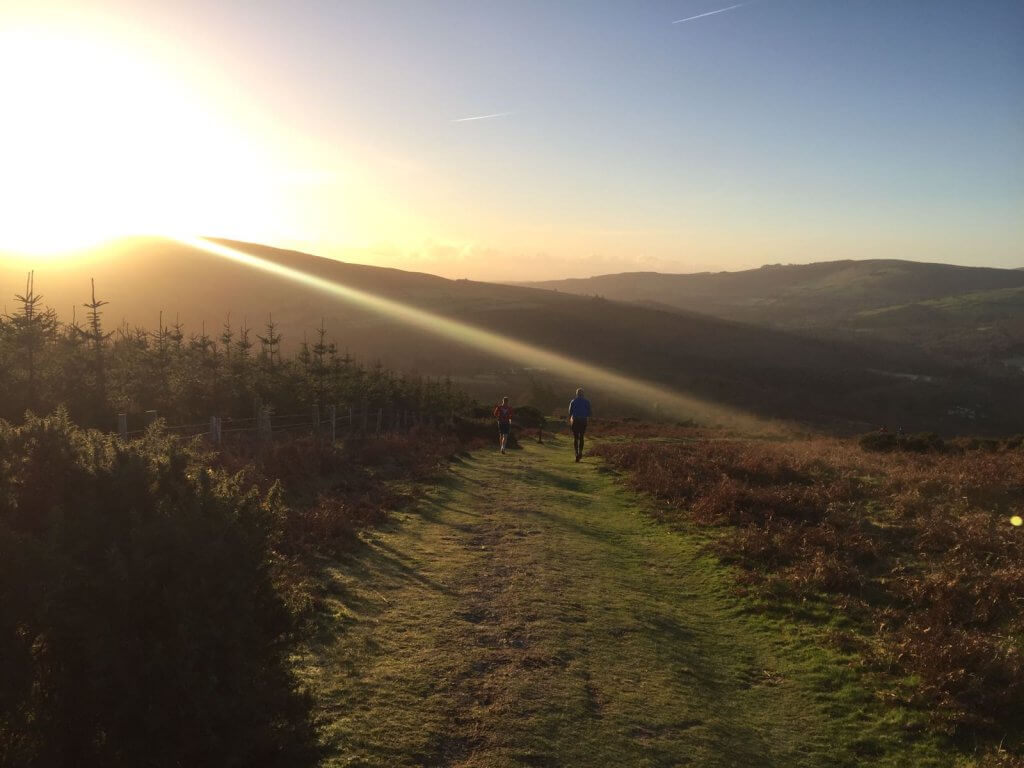 How did it all go on the day?
The training definitely paid off. I finished the official race in 16:55 coming 9th overall. I had a change of clothes waiting for me and a little bit of food. I was back on the trail again in under 30 minutes.
For the first few kilometres, I met other runners on their way to the finish line which was a great support. However, as the runners fizzled out the magnitude of the task ahead started to show itself. It was getting dark, I'd been running for almost 24 hours, and I was now on my own in the middle of the mountains.
My headtorch was acting up and I was starting to feel a little sorry for myself. I got a text from fellow runner Liam Vines who told me to keep on going and that he would catch up with me and run a few kilometres with me at some point. Then, the next thing he was beside me. He would run with me for a bit, head back to his car, drive to the next hill and run with me again. He did that throughout the night and got me through!
As I got closer to the finish line other runners joined in to see me through to the end. It was an amazing show of comradeship and friendship. By the time I got back to Marlay Park, I'd almost forgotten that I'd been on my feet for 38 hours and 55 minutes.
What's next?
I have a couple of things in mind, but I am not telling you yet!
For more information on Irish Mountain Running Association and full event results go to www.imra.ie
Check out our Hard as Nails podcast:
Like this? You should check these out: