Most adventure races involve a biking section. Here Niall Davis of Biking.ie looks at how to get the most from that portion of the race by sharing his top biking skills for adventure racers.
Choosing the right bike:
The right bike can make or break your experience so it's important you get it right. When you're choosing your bike, you must look at the type of terrain you will be tackling. Is it on or off-road or a mix of both?
Fit comes first, so make sure you get some good advice from your local bike shop about the frame size you will need. Once the frame size is correct it's very easy to tweak things like handlebars and stem length. Obviously, if there are no off-road sections, then a road bike is simply the best choice. If there is a mix of tarmac and loose gravel forest road, then you could consider a Cyclocross bike, which is something of a mix between a mountain bike and road bike.

Hardtail or full-suss. Let's assume that the terrain requires a real mountain bike. Choosing between a full-suspension (suspension front and back) and a hardtail bike (front suspension only) is a difficult decision, especially if you want to use the bike for fun spins as well as adventure racing. The longer the event and the rougher the terrain, the more you will appreciate a full-suspension bike. But for the purest, you can't beat a light hardtail for sheer speed and responsiveness. Also, there's a lot to be said for a simple bike design. Fewer things to go wrong! A hard-tail is also easier and lighter to carry on those pesky hike-a-bike sections!
Comfort versus speed has to be considered when looking at bike set-up. If you're not a keen cyclist, just the mere thought of cycling 10km is enough to give you saddle sores! Suspension will help absorb the bumps if the going gets tough, but remember to lock the bike out (turn off the suspension) for the smoother road sections to save energy. You can also fit gel grips and a gel saddle to your bike, which will certainly help take the edge off.
29, 26 or 27.5? If you go for a mountain bike, one thing you simply must have are 29" wheels (AKA29ers). They roll much better on rough terrain and have a greater inertia than conventional 26" or the newer 27.5 wheels. In a nutshell, given the style of most adventure racing courses, 29ers save energy and make you go faster.
Under pressure. So 29ers are faster, but that's assuming you have the right tyres at the correct pressure. When choosing tyres, you are looking for something lightweight, yet with good volume to help absorb bumps and give better grip. A 'tall' tyre is better than a 'wide' tyre in this instance as it will have less rolling resistance. If you look at the thread of the tyre, the closer the knobbles in the centre are together, the better the tyre will roll.
 Inflate the tyre to the manufacturer's recommended pressure. However, be wary of the greatest pitfall in mountain biking. A solid tyre, which has been pumped to a high pressure, does not necessarily roll faster. The tyre is designed to deform to the terrain and absorb the impacts from the ground. Too little pressure and you will obviously puncture but it's important to strike a balance.
The trans alp mountain bike race: everything you need to know
Transition time
The transition is where you change from the bike and to running (or vice versa) and it's really important to get right. You can't save a lot of time in transition but you can certainly lose a lot of time. Practice makes perfect, so get familiar with the routine during your preparation for the event.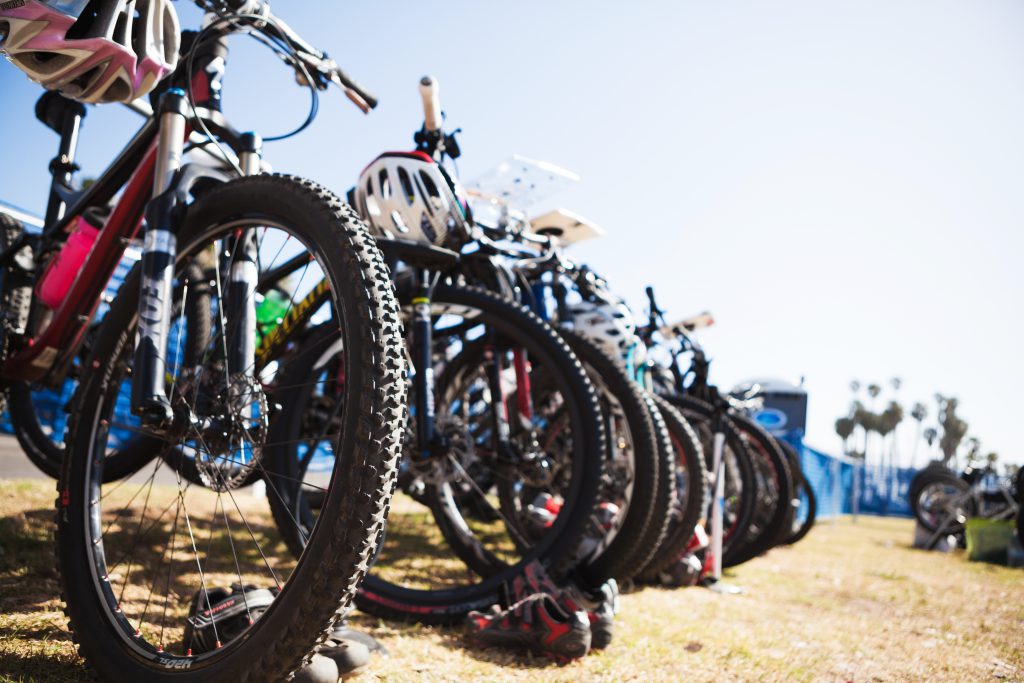 Check your speed coming into transition; there will be a point on the road/trail where you must slow down and dismount; continue any further on the bike and you may incur time penalties. You'll want to avoid over-shooting this point and concentrate on getting off the bike in a smooth fashion. If you are using toe straps ensure they are easy to get out of, or remember to loosen them in advance of the transition.
Don't get weighed down
Carry only what you need. Yes, you must always bring your mandatory kit but there's no sense in loading your backpack with a spare tube, pump and multi-tool for the run section of the race. Every bit of energy you save helps.
Pack smart. Fit the pump to the down tube of the bike where it's easy to access. Pop the spare tube and multi-tool into a small plastic bag (to protect them from silt and muck). Then pop that into a saddlebag, along with your tyre levers. The really hot tip is to use CO2 canisters to inflate the tube rather than a pump. Ask your local bike shop about these.
6 reasons to cycle the wild atlantic way
Get the skills
Make sure you are comfortable with the core skills in mountain biking.
-Attack position
-Front and rear wheel lifts
-Cornering
-Effective braking
-Trackstand
If you've got these skills nailed, nothing will faze you out on the trail. Good luck!!
Check out our Hard as Nails podcast:
Like this? You should check these out: 

Previous Post

Next Post