Have you caught the surfing bug, had a few lessons and decided to invest in a surfboard? Here are five of the best surfboards for beginners that you'll find in Ireland.
Before you are thinking about landing tricks, don't run off and buy a fish or a tiny shortboard, you'll get frustrated easily, suffer in the water and because they are not designed for whitewater, you'll end up sacking it in before you really get to give it a go. Buy a decent foamboard or longboard and hammer down the basics before progressing, plus you'll catch so many more waves on them!
If you only surf a few times a year, our advice is to get a foamboard. If you think you'll be in the water every few weeks then get a longboard to future proof yourself. Consider weight and height, a good beginner surfboard has high buoyancy so you get away with more mistakes. An average adult should use an 8′, while a child can learn with a 6′. A rule of thumb is the bigger the board when you are starting off, the better. Surfers never forget their first surfboard so pay heed and get one of these.
1. Alder Softboard 8ft & 9ft
Price: €249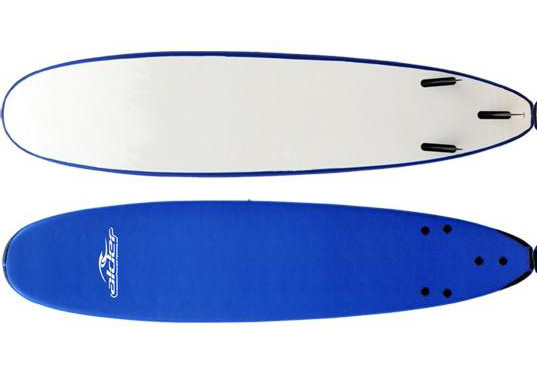 The Alder Softboard is the perfect board to learn to surf on. It's very safe and durable with a high-density foam core and nose, tail bumpers, rubber fins and forgiving rails so you don't get hurt.
Available from: Tramore Surf Shop
2. CBC Softboard 7'0
Price: €190.00

This seven-foot softboard from the California Board Company (CBC) is a strong and solid purchase. It's easy to paddle and manoeuvre, plus this Mini Mal looks a bit cooler than some of the foamies on the market!
Available from: Wild Side Sports
5 of the best surfing beaches in Ireland for beginners
3. Vision Ignite Softboard 6ft, 7ft, 8ft, 9ft
Price: €205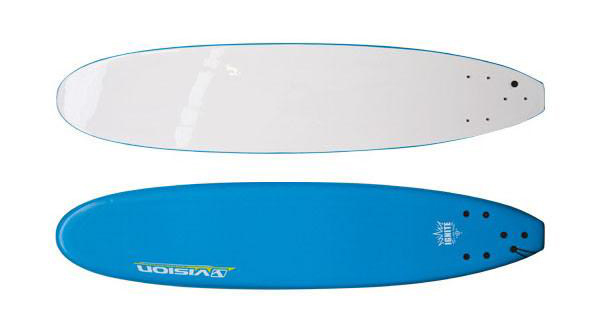 This softcore board is wider and thicker than most of the others, which allows for better balance and stability. It's a tough nut and will take a bashing form the Atlantic swell really well. Its soft plastic fins and soft deck are ideal for safety.
Available from: Bundoran Surfworld
4. Bic 7'9″ Natural Surf
Price: €385

A more subtly designed board for beginners, easier to carry, but still big and stable enough for beginners. It's a good one if you know that you will one day make the transition to shorter boards and bigger waves.
Available from: Jelly Fish Surf Shop
6 of the best surfing beaches you've never heard of
5. 8 Foot Southern Swell Minimal Round Squash Tail
Price: €440

Another Mini Mal surfboard, that is perfect for beginner or progression surfers that want to up their skills to the next level. The Southern is made with glass-fibre and epoxy resin and has a gloss finish and it looks pretty stylish!
Available from: Wild Side Sports
Like this? You should check these out: