Brought to you by:


Northern Ireland may be small but it packs some punch when it comes to offering the perfect recipe for a brilliant break. With an incredible array of outdoor activities, vibrant cities with cracking food and music scenes, and stunning scenery, it's not so much a question of SHOULD you visit, but rather WHEN are you packing those bags for a giant Northern Ireland adventure?
You'd be mad not to consider Northern Ireland for a fun-filled holiday this year. Just a two-hour drive from Dublin, Northern Ireland is home to some of the most breathtaking scenery in the world and a selection of the best craic tours and activities we ever experienced. Attractions like The Giant's Causeway, the Causeway Coastal Route, Mussenden Temple, the Mourne Mountains, Dunseverick Castle & Falls, Carrick-a-Rede Rope Bridge are scattered across the country. And as you travel, you can sample delights ranging from blustery coastal hikes to stand-up paddleboarding and indoor sky diving and axe throwing.
But with so much to see and do, how can you make the absolute most of your time in this dream destination? Well, that's where we come in! With the help of Discover Northern Ireland's interactive activity planner, we organised our own giant adventure recently so we thought you might like to draw inspiration from our 5-day itinerary of food, activity and super accommodation.
Day 1: Newcastle, Co Down
Do…
The Granite Trail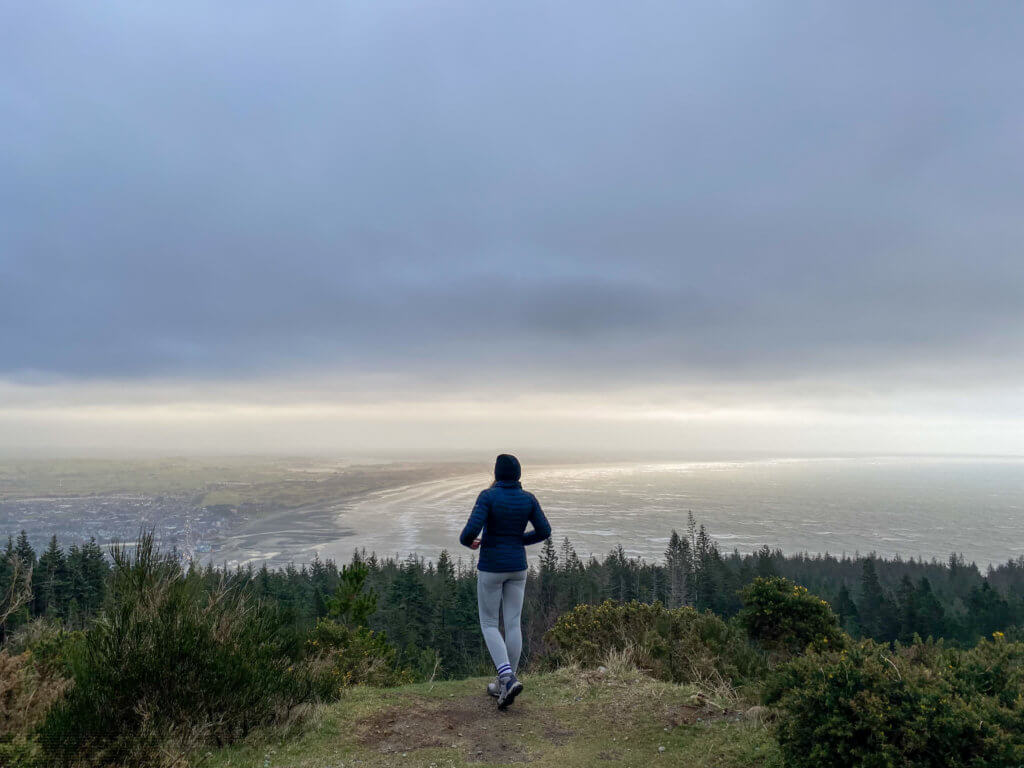 Every giant adventure needs some giant views and we found some when we kicked off our trip with a hike on the Granite Trail in Newcastle, Co Down. Located at the foot of Northern Ireland's highest point, Slieve Donard, this walking route is fairly short and sweet, and takes about 1.5 hours to complete. Of course, that depends on how many breaks you take to soak up the gorgeous panoramas of the Mournes as you traipse from the coast and across open moorland. History buffs will love that you can see artefacts from the granite industry, which once thrived in this area.
Eat…
Birch, Newcastle, Co Down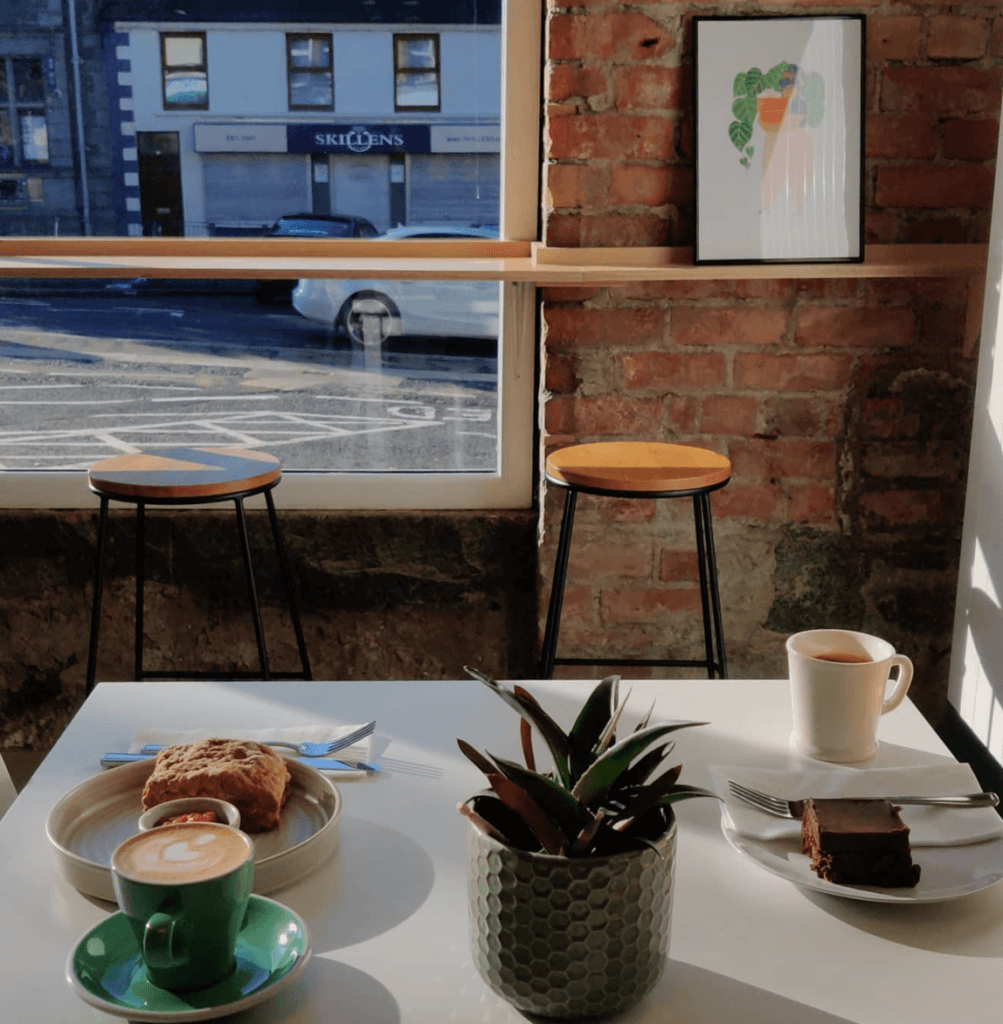 With hearty post-hike appetites, we headed to Newcastle in search of grub. How nice to find Birch, a vegan/vegetarian, dog-friendly cafe! The staff were as warm as the atmosphere and the food was delicious. Whether you're in the mood for brunch or lunch, you'll find something yum to sate your appetite. We highly recommend the overnight oats, the spiced chickpea and hummus flatbread, and the cakes of course! And If like us, you love the great tunes, ask the staff to point you towards their playlist online. And we also loved the nice touch of paperless receipts when we paid. If you're looking for an inclusive cafe that cares about the environment, then this is the spot for you.
More Info: Birch
Hatch, Newcastle, Co Down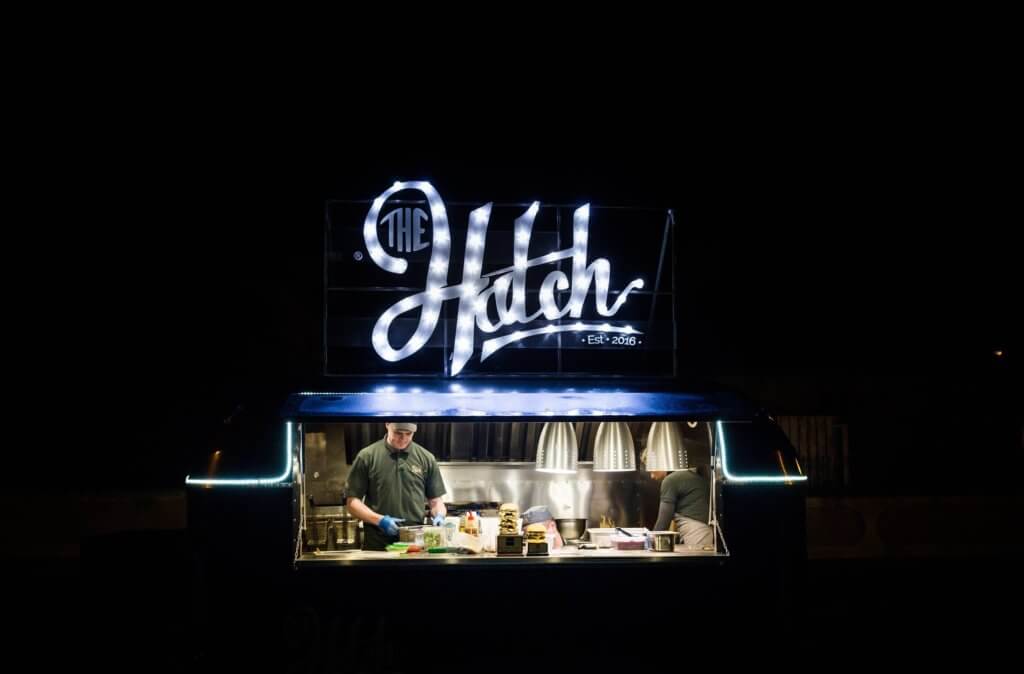 Now don't judge us but we also checked out a second food stop in Newcastle. We just couldn't drive past the Hatch food truck when we got the scent of their amazing burgers. But don't take our word for it that these are burgers you'll dream about! The Hatch has picked up two awards in recent years – Best Burger in Ireland in 2019 and Street Food of the Year 2019. They also serve up nachos, fish and chips, tacos and amazing toasties at lunchtime.
More Info: The Hatch
Sleep…
View 44, Newcastle, Co Down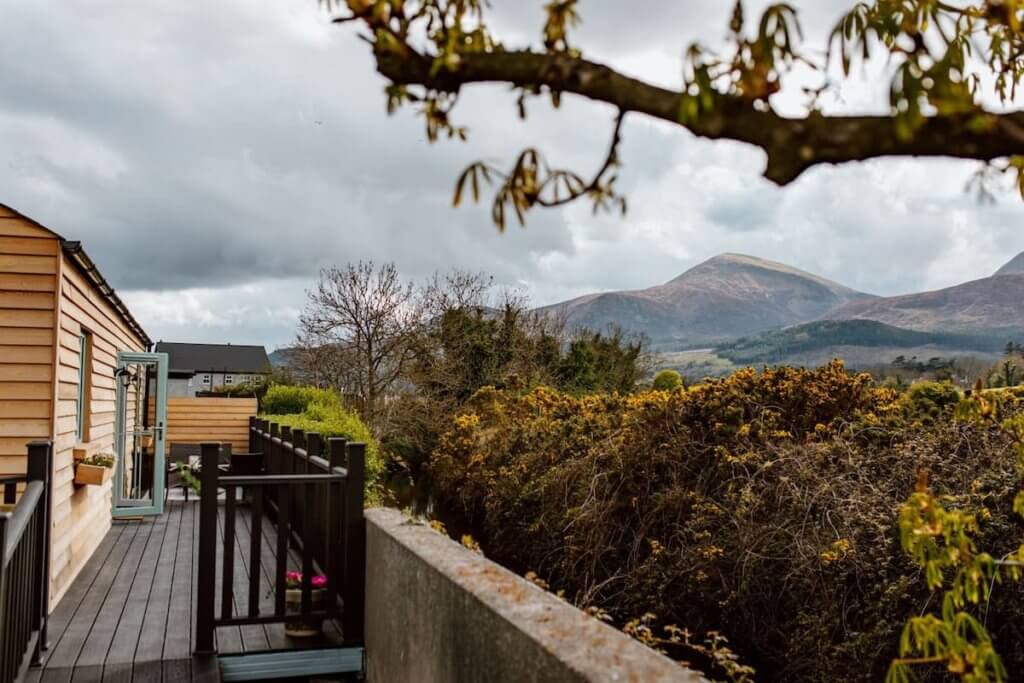 We were pretty bunched by the time we reached our day one accommodation View 44, Newcastle. We couldn't believe our luck when we found our very own outdoor hot tub pre-heated and ready to soother those weary bones! Can you imagine a better way to end the day than sitting in steaming hot water looking at the stars and the silhouette of Slieve Donard? To top it all off, our cabin was gorgeous and Catherine, the property owner, was on hand to ensure every little detail was attended to.
More Info: View 44
Day 2: Co Down Road trip & Finnebrogue Woods
Do…
Sightseeing road trip, Co Down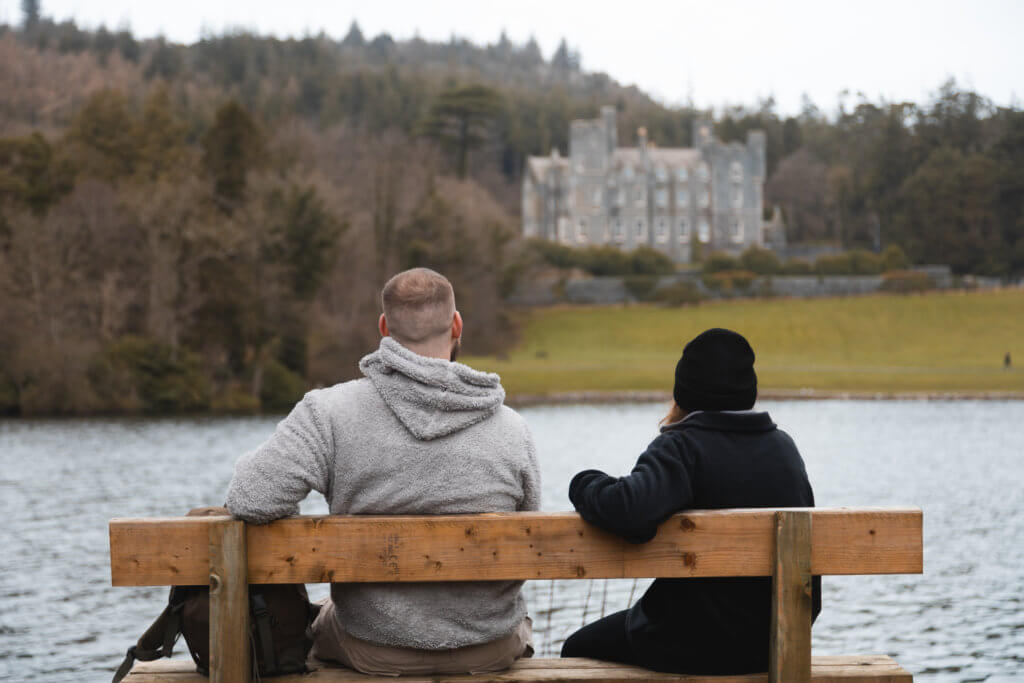 Our first adventure of the day was a mini road trip around Down taking in the beautiful Castlewellan Forest Park, Dundrum Castle and Tyrella Beach.
If you fancy testing your sense of direction, you'll love Castlewellan Forest Park's Peace Maze. Full disclosure, we did not make it to the centre but we did have a serious amount of craic running around like kids as we tried! And we appreciated the peace and quiet of a stroll around gorgeous Castlewellan Lake all the more after our hyper efforts to navigate the maze.
But if strolling sounds too sedate for you, check out the mountain bike trails here which cater for everyone from the total beginner to the gnarly expert!
We headed instead to check out Dundrum Castle. On top of a hill overlooking the town of Dundrum, the castle ruins date to the 13th century. Built by John de Courcy with a view to keeping an eye on the surrounding area, it offers one of the best vantage points to take in the views of the surrounding countryside and right out to the coastline and beyond.
And if that coastal view beckons, our top tip is to head to Tyrella beach. This vast swathe of sand nestles below the towering Mourne Mountains and leaves you feeling tiny! Don't miss it.
Bushcraft Experience at Finnebrogue Woods, Co Down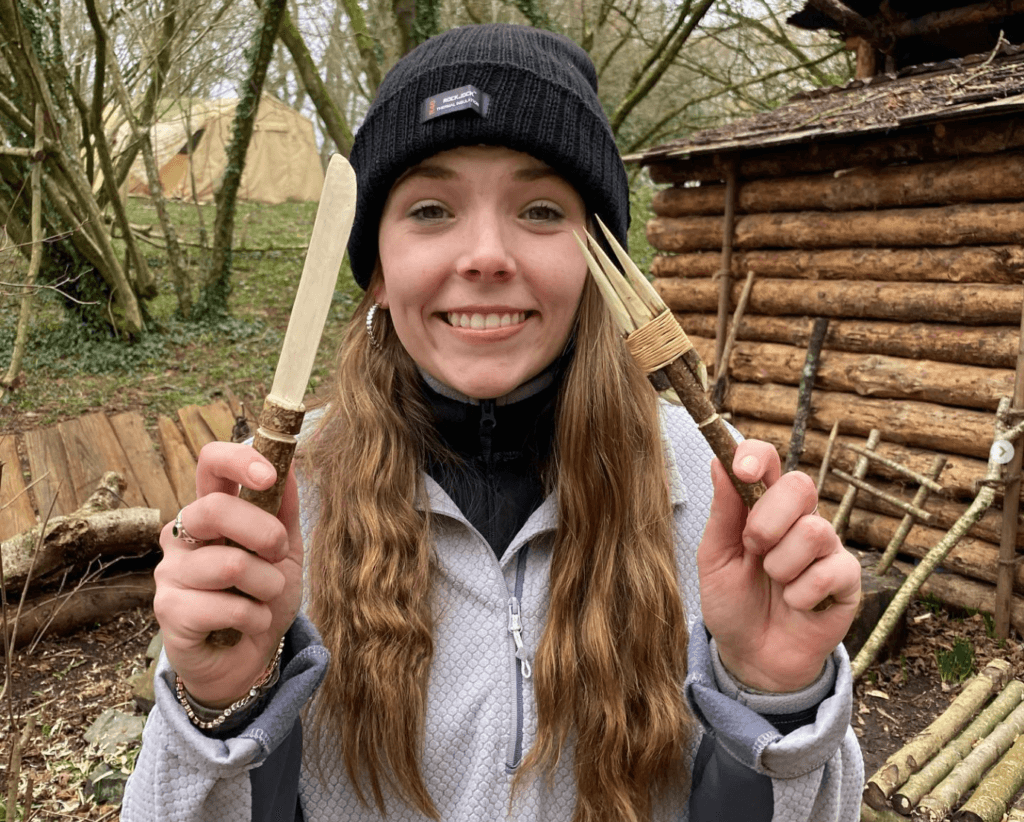 Next up, we hit Finnebrogue Woods to try bushcraft. Expert bushman Rob Hill put us through our paces as we attempted to navigate using natural elements such as moss, the stars and the sun. Maybe if we had hung out with Rob earlier, we would have made a better fist of the maze! Rob's passion for his craft is both fascinating and infectious, and he can teach you everything from foraging and fire making to building shelters and wood carving. This is just a gorgeous way to reconnect with nature.
More Info: Bushcraft Experience
Eat…
Urban Cafe, Castlewellan, Co Down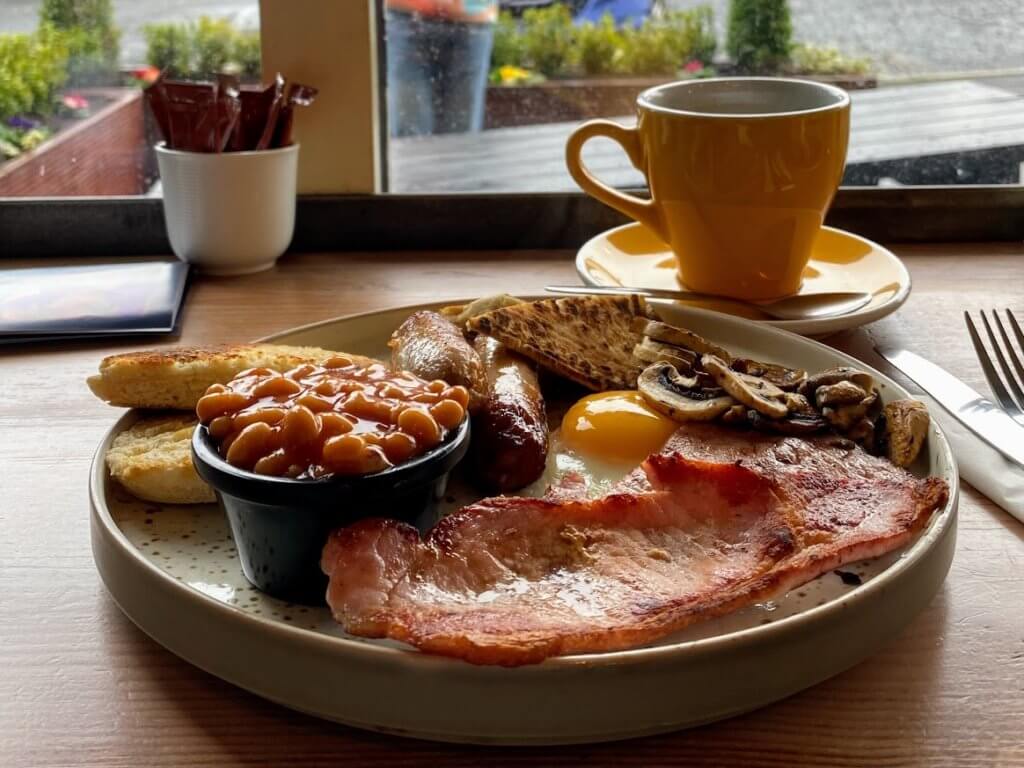 Fuelling up couldn't be more important (or enjoyable!) when you're being active so we were really glad we'd started the day with a big old brekkie in Castlewellan's Urban Cafe. There was a full on debate at our table about whether to go for the oreo pancake stack, the Spanish Brunch or the Mexican Benny. It was the Benny for me in the end and the smashed avocado, poached eggs and chorizo on toast with a really tasty spicy hollandaise was a total winner. Mind you, the others looked pretty smug about their choices too!
More Info: Urban Cafe
Fodder, Finnebrogue Woods, Co Down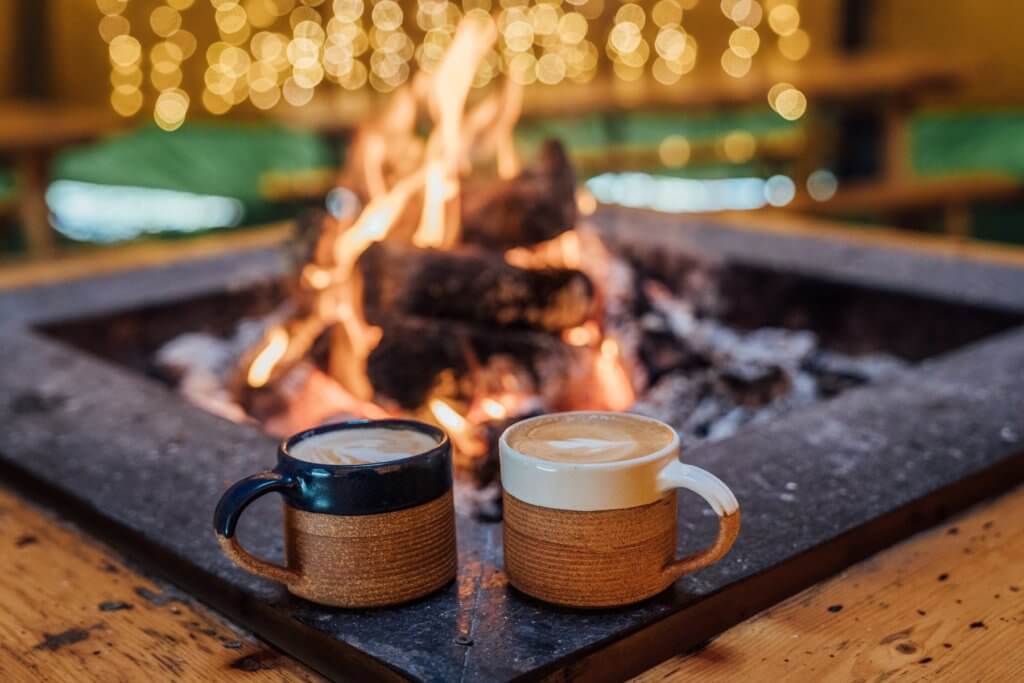 For a totally different eating experience, we couldn't recommend Fodder at Finnebrogue Woods more. Imagine sitting in a cosy teepee with a massive internal firepit keeping you toasty. Now add a mouth-watering meal featuring Dexter beef, which was reared on-site and has been barbecued to perfection, and you're starting to get the picture.
The menu at Fodder may be small and simple but everything has been carefully considered, lovingly prepared and is super fresh. Vegans and those on gluten-free diets are also catered for.
And when you're finished eating, you can pick up some of the goodies you've sampled at the lovely farm shop.
More Info: Fodder
The Poacher's Pocket, Comber, Co Down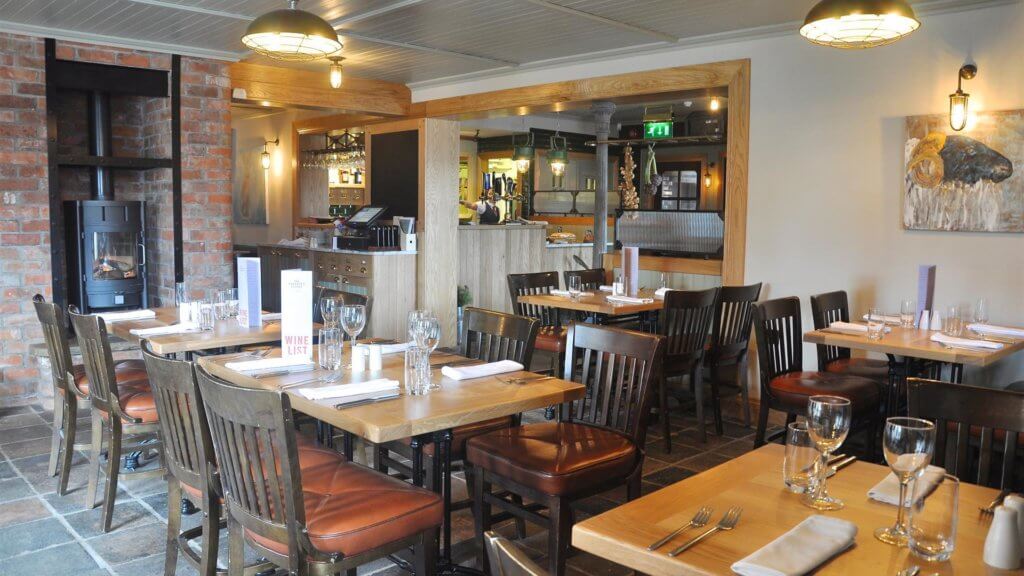 Awarded 'Best Gastropub Ireland' among other accolades, the Poacher's Pocket offers a lovely combination of gorgeous restaurant, lively pub, and an artisan food and wine shop. So you've three great reasons to visit And you'll find many more on the menu. We loved the 'wee bites' (Northern Irish for tapas) with the free-range pork belly and chutney and wood-fired padron peppers sprinkled with smoked sea salt coming out tops. The wood-fired pizzas are the real deal too but whether you're after meat, salads or fish, there are loads of lovely options.
More Info: The Poacher's Pocket
Sleep…
Peartree Hill B&B, Co Down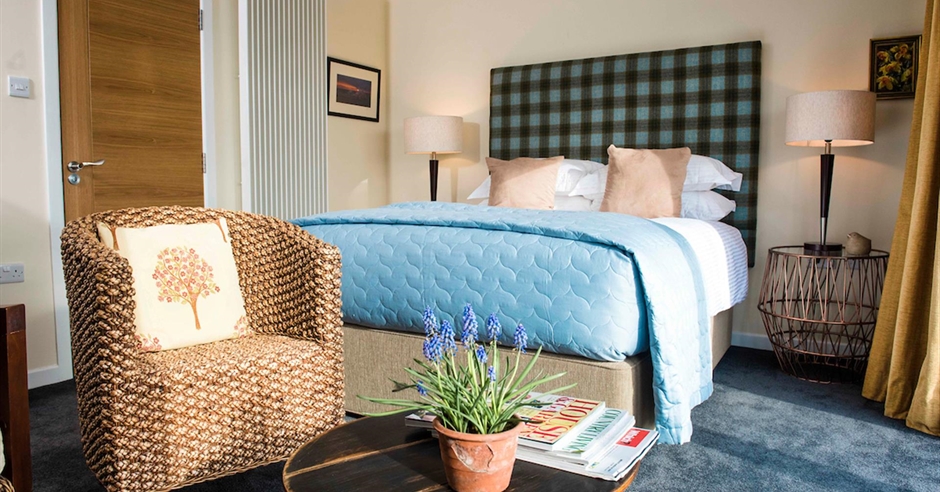 How do you like your B&B? Gorgeous rural views and really comfortable rooms are a given, right? What if we added the option of breakfast in your room or on the mezzanine (yes with a view!), the owners' own free-range eggs and fruit on your plate, and an outdoor fire pit that can be lit on request for enjoying starry nights? Well, that's what's on offer at Peartree Hill B&B. The final cherry on the cake is knowing that the property has almost zero carbon footprint thanks to solar panels and renewable energy. We think they've thought of everything at Peartree Hill.
More Info: Peartree Hill B&B
Day 3: Co Antrim & Co Londonderry
Do…
Horseriding with Crindle Stables, Limavady, Co Londonderry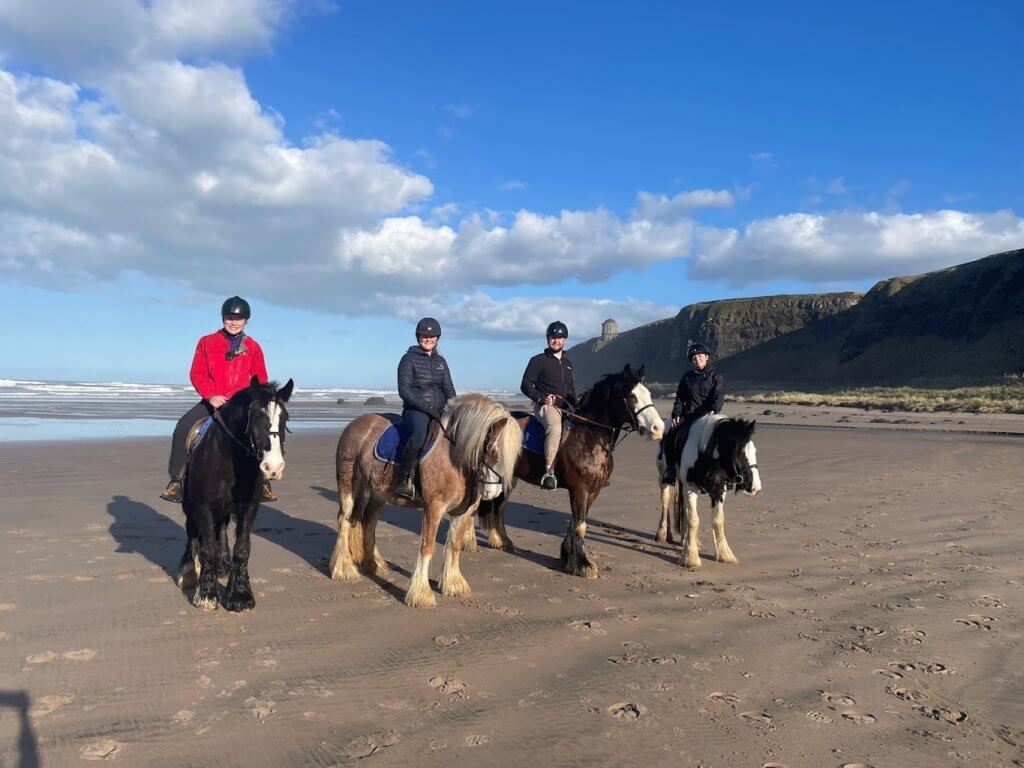 Nothing says freedom like cantering through the shallows of the Atlantic Ocean with the light dancing off the water as you splash your way along a gorgeous stretch of sand. That's what you'll experience when you horse ride on Downhill beach with the crew from Crindle Stables. The setting couldn't be more perfect with Mussenden Temple perched dramatically on top of the 120-foot cliffs that shelter you as you go. Believe it or not, this charming round structure was built in 1785 as a library and was modelled on the Temple of Vesta in the Forum Romanum in Rome.
More Info: Crindle Stables
Watch the Sunset at Mussenden Temple, Castlerock, Co Londonderry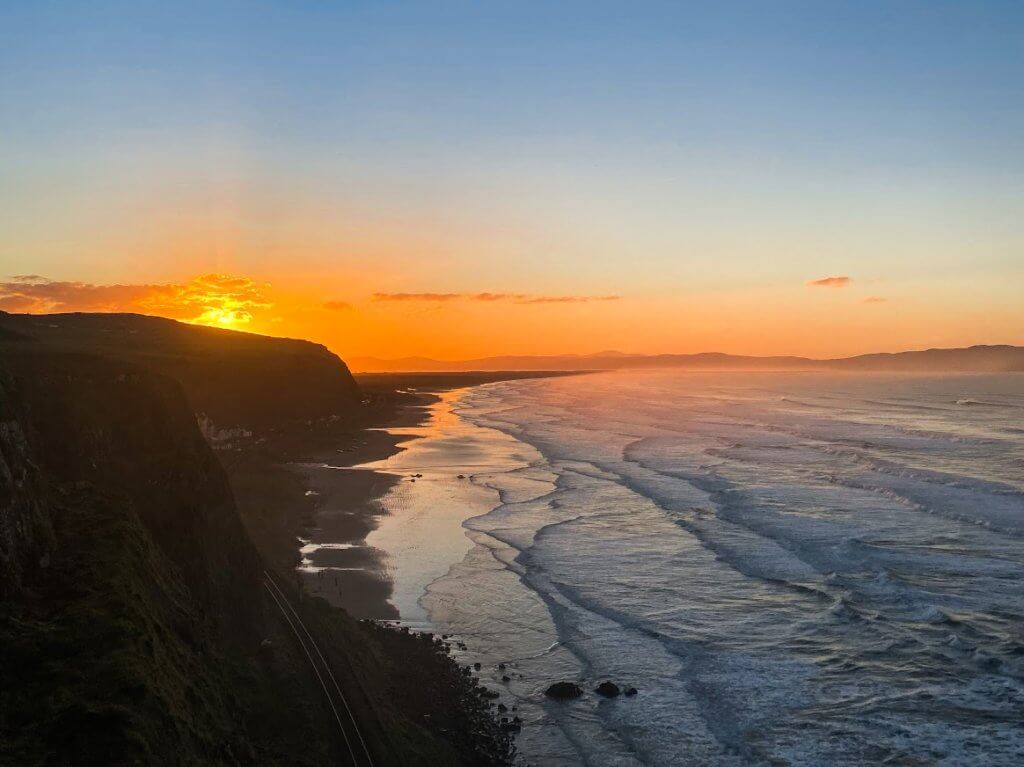 We were so intrigued by Mussenden Temple that a sunset visit got added to our itinerary. We'd been told we could expect to see west to Magilligan Point and Co Donegal, and east to Castlerock beach towards Portstewart, Portrush and Fair Head. But we were too blown away by views of a vast Atlantic being set on fire as the sun dipped to really grasp where we were looking! Stunned into silence by this gorgeous natural wonder, the only chat we had on the way home was how could anyone concentrate on reading with a view like that?!
Sunset Swim in Portrush, Co Antrim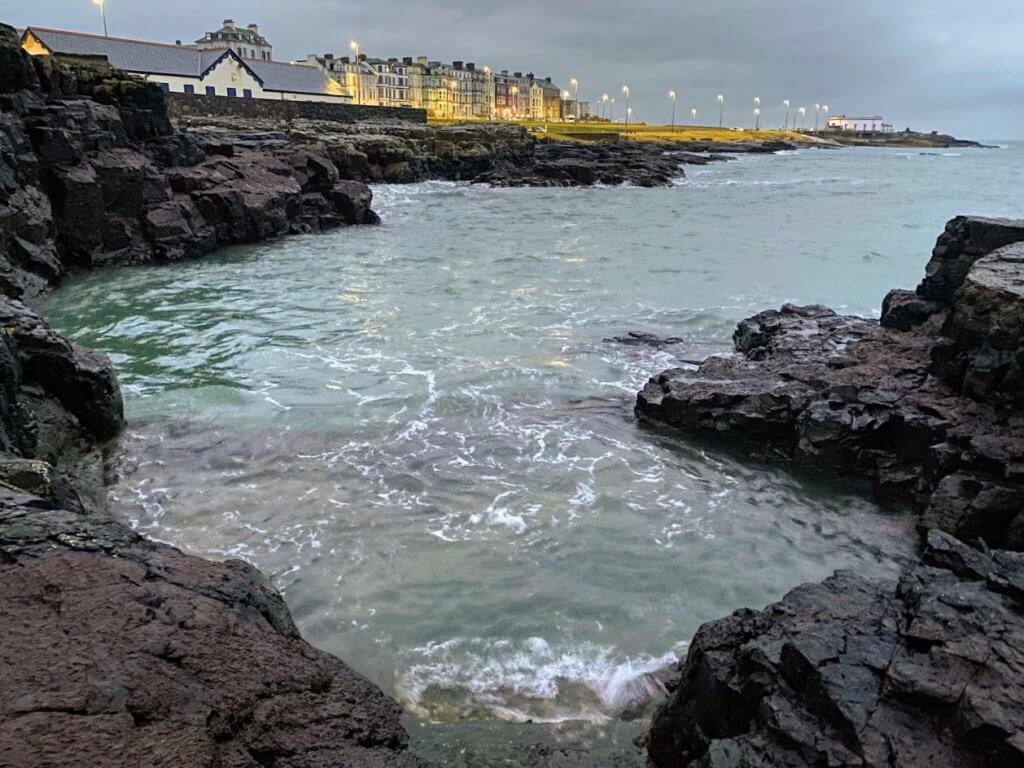 If you're like us and can't go to the coast without going for a swim then this will be high up on your priority list. The staff at Elephant Rock Hotel directed us to a hidden rock pool on the coast just a two-minute walk from the hotel. It was the most perfect way to freshen up and re-energise ourselves before heading for dinner.
Eat…
Ramore Wine Bar, Portrush, Co Antrim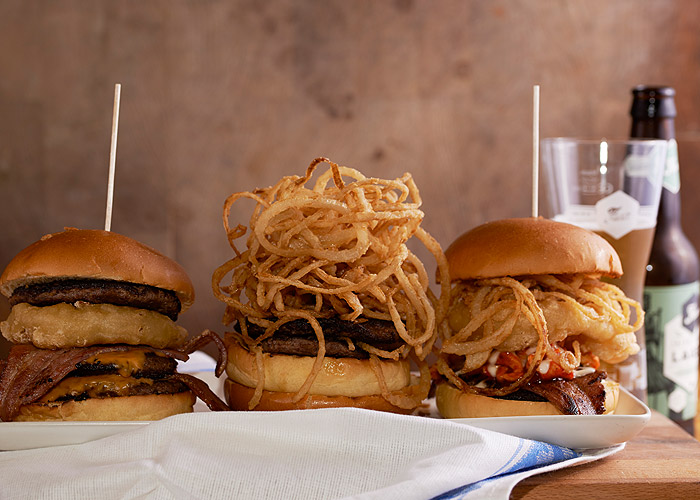 This isn't so much one restaurant as five restaurants and a lively pub all under the same roof. The Wine Bar is renowned for its modern and innovative décor, lively atmosphere and crowd-pleasing menu offering up steaks, fish and chips, and wood-fired pizzas. The Mermaid focuses on fish and local specials. Neptune and Prawn bring an Asian offering to the table. And the Harbour Bistro serves up a contemporary menu with its selection of wood-fired grilled meats.
More Info: Ramore
Elephant Rock Hotel, Portrush, Co Antrim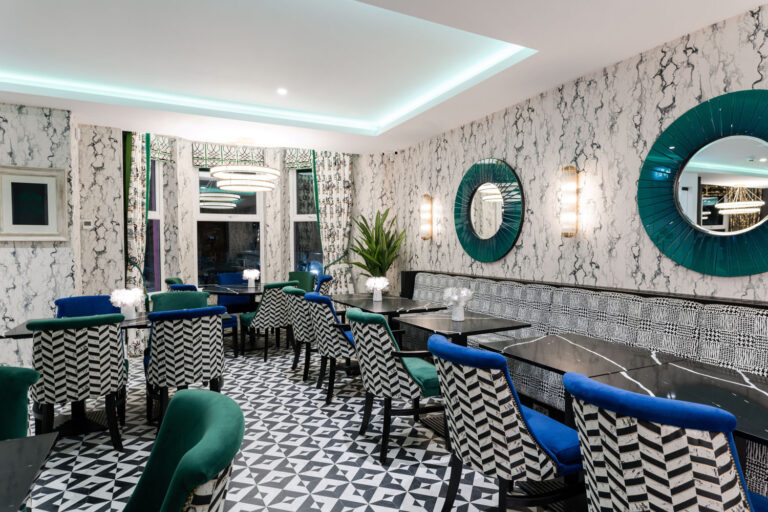 The chefs at Elephant Rock Hotel have been trained in Michelin star restaurants, so we highly recommend you sample the yummy grub in the small but very cool restaurant which proudly focuses on locally sourced ingredients. And in the summer, you can even eat on the terrace staring out at the sea. Nice!
More Info: Elephant Rock Hotel Restaurant
Sleep…
Elephant Rock Hotel, Portrush, Co Antrim
We don't just recommend eating at this gorgeous boutique hotel which nestles within an old-world Victorian terrace overlooking the sea. We suggest staying there too! With such a warm welcome, it's not surprising to find out that the place is family run. Each of the 18 bedrooms has its own unique, stylish and luxurious personality thanks to funky quilted headboards, stunning furniture and high-quality linens. Several have gorgeous ocean views too that will tempt you out to explore the nearby blue-flag beaches, great restaurants and even Royal Portrush Golf Club, which is only a stone's throw away.
More Info: Elephant Rock Hotel
Day 4: Co Londonderry & Co Antrim 
Do…
Boom Boards with Far and Wild, Derry, Co Londonderry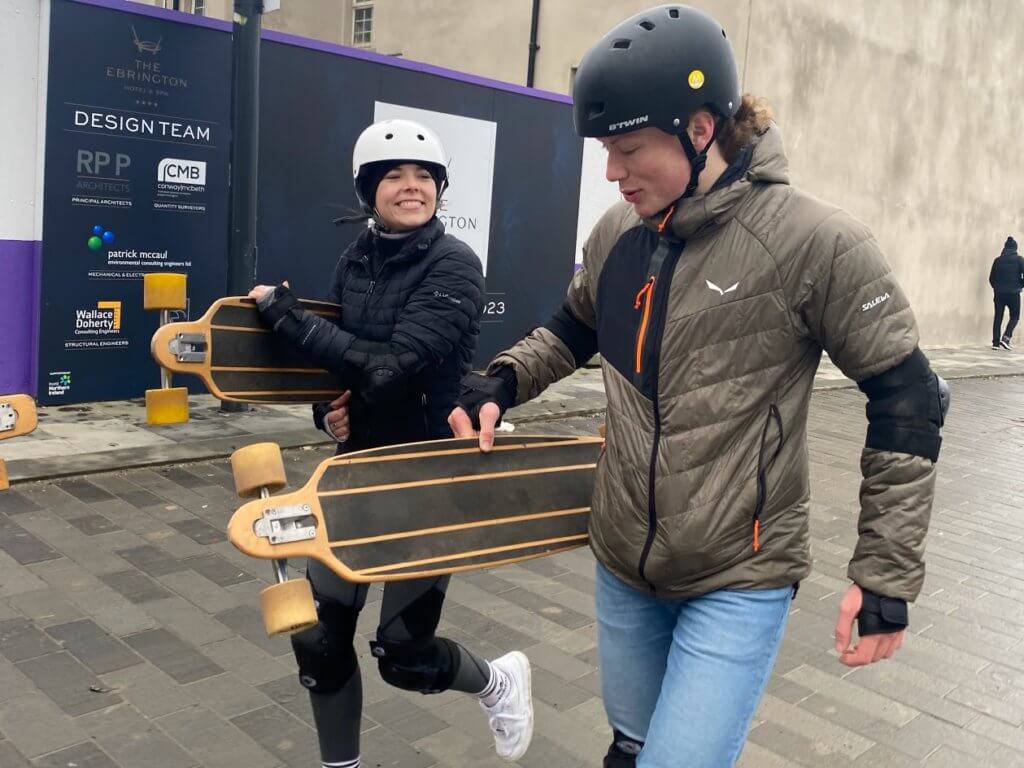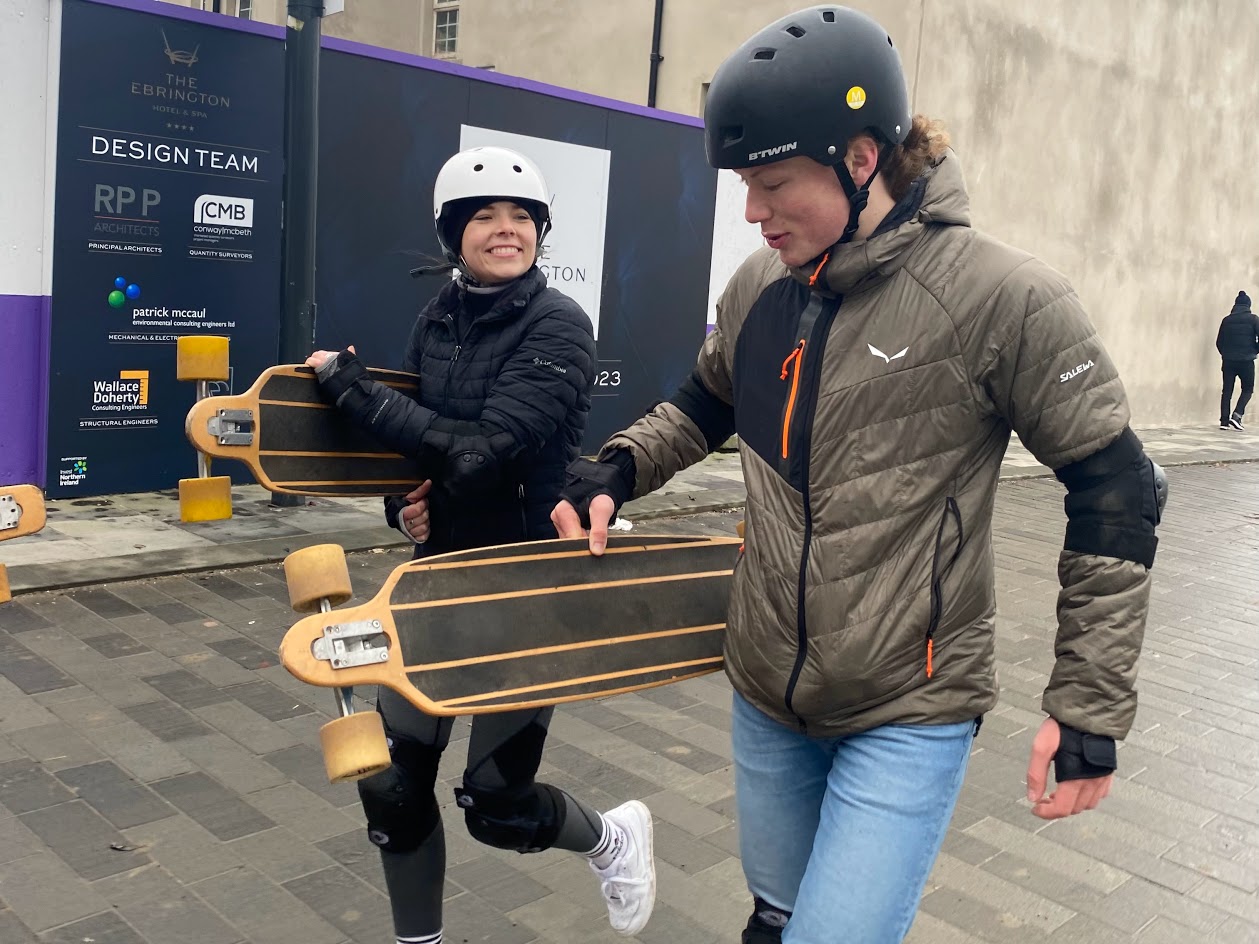 We've all experienced walking and bike tours of cities. But have any of you ever taken part in a longboarding tour? Well neither had we, but cruising around lovely Derry on these super-cool longboard skateboards was more craic than we could ever have expected. Sporting helmets and padding in all the right places, we spent two fun-filled hours learning how to ride and exploring this fabulous city with guide Lorcan from Far and Wild. We can't think of a cooler way to explore the Peace Bridge and the historic city walls.
More Info: Far and Wild
'Have a Go' Package at Limitless Adventure Centre, Limavady, Co Londonderry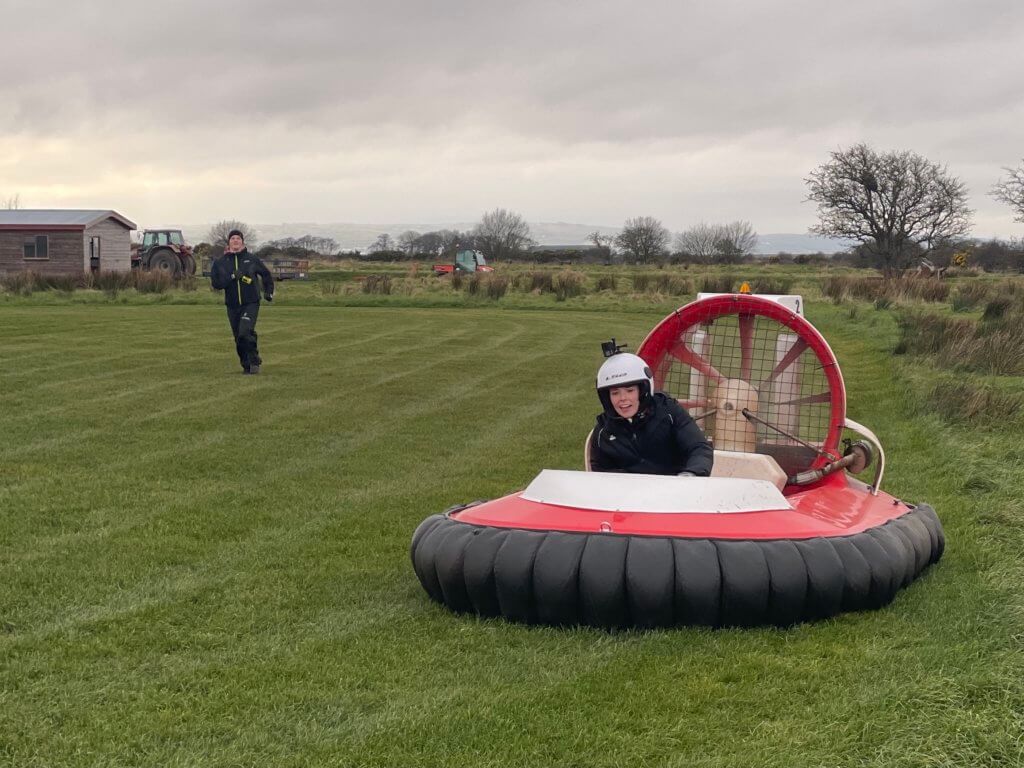 If it's thrills you seek, then check out Limitless Adventure Centre. They offer everything from clay pigeon shooting to laser tag. We went for their 'Have a Go' bundle which included football golf, archery and hover-crafting – which stole the show! It's such a unique experience to tear around on what's essentially an inflatable balloon with an engine. The most insane part is when you cruise from land to water. Every part of your body is telling you not to drive into the water but suddenly you're just gliding over it so smoothly. Very James Bond!
More Info: Limitless Adventure Centre
Eat…
Primrose on the Quay, Derry, Co Londonderry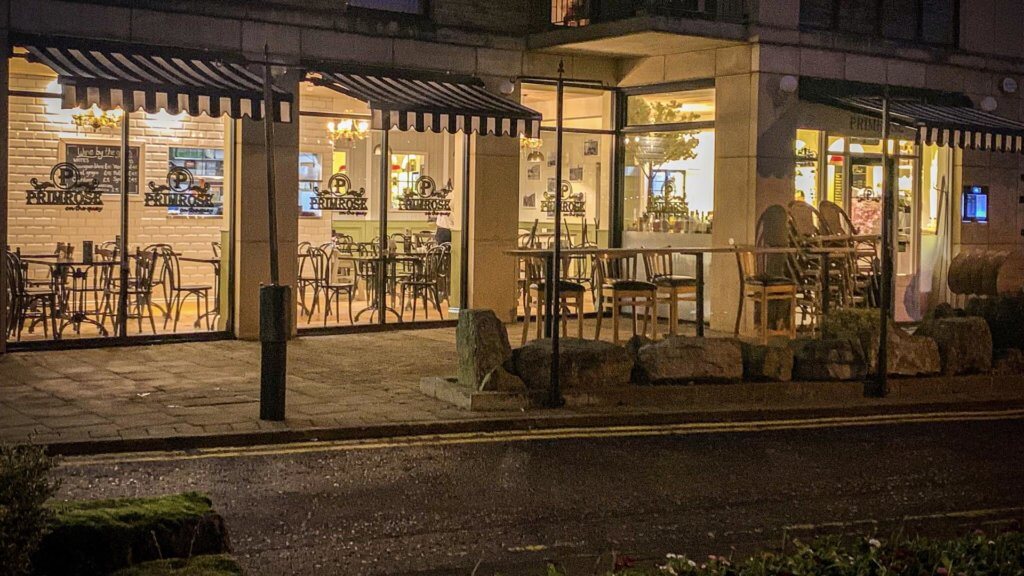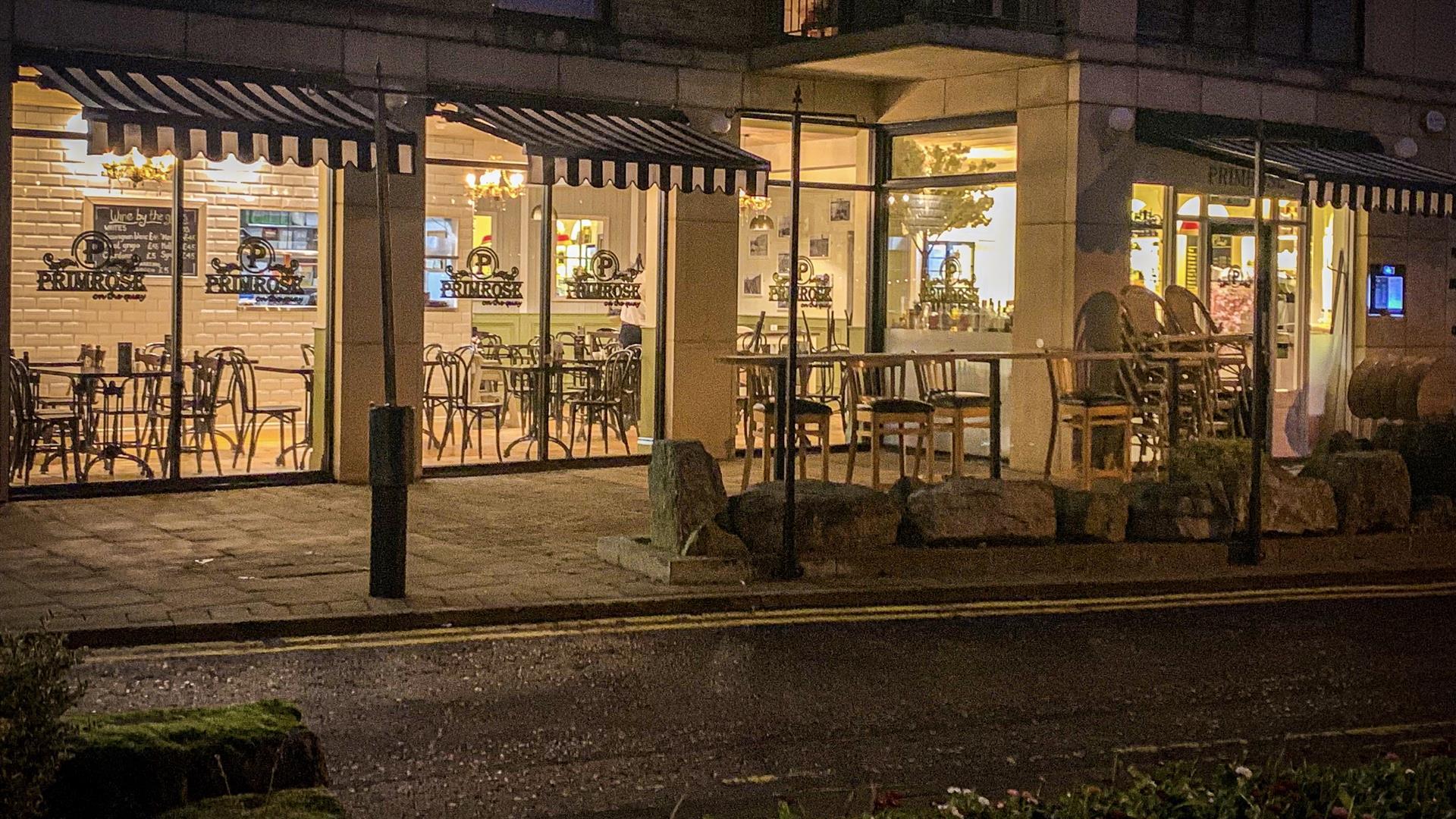 You know you're in for a treat the second you walk up to Primrose on the Quay. The exterior is as warm and welcoming as the interior and the views overlooking the River Foyle are outstanding. And our great first impressions were immediately confirmed when the locals we chatted to outside told us this was where we'd get "the best cup of coffee in Derry". What they forgot to tell us was how amazing the food was as well. Take your pick from yummy flatbread creations, salads or lush cakes! Everything about this cafe is 10/10 and we highly recommend visiting on your giant adventure.
More Info: Primrose on the Quay
Sleep…
Shipquay Hotel, Derry, Co Londonderry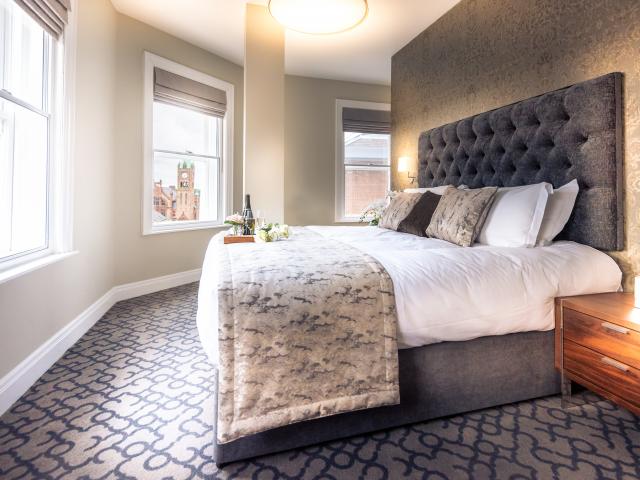 The Shipquay Hotel is Derry's newest and coolest boutique hotel. Situated in the heart of the city's shopping, arts and social scene, it is the perfect base for exploring this vibrant metropolis. It also overlooks the old city walls and the famous Guildhall cafe (where we recommend you get breakfast or lunch the next day). And when you've had your fill of fun and food, this hotel is the perfect place to rest your head for the night.
More Info: Shipquay Hotel
Day 5: Explore the Causeway Coast, Co Antrim
Do…
Magheracross Viewpoint, Co Antrim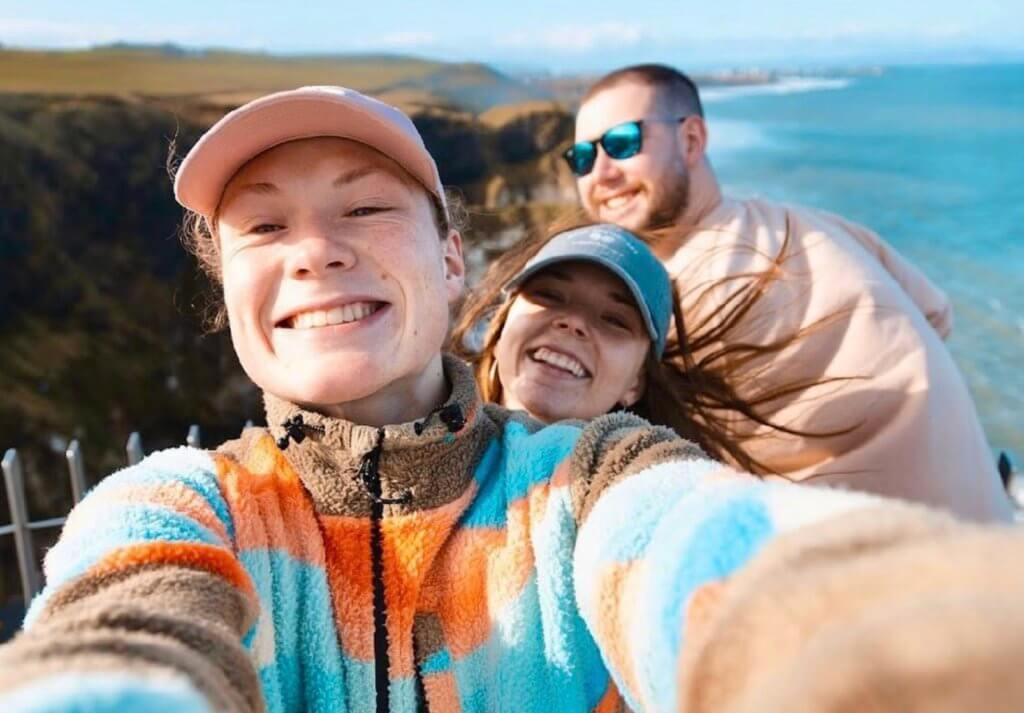 We dedicated our final day to really exploring the Causeway Coast, one of the world's great coastal road trips according to the Rough Guide. It also boasts a magnificent walking trail stretching from Portstewart to Ballycastle which we'll be tackling on our next visit! First stop was a visit to Magheracross Viewpoint where two new cliff-edge viewing platforms maximise the stunning views of Whiterocks beach and Dunluce Castle. It's only a quick stop-off if you're driving the Causeway Coast and the views are absolutely worth it!
Runkerry Beach, Portballintrae, Co Antrim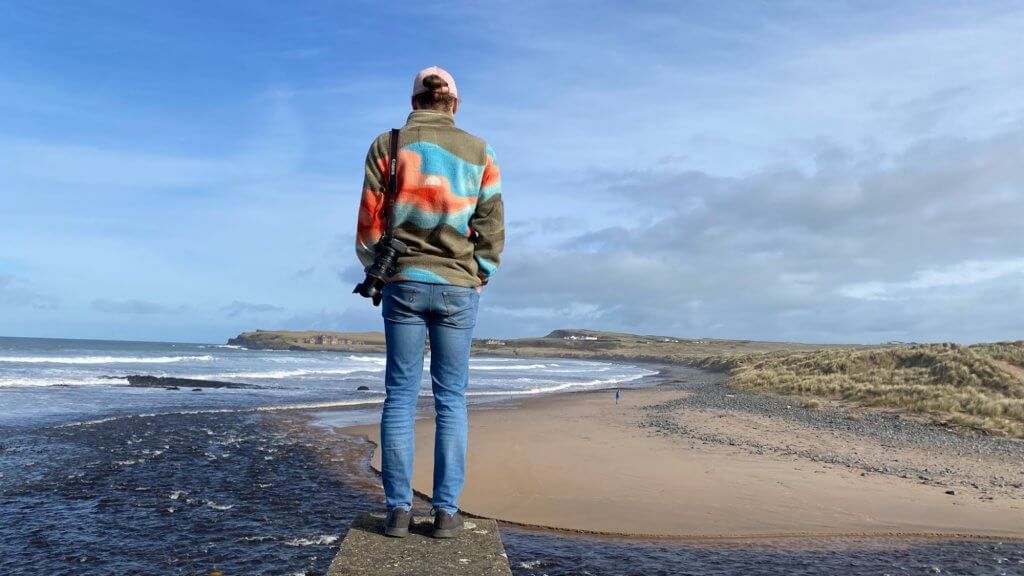 Runkerry beach, or Bushfoot strand, was recommended to us multiple times on our giant adventure so we knew we had to visit. This gorgeous stretch of sand is famous for its strong rip currents and shelving so don't be tempted to swim here (head instead to Whiterocks in Portrush) but it is a stunning place to walk. And it's a popular surfing and dolphin watching spot too (more must-dos for our next visit!). It's situated right beside Bushfort Golf Club. So fair warning to any golfers reading this; you might not want to leave this place once you visit.
The Giant's Causeway, Co Antrim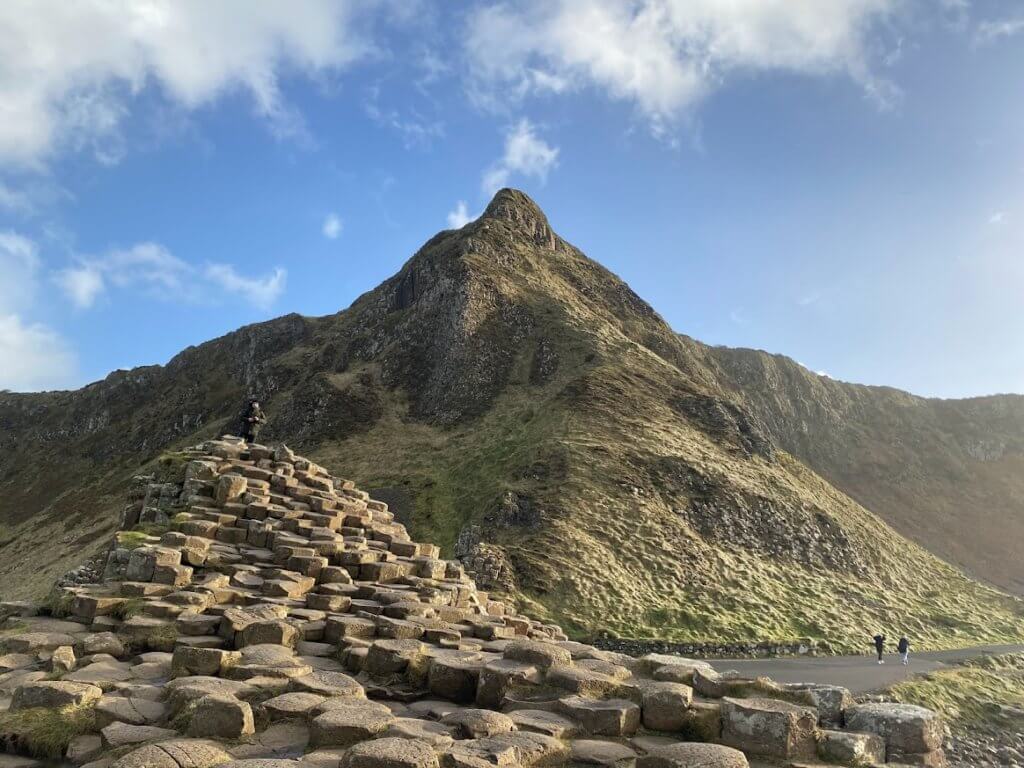 No giant adventure is complete without a trip to the world-famous Giant's Causeway. Take your pick from several trails that allow you to view the extraordinary basalt columns of Northern Ireland's only UNESCO World Heritage site. The Green Trail follows the clifftop towards Runkerry with views of the causeway stones – as well as Scotland and the Inishowen Peninsula on a nice day.
The Blue Trail, on the other hand, brings you directly to the causeway stones and is steep in places.
But the best way to experience this amazing place is via The Clifftop Experience, a guided 5-mile hike from Dunseverick Castle ruins which ends at the stones. There you can puzzle how on earth these hexagonal rock formations came to be. Legend has it that the causeway was built by the Irish hero Fionn MacCool as a crossing to confront his Scottish rival and we have to confess that this seems just as plausible as the scientific answer which is that these amazing formations came about post-volcanic activity.
Dunseverick Falls, Co Antrim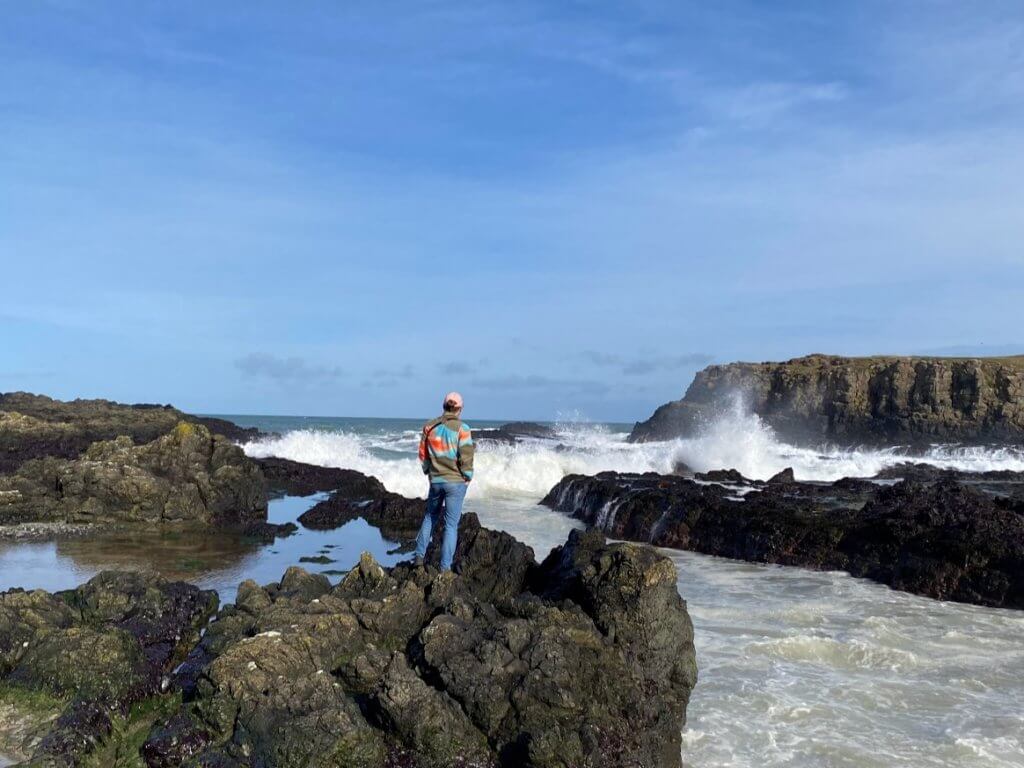 Dunseverick Falls is a bit of a hidden gem on the Causeway Coast. We stumbled across the coastal area as we were exploring the castle of the same name and we were taken aback by how beautiful the area is. There is a very lightly trafficked trail around the area which showcases the beautiful Causeway Coastline along with Dunseverick Castle and Falls. A must-see for those of you who favour tranquillity over more touristy areas.
Ballintoy Harbour, Co Antrim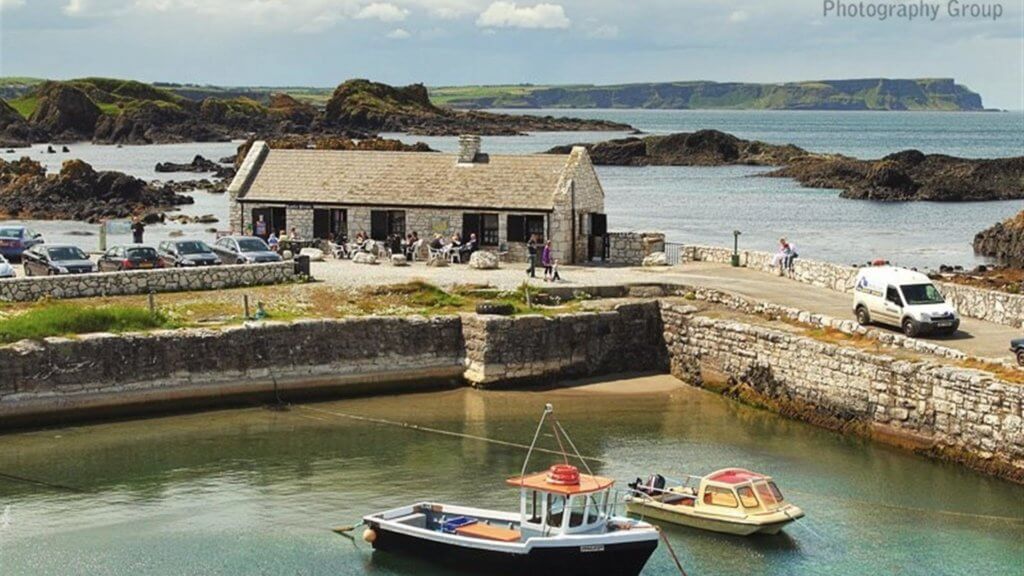 If you're a fan of Game of Thrones, you won't want to miss Ballintoy Harbour. In the programme, it's the site of the moody docks of the Greyjoy Kingdom of Pyke, but in reality – unless you're unlucky with the weather – it's a little slice of heaven with its fishing boats cosseted from the often wild sea. The wee harbour is at the bottom of a spectacularly steep and is the perfect place for a picnic or a paddle with incredible coastal views!
Eat…
Amici, Portstewart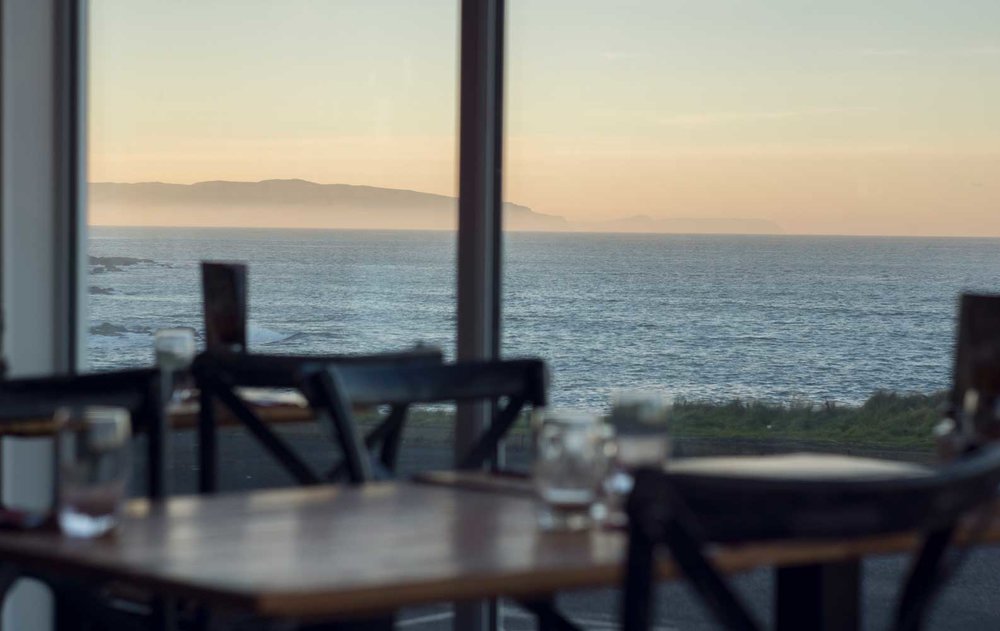 Lovers of authentic Italian food should pop Amici on their list. Bubbling lasagnas, charcoal-grilled meats and some of the best pizza you'll ever have are offered in this glorious setting overlooking the sea.
More info: Amici
Bothy, Whitepark Bay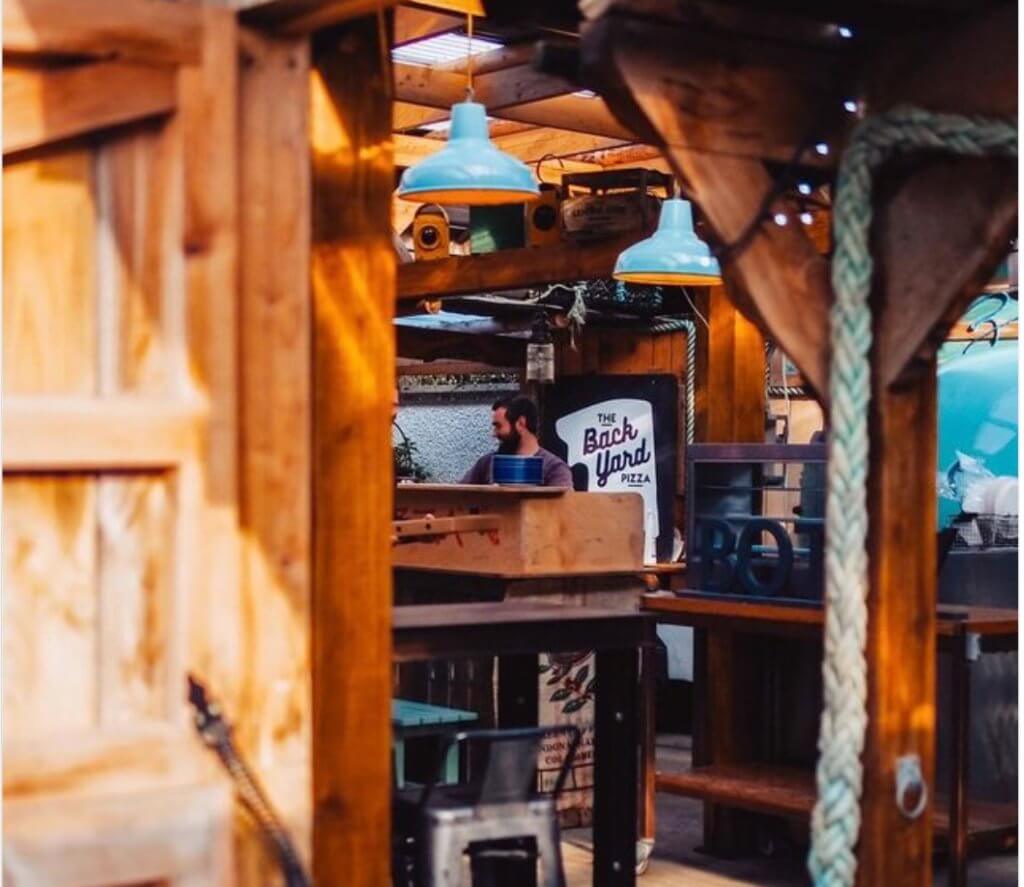 Last but not least, the final stop-off of our Giant Adventure was Bothy, a beautiful little cafe near Ballintoy Harbour and White Park Bay. The cakes and pastries here are amazing but the filter coffee is what this place is really famous for. Absolutely delicious and a must try for any coffee connoisseur.
More Info: Bothy
Advice for Taking on a giant adventure
Plan ahead using Discover Northern Ireland's interactive activity planner.
Hire a local tour guide. They can be the difference between a good experience and a great experience.
Talk to the locals while on your trip. They always have the best insights on where to go and what to see.
Pack A LOT of gear. You never know what amazing activity you might stumble upon while on your trip.
Like this article? You should check out these: