Brought to you by:


Looking to plan a weekend away but not sure where to go? Why not go for a giant adventure in Derry-Londonderry? With Ireland's only completely historic walled city, this destination is rich in fascinating history. Add to that the incredible choice of amazing activities, cafes, pubs and restaurants and you're in for a real treat. We've put together an action-packed two-day itinerary for you here so you can just head to this stunning city and get busy enjoying it.
And here's a little tip if you think you'd like to add to our itinerary. We planned our visit using Discover Northern Ireland's interactive activity planner. It's the perfect. easy-to-use tool for finding everything you could possibly want to do on your giant adventure.
Getting there:
Derry-Londonderry is only a three-hour drive from Dublin and definitely worth the journey if you're looking for an amazing weekend away. And once you arrive, you won't have to hop in the car again. Everything is within walking distance!
Day 1:
Do…
Boom Boards with Far and Wild, Derry, Co Londonderry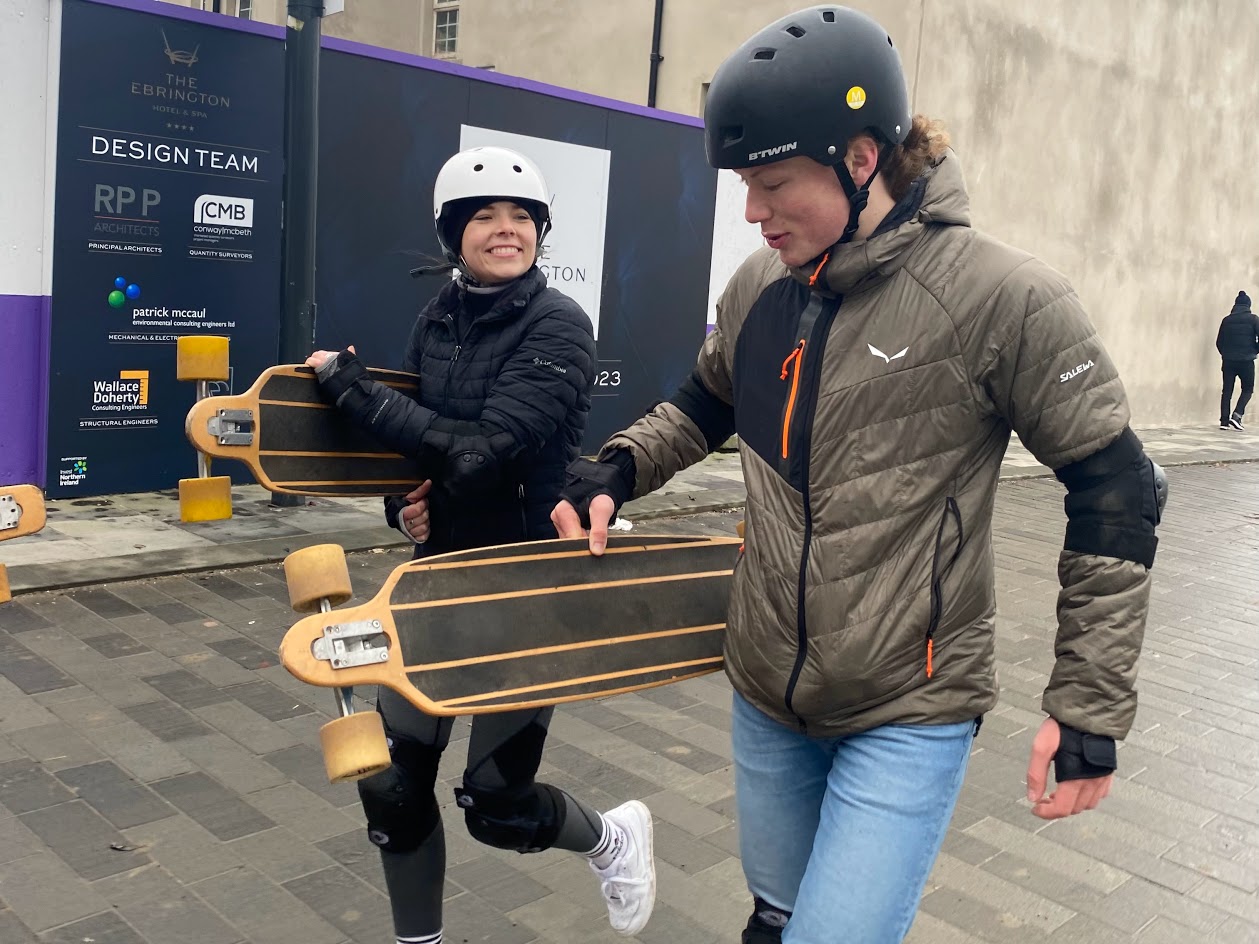 We've all experienced walking and bike tours of cities. But have any of you ever taken part in a longboarding tour? Well neither had we, but cruising around lovely Derry on these super-cool longboard skateboards was more thrilling than we could ever have expected. Sporting helmets and padding in all the right places, we spent two fun-filled hours learning how to ride and exploring this fabulous city with guide Lorcan from Far and Wild. We can't think of a cooler way to explore the Peace Bridge and the historic city walls.
More Info: Far and Wild
Walled City Crafters, Derry, Co Londonderry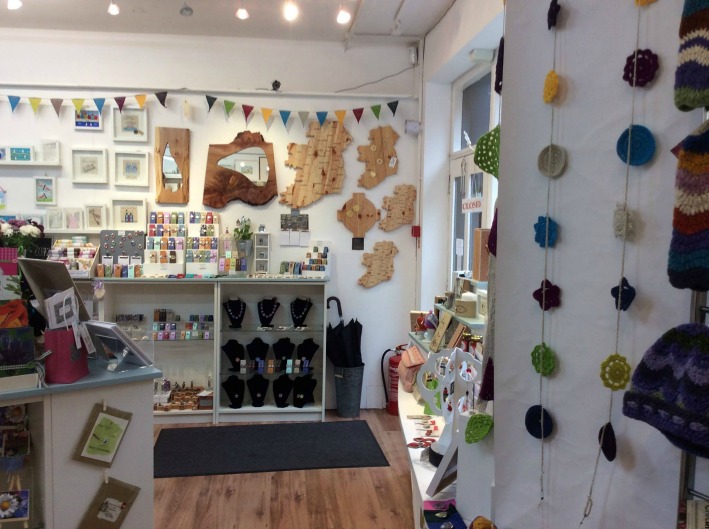 If you're interested in locally made, handcrafted products then you need to take some time out of your day to visit this brilliant little shop. It offers a super collection of local art and craft designs – some of the gifts are only available at this store. And you can get some of the items customised so if you're hunting for the perfect present for someone at home, this is the spot.
More Info: Walled City Crafters
City Paddle Boards, Derry, Co Londonderry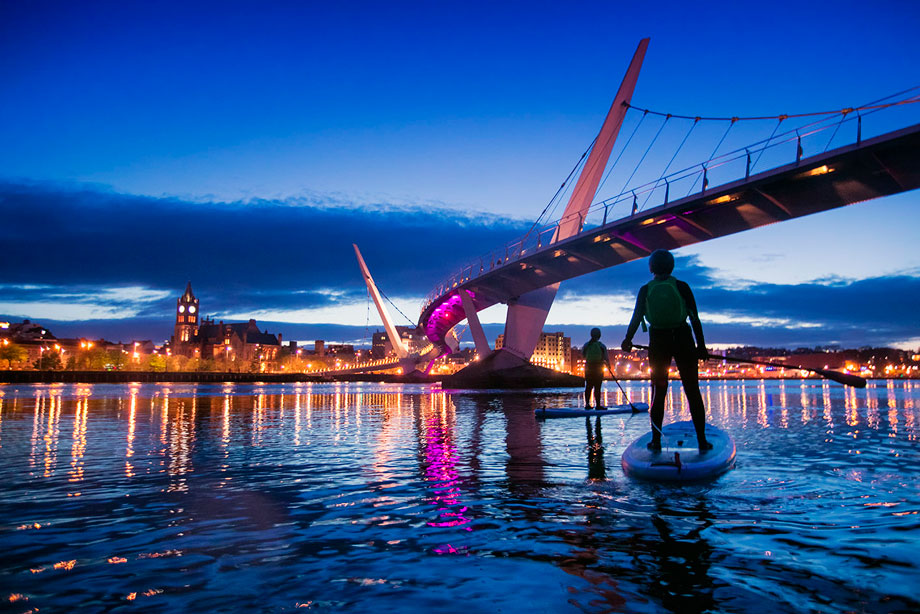 If you've already gone over the Peace Bridge on longboards or even on foot, why not consider going under this stunning landmark on a stand-up paddleboard (SUP)? Far and Wild offers watery SUP city tours in the evenings which will give you a completely new perspective on this amazing suspension bridge with its striking curves. In the fading light, is there any better way to take in the beauty of the city from a different perspective. And an SUP tour is a hell of a way to work up an appetite too!
More Info: Far and Wild
Eat…
The Coffee Tree, Derry, Co Londonderry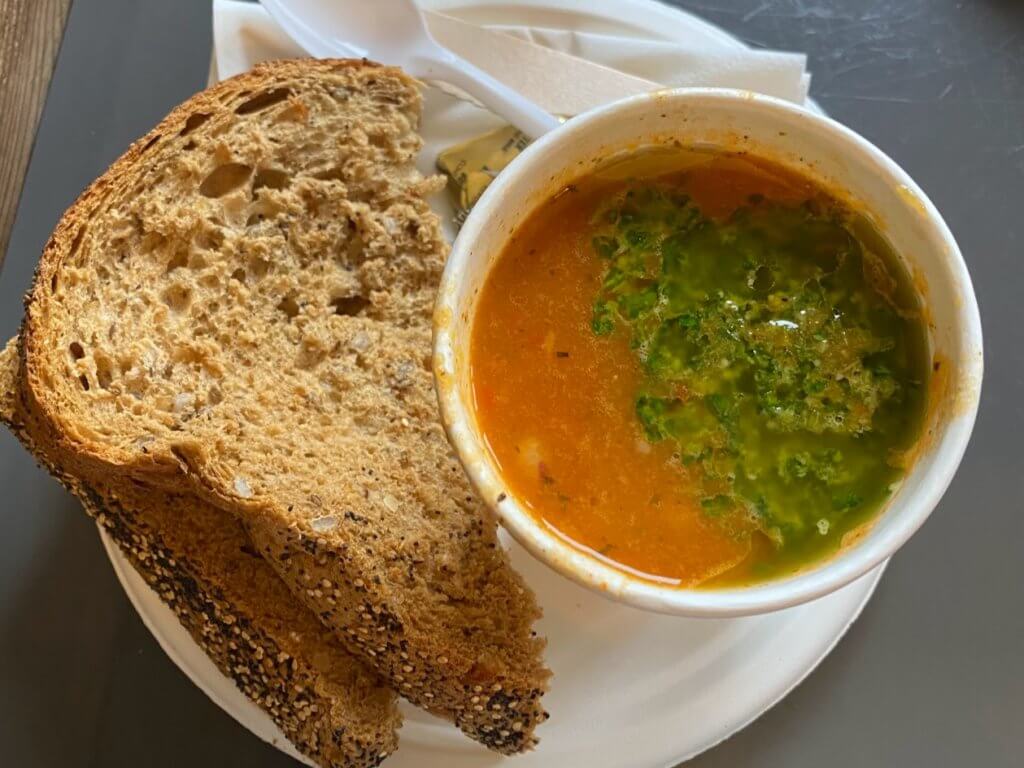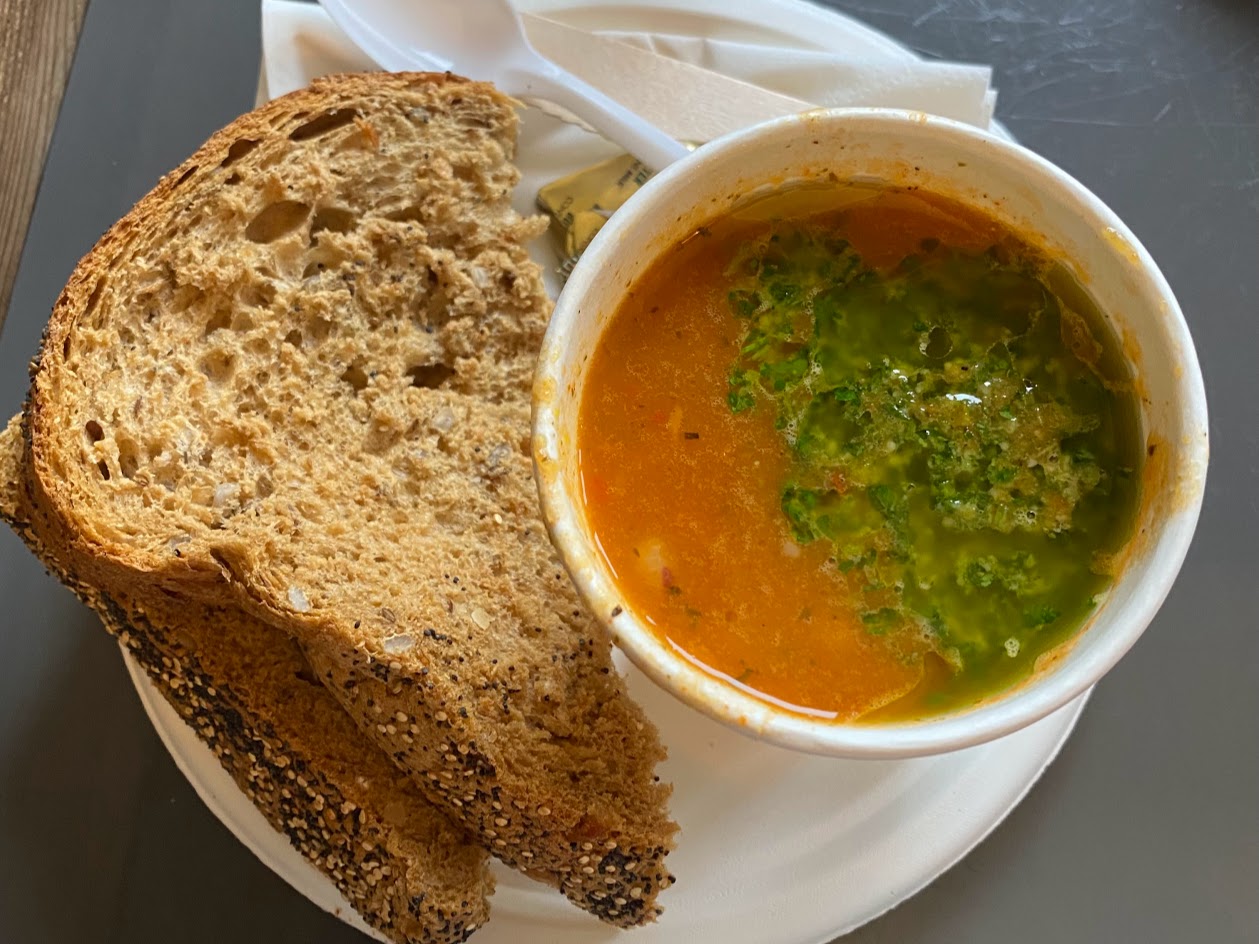 This is the perfect quaint local coffee shop. Serving sandwiches to die for and freshly made soup as well as scrumptious cakes and top-notch coffee, you just can't go wrong! It's the perfect place to start your day or grab a quick snack and coffee on the go!
More Info: The Coffee Tree
Primrose on the Quay, Derry, Co Londonderry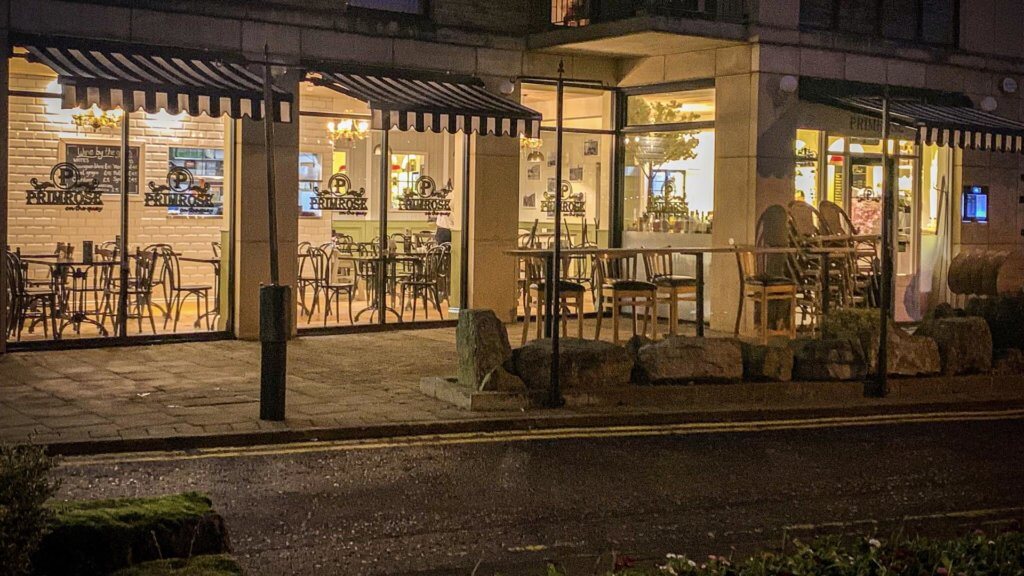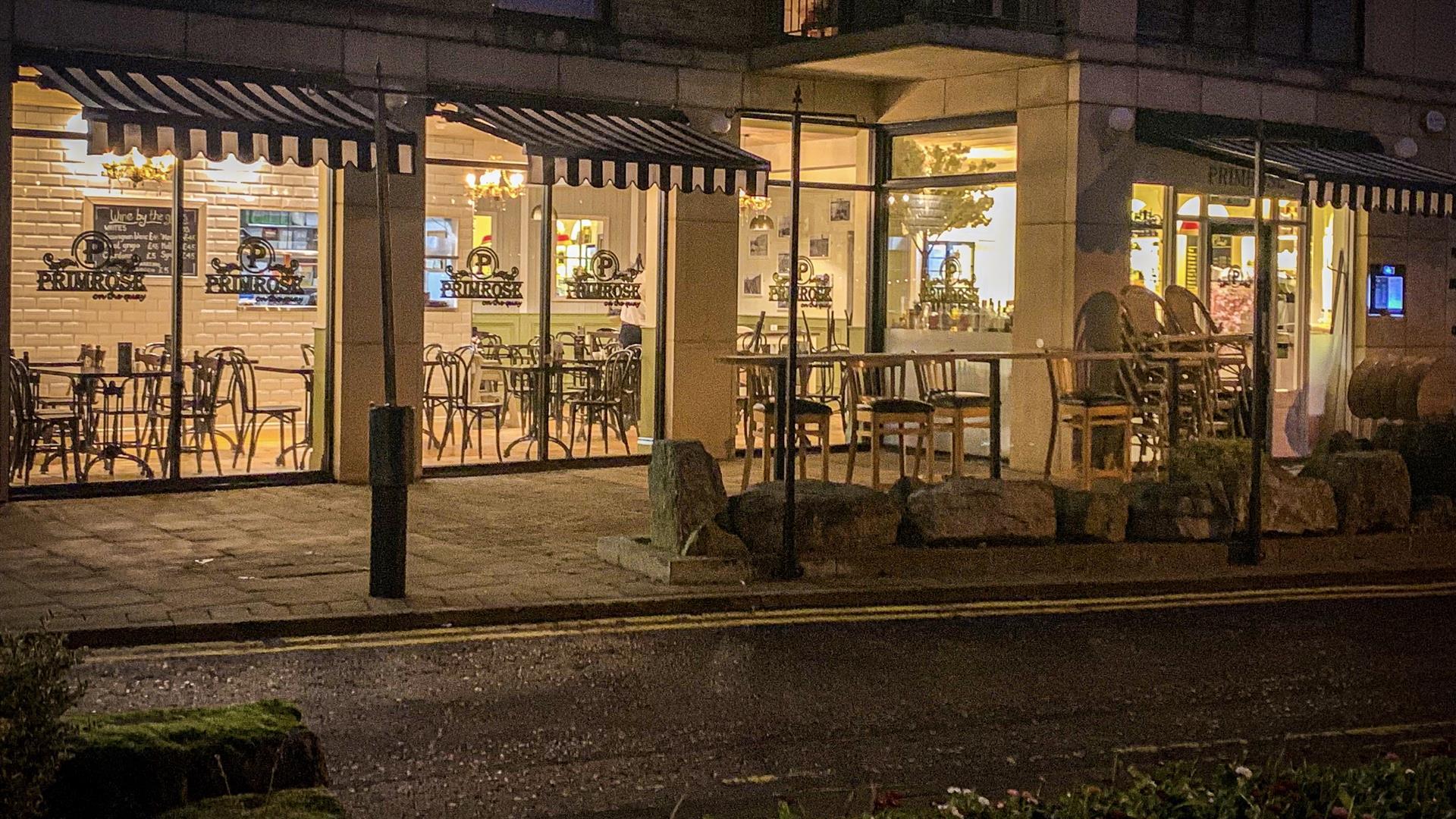 You know you're in for a treat the second you walk up to Primrose on the Quay. The exterior is as warm and welcoming as the interior and the views overlooking the River Foyle are outstanding. And our great first impressions were immediately confirmed when the locals we chatted to outside told us this was where we'd get "the best cup of coffee in Derry". What they forgot to tell us was how amazing the food was as well. Take your pick from yummy flatbread creations, salads or lush cakes! Everything about this cafe is 10/10 and we highly recommend visiting on your giant adventure.
More Info: Primrose on the Quay
The House – Entrada, Derry, Co Londonderry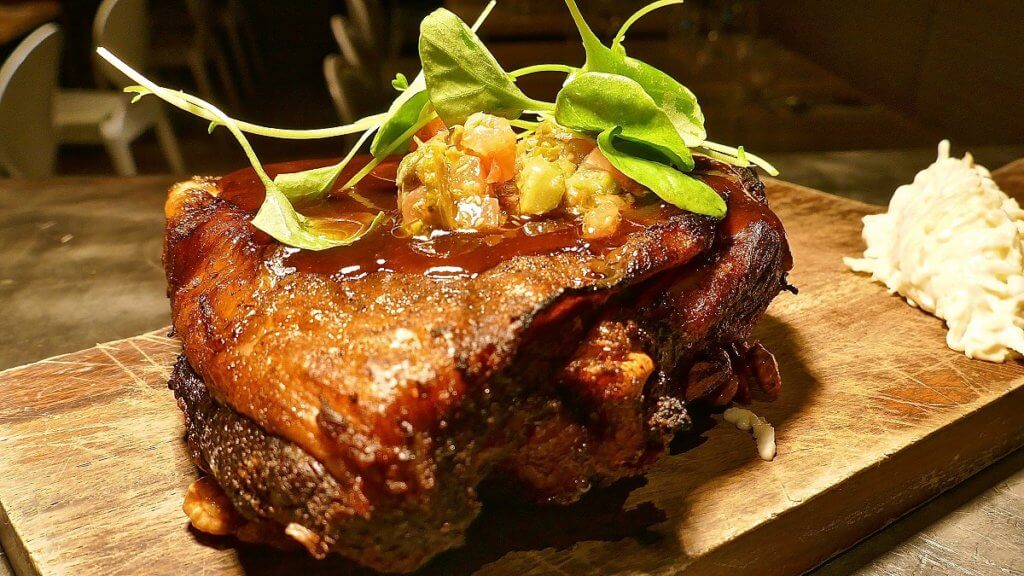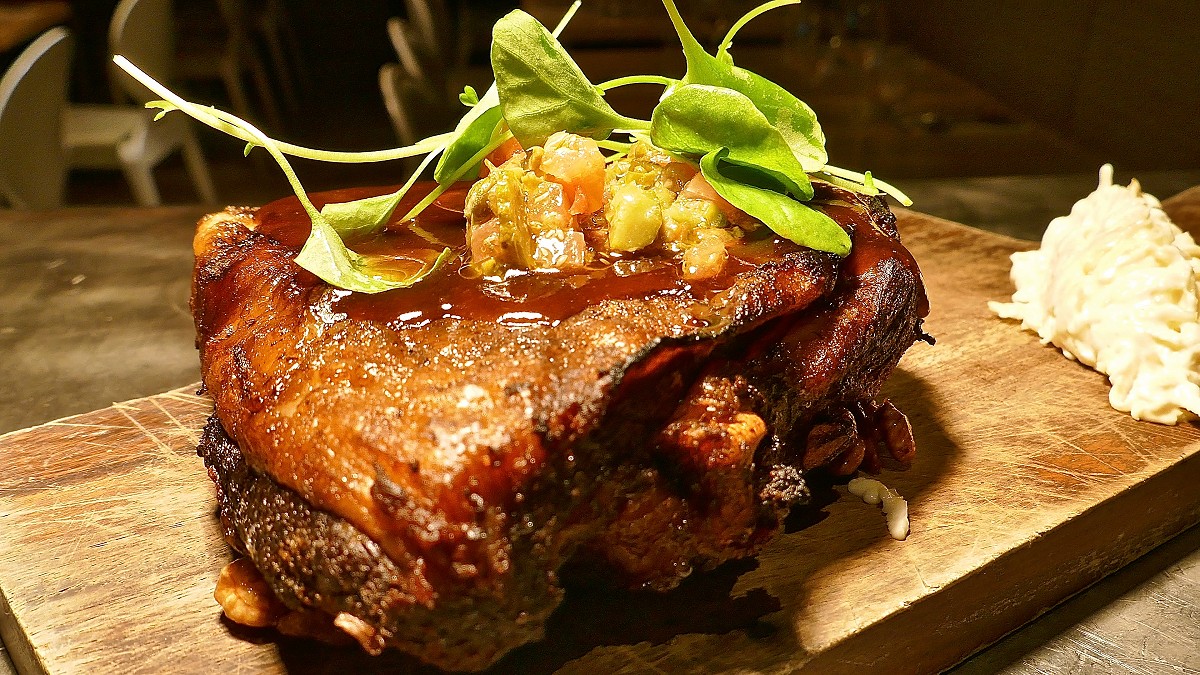 We were told that Entrada was the place to go for the best steak in Derry and boy were the recommendations right! Not only did the steak absolutely melt in the mouth, the entire dining experience was on a different level. With fantastic service, we loved how the food was prepared right in front of us. Another highlight was the Entrada branded beer. And we were also fans of how much of the food was locally sourced. You cannot afford to miss this place on your giant adventure.
More Info: Entrada
Sleep…
Shipquay Hotel, Derry, Co Londonderry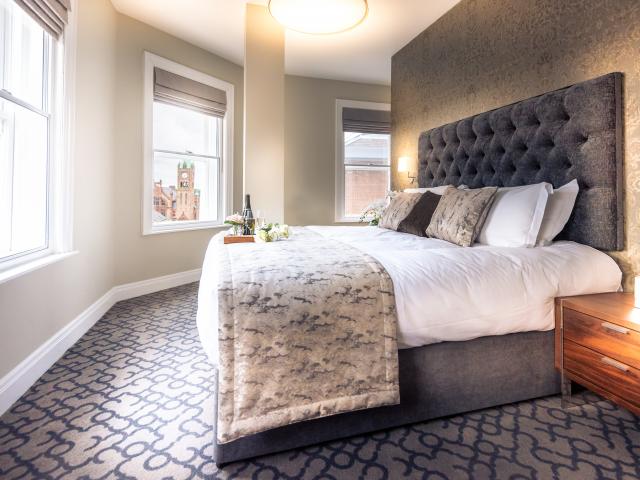 The Shipquay Hotel is Derry's newest and coolest boutique hotel. Situated in the heart of the city's shopping, arts and social scene, it is the perfect base for exploring this vibrant metropolis. It also overlooks the old city walls and the famous Guildhall (where we recommend you get breakfast or lunch the next day). And when you've had your fill of fun and food, this hotel is the perfect place to rest your head for the night.
More Info: Shipquay Hotel
Day 2:
Do…
Martin McCrossan City Tours, Derry, Co Londonderry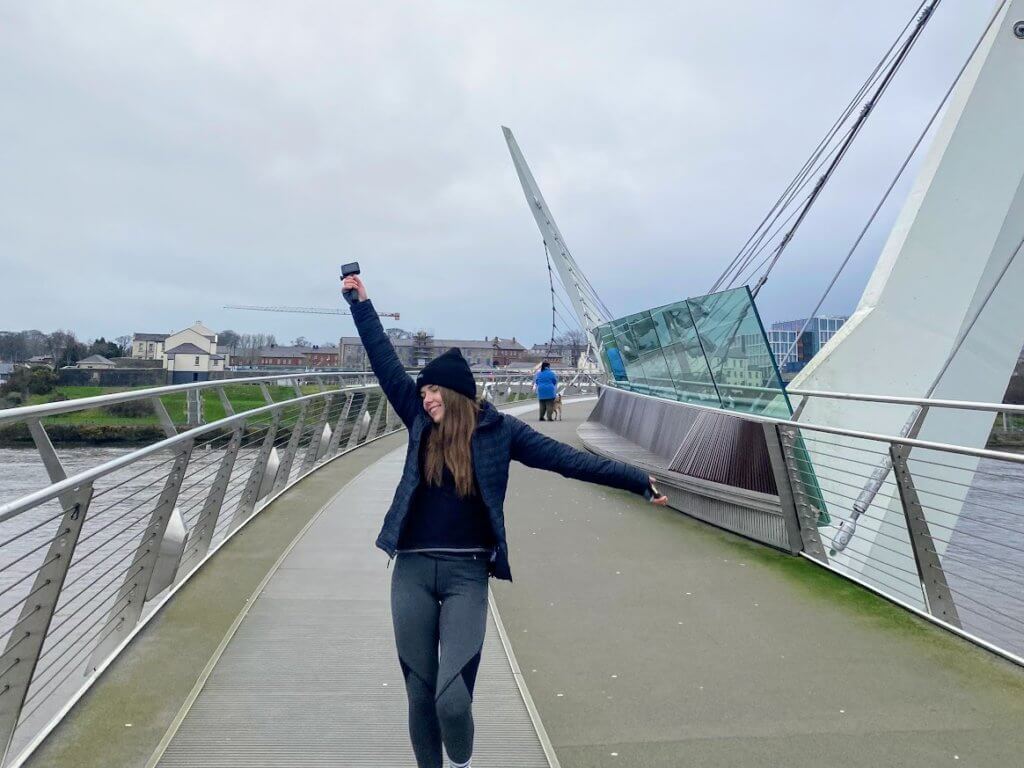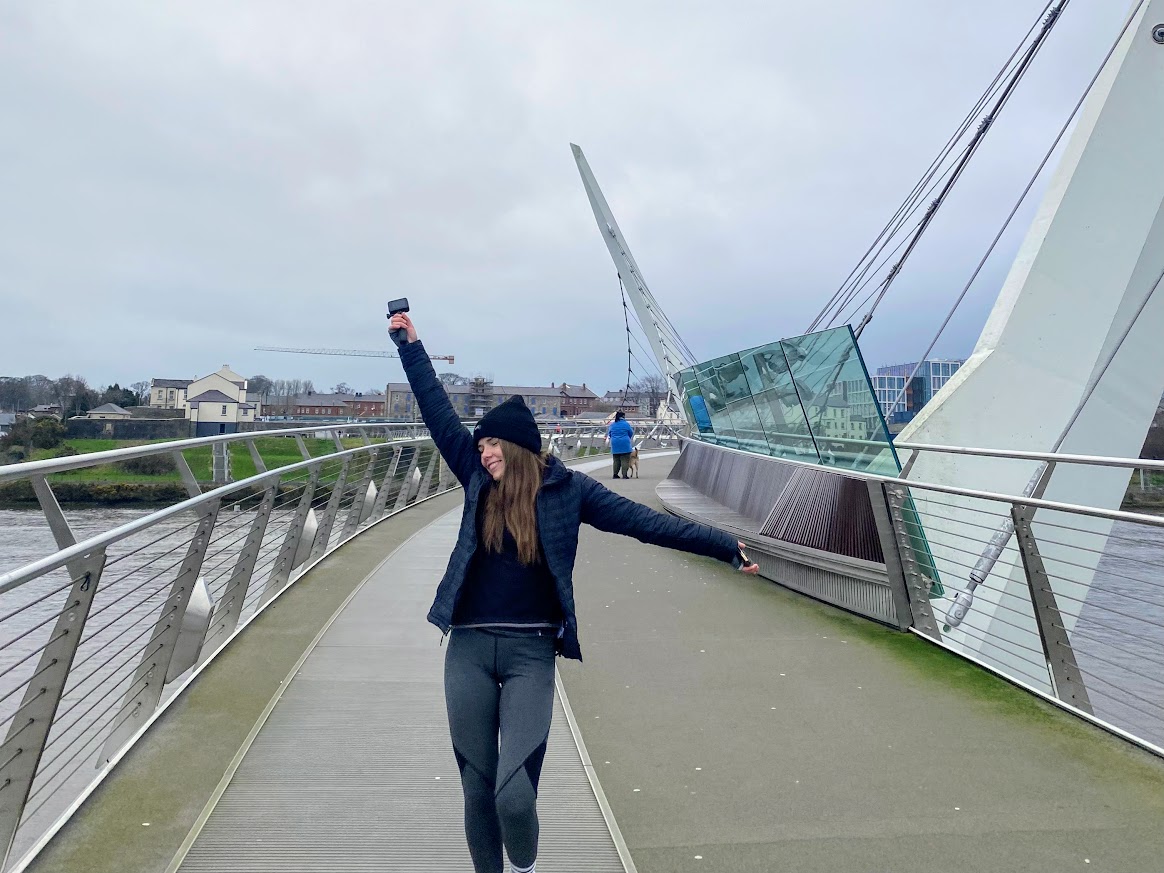 Walking tours are a simply amazing way to bring a city like Derry to life. And walking tours don't come better than those offered by Martin McCrossan's City Tours. The company has been in business for more than 20 years but are always coming up with great new ideas. Take your pick from a tour taking in the locations from the hilarious 'Derry Girls' or what about a private tour of the Bogside. You'll be blown away by the murals in the People's Gallery. Whatever tour you pick, you'll learn so much about Derry and will have tonnes of craic to boot.
More Info: City Tours
Foodie City Cycle, Derry, Co Londonderry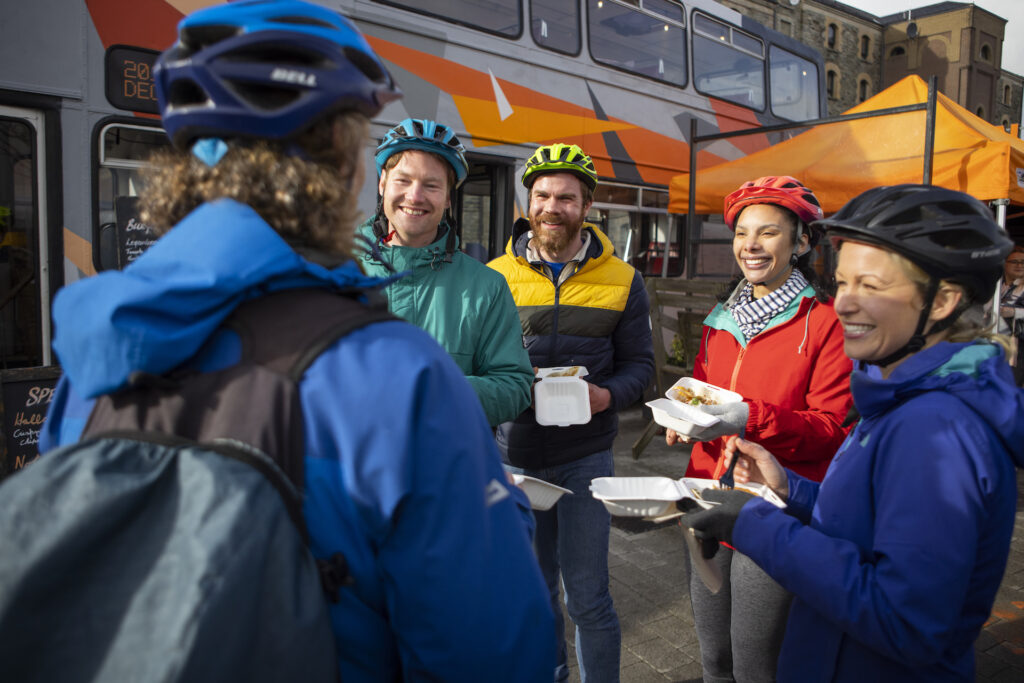 If you love being active on holidays but you also love good grub, then you're in for a real treat on this Foodie City Tour. Travelling by bike, you'll get to take in lots of the city's famous sights like the Peace Bridge and the River Foyle but you'll also get to stop at two foodie emporiums that specialise in locally sourced foods. We finished with a craft beer at the Walled City Brewery and it was the perfect reward post the two-hour cycle.
More Info: Foodie City Cycle
Eat…
Guild Café, Derry, Co Londonderry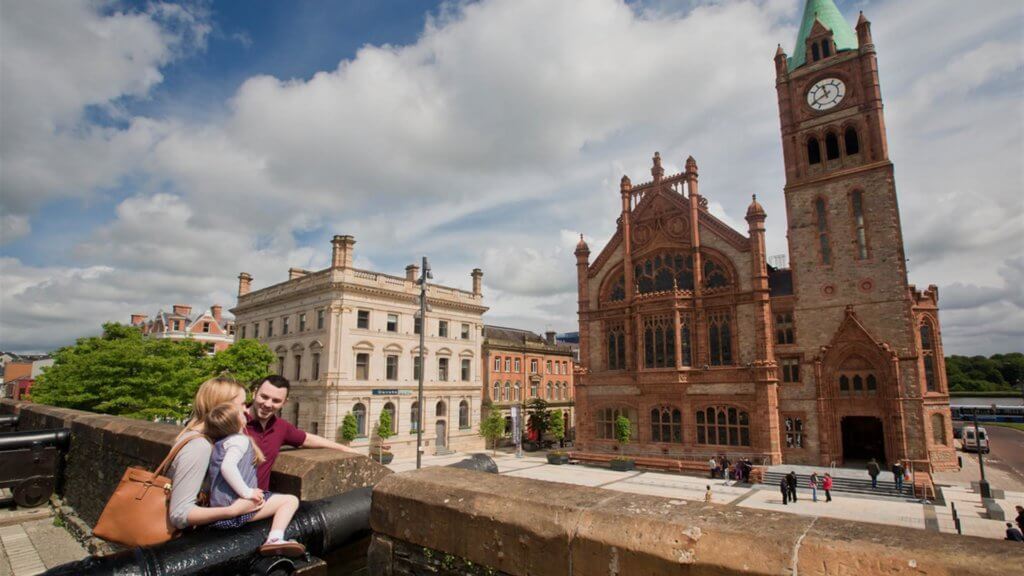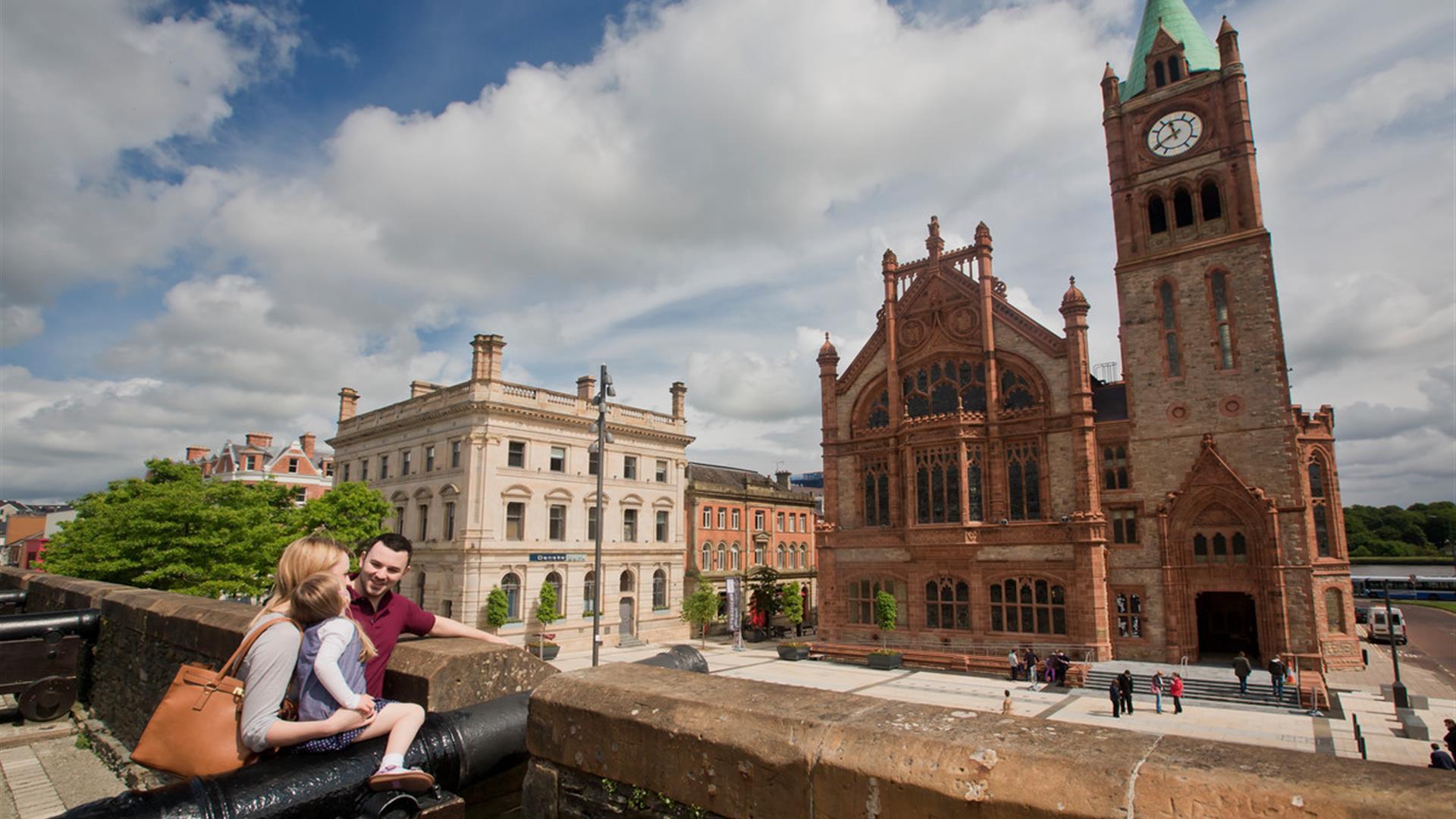 If you like your tea and cake served with a large dollop of history, you will not be disappointed by Guild Cafe. This charming eatery is located on the ground floor of one of Derry-Londonderry's finest buildings – the Guildhall. Dating to 1887, this auburn brick building is located in Guildhall Square and has super views of the Peace Bridge. So why not relax and take in the views over some delicious grub. Our top recommendation is try the traybakes. In a word, yum!
More Info: Guild Café
Shipquay Restaurant, Derry, Co Londonderry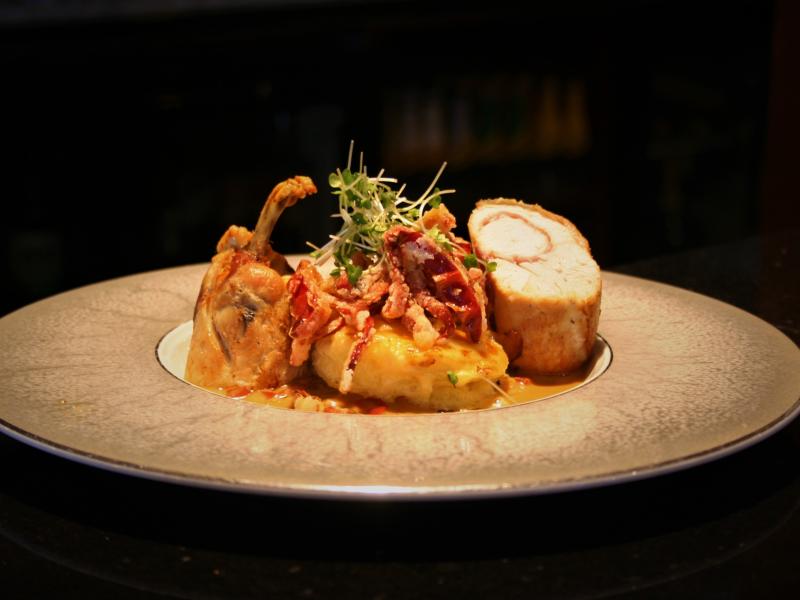 If you decide to stick around for dinner on your second day in Derry – and we highly recommend you do! – then take your hungry heads to Shipquay for a meal. With a locally sourced contemporary menu, take your pick from super-food salads to seafood delights and from boxty to beef cheeks! No matter what meal you choose, you will be blown away by the beautiful flavours on offer here. Oh and if you're in town on a Sunday, be sure and check out their bottomless brunch. Remember you're going to fuel all those giant adventures!
More Info: Shipquay Restaurant