Author, cook, baker and surfer Finn Ni Fhaoláin reveals what she eats on an average day to fuel her active and busy day to day life.
Breakfast
Today I knew I would be getting in the water and would need more carbs so I had the soda bread (Finn's personal recipe from her book "Finn's World," Irish-Mammy-Approved Country Soda Bread, p. 86) with poached eggs and grilled tomatoes. Normally I would add something green, like spinach, but I just didn't have any in the fridge. There's also a Danish seed bread I like to bake, slice, and freeze for later. It's good, high fat with good proteins. I'd also have that with eggs and spinach.
3 simple, tasty and gluten-free breakfasts to try this week

Lunch 
A lot of the time, say if I'm going to be busy, I'll meal prep, similar to the way body builders do. It isn't to count macros, it's just so that I'll have more time. My grandma has a wonderful chicken soup/stew recipe with lots of veggies and good, free-range chicken. I'll make a huge batch of that and live off of it for a few days, with a bit of gluten-free bread. It's pretty filling as it is. It's just chicken stock, chicken, celery, onions, carrots and a bunch of fresh spices.
3 delicious gluten-free lunches everyone should try
Snack
At the moment, I've just been going through massive bags of pecan nuts. But my mum makes lovely toasted sunflower seeds with a bit of soy sauce on them. This is really salty and crunchy and stops me from eating obscene amounts of crisps. I also make quite a bit of hummus because it's healthy and cheap.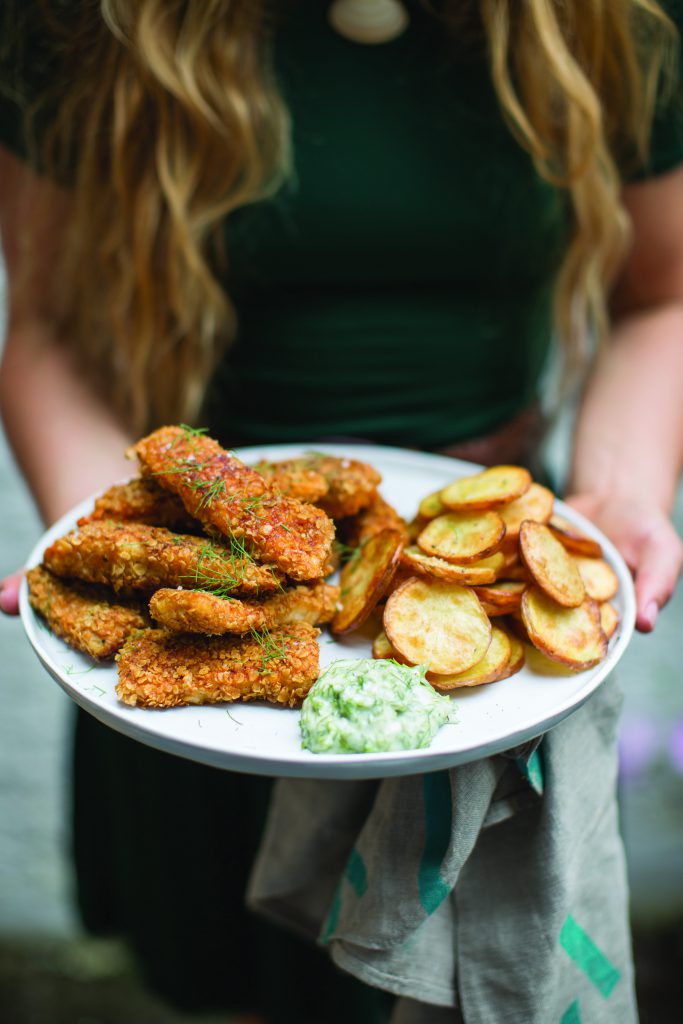 Dinner
From my book, I also really like the fish fingers with potatoes or maybe a salad (Poseidon's Fingers, p. 139-40). This is one of my favourite things to do for dinners.
4 ultra tasty gluten free recipes to satisfy your cravings
Finn's World (Gill Books, 2017) by Finn Ní Fhaoláin is available to buy from Amazon.
Keep up with Finn on her website, and follow her on her socials below.
Facebook: @finsfitfood
Twitter: @Fins_Fit_Food
Instagram: @finsfitfood
Check out our Hard as Nails podcast:
Like this? You should check these out: