You can't get much more remote than north-west Mayo – it really is the perfect spot to get away from it all.
From Belmullet and Blacksod, to Ballycastle and Broadhaven, North-western Mayo must be one of the least visited parts of Ireland, although for the life of us we can't say why.
This region boasts some of the wildest seas, the whitest sand, the greenest hills and the sheerest cliff faces – the contrast between which results in a landscape that is truly mind-blowing. No matter which way you turn, you will find stunning views that will leave you breathless.
This is a place where you are better to leave planned itineraries behind. Instead, hop in the car – or on your bike – and explore any one of the abundance of narrow roads. We promise you will find unending treasures like deserted golden sandy crescent beaches, blow holes spraying salty foam into the sky, epic sea stacks that have been sculpted over centuries and dizzying cliffs with sea birds wheeling above.
Hidden Gem: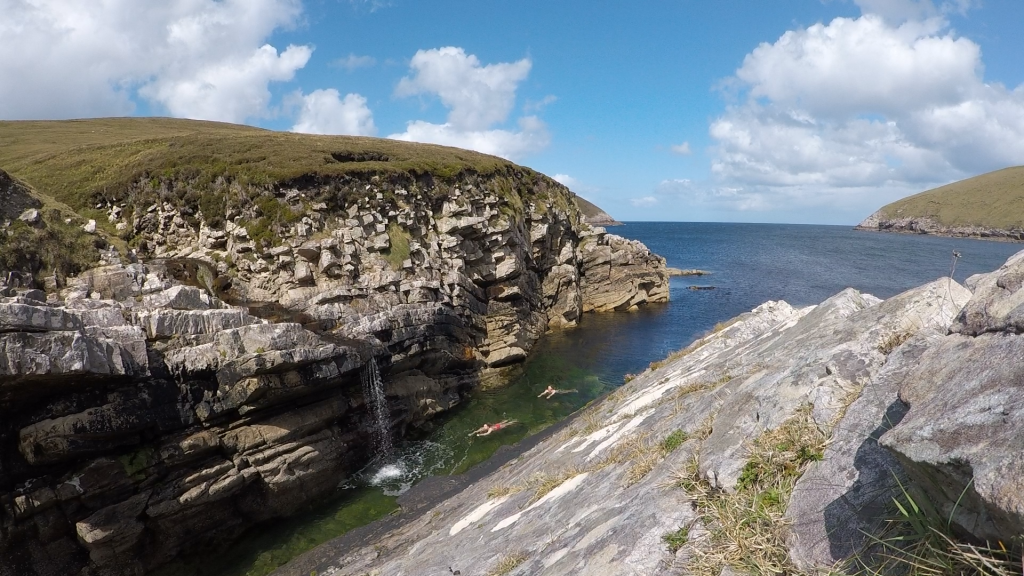 Tucked away on the north coast of Mayo lies the tiny village of Carrowteige, one of Mayo's most remote Gaeltacht outposts and home to some of the most spectacular cliffs along the Wild Atlantic Way. And unlike the Cliffs of Moher or Slieve League, you'll be likely to have them all to yourselves. We had heard about a huge stone EIRE sign out on the headland so made our way out on the marked trail from the stunning and deserted beach at nearby Portacloy. The route was a mixture of dry bog and mountainside all the way to where the headland drops dramatically into the sea.
Straight ahead, a sea stack, created painstakingly by Mother Nature, made a small fishing boat bobbing below seem microscopic. This trail is aimed at hikers but is ideal for trail running and is lots of fun on a mountain bike too! When we reached the sign we pushed the bikes up the steep hillside to look back down at this EIRE 63 sign formed from big white stones. It was used to declare Ireland's neutrality (and to provide a somewhat less neutral navigational aid for the Allied airmen flying overhead) during World War II.
Another great trail near Carrowteige is the 10km Children of Lir walk which will bring you out to 255m tall Benwee Head. From here, on a clear day, you'll be able to spot the Stags of Broadhaven – four teeth-like rocky islets jutting out of the sea about 2km north. And as you continue along the trail, you'll also come to the Children of Lir sculpture – one of a series from the Spirit of Place Sculpture Trail which centres on culturally-distinct, historic, unspoiled and isolated regions around the world.
Whichever route you opt for, we highly recommend heading back to Portacloy for a wild swim. We found a secret spot that made us feel as though we'd been transported to Middle Earth or some other magical place. To find it, follow the trail past the little harbour to the south of the beach till you find a small river spilling into a tiny inlet some 12 feet below. This is not a diving spot but rather you will need to scramble down the rocks to get into the electric green water. For the ultimate buzz, make sure you swim right under the little waterfall.
Essential info: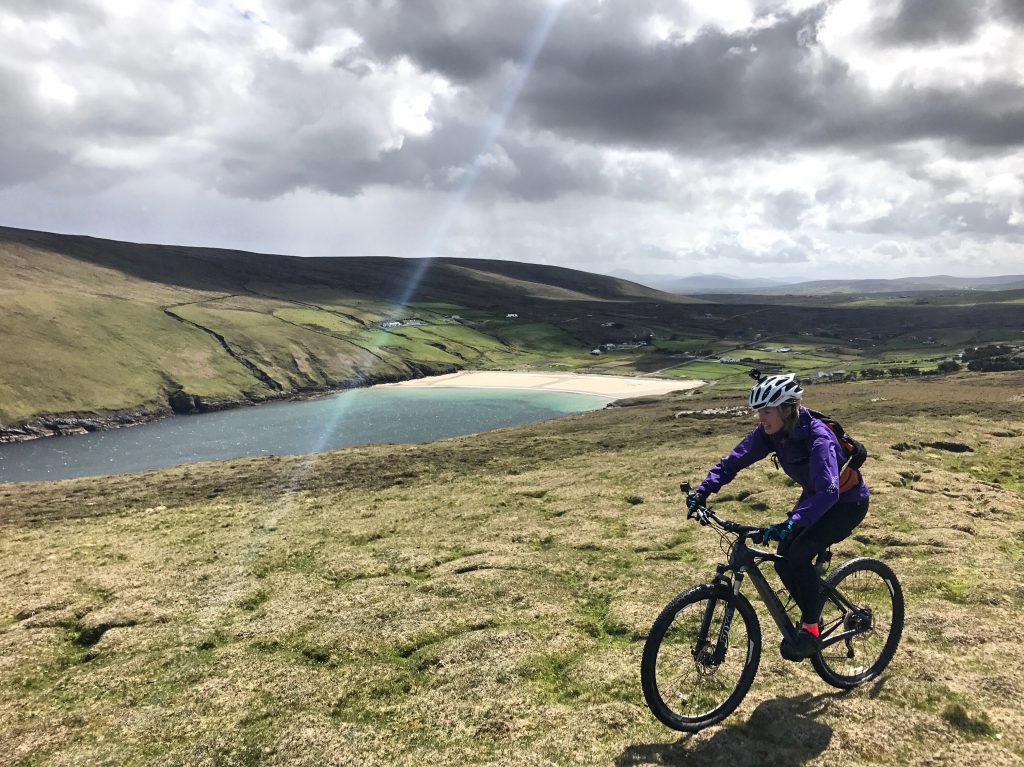 North Mayo is awash with hidden beaches, sheer cliffs, blowholes, sea stacks and every other natural phenomenon you could wish for. Hop in your car, hit the Wild Atlantic Way and explore! The Erris Beo app has a wealth of information for those looking to explore Erris.
Where to stay: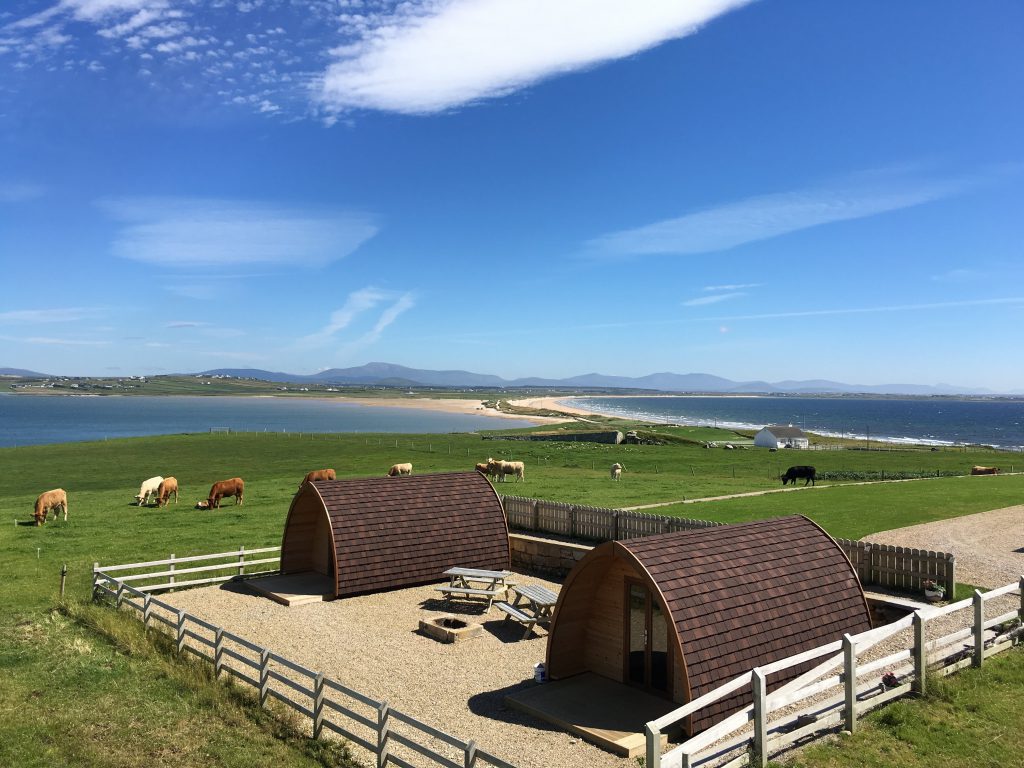 A trip to the old Belmullet Coastguard Station on Claggan Island is a must when travelling to north Mayo. Accessed by car via a sand spit at low tide, the journey out there is an adventure in itself. Surrounded by the sea, there are a few places more remote. The old Coastguard Station is now home to a beautiful self-catering house and two luxurious camping pods. Run by the two lovely Laurences (a father and son team), and Laurence junior's wife Myra, you can go to sleep to the sound of the crashing waves and wake up looking straight across the Atlantic. In summer, you can sit outside your pod, cooking sausages on the fire pit while watching the sun go down. They even provided us with marshmallows to get us started, as well as fresh free-range eggs and homemade rhubarb jam for our breakfast. Yum!
Check out our Hard as Nails podcast:

Previous Post