Paddling the Blackwater river offers everything from serene and tranquil river water to high-intensity white waters. The solitude and wonderful displays of wildlife make for a fantastic place to canoe.
Recommended by Tony McConnell
What's involved?
Depending on your mood or time available, trips on the Blackwater river can range from two hours to 80km over three days, covering sections ranging from grade one to three.
Why do I love this route?
I can paddle the Blackwater for an hour or two on a lazy Sunday afternoon or I can do a three-day expedition from the source to Lough Neagh. The entire waterway offers everything a canoeist could want, from a tranquil and calm slow-moving river to full-on grade three white water. Even on the best summer's day, when the river is shallow, it still offers me an entertaining and challenging day out.
On many of my trips, I am spoilt with total solitude and on every trip I am assured to spot a wonderful display of wildlife, including kingfishers, wagtails, pheasants, mink, herons, song thrushes, finches, buzzards, deer and foxes, as well as many types of fish that like to leap out of the water just in front of my canoe.
The route:
My journey always begins at Ravella Bridge near the border town of Aughnacloy, Co Tyrone. The upper section, which is my favourite, provides me with a wealth of playtime and total relaxation.
The first 4km to Moy Bridge, the main border crossing between Monaghan and Tyrone on the N2, is a gentle grade 1 paddle with the odd rapid. On summer days, when the river is at a low level, I get to test my polling skills, which is a method used to propel a canoe down a shallow river. After a day or two of rain, there is enough flow on the river for me to just sit in my canoe a steer my way down to my destination.
The next 19km section takes me from Moy Bridge to Caledon Estate. This section can become very overgrown with trees stretching from one riverbank to the other and is known as 'the jungle' in my house. Trees and canoeists are not good friends, pay attention in this section. After Knockaginny Bridge, the trees become less of a hassle and fit magnificently into the surroundings.
Paddling on from Knockaginny Bridge, you'll notice some remnants of an old wall on both sides of the river and a remarkable line of huge poplar trees. These trees let you know you have reached the Caledon Estate. On a multi-day trip, my first camp will be somewhere around here. But be warned, camping is not allowed on the private estate.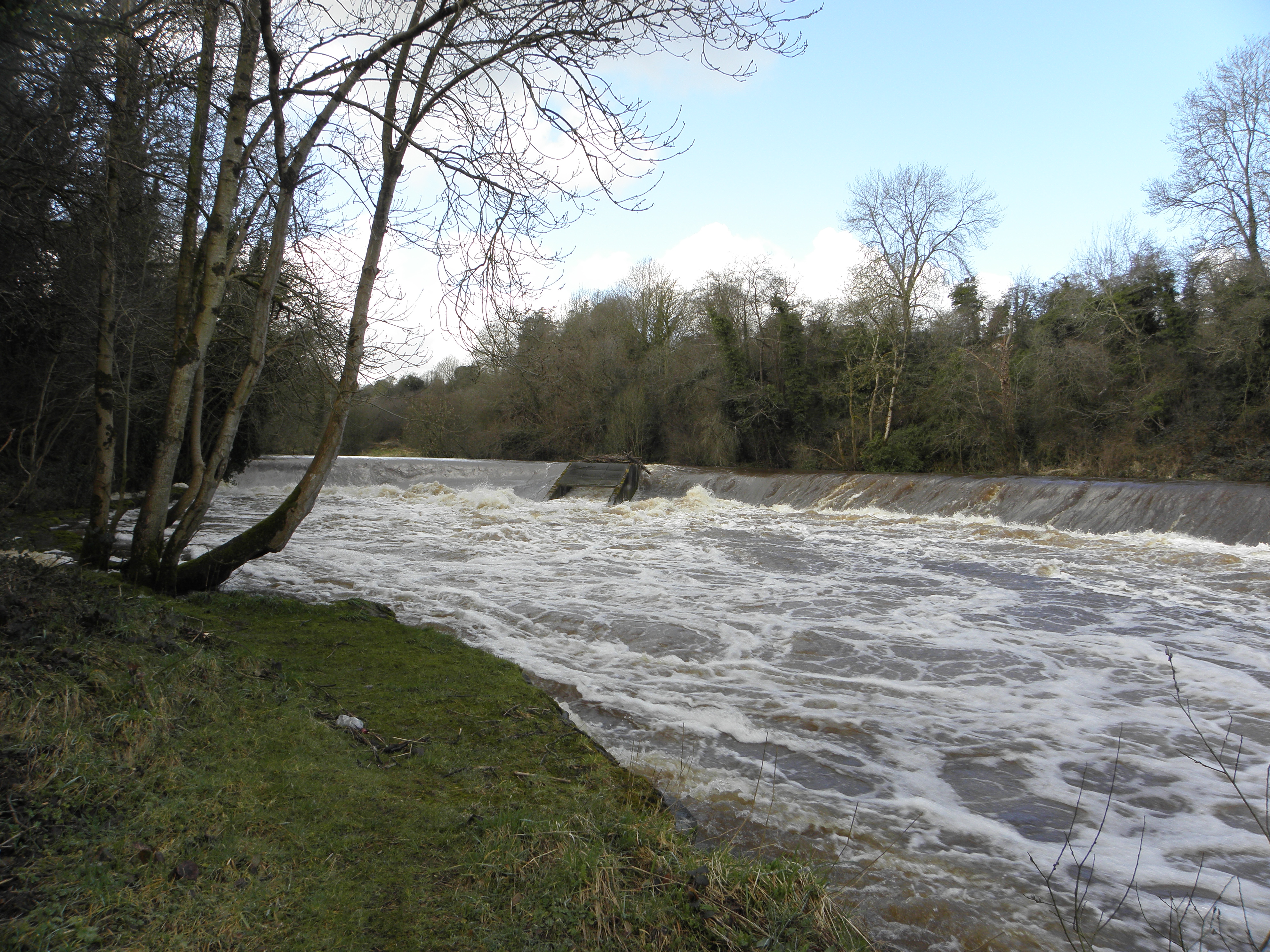 It's 13 km from Caledon Estate to Benburb where you'll reach the exciting and challenging white water section known as the Burb. For novice paddlers, I would suggest portaging this entire section. The old mill at Milltown is a good point to get off the river and move your kayak to Maydown Bridge. For the more experienced paddler, this section is a chance to test your white water skills.
The first weir is known as 'the factory weir' or 'Jimmy's weir' and can be run to the right of the fish pass. The next section is the steps and a lot of care is needed here as solo paddling can be quite difficult in white water. In low water levels, the steps provide me with a great chance to line my boat down the rapids. Once down the last step, it's a nice paddle on down through the Benburb Valley Park.
This park also has a great ecotrail, which is excellent for learning about the local environment. The river's historical features really start to show here too; the Battle of Benburb took place here in 1646 between the armies of Confederate Ireland led by Owen Roe O'Neill and the Scottish Covenanters led by Munro. The battle resulted in a crushing victory for O'Neill's men at the town land of Drumflugh, about a mile outside Benburb village.
The village is also home to the impressive Benburb Castle, which was built in 1611 by Sir Richard Wingfield on a limestone cliff overlooking the River Blackwater. The castle is in outstanding condition having been recently restored and stands in the grounds of the imposing Servite Priory, a religious order based in the village.
The next 20km section will take you from Maydown Bridge to Lough Neagh and along the start of the Blackwater canoe trail. This trail is suitable for paddlers of any ability as the river lazily meanders through the beautiful Tyrone and Armagh countryside, and then flows into Lough Neagh, where the options are endless.
On this section, you pass through Blackwatertown, a picturesque village and a nice place to stop for lunch and a well-earned rest. Otters are a frequent sight here; look out for footprints in the soft mud of the river banks.
A short paddle takes you to the town of the Moy, another good spot for lunch. Here you could also stop to visit Roxborough Castle, Iron Gates, Round Tower, Charlemount Fort, Dermot Cavanagh's painting workshop or even a few antique shops. The river widens a lot from here on out and if you are quiet enough, you will see lots of kingfishers darting up and down. High on the sandy riverbanks, you can see the holes where the kingfisher's nest.
From this point, the river can get quite busy with walkers and other water users, including fishermen and the odd speed boat. You'll be moving from quiet agricultural countryside to the majesty on the National Trust property of the Argory Country House and then to the vicinity of Coal Island. There is also a campsite a few hundred meters downstream on the right, which I frequently use.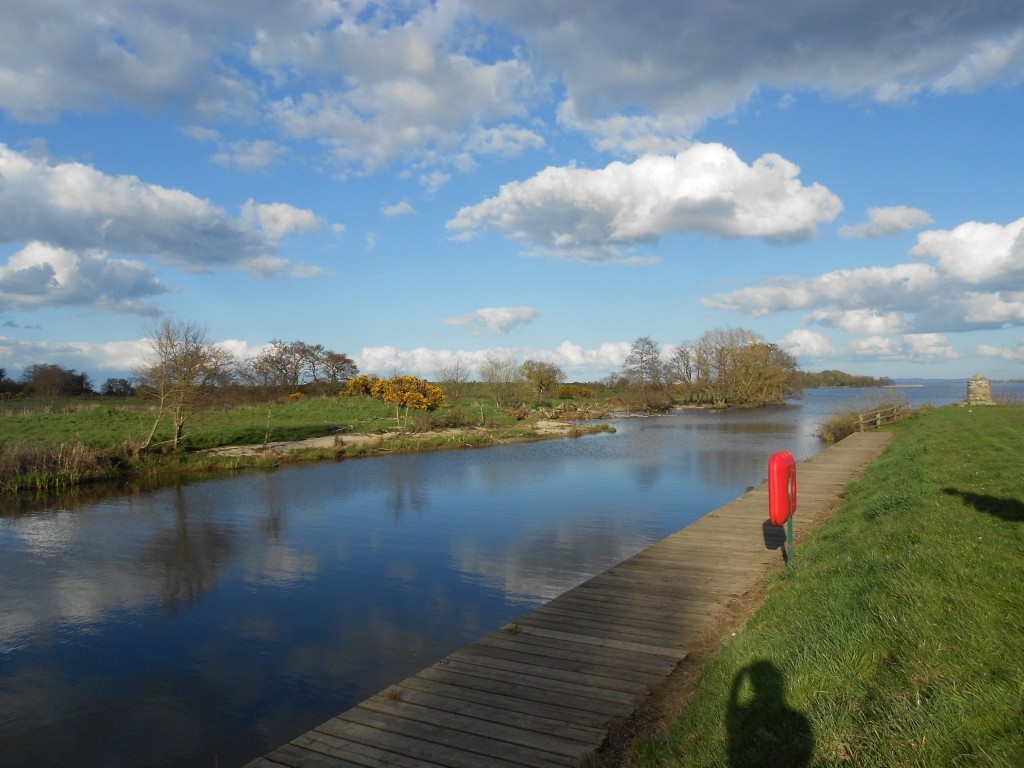 Maghery is the last port of call on the river. Maghery Slip was a stronghold for the O'Connor's and as you paddle around it you will see a structure, which was possibly a watch tower to guard the mouth of the river. This structure has a commanding view over Lough Neagh and Coney Island. Although an O'Connor stronghold, the ruins were often known as O'Neill's Castle and it was at one time used as a prison.
Finally, Coney Island lies 1 km offshore from Maghery. Owned by the National Trust, it's a great place to explore, with human occupation dating back to 8000 BC. If you visit, make sure you touch base with the warden; he's a wealth of history, stories and is great craic to boot.
Don't miss:
If you're looking for places to stop and eat, I recommend Blackwater Cottage at Moy Bridge, The Portmor House in Blackwatertown, River Plaice chip shop in Blackwatertown, and Ferguson's fast food bar and the Auction Rooms in Moy.
Essential Info:
Camping is available at the start of the trip along with equipment hire from AWOL Outdoor Adventure.
Camping is also available at Coney Island.
Check out our Hard as Nails podcast:

Previous Post

Next Post